I may receive a commission if you purchase through links in this post. I am not a doctor; please consult your practitioner before changing your supplement or healthcare regimen.
AIP Chicken Pot Pie is a delicious comfort food casserole of chicken, vegetables and gravy, topped with AIP Biscuits. To make this a fast assembly, use leftover gravy or make the gravy ahead of time, and then this is a special meal that's easy to make!
We've been eating a lot of egg-free, AIP biscuits lately. My family loves pastry dough of every kind: fat cut into grain-free flour and baked to be soft in the middle, flaky on the outside. My family also loves casseroles, and we like to top this classic AIP Chicken Pot Pie with our biscuit dough.
This recipe features a lovely gravy, thick and brown and very umami (savory comfort food!).
It is old-fashioned, old-world, humble family food — an updated version to be grain-free and allergy-friendly. Any dish with homemade biscuit or pastry dough (and gravy) is special!
Fresh herbs on AIP Chicken Pot Pie
I dress this casserole up with fresh herbs, partially because they're very pretty and partially because they're delicious! Fresh thyme, especially, is fantastic. We hope to grow our own soon, but this winter I've been buying it, and it's so good that even the kids reach for the branches to pluck off the leaves and adorn their plates.
Because I shoot for easy with my meals, this works well: place sprigs or small branches of fresh thyme on everyone's plates. Then each person can rake their fingers down the little twigs to free the edible leaves and sprinkle at will. (Or, temptingly, you can stand at the counter for an hour and free all the little leaves yourself. I prefer the interactive eating experience that's fun for everyone and less work for the cook!)
Anyhoo— grab fresh thyme for this casserole if you can manage it. It's worth it.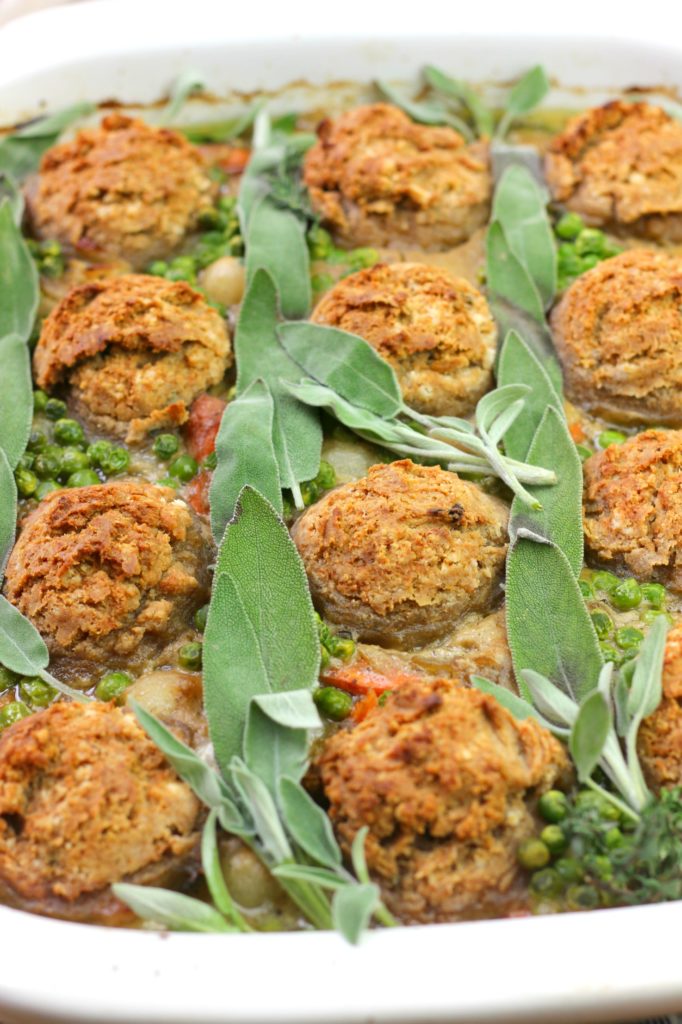 Fresh sage is just so pretty draped all over. And the flavor is totally that of gravy, Thanksgiving, sausages, savory, all things "snuggle in".
How to make AIP Chicken Pot Pie
Keep in mind, when you make AIP Chicken Pot Pie, that you'll be making three recipes: the Gravy and the Biscuits; then you'll be assembling the casserole itself.
Overall, it's not super time-consuming, because the biscuits come together really fast. But three components comprise the dish.
As mentioned, if you make the Gravy ahead of time or have leftover from doubling the recipe another time, then this dinner can be pretty fast to assemble. The chicken in the recipe is actually raw when it goes into the casserole dish, so that speeds things up and makes one less step. But the carrots and onions do get sautéed first.
Here's the Chicken Pot Pie casserole and assembly:
The Biscuits!
Bake them as square biscuits, or scoop the batter using a cookie scoop. Eat topped with favorite treats, or use on top of casserole … !
The Gravy!
Dig in!
Other AIP reader favorites
If you love AIP comfort food dinners, here are a few others to enjoy: