I may receive a commission if you purchase through links in this post. I am not a doctor; please consult your practitioner before changing your supplement or healthcare regimen.
Nightshade-free Tamales feature easy to make fluffy masa dough & a delicious meat filling without chile peppers. Homemade, easy and Gluten-free.
Nightshade-free Tamales are as good as I remember from my childhood, but healthier. This recipe is Gluten-free, low in vitamin A, medium in oxalates, low in salicylates and does not contain lard.
I like to make mine in the Instant Pot, but I give directions for stove top or pressure cooker, depending on your preference.
Perhaps the most surprising thing about homemade tamales is that: they are really pleasant to assemble and easy to make. I always pictured them being more labor intensive. But the spreading of tender fluffy masa into soaked corn husks is restful and feels loving, as you make a traditional dinner for loved ones.
Jump to Recipe
We all have childhood food memories that are the fabric and foundation of how we relate to food — and sometimes these memories comprise our favorite memories.
I grew up in San Diego with a Mexican housekeeper who sometimes stayed late on Fridays to make us authentic Mexican dinners. I feel so incredibly grateful for the homemade tamales I grew up eating and how the women who made them blessed me with their love and cooking.
Ingredients in Nightshade-free Tamales
This recipe has two components: the masa dough and the meat filling.
To make the Masa Dough, you'll need:
For the Meat Filling, you'll need:
rice flour
cumin — This seed comes from a plant in the parsley family. This great staple is ground to a powder for Mexican cooking and thankfully not a nightshade.
dried ginger powder — I use this in place of black, red or white pepper. It tastes amazing as a sub, and is much healthier and gentler to the body.
sea salt
Optional additional spices are listed in the Notes section if you are not on a low vA diet.
How to make Nightshade-free Tamales
Cook the meat: This is slow-cooked beef, so it takes 2 hours on the stove top, or 35 minutes in a pressure cooker. I use my Instant Pot. The beef cooks in water and sea salt, so we also end up with a Meat Stock that's used in the recipe. Efficient cooking!
Soak the corn husks when the meat's done cooking, so they're flexible to wrap around the dough and filling.
Finish Meat Filling: Combine meat stock, rice flour, cumin, ginger and salt, to create a kind of Mexican gravy. Add sliced stew meat.
Make the Masa Dough: A quick recipe, blend together masa, broth, fat of choice (either butter or duck fat are used in this recipe instead of the traditional lard), baking powder and sea salt.
Fill the tamales: Spread Masa Dough into husks (photos below in recipe). Fill with Meat Filling. Fold the husks in half, like a taco, than wrap the open side into the center, and fold up the bottom. Secure with torn strip of corn husk.
Steam tamales: Layer tamales in steamer basket over saucepan or in Instant Pot. Steam for designated time in recipe. Serve!
This whole process comes together really smoothly. I find the process to be very intuitive, so there's a calm rhythm about it, and it gets easier as you find your rhythm.
For example, I like to make the tamales in stages: Spread out several husks, fill and spread each with Masa Dough, fill each with meat. Fold each one, and then tie each one. But, you can also make each one individually if you prefer.
If you have any husks that are too small, you can skip them entirely, or use two pieced together to avoid leakage and tears.
How to store and reheat tamales
Growing up, we just microwaved tamales to reheat them, but my husband and I don't own a microwave.
To reheat, we put a small amount of fat and water in a large sauté pan and layer in the wrapped tamales.
Cover and heat over lowest heat until heated through, about 20 minutes. (After about 10 minutes, check that the lid is very hot, so you know your pan is very hot inside. Also make sure your lowest heat is not too hot.)
Tamales keep in the fridge for 5 days. Freeze them in a well-sealed container for up to 3 months. Defrost overnight in the fridge and then on the counter for a couple more hours if not fully defrosted.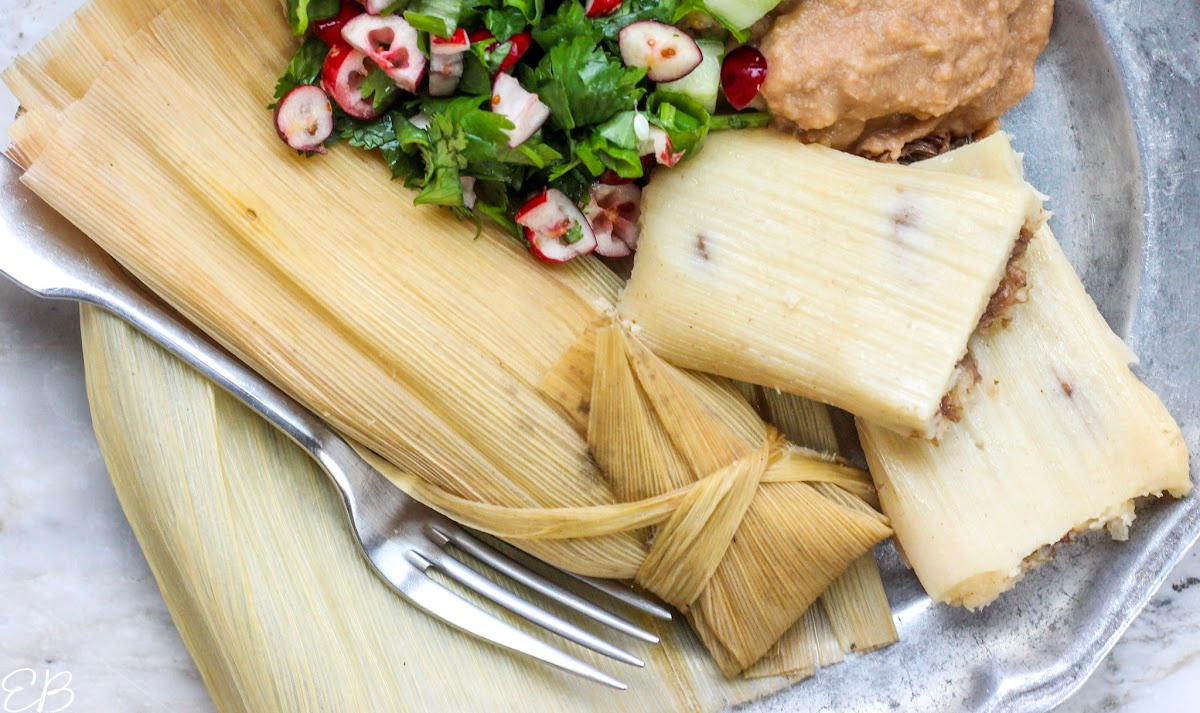 Print Recipe
Nightshade-free Tamales! (Gluten-free, VAD)
Nightshade free Tamalas are as good as you remember them, but healthier and gentler to digest! This delicious authentic recipe features fluffy and easy to make masa dough and a wonderful meat filling in a spiced gravy, without the chile peppers. Gluten-free, low in vA, low in lectins, medium in oxalates and low in salicylates.
Equipment
large pot

or Instant Pot (or other brand pressure cooker)

large sauté pan

or saucepan

steamer basket

or Instant Pot
Ingredients
Meat and Sauce Filling
1

pound

beef stew meat

cubed

4

cups

water

2

Tablespoons

rice flour

2

teaspoons

sea salt or Potassium Salt (This is used with the water to cook the meat and create Meat Stock.)

1-½

teaspoons

cumin

1

teaspoon

ginger powder

For optional additional spices, see Notes section below.

Only for not-low-vA diet.
Instructions
Meat and Sauce filling (Get this started first.)
Place meat in pot with lid. Add 4 cups water and 2 teaspoons salt.

For Stove Top, bring to a boil, then reduce heat to lowest setting that still allows a slow simmer. Cover and simmer until the meat is very tender, about 2 hours. Check water level to make sure it remains almost the same and doesn't evaporate during cooking (otherwise, add water, as needed). When cooking process is over, measure out 2 cups + 1 cup (divided) of the remaining liquid, which is now called Meat Stock. You'll need this in the next steps.For Instant Pot, choose "Stew" setting, and cook 35 minutes. Allow pressure to release naturally or do a QPR, whichever you prefer.

When meat is done cooking, do Step 1 under Masa Dough and Husks, which is to get your corn husks soaking.

Use a slotted spoon to transfer cooked stew meat to cutting board. Allow to cool until it's cool enough to handle. Slice each cube of beef into about 3 slices. Set aside. (Some stew meat will just be falling apart at this point, in which case, slices are less important. Other stew meat remains pretty firm, in which case the slices are very important, because the meat won't shred, but it will still be tender once sliced. My process photos show the firmer slices, but my finished tamales show another batch I made with "fall apart" meat; both are fine and good.)

In large pan, whisk together 1 cup cooled Meat Stock, rice flour, cumin, ginger and sea salt. Heat over medium heat, whisking, until it thickens and simmers for a couple of minutes. Reduce heat to low, and fold/stir in the sliced reserved meat. Remove from heat. Now, taste for salt, and add more if you think it needs it. Set aside while you make the Masa Dough.
Masa Dough and Husks
Soak the corn husks in a bowl of very hot water for 20 to 30 minutes. This photo doesn't show it, but submerge them. Sometimes I weight them down with a bowl on top.

In a large bowl, combine the masa harina, baking powder and salt; mix in the butter and enough broth as necessary to form a spongy dough (about 2 cups). (I use electric handheld beaters.)

Spread the dough out over the corn husks to ⅓-½ inch thickness -- about ¼ cup of masa dough in each corn husk. Place 1 to 2 tablespoons of the meat filling into the center. (The amount you can add depends on the size of the husk. If you overfill, it will spill out of the sides or top during cooking.)

Fold the husk in half length-wise; then fold the "leftover" hanging husk from one side into the center. Tear vertical strips from the smaller soaked corn husks to create little belts for the tamales.

Now, fold the narrow bottom up onto the center, and secure with the husk tie, just one fold/half knot.

For Stove Top: Place in a steamer basket over simmering water; cover. Steam for 1 hour.

For Instant Pot: Put 1-1/2  cups water in base of insert. Top trivet or fill steamer basket with layered tamales. Choose Manual setting, and cook 35 minutes. Allow steam to release naturally for at least 20 minutes, or longer is okay too. Have each person unwrap their own, to serve. Provide a large bowl on the table for the husks.

Serve with refried or other beans and salad, as well as any other sides you enjoy: rice, salsa, sour cream, guacamole etc.
Notes
Nightshade-free Mexican Spice Mix
If you're not on a low vitamin A diet and want a more robust flavor in the chile-free Meat Filling, combine the following herbs and spices (in with Step 4 for the Meat Filling):
Nutrition
Calories:
236
kcal
|
Carbohydrates:
19
g
|
Protein:
12
g
|
Fat:
12
g
|
Saturated Fat:
7
g
|
Polyunsaturated Fat:
1
g
|
Monounsaturated Fat:
4
g
|
Trans Fat:
0.4
g
|
Cholesterol:
53
mg
|
Sodium:
467
mg
|
Potassium:
227
mg
|
Fiber:
2
g
|
Sugar:
0.02
g
|
Vitamin A:
336
IU
|
Vitamin C:
0.02
mg
|
Calcium:
72
mg
|
Iron:
3
mg
You can Pin this recipe here:
What to serve with Nightshade-free Tamales
When I make this recipe in the winter, I make Cranberry or Pomegranate Salsa with just: fresh raw cranberries (cut into quarters) OR pom arils, diced cucumber, sometimes black-eyed peas and fresh lime juice — great for a low-vA diet. I don't eat onions right now, but you could also add diced onions and fresh cilantro, plus optional diced radishes.
In the summer, we love this Strawberry Pico de Gallo Salsa, also nightshade-free, of course. 🙂