I may receive a commission if you purchase through links in this post. I am not a doctor; please consult your practitioner before changing your supplement or healthcare regimen.
This easy to work with Paleo Pie Crust dough crimps beautifully and works well for summer or holiday pies. Enjoy grain-free flaky crust again!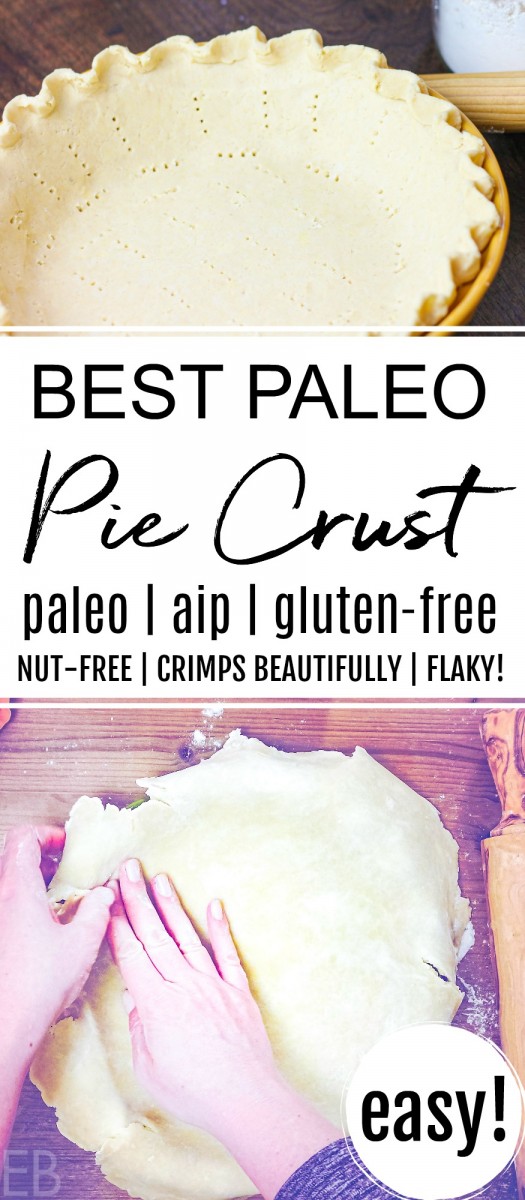 Cassava Flour
It was my mission to create the perfect Paleo pastry dough after discovering cassava flour. It's white flour, after all. And our family hadn't had real pie crust for about six years.
Soooo … June (summer fruits) and the upcoming holidays finally made me do it. When rhubarb came, it was a reminder that pie season in full force was just around the corner. I made cobblers and crumbles.
But what about topping the pie with pastry cut-outs and a great pie shell that could really hold a pretty crimp?
I learned to make pie crust from my aunt-in-law. Shortly after getting married it seemed an important kitchen skill to learn — because my husband loves pie. Lovely Auntie Jan taught me, and she taught one of her daughters-in-law at the same time. A good memory. I wasn't instantly great at the technique. But almost everything I needed to know about making pie I learned that afternoon.
Those same principles apply to pie crust made with cassava flour. It's like white flour in a lot of ways. Even the glutenous quality. Of course, cassava flour is not only gluten-free, it's grain-free. But it's stretchy, a bit, as if it had gluten. (As I've mentioned before, cassava flour also contains resistant starch, which is great for colon health and the gut ecosystem.)
Ingredients & Ratios
She taught us that the ratio of flour to fat needs to be close to 2:1. This principle applies! It's how I approached this recipe and succeeded on the first go. The principle of fat to liquid we learned (also 2:1 with glutenous flour), gets tweaked a bit here, because I figured out that an egg white (plus the usual ice water) makes cassava pastry get waaay flakier. (It's optional, and I give an egg-free AIP alternative below.)
You'll find below a super simple recipe, easy to make, and a dough that's easy to handle.
I used Kerrygold butter in this recipe. It's pasture-raised. You can also use Organic Valley. (I recently switched back to Kerrygold, because I believe it's A2! The effect both butters have on my body has convinced me. Kerrygold leaves me symptom-free; and my son can eat it too. We're both sensitive to A1 milk and react to Organic Valley. I love that OV is more local, but the A2 issue is good food for thought.)
You can also use animal fat to make this dough, and maybe coconut oil. Let me know if you try the latter; I haven't. Regarding the former, I have made this dough with tallow + duck fat; and I've made it with lard. (If you use tallow all by itself, don't chill it, as that creates a less pliable dough; tallow gets really hard.)
This recipe makes the perfect quantity of dough for one bottom pie crust. You can double the recipe if you'd like a top crust or to cut out shapes for the top…!
Print Recipe
Paleo Pie Crust
You will need parchment paper to roll out the dough. (Or you can press the dough into the pie plate with your fingers.)
Ingredients
1-1/4

cups

cassava flour

1/2

cup

unsalted butter

preferably pastured, or animal fat*; coconut oil would work, too

1

egg white

see Recipe Notes for egg-free** version

filtered ice water

see Instructions below for how much

1/4

teaspoon

sea salt

omit if using salted butter

1

egg yolk

optional
Instructions
Preheat oven to 375 degrees Fahrenheit.

Cut butter into 1 Tablespoon sections. Place in freezer for 10 minutes. Place egg white into a 1/2 cup measuring cup or dish. Fill the rest of the way (1/2 cup fill line) with ice water.

Put flour into food processor. Add sea salt. Blend to mix. Remove cold butter from freezer and cut tablespoons in half, so they are in 1/2-tablespoon rectangles/sections. Add these to food processor and pulse to blend, until largest pieces are pea size.

Using only half the egg white-water mixture to start, pour over flour in a donut-shaped gully. Pulse. Add remaining egg white-water and process again, holding down Pulse button until mixture begins to come together: see photo~ about 10 seconds. Squeeze a bit of the dough to see if it holds together well. If not, add a bit more water, about 1/4 cup, and pulse again briefly.

Dump out contents of food processor onto a large square of parchment paper. (Reserve some if you've doubled the recipe to cut out shapes for the top.) Form into a circle with your hands, pressing and patting it together. The circle will be about 7" in diameter. Place second large square of parchment paper onto dough and begin rolling out with rolling pin, from the center, until you have an 11"-12" circle. (Ideally the center is rolled thinly, as this creates a flakier texture.) Peel off parchment from time to time and sprinkle cassava flour as you roll to keep it from sticking.

Transfer pie crust to pie plate by peeling off one side of parchment, placing pie plate upside down on pastry, sliding your hand under pastry that still has parchment, then flipping the whole thing over using both hands. If any breaks off you'll be able to piece it back together. Carefully peel remaining parchment paper off of top.

Allow crust to slide down into pie plate, fitting into concave shape. Fold over and flute/crimp top edges. If dough breaks during transfer, it easily pieces back together. Dust your fingers with cassava flour if edges are sticky. To bake the crust blind (without filling), prick all over with fork and bake in preheated oven for about 35 minutes. (To prevent the sides from collapsing in a couple of places, you can line the crust with parchment and pie weights for the first 15 minutes of baking; then empty and continue for remainder of baking time.) Otherwise fill and bake according to chosen recipe. If you wish, brush crimped edges of pie with egg yolk, to create a really golden outcome.
Notes
*If you use animal fat to make the crust, chill small dollops of the fat, as if you were chilling butter: first measure the scoopable fat into a measuring cup; then place small dollops of the fat onto a parchment lined cookie sheet. Place fat into freezer for 10 minutes. Do not, however, chill tallow, as it will harden too much. Both duck fat and lard work well. Lard is best when it's leaf lard, the fat around the kidneys — perfect for making pastry dough. I often point clients to etsy for this product if you don't know a local pastured-pig farmer: here.
**To make an egg-free version of this recipe, simply omit the egg white and use the ice water in its place, about 1/2 cup. The crust will not be quite as flaky under the filling; but the edges will be very flaky. You can also do one of two things, if your diet allows:
Add a bit of xanthan gum if your diet allows (1/4 teaspoon blended with the flour), if you wish, to increase the flakiness. Xanthan gum is not needed to hold the pie crust together. However, I find that it affects the texture of the baked crust, creating a flakier outcome.

Here is a non-GM product.

Or you can use 1 tablespoon Psyllium Husk Powder here, and blend it with the flour. (Sorry these are not AIP options!)
Here's a Marionberry Pie I made with this crust. I love how the crust holds its crimp so well, for pretty fluted edges.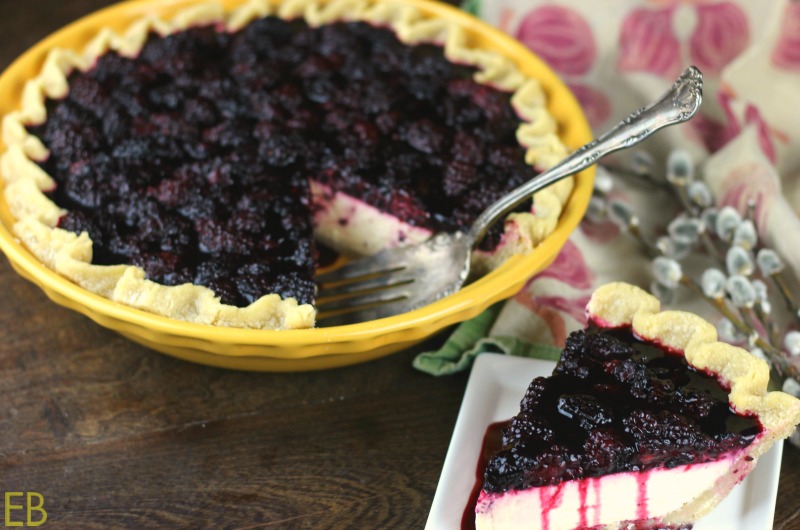 I'd love to hear how your pies turn out. You can also use this crust to make savory galettes, which we enjoy often for dinner.