I may receive a commission if you purchase through links in this post. I am not a doctor; please consult your practitioner before changing your supplement or healthcare regimen.
Enjoy the classic cocoa flavor of chocolate cookies sandwiching your favorite ice cream! Real food Paleo Ice Cream Sandwiches are that nostalgic favorite, but so much healthier!
This recipe is Gluten-free and even great for the GAPS diet. One of the things I love about this recipe is: it's equally healthy AND delicious. The cookie part isn't too sweet, and the ice cream is perfect. Together they make an incredible afternoon snack on a hot day!
I didn't grow up eating store bought ice cream sandwiches. But as the weather turned HOT this year, I found myself thinking about a real food version …
Jump to Recipe
Ingredients in Paleo Ice Cream Sandwiches
With Paleo recipes, the question always is: which flours are used in this recipe?!
I originally created and published this recipe in 2015 when Paleo bakers were making recipes with either almond flour or coconut flour. We were on the GAPS diet, and I wanted to use real food ingredients that were different.
So I used cashews and flax seed meal. The recipe turned out great, and I still love it today.
The other ingredients are:
cocoa powder
1 egg
coconut oil
a very small amount of honey
baking soda and sea salt
HEALTHY COOKIES
The result is a somewhat crispy cocoa-flavored cookie that's not too sweet.
I actually love this recipe. I find that the healthiness of the cookie makes the whole snack more enjoyable. When cookie sandwiches are too sweet, for me, it just feels too indulgent. Whereas, this treat — I can happily wolf down the whole thing and then be off to have some adventure (and use the energy it's given me!).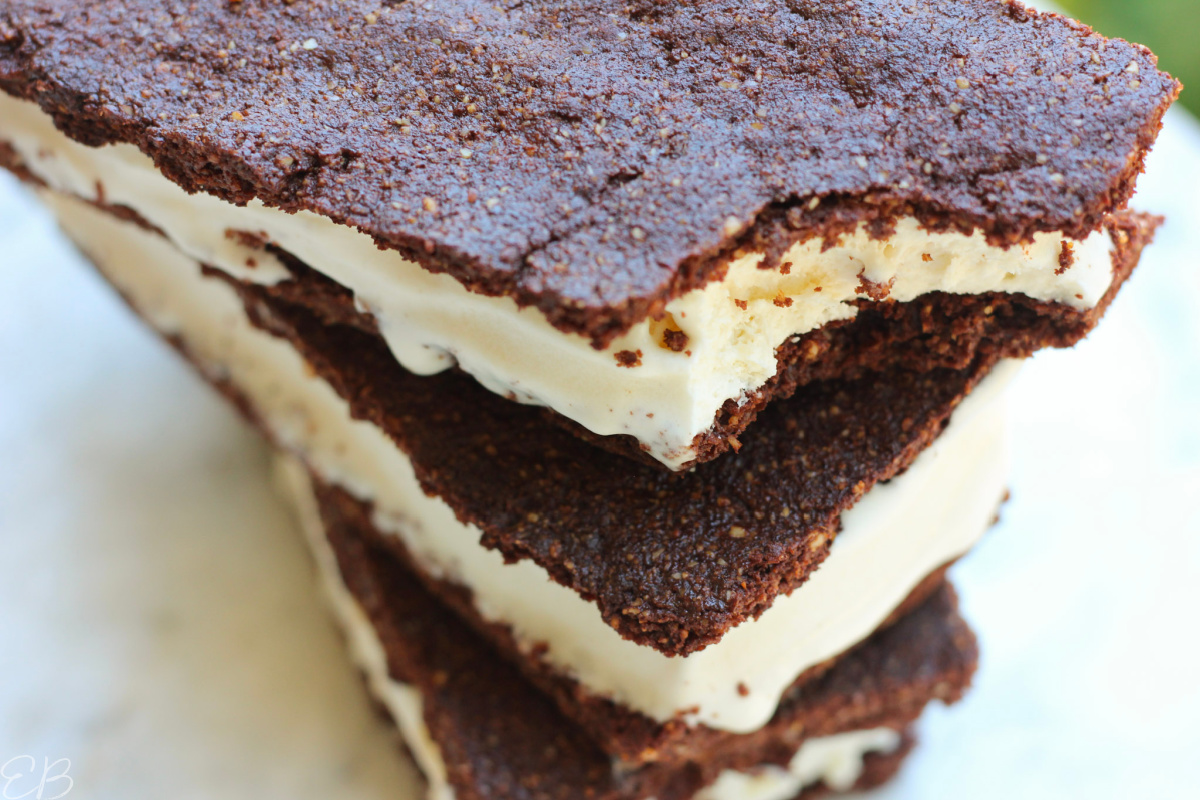 How to make Paleo Ice Cream Sandwiches
The chocolate cookie recipe actually whips up in the blender! You'll:
Grease a large cookie sheet. Set it aside.
Blend the dry ingredients until they're powdered: cashews, flax, cocoa, baking soda and sea salt.
Then add the wet ingredients: egg, coconut oil (melted) and honey; and blend.
On the cookie sheet, press the fudgy dough out into a thin rectangle, and bake. (More details and photos for this step below in the Recipe itself.)
When partially cool, slice the large cocoa cookie into sandwich cookie shapes, and chill.
Meanwhile, let the ice cream "warm up" a bit, so it's soft enough to fill the cookies.
Sandwich ice cream into cookies, freeze and eat!
This dark chocolate cookie dough is actually really fun to work with!
You shape it with your fingers and it's basically non-stick — easy and no rolling out.
When to serve Paleo Ice Cream Sandwiches
Serve these special sandwiches at a healthy family birthday party or an outdoor picnic.
Or just for fun any hot afternoon … or for dessert, after dinner.
Enjoy the childhood memories you may have of eating the less healthy ones — yet the more intense flavor and lovely texture of the homemade ones!
Which ice cream to make Ice Cream Sandwich Bars with
Use your favorite ice cream recipe to fill the cookies, or buy a good-quality ice cream.
Here are a few of my favorite Paleo ice cream recipes for homemade:
The cookies themselves aren't super sweet; they're more of a bittersweet chocolate; so a sweet natural homemade ice cream goes perfectly.
Cheers and happy hot summer!!
Print Recipe
Paleo Ice Cream Sandwiches (Gluten-free, GAPS)
Enjoy the classic cocoa flavor of chocolate cookies sandwiching your favorite ice cream! Real food Paleo Ice Cream Sandwiches are that nostalgic favorite, but so much healthier! This recipe is also Gluten-free and even great for the GAPS diet.
Servings:
6
big sandwiches
Instructions
Preheat oven to 325 ° Fahrenheit.

Grab a cookie sheet and slather it with 2 Tablespoons melted coconut oil, completely coating the surface.

Place the dry ingredients into a high-powered blender: flax, raw cashews, cocoa, baking soda and sea salt. Blend for about 40 seconds, until the cashews are mostly powdered. Stop the motor, and use a spatula or wooden utensil to fold in the dry meal and larger pieces from the corners. Blend another 10 seconds.

Add egg, remaining coconut oil and honey, and blend again until mostly mixed. Use a spatula to fold in any dry spots from corners or edges. Blend again on medium-low speed until a fudgy batter is formed. Repeat one final time as needed, folding in any dry meal from the corners or bottom of the blender, then briefly blend again to incorporate.

This dough is very fun and easy to handle. It is almost non-stick! Place it in 6 or 8 pieces over the surface of the prepared cookie sheet and use your fingers to pat and shape it into a rectangle, about 10" by 13".

It will be less than 1/2" thick. Prick the dough all over with the tines of a fork, as you would a pie crust.

Bake 10 to 11 minutes, watching for the cookie surface to show subtle cracking and bubbles, similar to a pie crust, but don't let the edges get too dark or the cookie will break too easily when it's cut. Cool 8 to 10 minutes; then, using a long knife cut away the rough edges to create straight lines and slice the giant cookie into 12 rectangular shapes.

Carefully transfer cookies, using an offset metal spatula, to an un-greased cookie sheet. Refrigerate for 30 minutes. (If your ice cream is hard, you can place it in the refrigerator during this time to create a softer texture [that isn't melting as much as it would if held at room temperature].)

Use very scoop-able ice cream (softened slightly) to assemble ice cream sandwiches: place up to ¾ cup ice cream on each cookie, (shaping it with a spoon and butter knife works well) and top with second cookie, pressing down carefully to prevent the cookies from cracking, to seal the sandwich together. Freeze each sandwich as it's completed.

Chill 30 minutes or longer. Serve.
Nutrition
Calories:
285
kcal
|
Carbohydrates:
17
g
|
Protein:
7
g
|
Fat:
27
g
|
Saturated Fat:
14
g
|
Trans Fat:
1
g
|
Cholesterol:
27
mg
|
Sodium:
145
mg
|
Potassium:
189
mg
|
Fiber:
6
g
|
Sugar:
1
g
|
Vitamin A:
40
IU
|
Vitamin C:
1
mg
|
Calcium:
42
mg
|
Iron:
2
mg
Pin this recipe here:
You might also love: