I may receive a commission if you purchase through links in this post. I am not a doctor; please consult your practitioner before changing your supplement or healthcare regimen.
Avocado Ice Cream is a totally revolutionary dessert treat! It's just like ice cream but it fits most food restrictions (though you'd never know!) because it's dairy-free, nut-free, coconut-free and sweetened with honey, vegan or low carb sweetener.
You'll LOVE the flavor variations, too: Peppermint, Mint Chocolate Chip, Dark Chocolate, Lime, Fresh Herb, Ice Cream, Matcha and Berry. Plus the original flavor: Avocado-Vanilla!
These creamy treats are good enough to serve to friends … yet you COULD eat them with breakfast on a sunny morning! Wink, wink.
Or we LOVE them on a hot afternoon!
Avocado Ice Cream is Paleo, AIP, Keto, Vegan, GAPS and Gluten-free.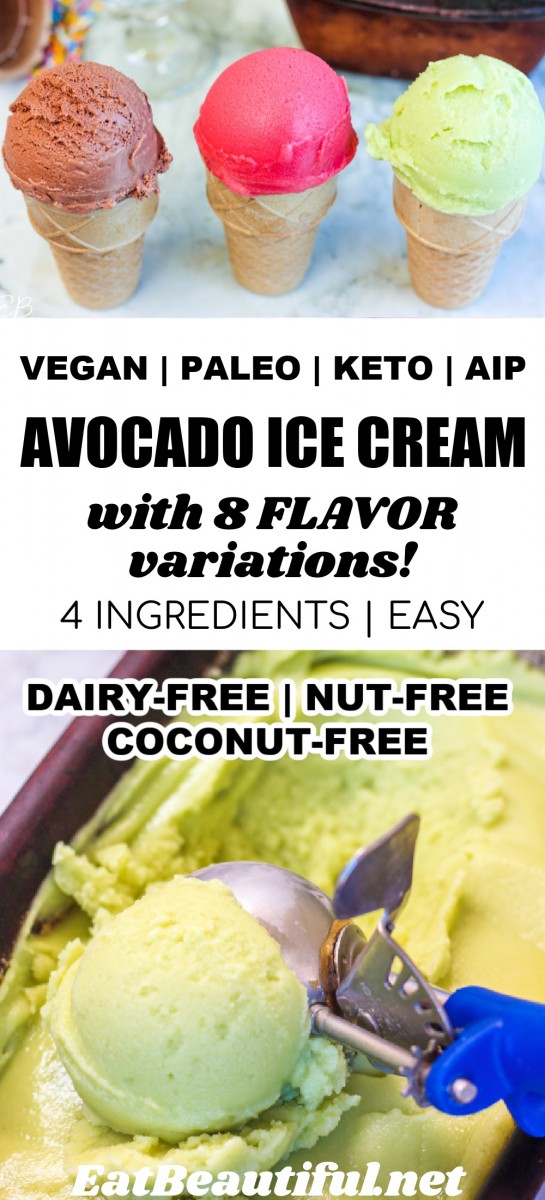 Avocado Ice Cream is like sorbet … but creamy!
I used to be a snob about sorbet. Who would want something icy and sugary when you can have cream and honey? And yet, life has its seasons, right? So when I went through an avocado season without dairy, I thought of this idea.
When my first cookbook was published in 2015, my passionate goal was to put my Hashimoto's into remission (this happened for me in 2019!). Any cookbook production causes some stress, even when you try to avoid it completely; and so that cookbook had a bit too. I was very careful, for the sake of my health, to limit it, but a bit crept in toward the end.
One day I was in bed and unable to get out. I did some computer work from the cushy prison; and I told myself then that when the cookbook was complete and the stress was behind me, not only would I rest, I would set out in complete earnest to put this final autoimmune disease into the past.
While I already had a lot in my diet and the right supplements in my favor, I am nothing if not thorough. I will do everything it takes, within my power. Many people who have Hashimoto's have found success by eliminating nightshades, nuts and dairy, among other things. I do not mind eliminating foods too much, not for the greater cause of getting well, especially if I can make myself alternatives so I don't feel deprived.
So I eliminated nightshades, nuts, seeds and dairy from my diet.
At that time, I created Avocado Milk and the week before that, No-Tomato Sauce.
I also noticed some (a lot) of brain fog from eating nuts. I listened to my body. No nuts for a while.
I think it's important that we don't let ourselves be discouraged, like these limitations are a life or death sentence that will always exist. If we are strict today, now, we will likely run freely on the hilltops of wellness later. And in the meantime — alternatives.
I found that I loved this recipe and all of its variations — even though it's technically a sorbet! It offers the freedom to enjoy "ice cream", and it's a delicious alternative to all other creamy options. Amen for avocados!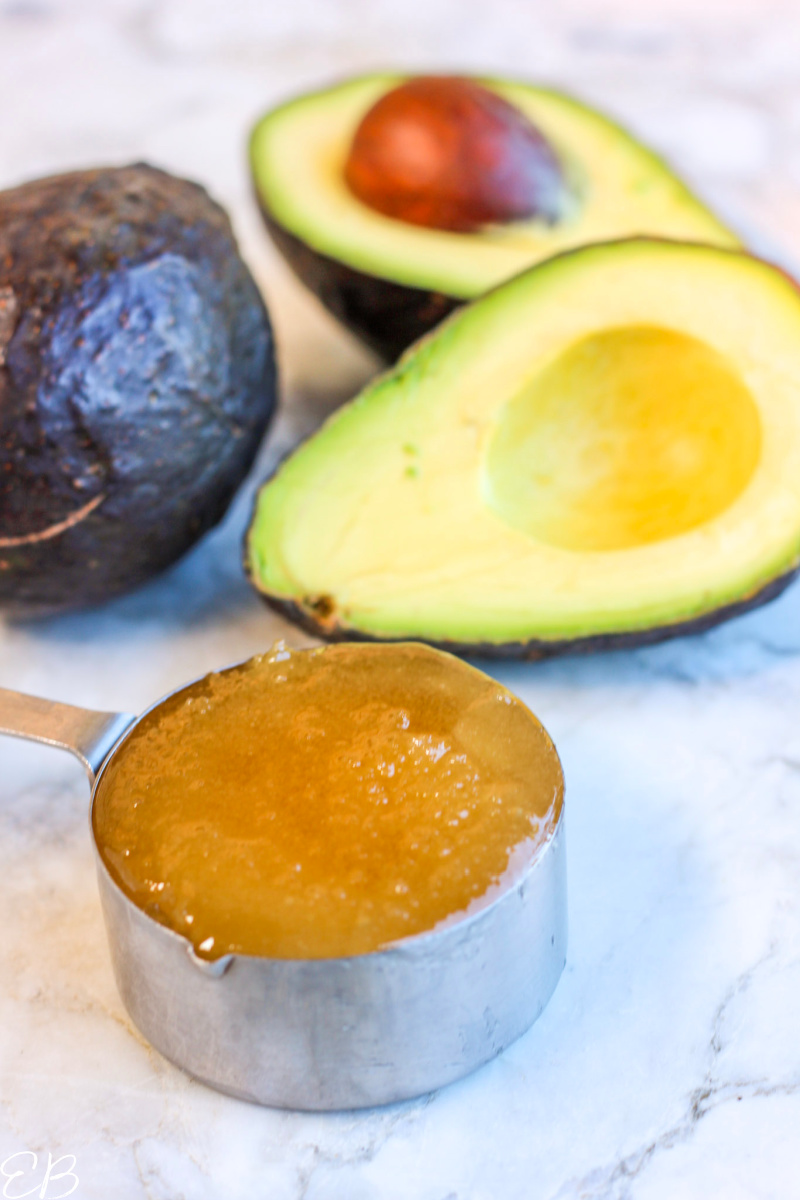 Ingredients and How to make Avocado-Vanilla Ice Cream
The four ingredients in Avocado-Vanilla Ice Cream are simply: one large avocado, water, honey or low carb sweetener (for Keto) … (for Vegan, use maple syrup, coconut syrup or agave) … and vanilla extract!
To make Avocado Ice Cream, blend the ingredients in a blender until smooth.
The recipe is made like a sorbet: fruit, water and sweetener, but the avocado and vanilla extract make the recipe creamy.
Vanilla extract adds to the creamy texture because it lowers the freezing point of the mix, which makes the ice cream less icy.
Some of the flavor variations make Avocado Ice Cream even creamier, like the Chocolate.
When you go to buy and measure your avocado, one large avocado is about 4+ inches long. Two small avocados have a similar amount of fruit: about 1 cup of loosely packed chopped avocado.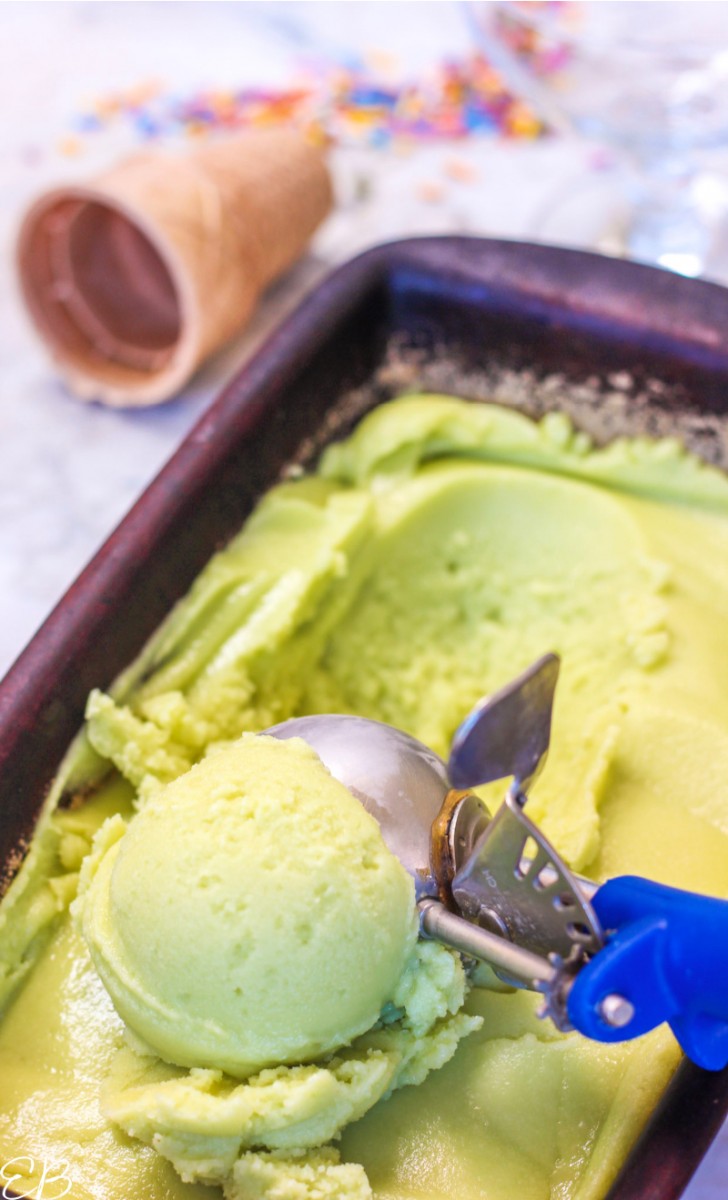 Flavor variations of Avocado Ice Cream
Avocado-Vanilla is the base flavor that's lovely. Yes, it tastes super good: of honey, vanilla and a little avocado.
The other flavors usually include just one extra ingredient, and sometimes one extra step. There are 8 extra flavors you can make from this recipe, so actually a total of 9 options.
The flavors are exciting!:
CHOCOLATE — You can use Cocoa or Carob to make the ice cream addictively good. (For AIP, use carob.)
BERRY — Berries make this treat super pretty, bright and fruity!
PEPPERMINT — This flavor is great on hot days.
MINT CHOCOLATE CHIP — Adding shaved unsweetened chocolate to the peppermint is a crazy, healthy way not to tack on sugar while tasting the classic goodness of Mint Chocolate Chip. (For AIP, use carob.) You can also use your favorite Paleo, Vegan or Keto bar or chips.
LIME — And Lime, it's a natural flavor companion that is so so good with avocado. This flavor reminds me of an electrolyte dessert, super delicious after exercise, but also anytime.
MATCHA — A reader tried this flavor herself and let me know, so I've added it. Delicious and beautiful, I now love this flavor too.
ICE CREAM or FROZEN YOGURT — You can substitute some of the water (exact amount below) with cream, yogurt or coconut milk if you want to make a creamier Avocado Ice Cream. (For AIP, just coconut milk or coconut yogurt, not the dairy options.)
FRESH HERB — Purée fresh herbs into the mix if you love gourmet, summery flavors: basil, mint or tarragon are blended with the base ingredients and a little fresh lime juice. (These herbal Avocado Ice Cream flavors are amazing for garnishing summer drinks, salads and desserts. Plus, add edible flowers to garnish.)
None of these flavors taste like sugary sorbet. They all taste of honey, vanilla, a bit of avocado, and creamy, refreshing goodness.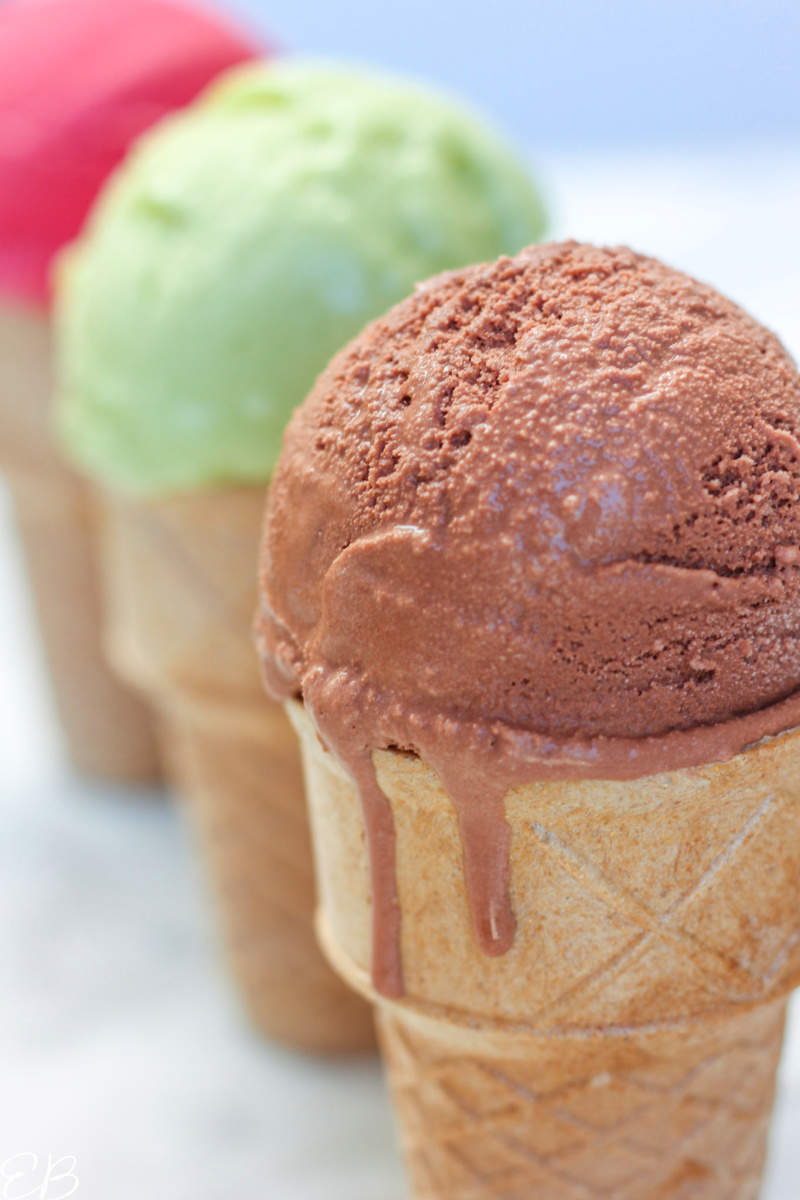 Avocado Ice Cream for breakfast …
Protein is always first and central when I make meals. So keep that in mind as I share my love for ice cream at breakfast …
My kids will tell you: We don't mind (ha, ha — we love) making ice cream for breakfast. It's the time of day best suited for eating a bit of honey, for my body at least. I love making nutrient-dense waffles and topping them with this satisfying, refreshing treat. (You know, we owned a gut-healing cafe where I often went and did this with soft-serve?!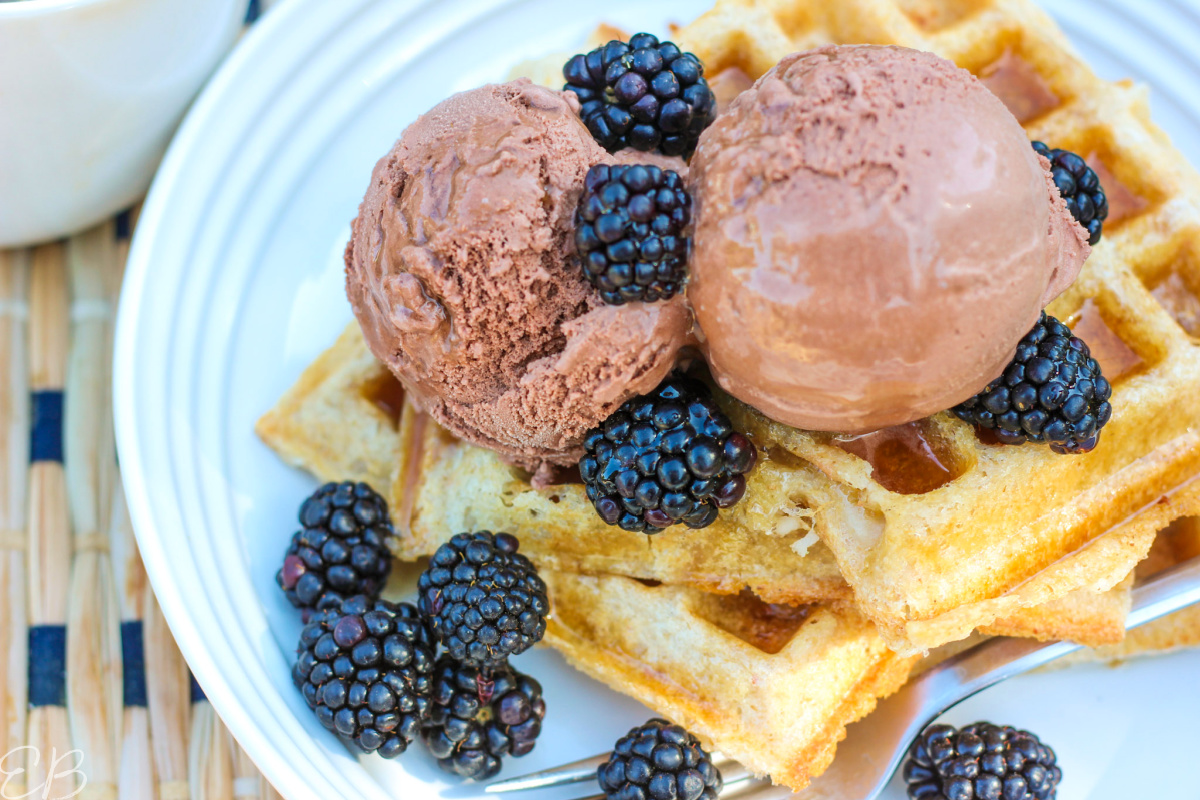 So I've been a bit spoiled over the years, Paleo waffles and ice cream ready to go at all times, high in protein and low in sugar.)
I have learned to really prefer the healthy versions of ice cream and waffles. My waffles are nutrient-dense and unsweetened. And ice creams like this aren't too sweet.
So the whole smorgasbord is actually energy-giving with no slump.
Therefore, I encourage you, too, to eat Avocado-Vanilla Ice Cream for breakfast, if it makes you happy. (Just not too much.)
Does it help you keep life fun and low stress? No blood sugar spikes? Then, go for it! You're not eating a giant portion. There's everything right about adding extra food joy to your life!
If you're looking for gluten-free waffles that will fit your diet to do this, too, here are several waffle recipes to choose from:
Avocado-Vanilla Ice Cream as an afternoon treat
Avocado-Vanilla Ice Cream is also excellent in the afternoon heat!
When the weather is up into the high 90s, I wait to make this until about 4pm, and we all feel so much better for it!
Cool off with the good nutrition of avocados and raw honey!
Certainly, you can enjoy Avocado-Vanilla Ice Cream for dessert after dinner, too! But personally, I prefer having a small dinner and my treats earlier in the day.
And because Avocado-Vanilla Ice Cream is so refreshing, it's wonderful to indulge in the sun — like electrolytes on a cone!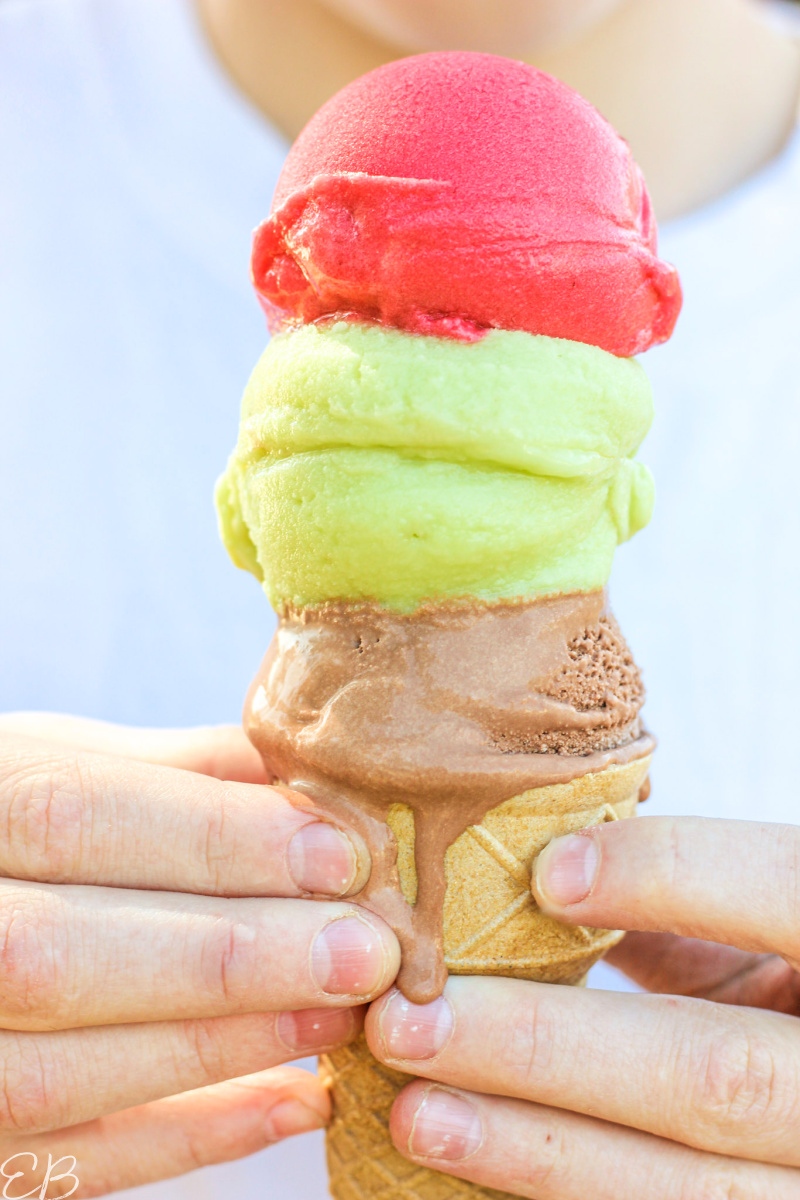 How many people does the recipe serve
This ice cream recipe makes a bigger batch than most ice cream recipes! In fact, you may have an extra cup of the mix that won't fit into your ice cream maker.
Or, just pour it all in, and the slush will come temptingly spilling over the top once frozen.
That said, Avocado Ice Cream serves 6 people, or up to 10, with smaller servings.
How to store and defrost leftovers
Store leftovers in an airtight, sealed container.
Place ice cream in the refrigerator to defrost it evenly. Or on the counter if you don't mind the edges getting melty.
Because there's a full half cup of sweetener in this recipe (which makes it softer and more scoopable), you can scoop this flavor straight from the freezer.
But for the optimum texture, better to briefly defrost it.
Allow 15 minutes for Avocado Ice Cream to become softly scoopable, at room temperature, or longer in the fridge.
The Keto and Low Carb version of this recipe takes less time to defrost; 10 minutes may be about right.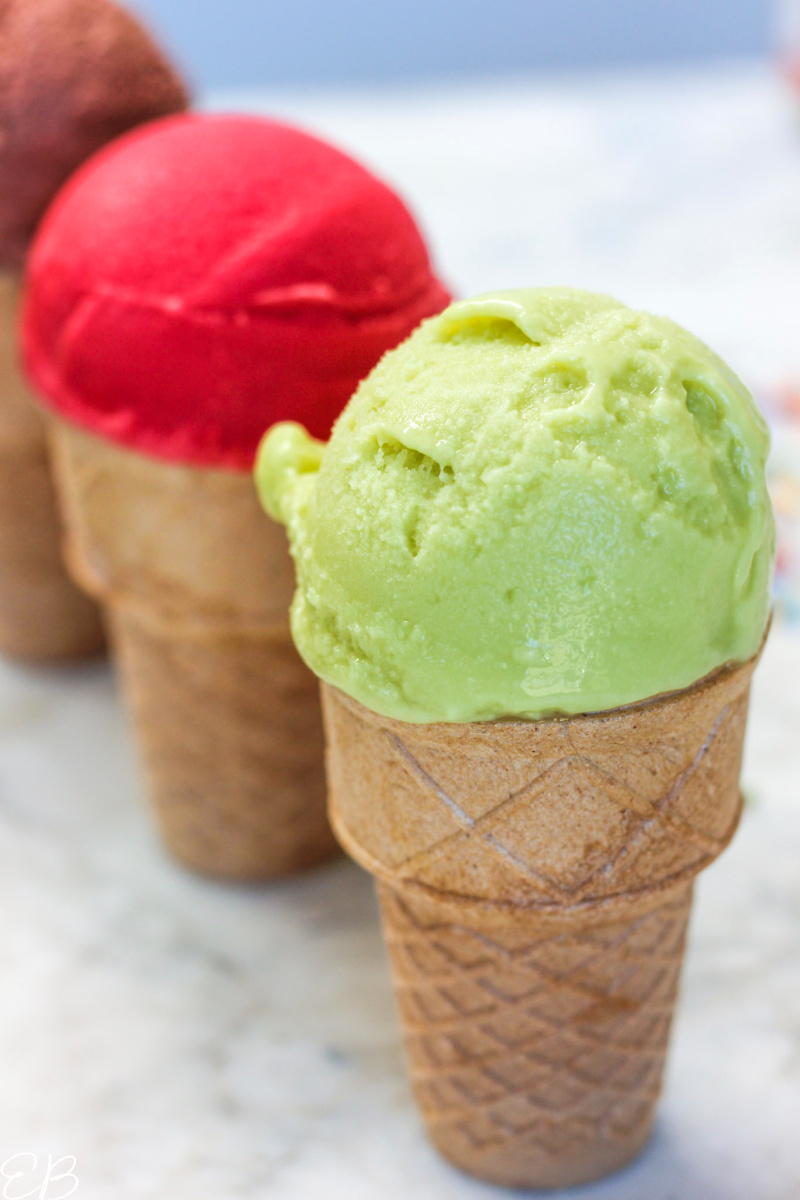 Print Recipe
Avocado Ice Cream — dairy-free, with 8 flavor variations!
Avocado Ice Cream is a totally revolutionary dessert treat! It's just like ice cream but it fits most food restrictions (though you'd never know!) because it's dairy-free, nut-free, coconut-free and sweetened with honey or low carb sweetener.You'll LOVE the flavor variations, too: Peppermint, Mint Chocolate Chip, Dark Chocolate, Lime, Fresh Herb, Ice Cream, Matcha and Berry. Plus the original flavor: Avocado-Vanilla! Made like sorbet, but CREAMY!
Ingredients
1

very large

avocado

, or two small (1 cup of loosely packed avocado chunks)

4

cups

filtered water

4

teaspoons

real vanilla extract

(1 Tablespoon + 1 teaspoon)
Instructions
Place all ingredients in blender, in the order they are listed. Purée until honey is fully dissolved, 30 to 50 seconds.

Pour into ice cream maker, according to manufacturer's instructions.

Serve immediately or freeze for later, pulling it out 15 minutes early for easy scooping.
Notes
Flavor Variations
Peppermint — Substitute vanilla extract with

¾

tsp. peppermint extract. (Quantity may vary if you use a different brand, so taste to be sure.)
Mint Chocolate Chip — Substitute vanilla extract with

¾

tsp. peppermint extract. Chop or shave dark chocolate,

¾

cup, and add into freezing ice cream during the last 2 to 3 minutes of churning. For AIP, use carob chips.
Chocolate — Heat 1 cup of the filtered water. Add

½

cup cocoa and a pinch of sea salt, whisking it into the hot water. For AIP, use carob in place of the cocoa.
Lime — Substitute

⅓

cup of the water with fresh lime juice.
Fresh Herb — Purée in fresh herbs like basil, mint or tarragon, with the above lime juice.
Matcha — Add 1 Tablespoon high quality matcha powder (like this) to the blender with the other ingredients.
Ice Cream (dairy-free option) or Frozen Yogurt — Replace

½

of the water with coconut milk, sprouted nut milk, yogurt or cream. If you use the cream option do not puree it for the full 30 to 50 seconds. Add it in toward the end of pureeing, so it doesn't turn into butter/curdle. (AIP, only use the coconut milk/yogurt options.)
Berry — Replace one cup of the water with one cup berry puree or a heaping cup of whole or chopped berries. If you use raspberries or blackberries, process the purée through a fine mesh strainer first, to remove the seeds.
For extra creamy, fluffy mouthfeel, variation (not vegan):
Sprinkle 1 teaspoon gelatin over one cup of the water used, in a small saucepan. Dissolve completely by heating the water, stirring. Add this back into the recipe, in the blender.
The nutritional data below is for the Keto version of this recipe.
Nutrition
Calories:
70
kcal
|
Carbohydrates:
3
g
|
Protein:
1
g
|
Fat:
5
g
|
Saturated Fat:
1
g
|
Sodium:
8
mg
|
Potassium:
167
mg
|
Fiber:
2
g
|
Sugar:
1
g
|
Vitamin A:
1
IU
|
Vitamin C:
3
mg
|
Calcium:
9
mg
|
Iron:
1
mg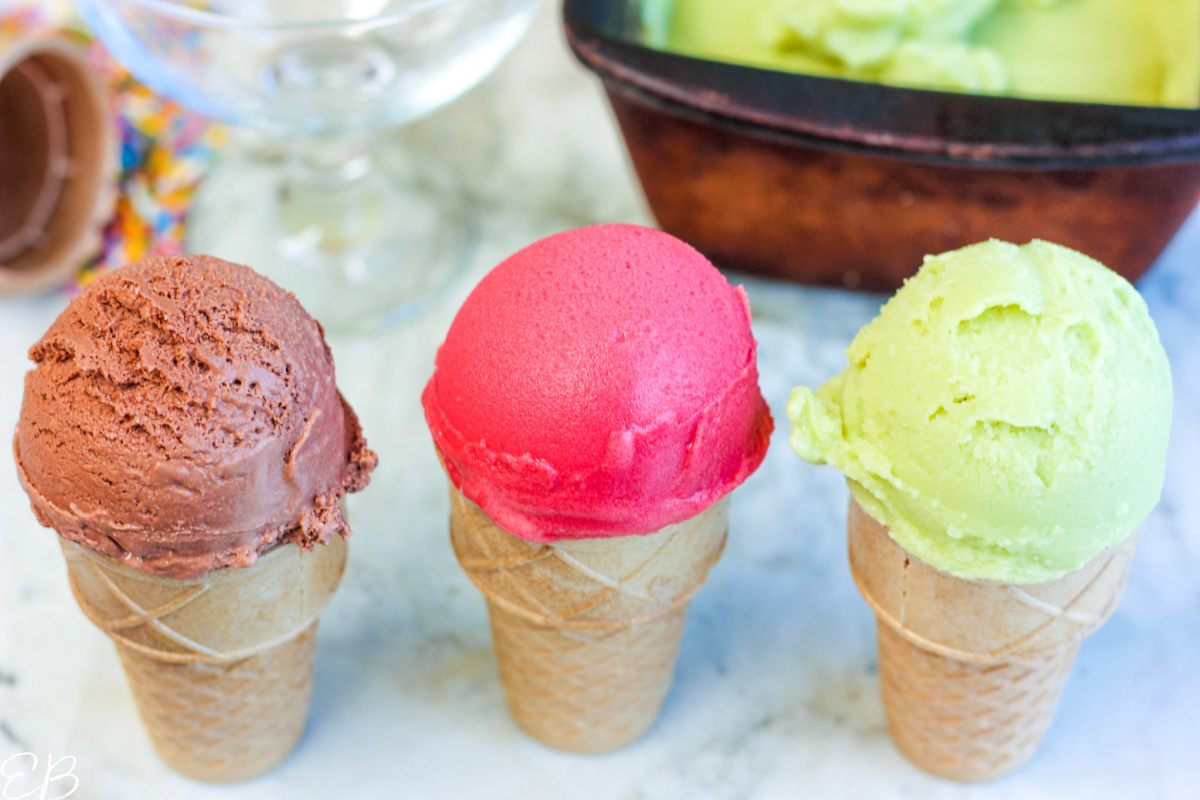 If you're looking for a versatile vanilla ice cream, try Paleo Vanilla Ice Cream. It's also Keto, AIP, GAPS and Vegan.