I may receive a commission if you purchase through links in this post. I am not a doctor; please consult your practitioner before changing your supplement or healthcare regimen.
Paleo Vanilla Ice Cream is oh-so-creamy, yet dairy-free and super delicious! It scoops beautifully, has no refined sugar and is perfect for Paleo, GAPS, AIP, Vegan, Gluten-free and Keto folks who want the best ice cream, with only three ingredients!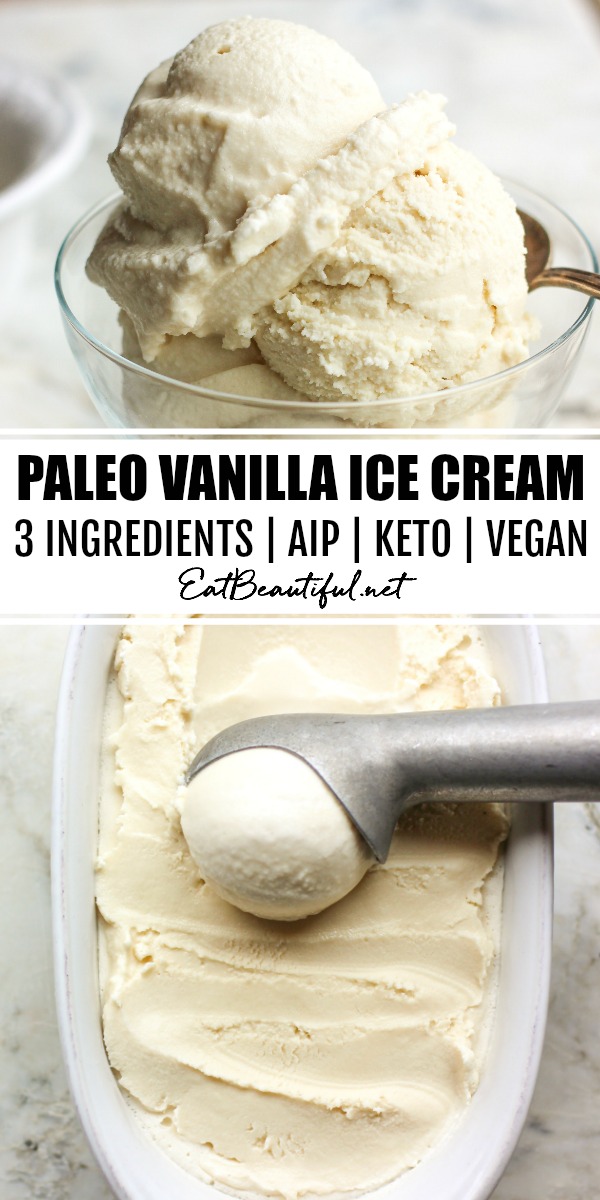 Whether it's summer, spring or you need the best easy ice cream recipe to serve à la mode year round, this recipe is so much fun to quickly assemble and serve to your loved ones!
There's nothing like fresh, homemade ice cream to get my family excited!
My husband and I owned three Paleo ice cream shops for about 8 years in Eugene, Oregon, so this is my cup of tea, and I can't wait to share with you just how simple great ice cream is to make!
Let's get started! How to make healthy Paleo Vanilla Ice Cream …
What kind of coconut milk to use in Paleo Vanilla Ice Cream
The best canned coconut milks are Native Forest and Aroy-D, because they don't contain guar gum + are super creamy. Trader Joe's also carries a canned coconut milk that is additive-free. I recommend Aroy-D (like this) as the best of these options, for the most reliable results, plus clean ingredients.
With coconut milk, you don't need to worry about whether or not it's organic. When we owned our Paleo and Vegan ice cream shops, we ordered huge quantities of coconut milk from Thailand.
We had a friend in the industry, the owner of a major vegan line of ice creams, who traveled to our supplier to check out the coconut palm farms. The organic and conventional palms were grown on neighboring properties and neither received synthetic fertilizers or pesticides. Coconut is a clean crop!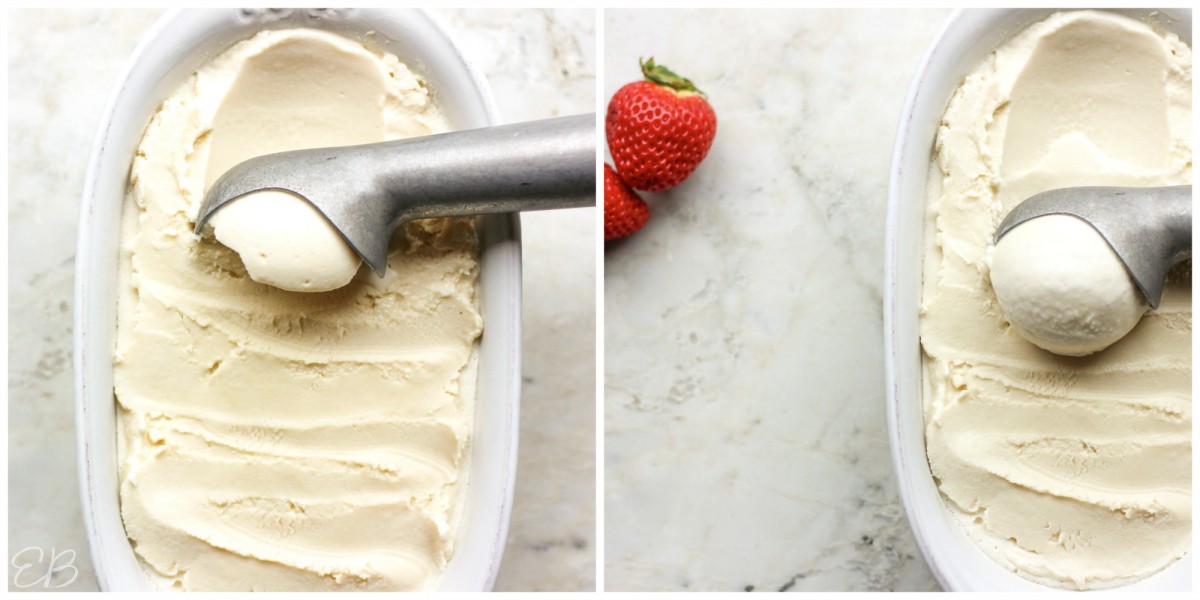 How to sweeten Paleo Vanilla Ice Cream
The main recipe below is Paleo and Vegan. But it's SUPER easy to make this recipe Keto and Low Carb.
For Paleo, AIP and Vegan, sweeten with pure maple syrup. It makes an incredible Vanilla Ice Cream.
For those of you who enjoy honey and prefer it, sweeten with local, raw honey! Preferably keep it at room temperature, so it blends into the coconut milk more easily. (Chilled honey takes longer.) For GAPS diet, use honey!
For Keto and Low Carb, I recommend liquid allulose. Allulose is not a sugar alcohol, like erythritol or xylitol. It's a naturally occurring, zero-glycemic sweetener that is found in just a few foods (including figs, raisins and jackfruit). It makes great ice cream.
If you prefer to use another low carb sweetener, that's okay too. The main difference is that allulose creates softer ice cream for scooping straight from the freezer. You can even reduce the amount of vanilla extract if you use allulose.
If you make the low carb version, this recipe has 5g net carbs.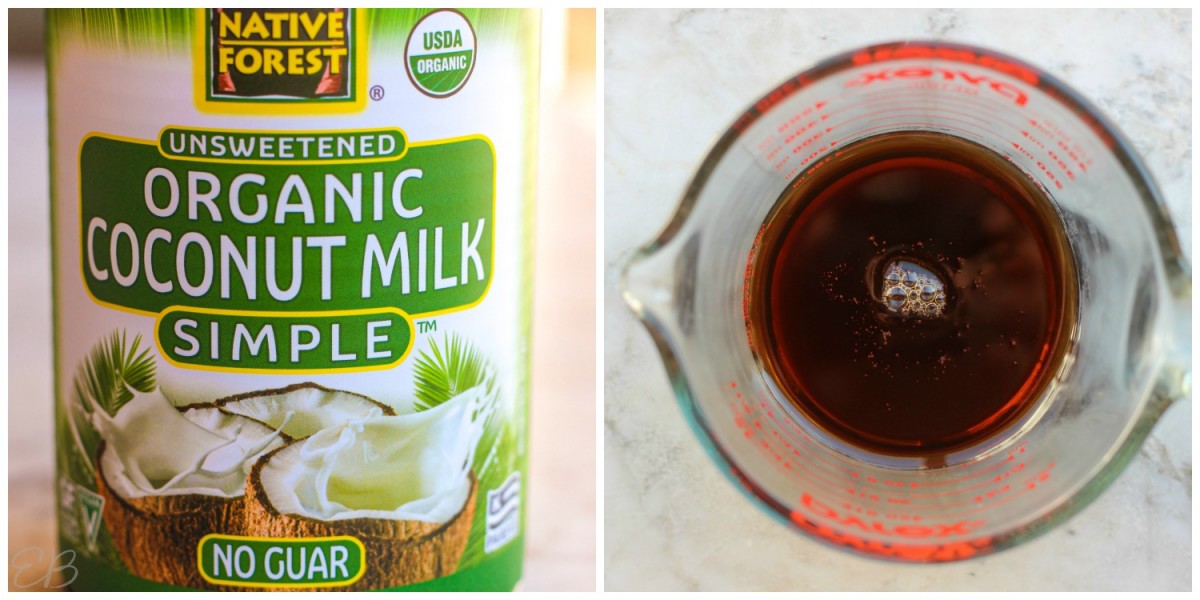 Use a blender
Using a blender to combine your ingredients ensures a smooth mix, with no lumps.
A high-powered blender also adds a little air to your liquid recipe, which adds to the frozen ice cream's creamy mouthfeel.
Which ice cream maker to use
We still have the ice cream maker my parents gifted me over 25 years ago! It's the machine I developed all of our first ice cream recipes on, before opening our first ice cream shop.
If I needed a new one today, I'd buy something similar: keep it simple, because there isn't a perfect ice cream maker out there that's affordable. So doing the best we can, I recommend this one or this one.
TIPS FOR SUCCESS: If you're new to ice cream making, be sure to follow the manufacturer's directions. It's very important to have your freezer set to the coldest setting before freezing the freezer bowl. Place freezer bowl in the back of the freezer, where it's the coldest for a full 24 hours. (I just leave ours in the freezer when it's not in use.) Shake the bowl to make sure the liquid is frozen. The freezer bowl needs to be on a flat surface and upright for even freezing.
When it's time to make your ice cream, use the freezer bowl immediately upon removing it from the freezer, because it WILL begin to defrost immediately!
Turn the ice cream maker on before pouring in the recipe. The bowl should be spinning around the blade when you add the Vanilla Ice Cream mixture. This keeps the ice cream from getting frozen to the sides immediately, which prevents the bowl from turning!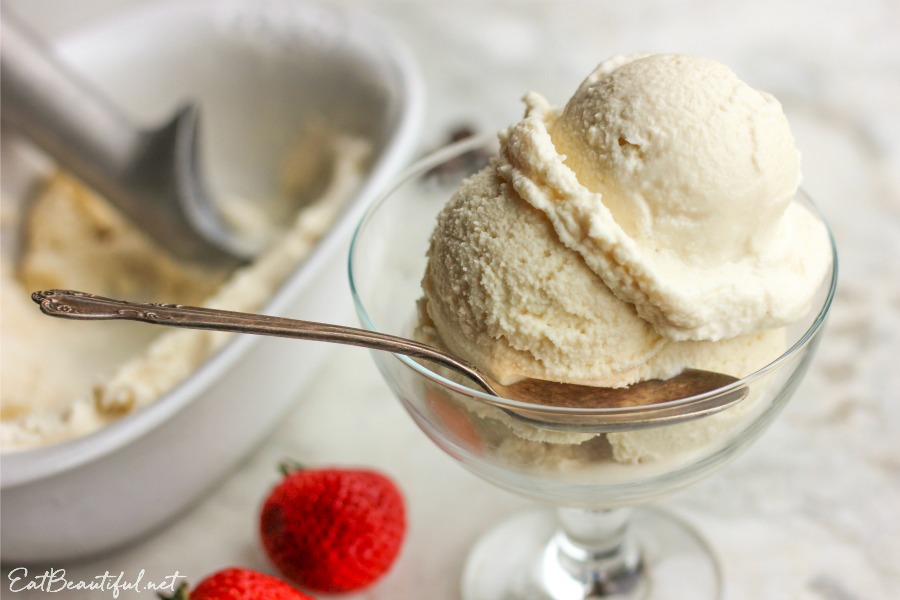 To freeze or not to freeze
The final step in the ice cream process is freezing the ice cream before serving … or simply serving soft-serve!
You decide! When we make ice cream in the evenings, after dinner (about once a week!), we really like the fun of soft-serve. It's truly an exciting family event to have the ice cream churning while we eat dinner, and then one of us runs over to pull out the blade, scrape it down and begin serving ourselves — while we all ooh and aww about the texture and the flavor! Pure fun.
But there are definitely times to freeze your ice cream before serving! Freeze for 1 to 3 hours if you want/need round scoops. Perfect for brownies, pie, crumbles, cobbler and making ice cream sandwiches.
Fresh soft-serve ice cream will melt too much to use as a neat garnish. 😉 So decide which works best for your needs (or wants!).
How to serve Paleo Vanilla Ice Cream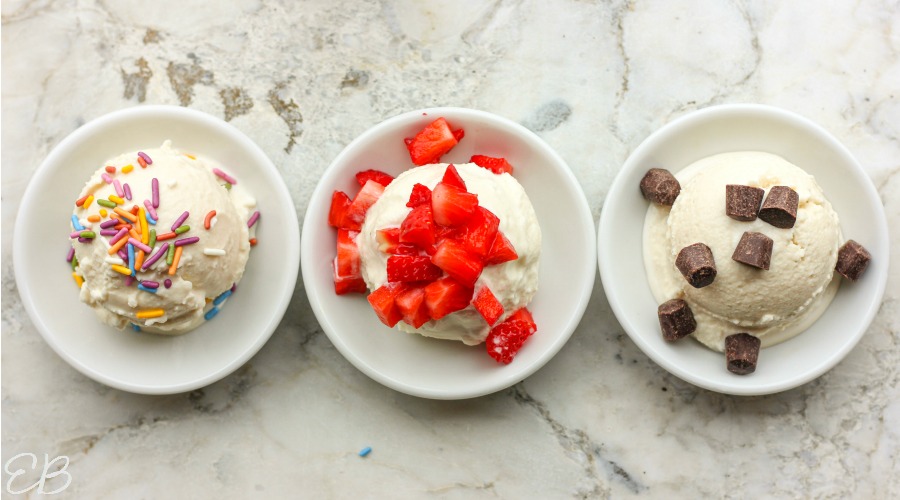 What makes Paleo Vanilla Ice Cream so good
One important secret to this recipe's success is the vanilla extract (find it here). Vanilla extract is 35% alcohol. The alcohol in the recipe lowers the freezing temperature of the ice cream, which makes it extra creamy! This ingredient also means that leftovers still taste good and don't get too hard to scoop.
Even without the alcohol, this recipe is simply delicious and hard to beat! But the alcohol gives it that winning touch of the perfect texture and mouthfeel.
If you omit the vanilla extract, eat all of the ice cream when it's fresh (soft-serve texture), or let the leftovers sit in the fridge or on the counter for at least 30 minutes to thaw.
The right amount of sweetener also creates the luxurious, creamy texture. This recipe indicates to use 2/3 cup pure maple syrup (or preferred sweetener). You can actually reduce that down to 1/2 cup if you prefer. But use 2/3 cup if you want the most classic and indulgent outcome. The "sugar" isn't there just to sweeten!
Lastly, if you want to use even less sweetener, but don't want to lose that soft scoopable texture, you can increase the vanilla a bit more. Alcohol and sweetener are your two most important tools for creating the right texture. You also need a creamy high-fat milk.
Substitutions and variations
A few subs work in this recipe, if needed:
You can sub part super creamy homemade cashew milk, if you don't want to use all coconut milk. The thicker and richer the better. (Use

1 cup

raw cashews, soaked for

1

hour in hot water, plus

1 cup

+

2 Tablespoons w

ater blended on medium-high until creamy and smooth, about 50 seconds; don't strain.)
If you don't have vanilla extract, you can actually use 1 Tablespoon of vodka in its place. (You won't taste it.)
As discussed elsewhere, you can vary the sweetener to suit your needs: use honey or low carb sweetener of choice (not stevia).
Add a few more pinches of sea salt to your ice cream "mix". This dials up the flavors, lovely! Or sprinkle great quality sea salt on top, to garnish.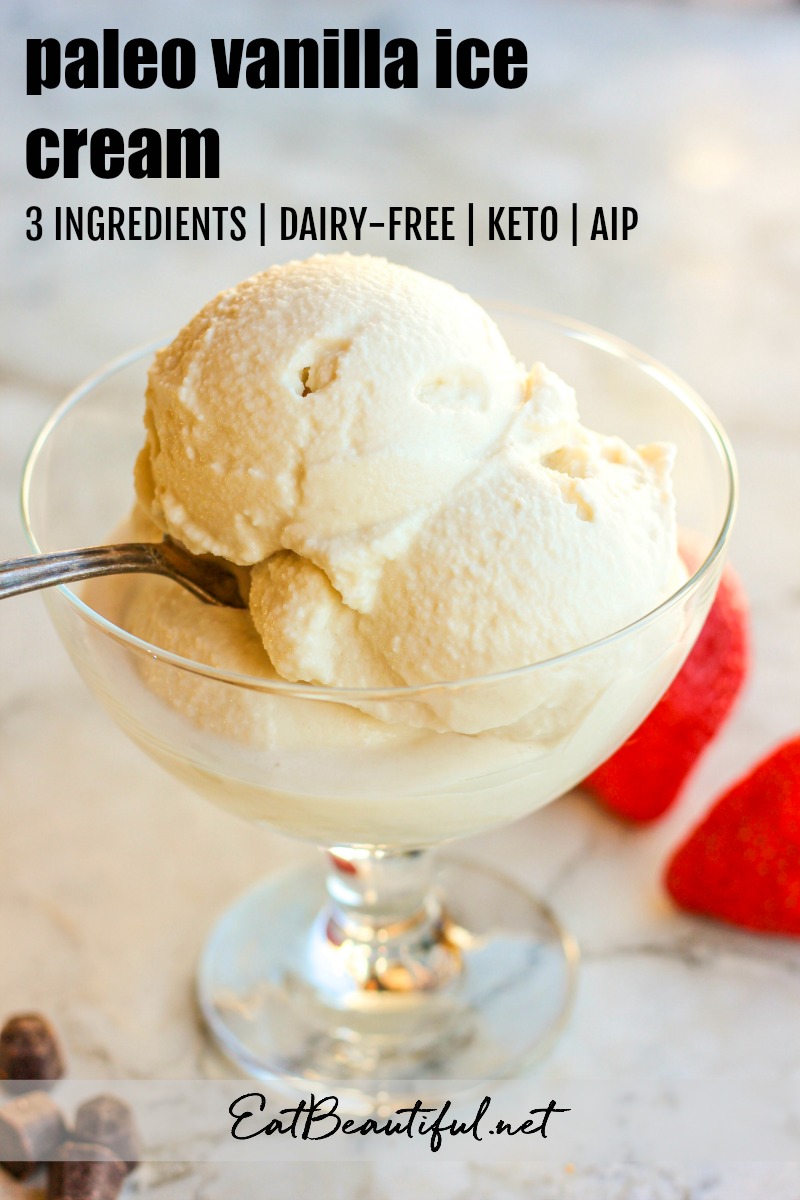 How many people does the recipe serve
Our family of four typically eats this whole batch in one sitting! When ice cream is soft and fresh, it's easy to eat more! — just right for 4 big servings, or 5 regular-size ones. 😉
You can certainly stretch this recipe to serve 6 people, especially if it's as an à la mode for pie, cake, crumble or to use inside ice cream sandwiches.
How to store and defrost leftovers
Store any leftovers in airtight, sealed container. Eat within the week, if you can help it.
Place ice cream in the refrigerator to defrost it evenly. Or on the counter to speed things up. Homemade ice cream takes longer to defrost than store bought, because commercial brands put more air into their product.
How to serve leftovers
Allow 15 minutes for Paleo ice cream to become scoopable, at room temperature, or longer in the fridge. Keto and Low Carb ice cream takes less time; 10 minutes may be about right.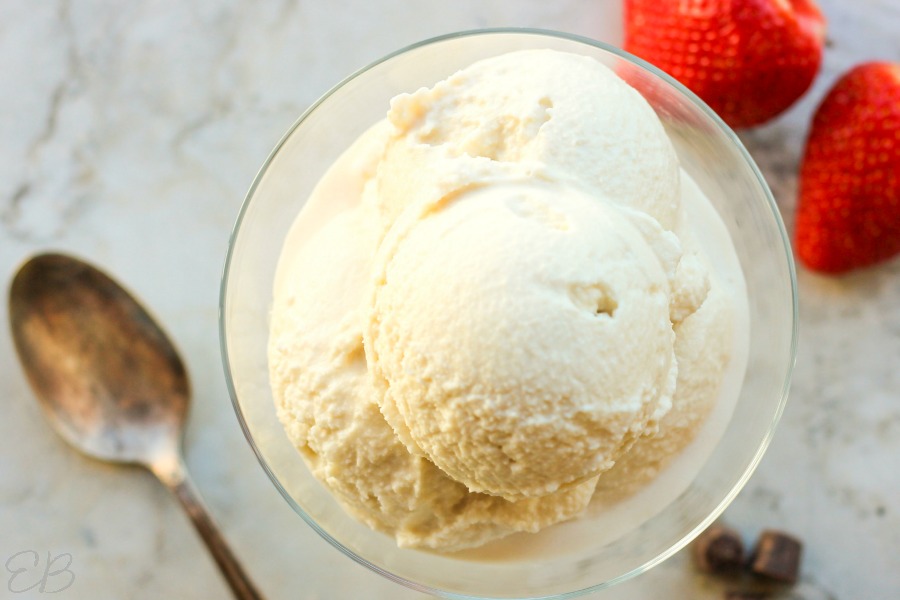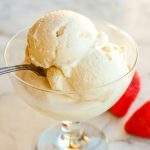 Print Recipe
Paleo Vanilla Ice Cream
Paleo Vanilla Ice Cream is oh-so-creamy, yet dairy-free and super delicious! It scoops beautifully, has no refined sugar and only three ingredients! (AIP | Vegan | Keto)
Instructions
First, make sure your freezer is set to the coldest setting. Your freezer bowl needs to be in the freezer for 16 to 24 hours at the coldest setting before being used. Use the freezer bowl immediately upon removing it from the freezer, because it starts defrosting immediately.

Place coconut milk, maple syrup (or other sweetener) and vanilla extract in a blender. Purée until sweetener dissolves, scraping down sides, if necessary, about 30 seconds.

Freeze in ice cream maker, according to manufacturer's instructions. Serve!
Notes
Keto and Low Carb nutritional data
The Keto version of this recipe has 5g NET CARBS per serving. The nutritional data below reflects the Paleo version of this recipe.
Nutrition
Calories:
432
kcal
|
Carbohydrates:
34
g
|
Protein:
3
g
|
Fat:
33
g
|
Saturated Fat:
29
g
|
Sodium:
24
mg
|
Potassium:
440
mg
|
Sugar:
26
g
|
Vitamin C:
2
mg
|
Calcium:
74
mg
|
Iron:
5
mg
What's your favorite ice cream flavor? I have several! 😉 Here are some ice cream recipes I think you'll love: