I may receive a commission if you purchase through links in this post. I am not a doctor; please consult your practitioner before changing your supplement or healthcare regimen.
Remedy for Pathogen Overgrowth, Candida and Yeast Infections utilizes diet, herbs and a protocol that breaks through the biofilm of pathogens.
Read Best Home Remedy for Vaginal YEAST INFECTIONS if you specifically need to address the healing of vaginal yeast infections, thrush or other topics not covered in this post.
This article addresses internal overgrowth, that can also manifest itself externally.
3-step Remedy for Pathogen Overgrowth and Candida
If you need to conquer internal (or external skin) pathogen overgrowth, three components are necessary for success:
A grain-free, refined-sugar-free diet.
An herbal regimen, which is rotated to prevent pathogens from morphing.
Biofilm disruptors.
Let's discuss these components.
1. DIET FOR YEAST OVERGROWTH
Both the GAPS Diet and the AIP Diet are good options.
If you are having vaginal or anal (or other areas on the outer skin) outbreaks as well as internal overgrowth, eliminate the following foods that can feed fungi: mushrooms, all cheese, carrots and beets, all starchy veggies like potatoes (which already are not allowed on GAPS), all fruit, vinegar, alcohol (except those in herbal tinctures) and honey.
It is assumed that other sweeteners like maple syrup and coconut sugar have already been eliminated.
Which diet to choose is based on your body's unique response to food.
For instance, I can not eat starches like arrowroot or sweet potatoes. If I do, I feel horrible. I am a classic GAPS patient. My body thrives on bone broth, eggs, lots of fat and cholesterol, protein and lots of soup. It also loves watermelon, living juices, sprouted nuts and aged cheese.
However, several of my clients feel energized by sweet potatoes, for instance, and may not do well with eggs, the histamines in broth or with nuts.
Every patient scenario is slightly different. We are each intricate. By reading what each of the diet's espouse for healing, you may easily be able to recognize which diet will benefit your body more.
But if you choose AIP, remember that you may need to temporarily cut out the starchy vegetables and fruit that the diet includes, if you have a flare-up yeast infection.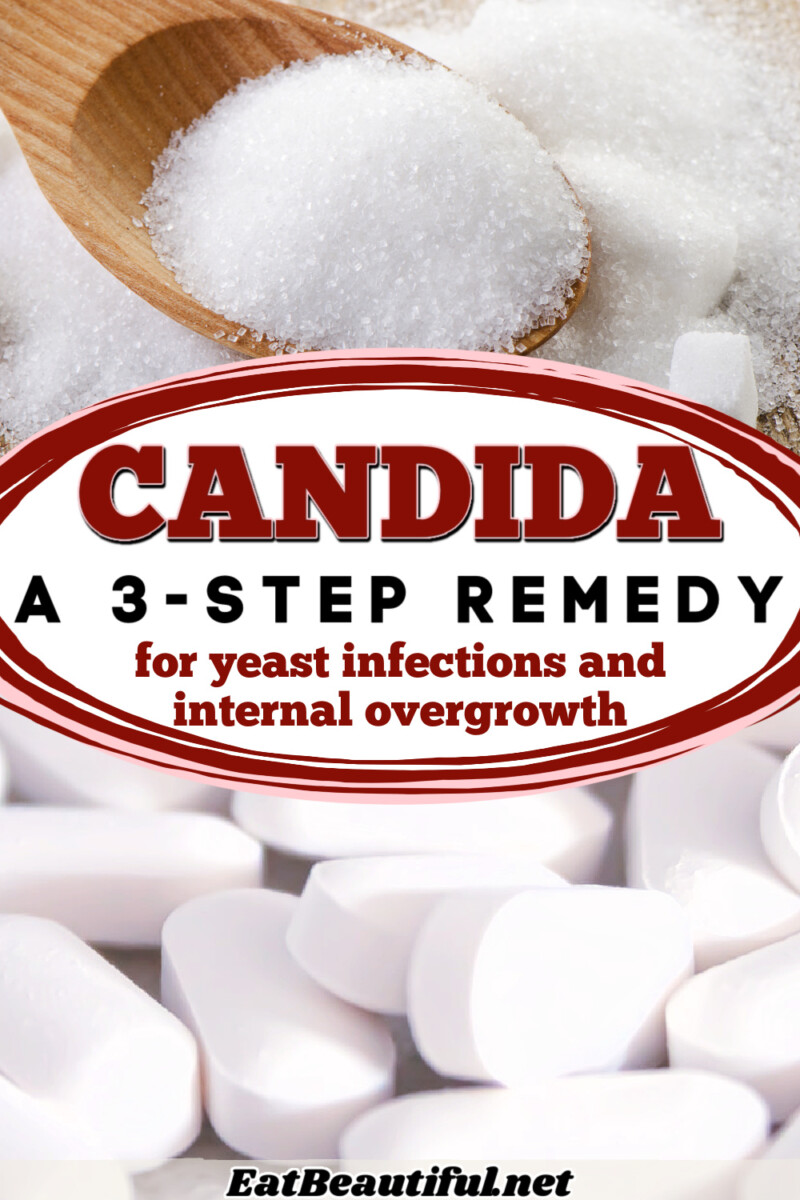 2. HERBAL ROTATION Remedy for Pathogen Overgrowth and Candida
Many herbs may be used to kill pathogens. I name several, but you only need to choose four.
My practitioner had me take the prescribed dosage of the first herb for 4 days. The patient then stops and begins the protocol for the second herb, again, for 4 days. Repeat: take each herb for 4 days, then begin the next.
Keep the rotation going for a minimum of 2 weeks. (The following recommendations should be queried with your practitioner. They are recommendations for adult dosages.)
If you wish to use these herbs and supplements synergistically, this can be done with good results. (Oregano oil can be taken in the morning and berberine at night, the same day, for instance.)
3. BIOFILM DISRUPTOR Remedy for Pathogen Overgrowth and Candida
Biofilm disruptors contains enzymes that break down the various layers of the pathogen. Otherwise, the pathogen can essentially produce a sheath of protection against the herbal regimen. Choose only one biofilm disruptor.
Interface Plus ~ "Designed to disrupt the biofilm matrix," the enzymes in this product improve the effectiveness of herbal antibiotics by also degrading the yeast and bacterial cell walls. I started with 2 of these capsules and worked up to 8, 2 to 3 times daily, shortly before taking an anti-fungal.
N-Acetyl L-Cysteine ~ In addition to breaking down pathogen biofilms, this compound can be used as a cough remedy, as it thins and breaks up mucus. It is also antiviral against the flu. Only one capsule daily is the prescribed dosage.
Lauricidin ~ Containing monolaurin from coconut oil, this product has both anti-viral and anti-bacterial properties, as well as being able to break through the biofilms that pathogens produce. I took one scoop of these pellets 15 minutes before a dose of pathogen-killing herbs. (Do not chew these; you swallow them whole with water, as per the instructions.)
Timing can be tricky when trying to fit in all of the components. It helps to create a daily schedule.
Alternate pathogen killers and probiotics, so they are taken at different times. And: Don't fret if you can't fit it all in; just do your best to create a schedule that works.

For topical rashes, read Cool Mint Listerine for Rashes and Skin Pathogens.