I may receive a commission if you purchase through links in this post. I am not a doctor; please consult your practitioner before changing your supplement or healthcare regimen.
Cool Mint Listerine for Rashes and Skin Pathogens discusses a remedy for irritations ranging from jock itch to unknown itchy microbial rashes anywhere on the body.
Whether a rash is caused by a fungus, yeast or bacteria is often the question, but the solution can sometimes be the same.
Please consult your doctor to be sure your rash in not dangerous. This article is in no way intended as a treatment suggestion.
Jock Itch (and how I learned about Cool Mint Listerine)
Years ago, my husband got jock itch. He tried a few ideas for relief, but nothing worked.
When it began to challenge his sanity, he looked online for any remedies he hadn't yet tried.
He found a weird one mentioned on multiple forums: Cool Mint Listerine!
It's not a totally natural product; so we waited to buy it, continuing to choose and use essential oils and other natural remedies.
But when he ceased to make progress, we decided to buy it.
THE ACTIVE INGREDIENTS IN COOL MINT LISTERINE
The active and effective ingredients in Cool Mint Listerine seemed to be: alcohol and menthol.
Menthol works to cool the inflamed and itchy skin, while alcohol kills the source of the symptoms.
The short story is that this product works … but only partially because of these two ingredients. In a moment, I'll talk more about the secret to why this remedy works!
Time frame note: In our experience, Cool Mint Listerine gives relief and improvement immediately; and then, for bad cases, starts to really make headway over the course of an additional week or even two, with gradual steady improvement the whole time.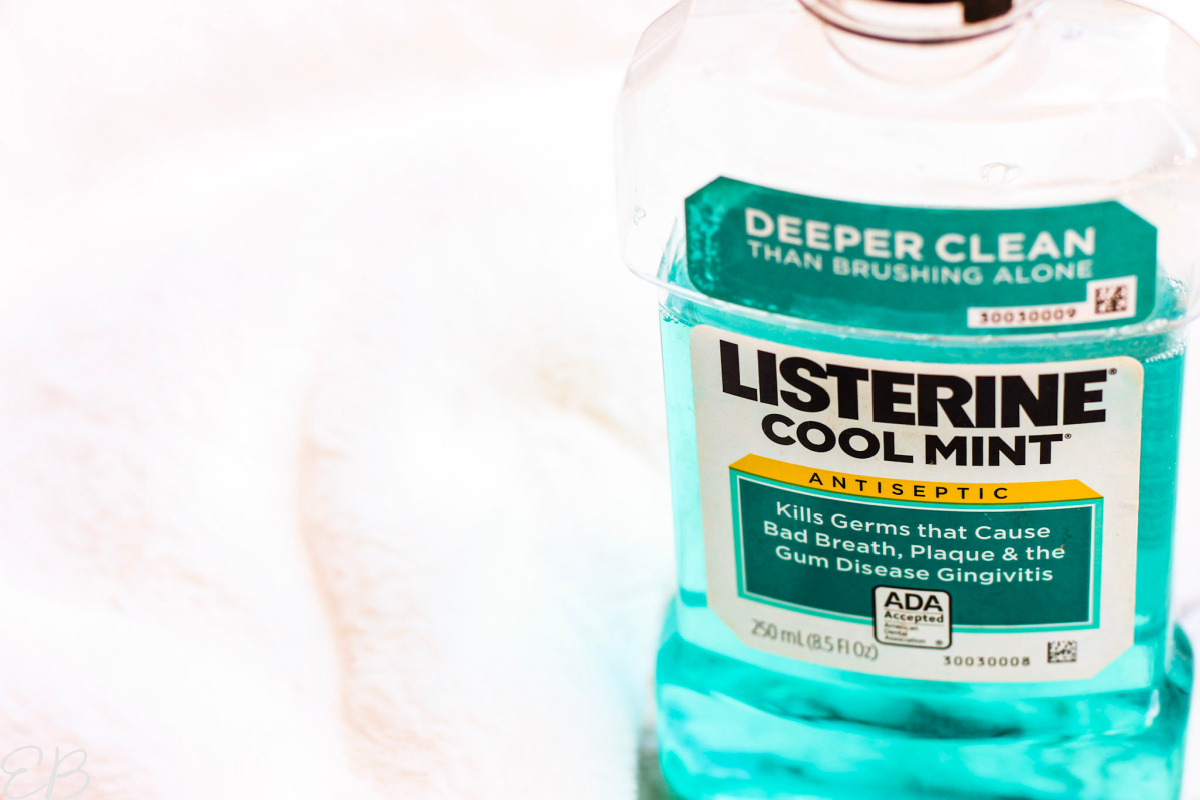 HOW AND WHEN TO APPLY COOL MINT LISTERINE
Multiple applications each day and keeping the area dry are necessary.
Other tips we did:
If you're hot and sweaty, change underwear more often. Keep the area dry.
Air dry after applying the Listerine and before dressing again.
If needed, use a thin cloth on the rash to keep the skin dry between applications.
Apply 3 times a day or more, as needed.
If the skin gets irritated, consider a small amount of castor oil after the Listerine dries to soothe the area. Even though it's an oil that's wet, castor oil may actually help to keep out other moisture as long as it's applied to fully dry skin.
Unknown itchy microbial rashes
Several months after Listerine worked for my husband, I had a good friend break out with an itchy yeast rash all over her upper chest, arms and shoulders. She tried all the natural remedies, but nothing worked well.
I told her about the last resort of trying Cool Mint Listerine.
Finally one night, she got desperate enough and asked her husband to run out and get some.
It worked! She had immediate relief and then gradual and complete healing.
Why Cool Mint Listerine works to kill bacterial and yeast rashes
The content of this paragraph is why I decided to write this post! It was my most exciting discovery, and I wanted to share the information to help more people.
A close family member recently had a rash that she couldn't get to go away. She went to one medical doctor and two naturopathic doctors.
The NDs gave her homeopathics and an ointment, none of which worked. The medical doctor prescribed antibiotics that she wasn't willing to take. She was more interested in the cause as well as a safe solution.
On a second visit with the medical doctor, he used an ultraviolet light to discover what kind of rash she had. He discovered it was a bacteria called Corynebacterium.
I looked it up for her and discovered that this is a gram positive bacteria, which means its outer cell wall provides a protective defense against medicines. From former experience with bacteria, I also looked up the pH of the bacteria and found in what environments it thrives … and in what environments it can't survive!
So we took two important approaches — Goal 1: to get through the thick cell wall (or biofilm formation), and 2: to change the pH of the area where the overgrowth was occurring.
1. HOW TO USE A BIOFILM DISRUPTOR FOR GRAM POSITIVE BACTERIA/BIOFILM
I have used three different biofilm disruptors in the past (on separate occasions):
The role of each is to break through the protective film of invasive pathogens, so they're vulnerable.
Each of these biofilm disruptors is taken orally.
When taken in conjunction with a natural antibiotic, the pathogen may be eradicated effectively.
You can read more about how to take biofilm disruptors and deal with internal pathogen overgrowth in this article.
For my family member, she was concerned that her overgrowth was internal as well as the external rash, so she took a biofilm disruptor, a natural antibiotic and used Listerine topically. Within the first few days, the Listerine was already showing improvement when nothing else she had tried did.
2. HOW TO CHANGE THE pH WHERE THERE'S OVERGROWTH
The reason Cool Mint Listerine works on many bacterial, fungal and yeast-based rashes is: those pathogens can't survive in the pH of the product.
Menthol cools, alcohol kills, but Listerine's pH creates an inhospitable environment. The pathogens can't survive or procreate.
Many microbes thrive in lower pH environments (reflected by higher numbers of 8 or more). Cool Mint Listerine's pH is 4.92!
Alcohol alone would not be a good solution because alcohol's pH is 7.33.
Bacteria generally grow best at neutral pH close to 7.0.
Raising the pH (reflected by the lower number) creates a more acidic environment where commonly known bacteria (like Escherichia coli, staphylococci, and Salmonella spp.) do not fare well.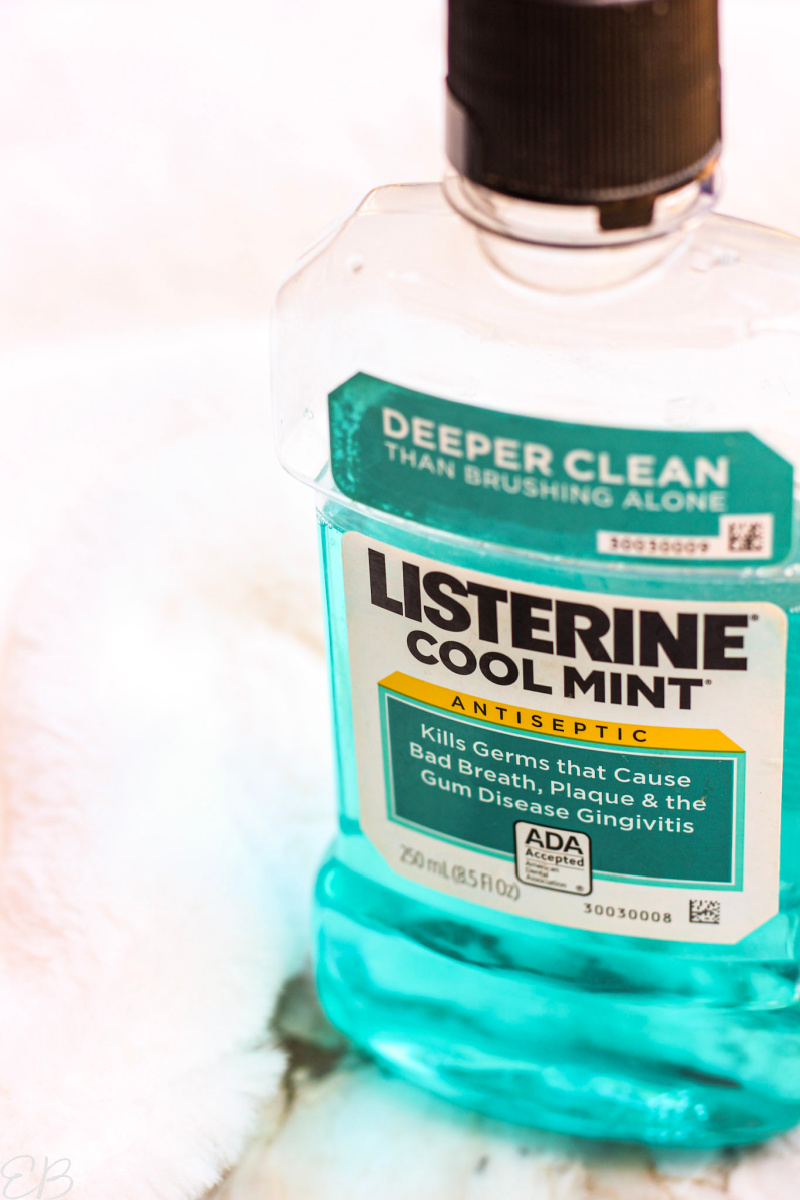 Can you make a natural homemade version of Cool Mint Listerine
I thought of making my own natural version in case there was ever a next time. Why not mix up my own batch of menthol and alcohol without the blue dye and additional chemical ingredients?
I found this recipe that uses menthol crystals in an anti-itch spray.
I am not usually a DIY gal when it comes to body care products. But if any of you are, and you are disinclined to buy Cool Mint Listerine, I think that her spray might be a great example of how to start a homemade, natural version.
DIY ingredients
How and why to use witch hazel for rashes and to kill bacteria
Witch hazel would ideally be the key ingredient in this DIY recipe because its pH ranges from 3.5 to 4.5. It is needed to create the acidic environment.
Witch hazel is also anti-bacterial and a time-honored topical agent for various skin conditions.
Other ingredients
Aloe's pH is 4.5 to 5.5, so it's an optional ingredient but would do two things based on its properties: soothe and draw the other ingredients into the skin.
Apple cider vinegar's pH is 2 to 3.
I would also add 1 tablespoon of alcohol. Alcohol's pH, in the presence of an acidic medium, is influenced by that base. Witch hazel's base will dominate.
Alcohol is useful in this recipe because it is the active ingredient that kills yeasts and bacteria.
Such a homemade product would also allow you to add in an essential oil like lavender, to provide soothing and reparation to the damaged skin, or clove for its anti-yeast compounds.
I would omit calendula and salt from the recipe. Frequent use of salt on the skin I believe will cause irritation.
DIY Tonic for Rashes possible recipe
This is my guess or a jumping off place if you decide to try and make your own tonic. I have not done this myself, so consult your trusted doctor or your own intelligence. I am not suggesting you make this, but giving you an idea of what I'd try for myself if there was ever a "next time".
Ingredients
Method
In a small saucepan, heat the witch hazel over low heat until about 130 degrees and warm to the touch.

Using protective gloves, add the menthol crystals to the witch hazel and stir until dissolved. (Don't touch menthol with your hands, as it can cause extreme irritation if you touch eyes or other sensitive areas afterward.)

Set the mixture aside to cool.

Then, add the aloe vera gel, apple cider vinegar, alcohol and optional essential oils.

Carefully transfer the mixture to a storage bottle with lid.
Let us know in the comments below if you make your own.
Or, simply use Cool Mint Listerine!
VAGINAL YEAST INFECTIONS
Read Best Home Remedy for Vaginal Yeast Infections if you specifically need to address vaginal yeast infections, thrush or other topics not covered in this post.
You can Pin this article here: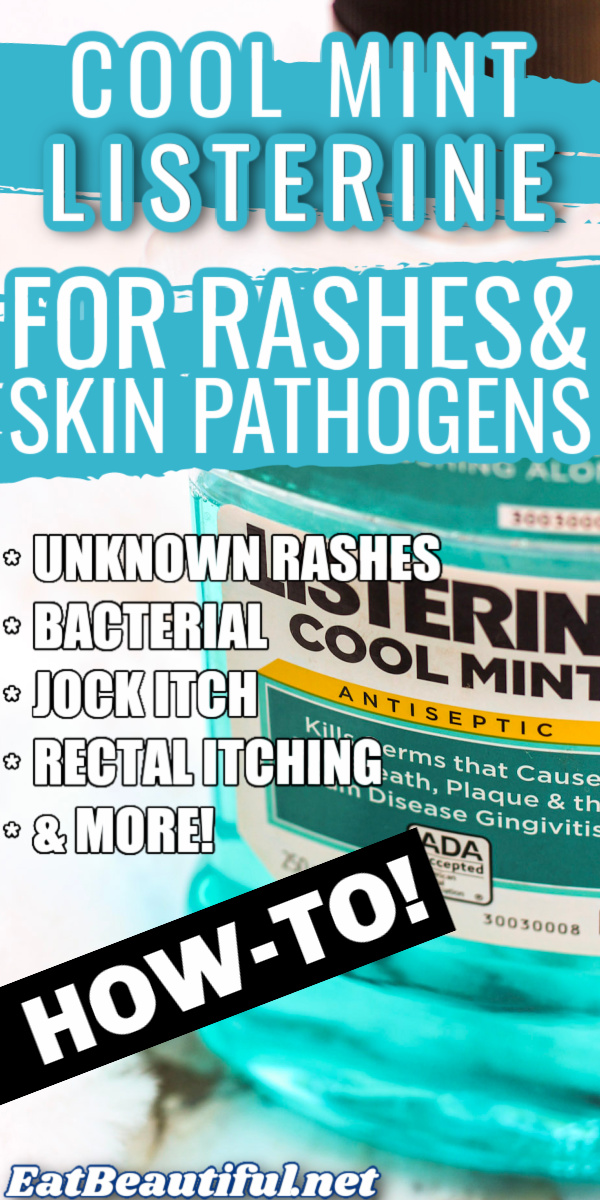 pH and microbial infections
On this topic, and in all of my years researching health related topics, one of my all time favorite quotes is this one:
Maintenance of an acidic… pH is a major component of the skin's protective system and creates a hostile environment for colonization with pathogenic microorganisms. This barrier can however be overcome on healthy and in particular on compromised skin. Mycosis, diaper/incontinence dermatitis and wound healing are examples of cases where microbial infection is promoted by the altered skin conditions or environment. Fungi have a complex system that senses ambient pH that leads to metabolic responses allowing adhesion, growth and invasion, as microbial metabolites further increase skin pH resulting in a clinically manifest infection (mycosis). Diabetic patients with a higher pH in intertriginous areas are particularly vulnerable to candidiasis. In diaper and incontinence dermatitis, the increase in skin pH and damage to the skin barrier function is triggered by the contact with urine and feces… This leads to the reduction of the protective resident microflora and fungal overgrowth, mostly with Candida albicans.
Skin care with slightly acidic products may help to prevent and treat this kind of dermatitis. Wound healing is a complex sequence of biologic events correlated with ambient pH, which influences the different phases of the healing process. The pH determines the appropriate activity of immune cells and key enzymes as well as biofilm formation. Chronic wounds emerging from the disruption of the healing process are characterized by a neutral to slightly alkaline pH and may benefit from wound pH monitoring and therapeutic acidification. (source)
Yes!!!
Additional sources