I may receive a commission if you purchase through links in this post. I am not a doctor; please consult your practitioner before changing your supplement or healthcare regimen.
Why is glutamine not recommended for leaky gut by some practitioners?
Glutamine, often prescribed by doctors to help heal leaky gut, may not be as safe as many believe.
While effective and gentle for some patients, which of us need to be cautious about this amino acid that some doctors intentionally avoid?
What is L-glutamine
Many articles recommend using glutamine (also labeled L-glutamine) as a supplement to help heal leaky gut. Glutamine provides energy to the small intestine and when converted to glutamate can accelerate healing.
Tangentially, glutamine is also recommended by some to abate sugar cravings, or among body builders and athletes for performance and recovery.
Certainly many doctors prescribe glutamine for their patients with leaky gut.
Glutamine concentrations decrease during periods of disease or stress, thus one motivation for supplementation.
And the body's ability to expel glutamine means that many doctors see glutamine as benign, with no side effects even at high doses.
Its depletion causes compromises in gut function … so why not supplement?
When glutamine converts to glutamate
As mentioned, glutamine is a precursor to glutamate or glutamic acid.
When this conversion occurs, the properties and effects of glutamate can be attributed to glutamine.
Glutamate is one of two excitatory neurotransmitters in the brain that can cause anxiety. People who struggle with anxiety often have too much glutamate and not enough GABA or serotonin.

Excesses in brain tissue (remember the gut-brain correlation) can also cause cell damage.
So while glutamine in excess seems benign, once it converts to glutamate, that status is called into question.
Glutamate is heralded for abating alcohol and sugar cravings, healing wounds, and increasing energy, but it is also an amino acid that can cause extreme damage when in excess or in certain bodies.
Glutamine enhances glutathione production
Paul Jaminet Ph.D., author of Perfect Health Diet, adds an insight regarding glutathione, of which glutamine is also a precursor:
Glutamine, a supplement frequently recommended for gut ailments, can also enhance glutathione production. However, I would generally avoid this, because it can promote proliferation of pathogenic bacteria.
In addition to promoting pathogen overgrowth, several studies are emerging with additional concerns or supporting cautionary data:
One study on oral hygiene and disease (1) shows that glutathione produces bacterial growth, proving it can become food for invasive pathogens.
Another study (2) shows the virulence of cancer cells when exposed to glutamine in vitro. In vivo studies are still considered conflicting and inconclusive. While some newer studies show glutamine as helpful in the cancer treatment process, not all hosts respond well to it. (3)
A third study (4) shows increased mortality among critically ill patients given glutamine vs. those who were not.
Glutathione has also been linked to the thinning of gut lining when used long term.
As aforementioned, there are many cases in which glutamine is beneficial. This article's purpose is to point out that this supplement is not safe for everyone.
Many patients need to exercise caution before assuming glutamine is gentle and helpful for all.
More on glutamine side effects
Karen Kurtak, Diplomat of Acupuncture, General Practitioner, specialist in autoimmune diseases and Department Head for Longevity Nutrition, observes several side effects of glutamine for some patients (some already mentioned):
increased bloating due to undiagnosed constipation
bloating from glutamine-eating bacteria in the small intestine (exacerbates SIBO)
conversion by some bacteria of harmless glutamine into glutamate

In this case, Kurtak says, "Glutamate is most commonly known in monosodium glutamate (MSG). It has excitatory effects on the nervous system and is a known "excitotoxin". Common side effects include dialation of pupils, feeling wound up or anxious, headaches or aggravation of migraines, a tight sensation in the diaphragm and, if severe, heart palpitations. In this case it is important to identify and diminish the populations of the offending bacteria before continuing the use of glutamine."
Allergic reactions to L-glutamine
It's surmised that the human body does not recognize amino acids as a threat, or have an allergic reactions to glutamine itself.
Rather, the body can react to residues or additives on certain sources of glutamine.
GLUTAMINE: NOT Recommended for Leaky Gut
When people have histamine type responses to glutamine, various types of immune cells react to substances that taint that source of glutamine.
It is very common with leaky gut syndrome for the immune system to react to substances that have breached past the intestinal lining.
One plan of action in this case, of course, is to find an alternative to glutamine.
The other is to find out which bulk supplier created your brand of glutamine and to try a different brand and supplier.
However, there may be easier ways to get the benefits of L-glutamine without the dangers.
Is glutamine bad for everyone
Many more articles and testimonies are available about the beneficial effects of glutamine and glutathione than the converse. The benefits of glutamine and glutathione supplements have been studied far more than their pejorative potential.
What we're discussing is not a black and white issue. We must understand the subtleties. The complexities of amino acids, their roles in the human body, and also the complexities of antioxidants and pathogens, is still beyond the full scope of our understanding.
Because noteworthy and well-respected practitioners are beginning to recognize and acknowledge the dangers of this amino acid and this antioxidant in certain settings, it is wise for us to know their potential not only for good but also for harm.
Undoubtedly, glutamine is helpful for some patients.
Yet, are there better ways to encourage glutamine's (and glutathione's) presence naturally without supplementing with isolated glutamine?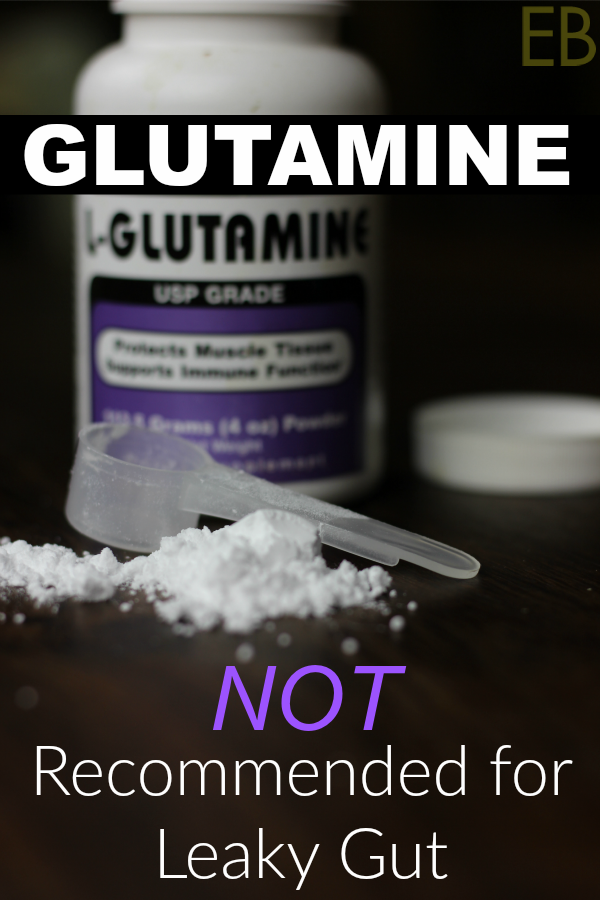 What glutathione does
Glutamine is considered a beneficial amino acid because it increases glutathione.
Glutathione is a key antioxidant in the human body, one which protects the body from inflammation and pathogens. Glutathione also helps the body to detoxify and promotes proper liver function.
One approach to avoiding the potential risks involved in taking glutamine, then, is to take a specific kind of glutathione that's designed to be uniquely gentle and effective. (This is the only brand that I use and trust.)
A few related considerations:
Another approach is to take Alpha-Lipoic Acid alongside glutathione. ALA helps to keep glutathione in its reduced state so it can do its job as an antioxidant. ALA also aids in the production and recycling of glutathione.
Some add L-carnitine when taking glutathione. L-carnitine boosts glutathione levels in the body — and overall plays an important role in balancing antioxidative systems.
I have personally used glutathione's precursor, N-acetyl-cysteine (NAC), with success (this one). It may be used as a supplement to augment the production of glutathione. (source)
Because some studies suggest that the long term use of glutathione may feed pathogenic bacteria, consider glutathione supplementation to achieve short term gut-wellness goals.
How to take glutamine as it's found in nature
Another option is to take glutamine with its co-factors.
Glutamine is best and safest when found amidst the other amino acids around which it is found in nature.
So … supplement with glutamine by consuming gelatin, in which case you will actually be consuming glutamate/glutamic acid and, in turn, promoting healthy levels of glutathione production.
Remember, too, that gelatin is most effective when consumed with its co-factors, whole food sources of protein and fat.
Whole food, digestible sources of glutamine are:
meat, fish and eggs
raw milk and cheese
human breast milk
raw spinach, raw parsley, kombu and cabbage (see note just below on these)
I don't personally ever consume raw spinach or cabbage, because these cruciferous foods can be cooling to the thyroid.
But, here is the grass-fed gelatin I recommend.
Collagen is also good, and for some easier to digest than gelatin. Stir collagen into hot or cold beverages.
If you've noticed a gut-healing benefit from taking a glutamine supplement, this post may or may not apply to you.
But I believe we are safer, based on recent studies, using NAC short term, consuming gelatin and eating whole food sources.
Other ways to resolve leaky gut?
If you struggle with anxiety
For those who struggle with anxiety, it may actually be helpful for you to reduce glutamate in your diet.
This can be done by eliminating processed foods from your diet, using gentler and lower heat when cooking and cooking food for shorter periods of time.
ADDITIONAL SOURCES
http://www.ncbi.nlm.nih.gov/pubmed/9661123?dopt=AbstractPlus
http://chriskresser.com/you-are-what-your-bacteria-eat-the-importance-of-feeding-your-microbiome-with-jeff-leach/
http://www.livestrong.com/article/278366-glutathione-glutamine/
http://www.nature.com/nature/journal/v517/n7533/full/nature14029.html
http://chriskresser.com/the-afternoon-sugar-crash-green-smoothies-and-liver-detoxification/
http://toxnet.nlm.nih.gov/cgi-bin/sis/search2/r?dbs+hsdb:@term+@rn+56-85-9
http://www.ncbi.nlm.nih.gov/pmc/articles/PMC127775/
http://www.ncbi.nlm.nih.gov/pubmed/8510983
http://www.vitaminworkshop.com/supplements-of-merit/glutathione-l-glutamine-or-glutamic-acid.html
http://www.ncbi.nlm.nih.gov/pmc/articles/PMC1243066/
http://www.nejm.org/doi/full/10.1056/NEJMoa1212722
https://glutathionepro.com/acetyl-glutathione-r-alpha-lipoic-acid-benefits/
http://www.immune-health-solutions-for-you.com/how-to-raise-glutathione.html
https://www.ncbi.nlm.nih.gov/pmc/articles/PMC3979958/