I may receive a commission if you purchase through links in this post. I am not a doctor; please consult your practitioner before changing your supplement or healthcare regimen.
African Chicken Groundnut Stew is that saucy tempting ethnic dish with rich spiced gravy that really satisfies — hearty and delicious!
For those of you who love ethnic food, curries, stews, sauces, chutneys, this Chicken Stew will be comfort food. If you love peanut butter or almond butter and are intrigued by how beautifully creamy they can make a savory soup, I welcome you to embrace this recipe and make it right away.
It's equally fun in all seasons. In fall and winter, you can load it up with seasonal celery and cauliflower (or other favorites, including winter squash for non-Keto/VAD). In summer, all the veggie options, including zucchini.
Serve African Groundnut Stew with Herb Roasted Cauliflower, or rice for Gluten-free.
This recipe is real food, Ancestral, Paleo, Gluten-free, Keto, Whole30, GAPS and VAD-friendly.
Jump to Recipe
Variations for diet
Before we look at this stew's origins, take note that my version can be made with peanut butter (the historical version) — or Paleo and VAD-friendly, with almond butter.
So adjust the recipe just slightly according to your needs: peanut butter is fine for Keto, GAPS and other real food diets.
Cashew butter is also an option that works. Nut and legume-free: The recipe can probably be made with sun butter, too, but I haven't tried it to be sure.
The history of African Groundnut Stew
Peanuts belong to the original version, often called groundnuts in other countries.
Groundnuts were originally brought to West Africa in the mid-16th century. (The oldest archeological remains of peanut pods date back 7,600 years to South America. The ancient Incas made peanuts into a paste.)
The stew was born there, then also popped up in Nigeria, the Gambia and Senegal.
Variations abound, potentially including okra, tomatoes and eggplant. Toppings may include fresh minced parsley, tropical fruit, shredded lettuce, chopped nuts and shredded coconut. I enjoy topping ours with fresh cilantro or basil (because peanut butter and almond butter + basil go reeeally well together).
Groundnuts' origins
Spanish traders and enslaved Africans first brought groundnuts to the States. (West Africa was central to the slave trade.) Both George Washington and Thomas Jefferson mention the legumes as early as the late 1790s. Today the stew of groundnuts if often part of African Americans' Kwanzaa celebrations, honoring their African roots.
Although peanut butter feels like a modern American food, and indeed it was further developed by George Washington Carver, an heroic African-American agricultural scientist and chemist, to diversify and revitalize southern crops (cotton), ground up groundnuts were essentially the same thing. Peanuts and peanut butter are traditional foods.
Almond butter based stew
As mentioned: For those who don't eat peanuts, this recipe can be made with almond butter, and it's just as wonderful made either way. We love the almond butter version.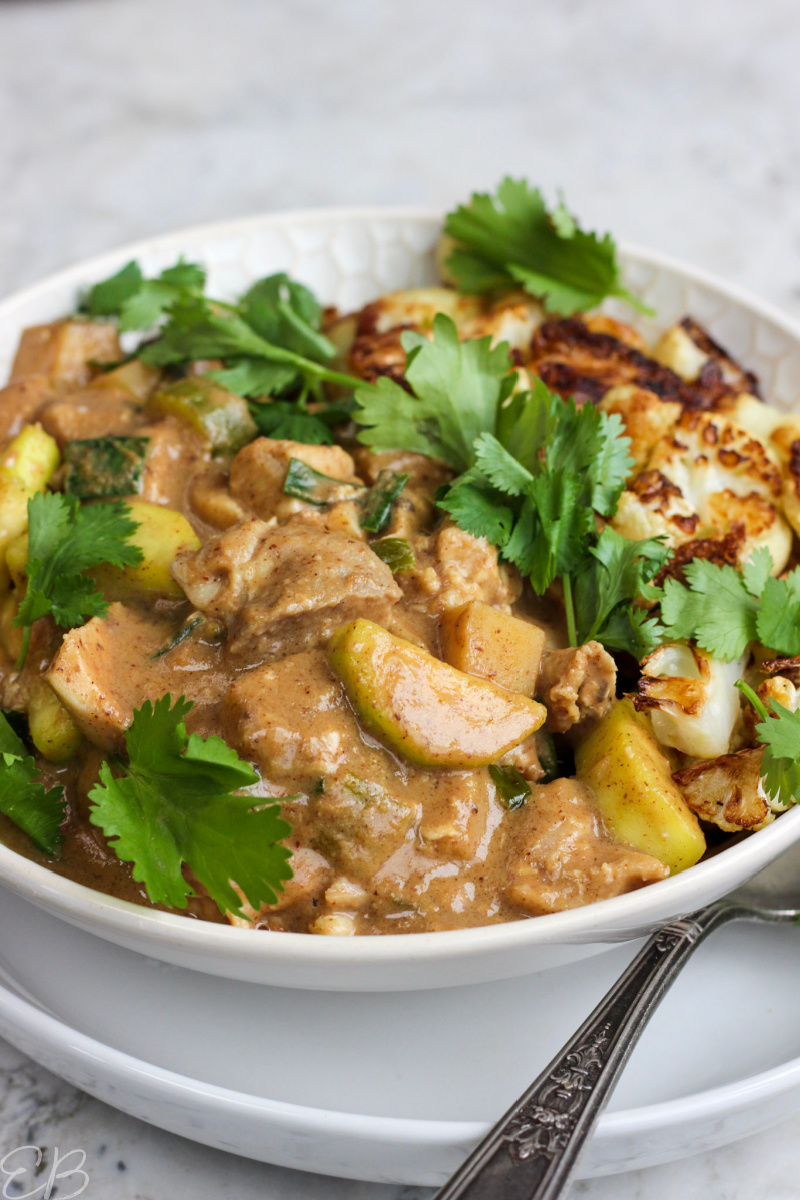 Ingredients in African Chicken Groundnut Stew
The first ingredient in African Groundnut Stew is either: Peanut butter or Almond butter (for Paleo and VAD). And then:
chicken thighs, boneless, skinless
zucchini
celery
green onions and cauliflower (omit for VAD) — Or you may wish to serve the stew with a side of Roasted Cauliflower, so then exclude it from the stew (which is how it's photographed).
fat of choice, such as duck fat or butter
spices: garlic, ginger, cumin, chili powder, cinnamon, cloves and white pepper (see Recipe for which ones to omit for VAD)
sea salt (or Potassium Salt)
sweetener (based on diet, see Recipe)
Look at the "gravy" below. This sauce/stew base is delicious! ~ Filled with wonderful flavors and that cozy texture.
Don't be intimidated by the long list of ingredients. Most of them are spices and are quickly measured.
How to make Chicken Groundnut Stew
To make African Groundnut Stew:
Sauté veggies, add spices. Add broth, and de-glaze the pan.
Lay chicken thighs over the top. Cover.
Slow simmer 25 minutes.
Remove chicken to a cutting board. Whisk in peanut or almond butter. Chop chicken. Return it to the pot, and stir it in.
Serve, topped with fresh cilantro or basil.
How to reheat leftovers
Reheat in small pot or pan, over lowest heat, covered, stirring once or twice, for about 10 minutes.
Leftovers keep in the fridge for 4 days.
Print Recipe
African Chicken Groundnut Stew
African Chicken Groundnut Stew is that saucy tempting ethnic dish with rich spiced gravy that really satisfies, hearty and delicious! The original recipe for Groundnut Stew uses peanut butter, which is delicious and great if you'd like to use it for a non-Paleo version of this recipe: like Gluten-free, Keto, GAPS or other real food diets. For Paleo and VAD, the recipe uses almond butter. It's wonderful both ways.
Equipment
large deep skillet

or wide stock pot, wok etc., with lid
Ingredients
2 to 3

lbs

chicken thighs

boneless, skinless (based on how much meat you want in the stew and how many you're serving; my family likes lots of chicken in this stew)

4 to 5

zucchini

optionally peeled, cut in half and sliced (peeled for VAD)

2

bunches

greens of green onions

diced or for non-Keto, 2 large or 3 smaller yellow onions, diced (omit for VAD)

½

head of

celery

about 7 celery stalks, chopped

1

small head

cauliflower

chopped small (omit for VAD)

2

cups

bone broth

or meat stock

¾

cup

peanut butter

or for Paleo: almond butter (for VAD)

2

Tablespoons

fat

solid, such as duck fat or butter

3

cloves

garlic

crushed (omit for VAD)

2

teaspoons

sea salt

1-½

teaspoons

dried ginger

1

teaspoon

cumin

¾

teaspoon

chili powder

or paprika, optional (omit for VAD)

¼

teaspoon

cinnamon

(omit for VAD)

¼

teaspoon

cloves

¼

(-1/8)

teaspoon

white pepper

depending on how spicy you want it, or 1/16 teaspoon cayenne pepper (omit for VAD)

1/32

teaspoon

stevia powder (or to taste)

for Keto; For Paleo and VAD: 1 to 2 Tablespoons coconut sugar, maple syrup or honey
Instructions
Heat fat in large, deep skillet over medium-high heat. Add onion, celery, ribs of greens and 1 teaspoon sea salt. Sauté 8 to 10 minutes. Add all spices, including stevia or other sweetener for non-Keto, and cook 2 additional minutes.

Add broth and stir to scrape up any spices from the bottom of the pan. Lay chicken thighs evenly over surface of vegetables and broth. Sprinkle with remaining 1 teaspoon sea salt. Cover, turn heat to medium-low (or temp to best keep a slow simmer), and cook 20 minutes. Uncover, turn over thighs; and cook an additional 5 minutes.

Using tongs, transfer chicken to large bowl or plate to partially cool. Add peanut or almond butter to broth, stirring 1 to 2 minutes. It will not look creamy and fully mixed in yet. Add zucchini if you're making the summer version. Replace lid and cook 5 minutes. Stir in cauliflower if using, and cook an additional 10 minutes (either way).

While zucchini and optional cauliflower are cooking, chop cooling chicken thighs into bite-size pieces. Stir chicken into stew. Taste, adding additional sea salt if needed. If you didn't put cauli in the stew, serve with Herb-Roasted Cauliflower, or for GF and VAD: steamed rice.

Top with optional toppings: fresh basil or cilantro.
Nutrition
Calories:
722
kcal
|
Carbohydrates:
8
g
|
Protein:
51
g
|
Fat:
58
g
|
Saturated Fat:
14
g
|
Polyunsaturated Fat:
12
g
|
Monounsaturated Fat:
25
g
|
Trans Fat:
0.2
g
|
Cholesterol:
181
mg
|
Sodium:
786
mg
|
Potassium:
1183
mg
|
Fiber:
5
g
|
Sugar:
9
g
|
Vitamin A:
551
IU
|
Vitamin C:
54
mg
|
Calcium:
80
mg
|
Iron:
3
mg
You can Pin this recipe here:
Similar recipes
Why doesn't Paleo include peanuts
Peanuts are a legume, which means they contain anti-nutrients which absorb minerals instead of allowing our bodies to — so shouldn't be eaten in large quantities or used as a staple food.
Additionally, they often have aflatoxins, a kind of mold to which peanuts stored improperly are susceptible.
I believe that if we eat peanuts in moderation, much the way we are advised to eat nuts, they are a pleasurable food not to be missed. There are four ways to combat potential aflatoxins.
How to kill aflatoxins
One, use a mold-killing tincture, a pathogen-killing herb (like this one) when you eat peanuts or peanut butter, one dose (40 drops for adults; 20 for kids) at a similar time of day to when you eat your peanuts. Two, consider taking activated charcoal when you eat.
Three, soak peanuts in water and vitamin C, which kills mold. Then, rinse and dehydrate the peanuts. Roast, too, to significantly reduced their phytic acid (antinutrient content) and create the best tasting peanut.
Lastly, ferment peanut butter, which also kills aflatoxins.
Nutrients in peanut butter
Peanuts are high in protein, monounsaturated fat, B vitamins and magnesium.
Peanut milk is now being popularized in developing countries to combat child malnutrition. While peanuts may not be a super-food for all, they are nutritious and a great occasional ingredient to enjoy.