I may receive a commission if you purchase through links in this post. I am not a doctor; please consult your practitioner before changing your supplement or healthcare regimen.
Carob Brownie Bites are the perfect, healthy treat for Paleo, AIP and egg-free eaters! They contain something great for colon health, called resistant starch, and we'll talk a bit more about that…
Healthy Brownies
I got great reactions, ones that exceeded my expectations, when I served these cookies. My husband kind of swooned, really catching me off guard.
"These bring me back. I wish you could have known Grandma Pat," he said. She was the grandma who cooked with carob instead of chocolate, and juiced for the grand kids. "You would have loved her." He loved the cookies.
When my oldest son had his first bite his eyes got big.
"These are the best brownies I've ever had. You know how much I like brownies." I had perceived them as cookies. But my other kids agreed emphatically: they are brownies. And my youngest wanted to know what was in them and when I'd make more.
Now it was my turn to have big eyes. WOW. I hadn't tasted them yet myself and didn't expect such rave reviews. I was hoping they'd turned out, but yay! Eureka! These are my first go at dehydrator cookies; so they were an experiment. SO happy to have nailed it.
What do I love about these cookies nutritionally?
Resistant starch! I have mentioned it to you before but now I offer it to you in cookie form! Because the green plantains in the cookies are dehydrated instead of being baked at a higher temperature, the resistant starch remains and becomes food for flora in your gut, a prebiotic. Here's more information about, and sources of, resistant starch if you're interested.
Also, they're egg-free, safe for the AIP diet, and sweetened with honey.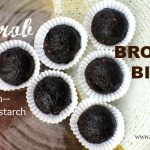 Carob Brownie Bites
A 1-ounce scoop with an automatic release mechanism is helpful when scooping cookie batter.
Instructions
Place all ingredients in high-powered blender, blending on low speed for about 1 minute, until plantain is pureed. Small pieces of plantain will be speckled throughout.

Scoop 1-ounce portions onto lined dehydrator tray or greased cookie sheet (if using a low-temperature oven).

Dehydrate cookies at 140 degrees for 5-10 hours, depending on the dehydrator, until cookies are brownie-like in texture: soft and chewy.

Cool cookies and refrigerate for storage.
Recipe Notes
*How to peel green plantains- Have plantains at room temperature.
Cut off both ends.
Cut in half length-wise.
Cut each half in half again, width-wise.
Insert thumb between flesh and peel and unwrap sticky peel.
Do you have a dehydrator and access to plantains?