I may receive a commission if you purchase through links in this post. I am not a doctor; please consult your practitioner before changing your supplement or healthcare regimen.
Each fall and winter, so many of us delight in pumpkin recipes. Here are 15 Paleo Pumpkin Recipes, all of which you'll want to make! Carefully chosen, because each one's "a keeper", enjoy scones, cookies, cakes, puddings, pancakes, pies, breads and more — all made with pumpkin and fall spices!
The recipes in this round-up are Gluten-free and Paleo. I also note below: many are Keto, Low Carb, GAPS diet-friendly, AIP and/or Vegan.
This Paleo Pumpkin recipe is made primarily with coconut butter, instead of flour, and the texture turns out amazing! We used to make these at our café, and as you can see from a couple of the comments below the recipe, real readers love this reliable Pumpkin Scones recipe.
Also Keto and GAPS.
A truly gorgeous and decadent dessert, surprisingly this recipe is also pretty high in protein. Pumpkin Bread Pudding makes a super special breakfast treat, snack, brunch or even lunchbox item.
This recipe is Paleo or Primal (can be made with or without dairy), Keto, Low Carb and GAPS diet-friendly.
Make this as healthy or as loaded with special dessert toppings as you like! Find Pumpkin Bread Pudding here.
I spent months perfecting this recipe. You will be so pleased with the perfect texture of this classic breakfast treat. Find the best Paleo Pumpkin Pancake recipe here!
If you're looking for a tender, classic pumpkin cookie, you'll love this one. The surprise benefit for some people is that this recipe is egg-free and nut-free.
Great for the AIP diet, or great for anyone who loves pumpkin cookies, with a lovely frosting option, find AIP Pumpkin Cookies here.
Two Pumpkin Cookies recipes because: This one's made with nut flour and coconut flour, so you get to choose which is best for your needs.
This Pumpkin Cookie is GAPS-friendly, and has a Buttercream Frosting option.
Paleo Pumpkin Cookies have also been recipe tested as one giant cookie! This take is super fun for a birthday party (or if you're in a hurry). Super delicious, tender, fun and appealing!
Make a batch of Pumpkin Cookies, or try this recipe in place of a birthday cake. Recipe here.
This recipe is good enough to serve to anyone, but it also happens to be friendly for restricted diets: egg-free, nut-free and dairy-free.
Find AIP Pumpkin Cake here.
This recipe is Keto, Paleo or Primal — so you can make it with or without dairy.
Chocolate-Swirled Pumpkin Pie is here.… and a super fun variation on the classic. I love everything better with chocolate, plus this is pretty, special and fun to make.
Fun, classic shaped scones are extra special because they're egg-free, nut-free and dairy-free.
A British treat, fall-style, find Pumpkin Scones here.
Make individual snack size treats, or one big bowl of this good stuff.
So yummy, healthy and easy, Pumpkin Custard is then ready for breakfasts, desserts, snacks and lunches.
High in protein, good fats and gut-healthy ingredients. Recipe here.
You can use pumpkin or winter squash to make this recipe. While several of the recipes in this round-up are great with canned pumpkin, this recipe is better with fresh winter squash or pumpkin. Look for a sweet pie pumpkin or a variety like delicata or kabocha.
Sweetened lightly, Winter Squash "Fruit" Leather (here) is Vegan, GAPS and AIP-friendly.
This convenient treat makes a healthy and popular snack or lunch food.
Vegan, GAPS and AIP, Pumpkin Butter (here) is a classic fall condiment that's super special to layer in parfaits or put on top of baked goods.
This recipe can be made with fresh or canned pumpkin.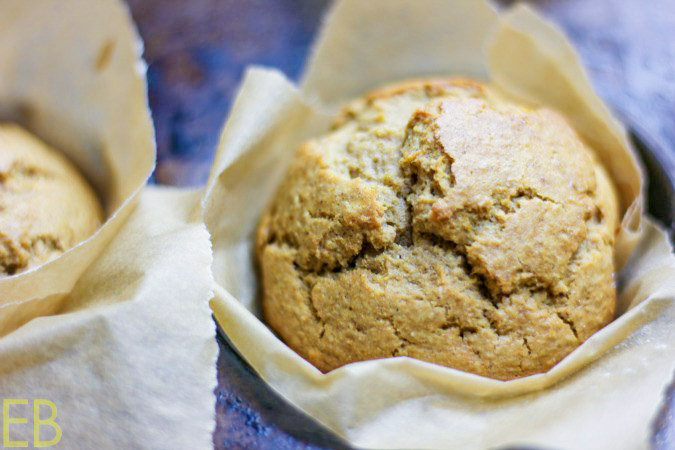 If you're looking for THE perfect muffin, this is it. Paleo Butternut Squash Muffins have a tender, lovely texture! Recipe here.
And here are some almond-based recipes that are Paleo favorites:
Remember to use an organic, sustainable almond flour if you bake with almonds, like this one (which is wonderful!). (Most are not, which means they carry a lot of pesticide residue and drain water from California's desert ecosystem.)
You can Pin this collection of Paleo Pumpkin Recipes here: