I may receive a commission if you purchase through links in this post. I am not a doctor; please consult your practitioner before changing your supplement or healthcare regimen.
Paleo Pumpkin Custard is high in nourishing ingredients, with protein, good fats and gut-healthy ingredients! You'll love this simple, delicious recipe and how easy it is to make ahead of time — then have ready for breakfasts, desserts, snacks and lunches.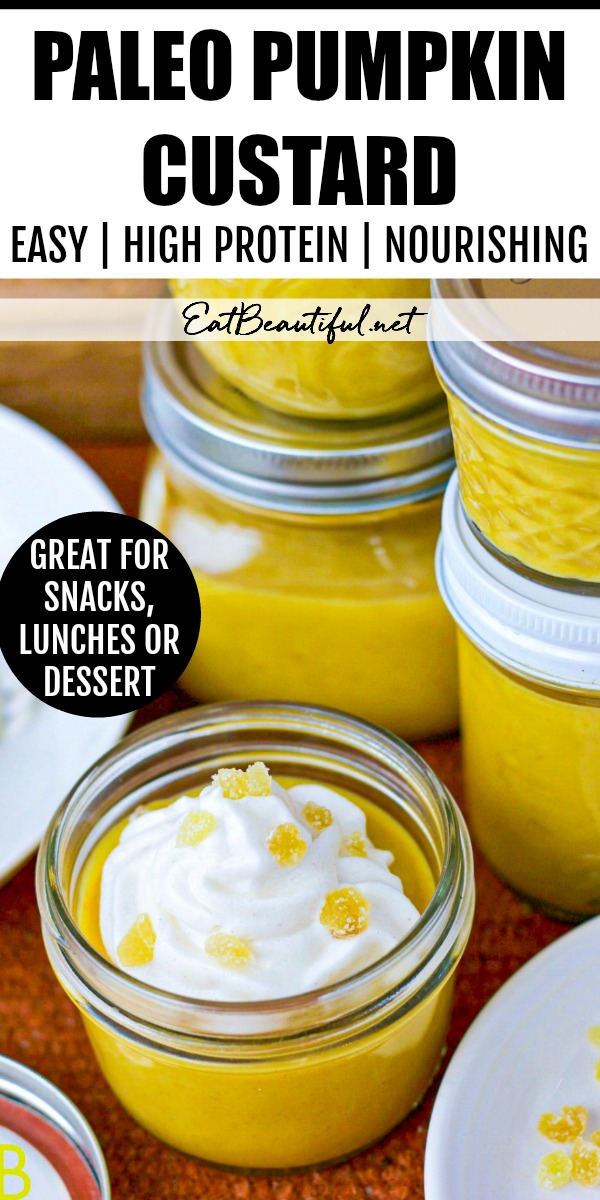 Jump to Recipe
The convenience of making Paleo Pumpkin Custards
I love having items in my fridge that are ready to be put into lunch sacks or grabbed for snacks! LOVE. This coming school year I'll not only be packing a lunch for my high schooler, but my husband asked me to start packing his lunches again, too. (We are selling our Paleo cafe to have more time to focus on our upcoming adoption; so we he won't be eating at our shop everyday, as he has in the past.) I can do this. Whether I'm packing at 9 p.m. or 6 a.m. I am going to be Batch-Lunch-Cooker! And these Pumpkin Custards are going to help! (Plus, they're so cozy, nourishing and delicious! And it's pumpkin season!!)
So — casseroles, homemade Paleo sandwich bread for quick sandwiches, cookies, muffins, lots of fresh fruit and cucumbers and carrots, soup in a thermos, yogurt, AND custard to go!
They'll love it. And I'll love grabbing the jar or stainless steel to-go container and putting it in the fabric bag! Easy, nourishing, yummy, and quick to make.
Custard's nourishing ingredients
Custard is a benevolent food: As delicious as ice cream, complete comfort food, but it also hides so much nourishment. My recipe contains lots of pumpkin (you can also use leftover winter squash), egg yolks, gelatin (find it here) and collagen peptides (find it here) … with not too much sweetener. Pumpkin custard is high in good fats and good cholesterol, plus it contains protein, carbs and gut-healing properties!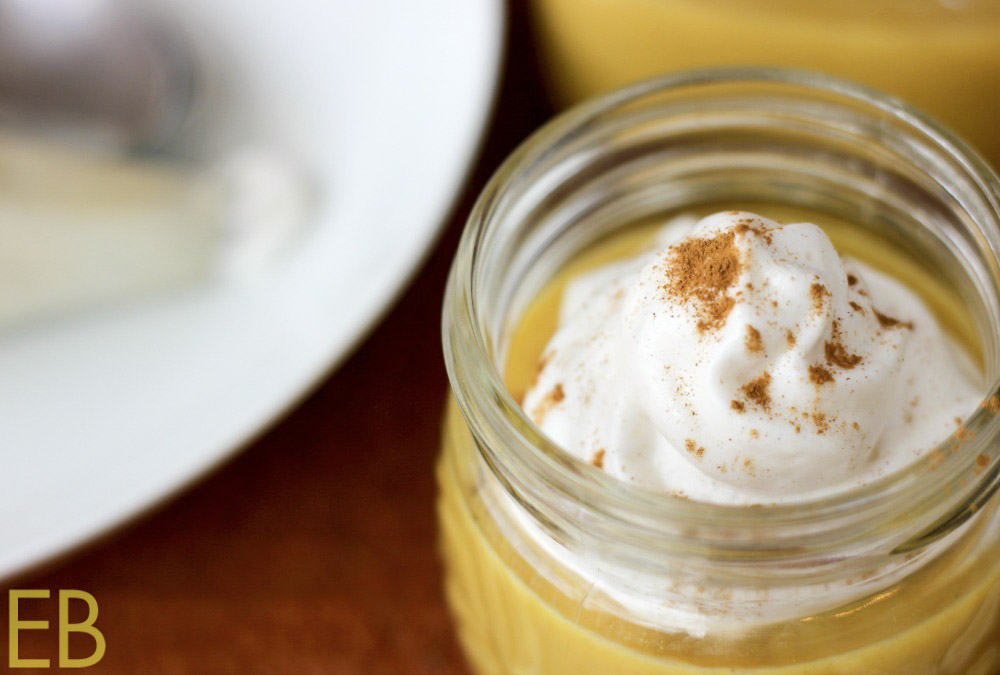 Paleo Pumpkin Custard in individual jars or pretty glasses
It will make you happy to line up your mason jars or stainless steel containers and fill each one, then to put on the lids and place them in the fridge to "set up", ready for when you need them. So handy. Like yogurts from the store, but more sustainable, because these containers get washed and reused.
(Or… serve this custard as a dessert in pretty glasses. Add a bit more maple syrup or honey if you serve them for dessert (1/2 cup total). And top with whipped cream or meringue.)
Pumpkin and toppings
Yes, it's almost fall and here's that well-loved veggie, almost the most popular flavor among Americans, after vanilla. You can use canned, organic pumpkin (BPA-free liner) or use leftover baked winter squash, pureed. Either way this autumnal goodness is high in fiber, potassium and Vitamin C.
These custards taste like healthy real food; yet it's also hard to eat just one: They're a treat.
In most of the photos I've topped the Pumpkin Custard with my favorite meringue. It uses the egg whites leftover from the egg yolks that go into the custard. Meringue is very easy and fast to make, super fun for kids, can be piped on quickly and beautifully, keeps well in the fridge, and (deep breath) this version is pretty high in protein yet low in sweetener! SO, if you're so inclined to top your custard with a pretty garnish, I recommend it! Whipped cream or whipped coconut cream would also be lovely.
Otherwise, keep it simple with just a sprinkling of the best cinnamon (find it here) or crystallized ginger, for a fun, spicy splurge.
Texture, take note — how to serve
Warm/hot Paleo Pumpkin Custard is quite pourable, like yogurt that's not super thick. If you wish to use custard like the British do, this custard can be served warm, poured over steamed pudding cake or any cake… hopefully with a cup of tea, wing back chairs and a cozy fire nearby.
Once you refrigerate the custard it will firm up a bit more.
I hope you get the pleasure of eating the custard both ways! …and the convenience of pouring the autumnal goo into jars and placing them in the fridge, for when you need a real food treat you can grab.
Print Recipe
Paleo Pumpkin Custard
Paleo Pumpkin Custard is high in good fats and good cholesterol, plus it contains protein, carbs and gut-healthy ingredients! You'll love this simple, delicious recipe and how easy it is to make ahead of time — then have ready for desserts, snacks and lunches.
Ingredients
2

cups

milk

of choice (non-dairy options work well)

¾

cup

pumpkin

organic, canned or pureed leftover winter squash (butternut and kabocha are best)

⅓

cup

arrowroot powder

⅓

cup

maple syrup

or honey

¼

cup

collagen peptides

sustainably-sourced (see Recipe Notes for sourcing), optional

4

egg yolks

reserve the whites separately if you want to top the custards with meringue (see link to Paleo Meringue recipe below)

1

Tablespoon

butter

or coconut oil

2

teaspoons

gelatin

sustainably-sourced (see Recipe Notes for sourcing)

½

teaspoon

vanilla extract

½

teaspoon

cinnamon

¼

teaspoon

ground ginger

2

pinches

Celtic sea salt
Instructions
Whisk together arrowroot, collagen, gelatin, spices and sea salt in a medium bowl.

Into a medium saucepan, add milk, pumpkin, egg yolks, and maple syrup. Sprinkle the arrowroot mixture over its surface, and whisk to combine. (The egg yolks will get mixed in, but the pumpkin may not break up all the way until it's well heated.)

Cook over medium heat for about 10 minutes, whisking CONSTANTLY until the pudding begins to thicken. It will thicken in two stages: It will start to steam first, and become more viscous; this is your sign that the custard is almost done. Then at the 10 minute mark it will thicken more. Once thickened, remove immediately from the heat. (It will thicken more again upon chilling.)

Add butter and vanilla and continue to stir until mixed. Pour into jars/individual serving dishes, and chill.

Eat plain; or garnish custards with favorite toppings: meringue (see recipe link below), crystallized ginger, shredded coconut, coconut or dairy whipped cream, chocolate chips, berries, sauteed apples, cake pieces, sprouted walnuts or pecans.
Nutrition
Calories:
210
kcal
|
Carbohydrates:
33
g
|
Protein:
16
g
|
Fat:
12
g
|
Saturated Fat:
6
g
|
Cholesterol:
215
mg
|
Sodium:
91
mg
|
Potassium:
255
mg
|
Fiber:
1
g
|
Sugar:
7
g
|
Vitamin A:
2396
IU
|
Vitamin C:
2
mg
|
Calcium:
170
mg
|
Iron:
1
mg
Worried about glass jars in lunches? You'll love these little stainless steel containers!