I may receive a commission if you purchase through links in this post. I am not a doctor; please consult your practitioner before changing your supplement or healthcare regimen.
For wilt-free whipped cream on cakes, cupcakes, pies and more, Stabilized Whipped Cream will last! More good news? You can make this recipe with any sweetener you like!: powdered sugar, unrefined powdered sugars like coconut sugar or low carb sweeteners, maple syrup, honey or even stevia. This recipe is Primal, Keto, Low Carb, Ancestral and GAPS diet-friendly.
Use store-bought cream or even raw cream.
Primal, Keto, Low Carb and GAPS Whipped Cream
At our café in Oregon, we had customers with a variety of diets. And we tried to cater to those with unique dietary needs. So we made grain-free treats with unrefined and low carb sweeteners.
One item we loved making and that simply flew out the door were: parfaits! These beautiful layered desserts are all topping! For anyone who loves decadence (and that's me), parfaits give us permission to eat a whole bowl-full of the rich stuff: maple syrup ganache, honey-sweetened compote, fresh local berries, rich custard, flavored whipped cream, vanilla bean Keto crème fraiche, nut-date crumble, sprouted nuts, caramel and more.
The ingredients all got layered, depending on the parfait flavor, and eaten with a spoon. We also layered in grain-free, sugar-free cookies, brownies, chocolate cake, scones and shortbread, but the rich toppings played the key role — visually, texturally and flavor-wise.
Whipped Cream that won't wilt
Early on, one conundrum developed: How to keep the whipped cream from collapsing? Once again, gelatin played the silent supporting role, literally and figuratively.
Today I'll share my recipe for keeping your whipped cream voluminous and full-bodied. This method works great for layer cakes, cream pies, cupcakes, anywhere you want whipped cream that will last and that won't wilt!
Stabilized Whipped Cream (Frosting) Ingredients
This recipe features whipped cream (with GAPS diet variation), sweetener and gelatin. A little water is also used to dissolve the gelatin in.
Stabilized Whipped Cream is basically a 4-ingredient recipe.
Stabilized Whipped Cream flavors
You may also flavor the whipped cream. I've given some fun variations for simple flavor alternatives, below in the recipe. Depending on your dessert, consider:
vanilla (very traditional, of course)
peppermint
matcha
coffee
cinnamon
liqueur
cocoa
citrus
Which sweetener to use
Regarding the sweetener, you may use any unrefined or low carb sweetener of your choice.
For Primal:
honey
pure maple syrup
powdered coconut sugar (To make this, simply blend coconut sugar in your blender or coffee grinder with a small amount of tapioca flour or arrowroot [the ratio is 1 cup : 1 Tablespoon].)
For Keto:
powdered low carb sweetener
liquid low carb sweetener
stevia
For GAPS:
Other diets:
agave syrup
powdered sugar
brown rice syrup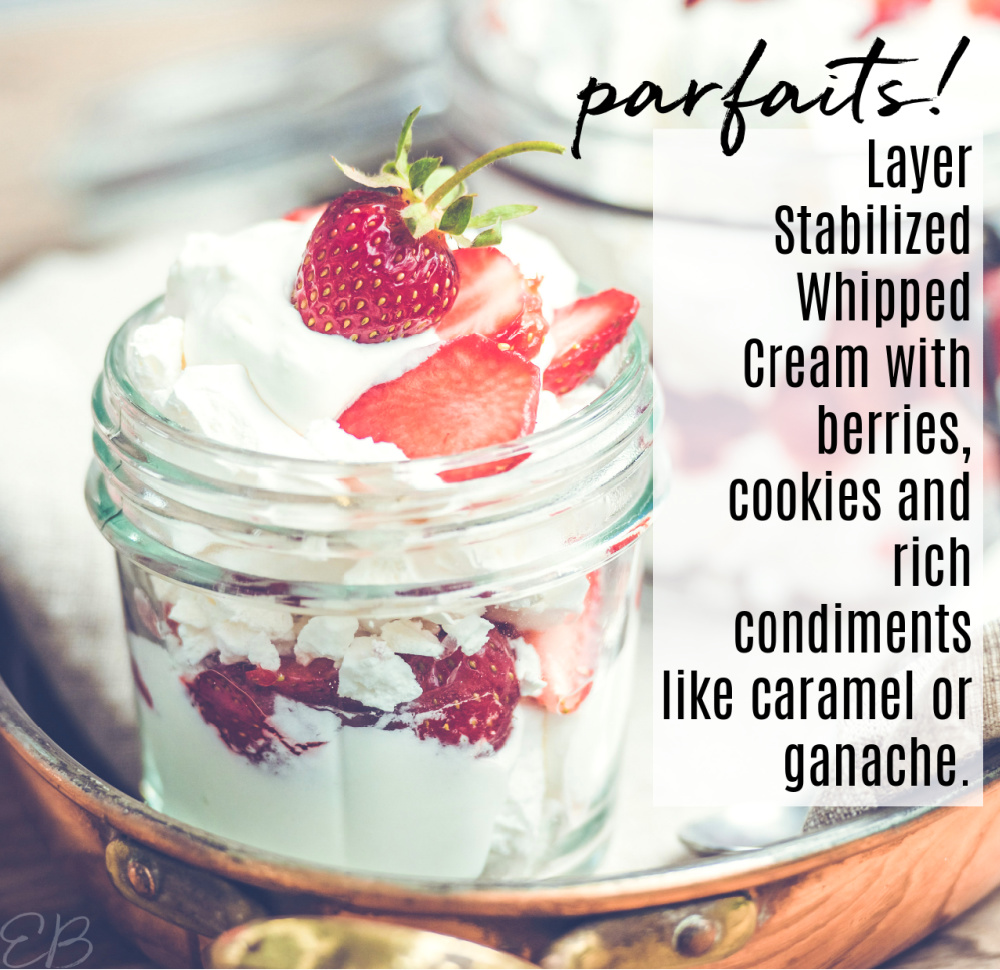 How Stabilized Whipped Cream is made
Stabilized Whipped Cream is made by dissolving a small amount of gelatin in water, heating the water to dissolve the gelatin, letting the gelatin water cool a little — and then pouring the water into soft whipped cream while beating.
Zoom in: While the gelatin water cools (don't let it cool completely, because we don't want it to gel yet), whip the cold cream into soft peeks. Pour the gelatin water in, while beating.
Stiffened Whipped Cream still looks and feels soft.
You don't want to beat it too long (which turns it into butter), but it will now hold its shape.
How to store and use Stabilized Whipped Cream
It's best to use Stabilized Whipped Cream right away, while it's cool room temperature. Once chilled, it sets softly and will not retain its billowy mobility. 😉
To decorate with it, you may frost a cake or pipe swirls. It also works well in layer cakes or as layers in a parfait. To pipe with it, fill a pastry bag, and use it like you would a buttercream type frosting.
To store a dessert that's already been decorated, simply refrigerate until you're ready to serve and eat.
But you may also set out a refrigerated dessert at room temperature for several hours, and the Whipped Cream will hold its shape well.
Print Recipe
Stabilized Whipped Cream (refined sugar-free; uses stevia and/or honey)
Stabilized Whipped Cream is a handy topping — wonderful for whipped cream that needs to last without wilting: frosting cakes, cupcakes or pies and more!
Ingredients
2

cups

heavy whipping cream

; use fully cultured sour cream for GAPS diet

¼

cup

filtered water

room temperature

¼

cup

honey

optional, or pure maple syrup; for Keto: use low carb liquid sweetener or just stevia to taste

1

teaspoon

gelatin
extract options —

⅛

tsp. peppermint oil (not EO) , citrus oil, or 1 tsp. vanilla extract (the strength of different peppermint oil brands will vary; so start with

⅛

tsp., to taste and add more if needed)

flavor variations - use Matcha green tea powder dissolved in the water,

1-2 tsp., to taste; strong, black coffee in place of the water with 1 T. instant espresso powder added; a favorite liqueur in place of the water; or whisk 1 T. cocoa into the water until it's fully dissolved;

½

tsp. cinnamon
Instructions
Pour the water into a small saucepan. Sprinkle the gelatin evenly over its surface.

Over low heat constantly stir the water until it begins to steam and the gelatin becomes clear and fully dissolved. Do not simmer. Add optional sweetener and stir briefly. Set aside.

Pour cream into a chilled bowl or food processor.

Using a hand-held mixer or food processor, beat the cream just until the soft peaks begin to form; times will vary depending on your equipment, up to 3 to 4 minutes with a hand-held mixer. (For GAPS version, whip sour cream until it's loose (not stiff from the tub), about 20 seconds.)


When soft peaks are forming and the whole mass is happily volumizing, slowly pour the gelatin water in at one side of your bowl, whisking the stream of liquid into the body of your rising cream.

Stop beating the cream when it is whipped beautifully, and before it becomes butter.

It is now ready to use on top of pie, layered in parfaits etc. Or chill it for a short period to stiffen it a bit more for a purpose like piping it.
Notes
Which gelatin to use
I am excited to share Perfect Supplements' Gelatin. It's my favorite gelatin because of its grass-fed sourcing. They're an excellent company that fully discloses where and how (100% of the time!) their cows roam on green pastures, and they even test for pesticide residue. (Use code BEAUTIFUL10 at check out for 10% off your entire order.)
Nutrition
Serving:
1
serving
|
Calories:
166
kcal
|
Carbohydrates:
1
g
|
Protein:
1
g
|
Fat:
18
g
|
Saturated Fat:
11
g
|
Cholesterol:
65
mg
|
Sodium:
19
mg
|
Potassium:
36
mg
|
Sugar:
1
g
|
Vitamin A:
700
IU
|
Vitamin C:
1
mg
|
Calcium:
31
mg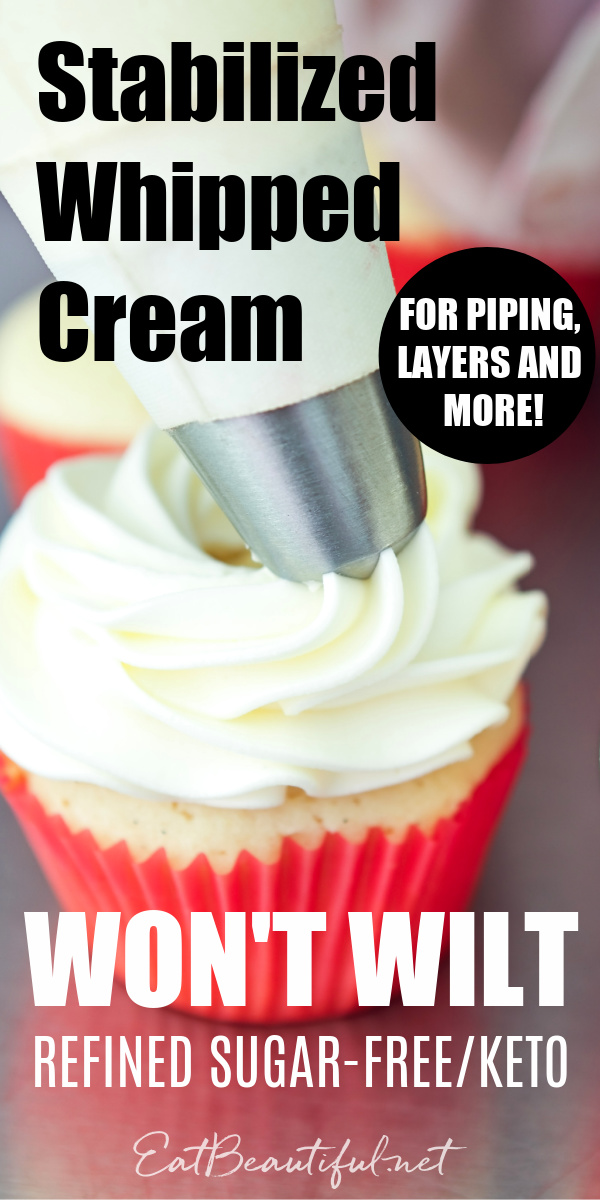 Cakes and cupcakes to use with Stabilized Whipped Cream:
As a side note, consider using grass-fed, organic cream, if you aren't already. Grass-fed, organic cream provides guilt-free pleasure AND helps to support a worthy farm that's doing animal husbandry, human nutrition and sustainable farming right.
(When cows eat grass you get the correct omega-3:omega-6 ratio in your food. See my article on this topic, Conventional Dairy (and Meat) Products, to understand the importance of avoiding American conventional dairy.)