I may receive a commission if you purchase through links in this post. I am not a doctor; please consult your practitioner before changing your supplement or healthcare regimen.
Keto Apple Cake with Coconut Flour is utterly moist, tender, sweet and delicious! Nut-free, Gluten-free and Primal, this cake is such a fun fall and winter treat, but also great year round.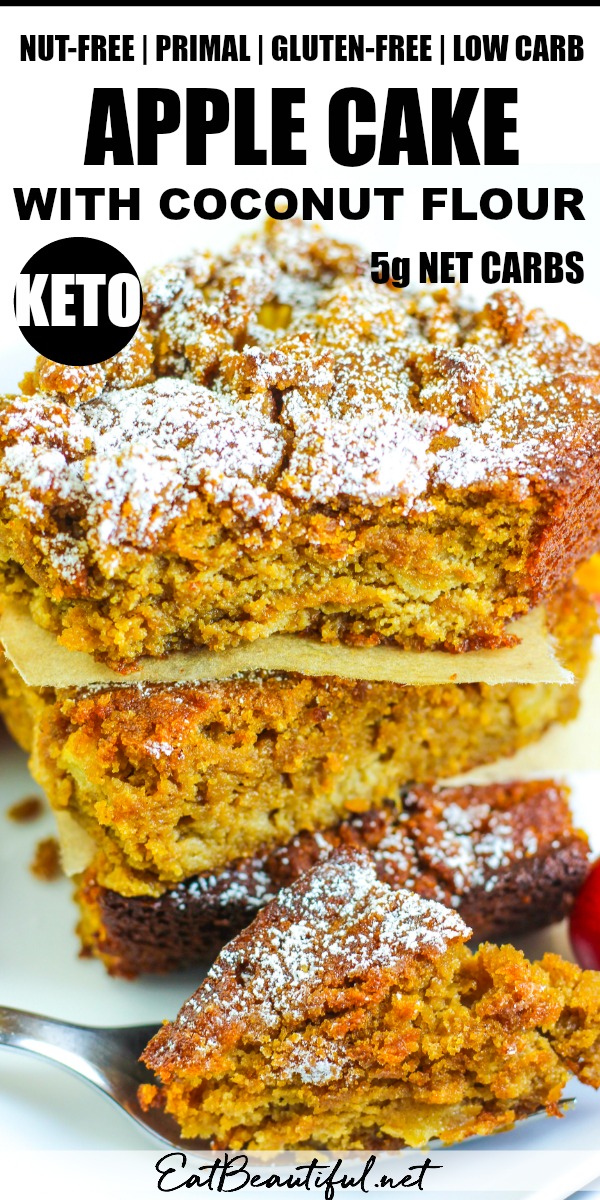 I was inspired to make Keto Apple Cake with Coconut Flour when I found little crab apples at the market! They were SO cute and special; I couldn't resist. The little apples were only used to garnish the cake — but they get the credit for the inspiration.
Maybe it's just me, but I find this a really fun recipe to make. It made me feel excited about fall, instead of sorry to see summer go. I love the little bit of molasses in this cake and the dark, beautiful batter that results. When you crumble that crumb topping over the richly hued batter in the baking dish, and place the whole thing in the oven, I hope you'll feel as I do when I make this recipe — satisfied, calm, happy and excited to eat and serve the cake to the ones you love.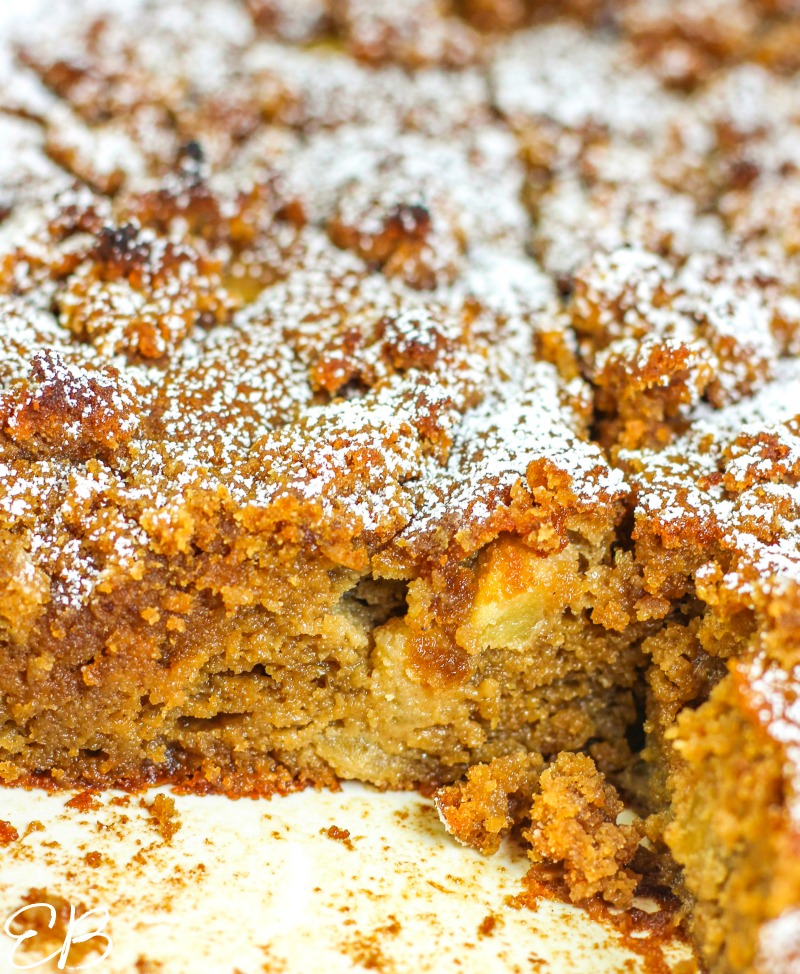 Ingredients in
Keto Apple Cake with Coconut Flour
The ingredients in Keto Apple Cake come together in just the right ratio to make such a special "crumb". The texture of this cake is like those we all enjoy — utterly moist! Here are the details:
eggs — Almost always needed with coconut flour, eggs create a light, leavened cake.
coconut flour — A great easy choice for Keto and grain-free baking! (Here's why I love it.)
diced zucchini or apple — For Low Carb, use diced, peeled zucchini in place of apple; you won't even know the difference. For Primal and Gluten-free, use diced apple.
sweetener of choice — Granulated: erythritol for Keto and Low Carb, maple or coconut sugar for Primal.
butter — It makes the best tasting cake!
coconut cream and cream cheese — These rich, high fat ingredients are really important for creating the right "crumb" in this tender, moist cake. Coconut Cream can also be replaced with heavy cream, if preferred, for Keto and Gluten-free.
vanilla and apple extracts — Vanilla is expected. The apple extract is optional and not necessary for the Gluten-free and Primal versions of the cake. But the Keto and Low Carb version of this cake is benefited by the apple flavor. Optional.
baking soda and sea salt — For the rise and pronounced flavor.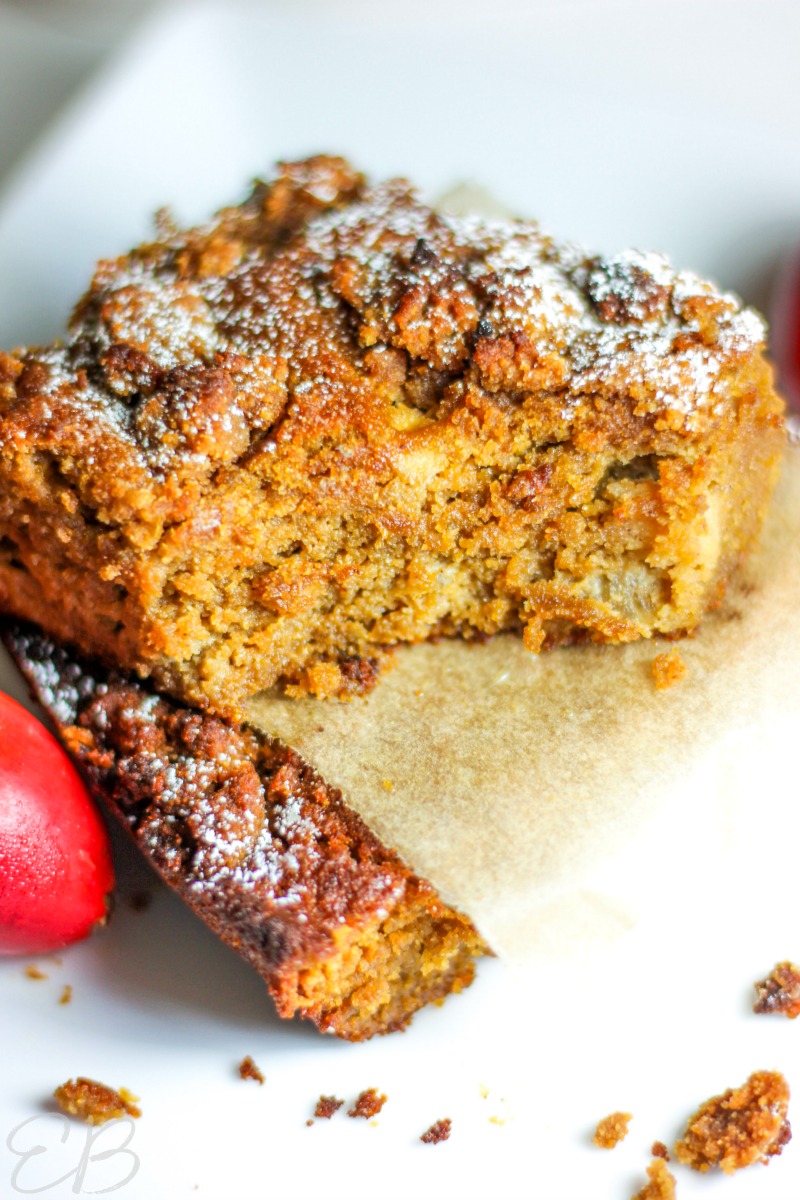 How to make
Keto Apple Cake with Coconut Flour
Early heads up:
Have certain ingredients at room temperature (or softened if your kitchen is cool). This assures an even texture when beating together the butter, cream cheese, coconut cream, sweetener and eggs.
Your batter may look slightly curdled, more so if you use cold ingredients. I have found that the cake turns out well even if you use cold eggs, for example, but best to have all at room temperature.
Classic cake assembly
Keto Apple Cake with Coconut Flour is made pretty simply. We beat together the solid fats (butter and cream cheese), add the sweetener and then add all of the remaining ingredients: dry ingredients, diced zucchini or apple and the eggs.
Then stir together the quick crumb topping (less than 5 minutes for this!).
The cake batter is poured into a greased cake pan and topped with the crumb topping.
PAN SIZE
Which pan size to use? A 9″x 9″ square pan or a 9″ round pan work great. If you want to unmold it and serve it whole, you can use a leakproof, 9″ round cheesecake pan.
This cake bakes at the low temperature of 325 degrees Fahrenheit, so it doesn't brown too quickly on the top before the inside is done baking.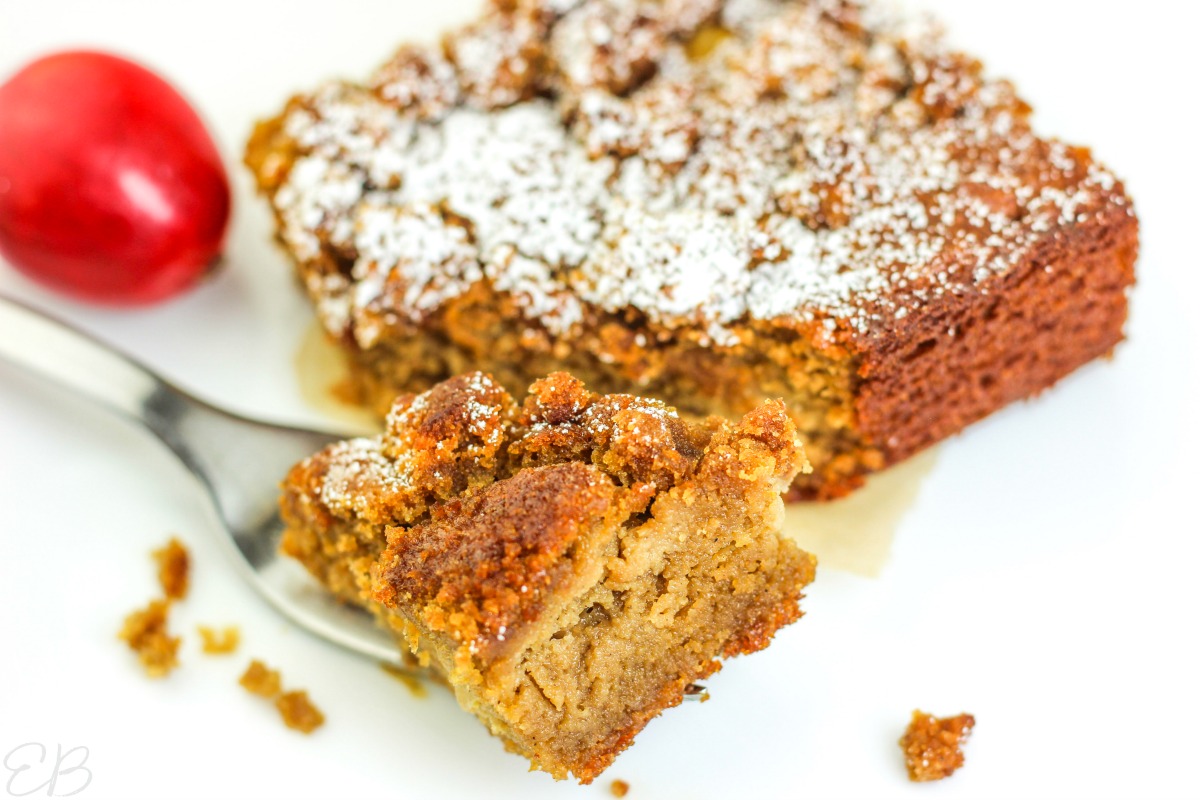 How to store leftovers of Keto Apple Cake
You can keep the cake covered and sealed on the counter for up to 2 days. But it's great cold, and keeps well in the fridge for 5 days.
After that, freeze: Pre-slice into individual servings. Seal well. Freeze for up to 3 months.
To defrost, simply leave out on the counter for 4 hours or overnight. You can also transfer to the fridge for a slower overnight defrost.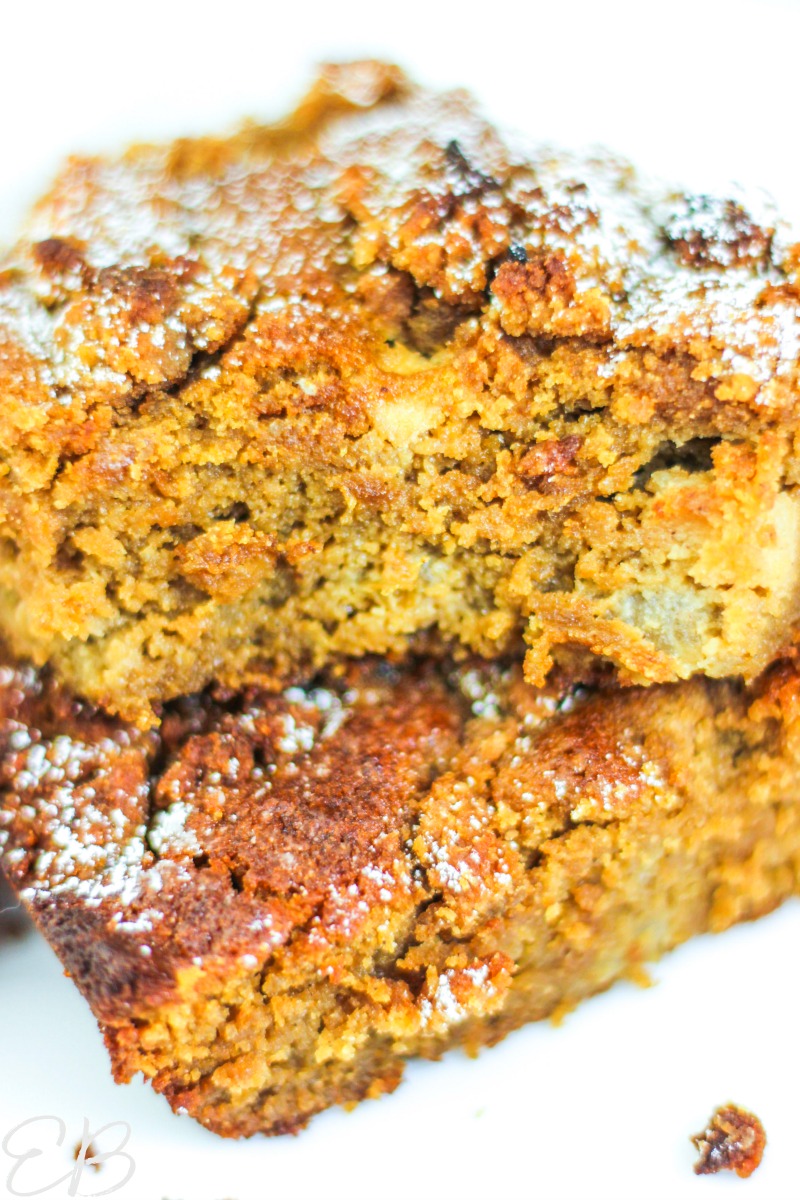 How to garnish or what to serve with Keto Apple Cake
Here are some fun ideas!:
For breakfast, serve with meat on the side: like sausages — or other protein, like an omelette or scrambled eggs. It's great brunch fare! So serve with any good egg casserole.
To serve for dessert, whip up fresh whipped cream, and serve with a large dollop. So special and homey.
Garnish Keto Apple Cake with Coconut Flour — with powdered sweetener, fresh berries, crab apples, cinnamon sticks, cloves, fresh orange slices, even cranberries at Christmas time.
You can also serve this cake with a cheese platter. I love it like this. I'm super partial to good cheeses, especially high fat, triple cream Bries, sheep's milk blues, nutty ones like Manchego, aged classics like white cheddar and buttery ones like Port Salut. Apple Cake and cheese go so great together — yes, like people who put cheddar on their apple pie. Or my mom, who always ate an apple and cheese slices for lunch. It's a great way to add protein and fat to your sweet cakey treat. Sophisticated and homey, both.
Lastly, you can also leave off the crumb topping, bake this cake in 9″ round cake pans and make a layer cake with Buttercream Frosting. If you want a big, beautiful layer cake, double the recipe.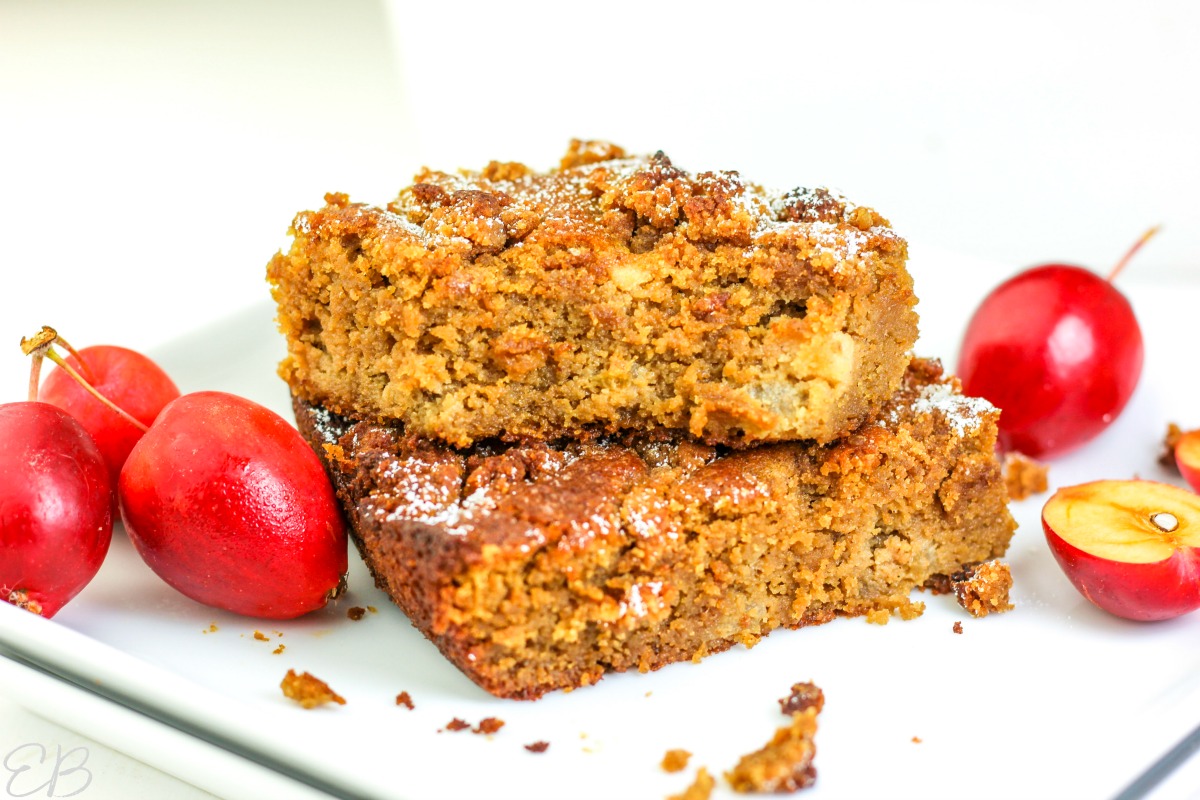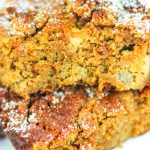 Print Recipe
Keto Apple Cake with Coconut Flour (nut-free)
Keto Apple Cake with Coconut Flour is utterly moist, tender, sweet and delicious! Nut-free, Gluten-free and Primal, this cake is such a fun fall and winter treat, but also great year round. The crumb topping makes the cake extra special.
Equipment
9" x 9" square pan, 9" round pan or use a leakproof cheesecake pan if you want to serve the cake whole on a cake plate so it unmolds easily without being turned upside down.

electric beaters (or mix by hand)

oven
Ingredients
4

large

eggs

ideally at room temperature (if you use cold eggs, your batter will look more curdled but will bake up fine)

1

cup

coconut cream

melted if solid and cooled to room temperature, or heavy cream

1

cup

erythritol (the brown sugar version is preferred, but not necessary)

granulated (OR coconut sugar/maple sugar for Primal)

¾

cup

zucchini

, peeled and diced, for Keto/Low Carb; for Primal: diced apple

⅔

cup +

¼

cup coconut flour

½

cup

butter

room temperature

2

ounces

cream cheese

¼

cup, room temperature

1

Tablespoon

molasses

(does not add much in the way of carbs at all!)

1

teaspoon

vanilla extract

optional

1

teaspoon

apple extract

optional (ideal for the Keto/Low Carb version of this recipe that uses zucchini)

½

teaspoon

cinnamon

½

teaspoon

baking soda

sifted

¼

teaspoon

sea salt
Instructions
Preheat oven to 325 degrees Fahrenheit. Grease a 9" cake pan (square or round). Set aside.
Crumb Topping
In medium-small size bowl, stir together the dry ingredients. With a fork, smash and stir the coconut cream in, until the mixture is fully mixed and evenly crumbly. (It will be kind of pasty, not fully crumbly.) Set aside.
Keto Apple Cake with Coconut Flour
Combine coconut flour, cinnamon, baking soda and sea salt in small mixing bowl.

In large mixing bowl, beat together butter and cream cheese, for 20 to 30 seconds. Add sweetener and beat again until mixed in well, about 20 to 30 seconds. Next, add coconut cream, molasses, vanilla and optional apple extract, and mix again until incorporated, about 20 seconds.

Pour dry ingredients into wet ingredients. Also add diced zucchini (or apple) and eggs. Use electric beaters on lowest speed to mix briefly but completely. Don't over-mix. Use a spatula to fold in and scrape the bottom and sides of the bowl as well.

Scrape into prepared pan. Using your fingers, crumble the crumb topping evenly over the surface. (Shown below in square dish.)

Bake until golden brown and slightly puffed in the middle, about 35 minutes, depending on pan size. A toothpick inserted in the center will come out clean or with a couple crumbs adhering. Cool in the pan on a rack for about 15 minutes if you want to serve it warm. Otherwise, cool completely. (Round cake [pan] shown below cooling. Note: The photo below also shows this cake without the crumb topping, so the cake can be layered with frosting and served as a layer cake.)
Nutrition
Calories:
242
kcal
|
Carbohydrates:
5
g
|
Protein:
5
g
|
Fat:
20
g
|
Saturated Fat:
14
g
|
Cholesterol:
88
mg
|
Sodium:
233
mg
|
Potassium:
139
mg
|
Fiber:
6
g
|
Sugar:
3
g
|
Vitamin A:
405
IU
|
Vitamin C:
2
mg
|
Calcium:
23
mg
|
Iron:
1
mg
Similar recipes
I think you'll also love these cake recipes!: