I may receive a commission if you purchase through links in this post. I am not a doctor; please consult your practitioner before changing your supplement or healthcare regimen.
Pomegranate Coffee Hibiscus Smoothie Bowl combines the amazing flavors of coffee, hibiscus & berries with granola and chocolate. My favorite smoothie bowl ever! Paleo with added collagen protein for a well-rounded snack or meal.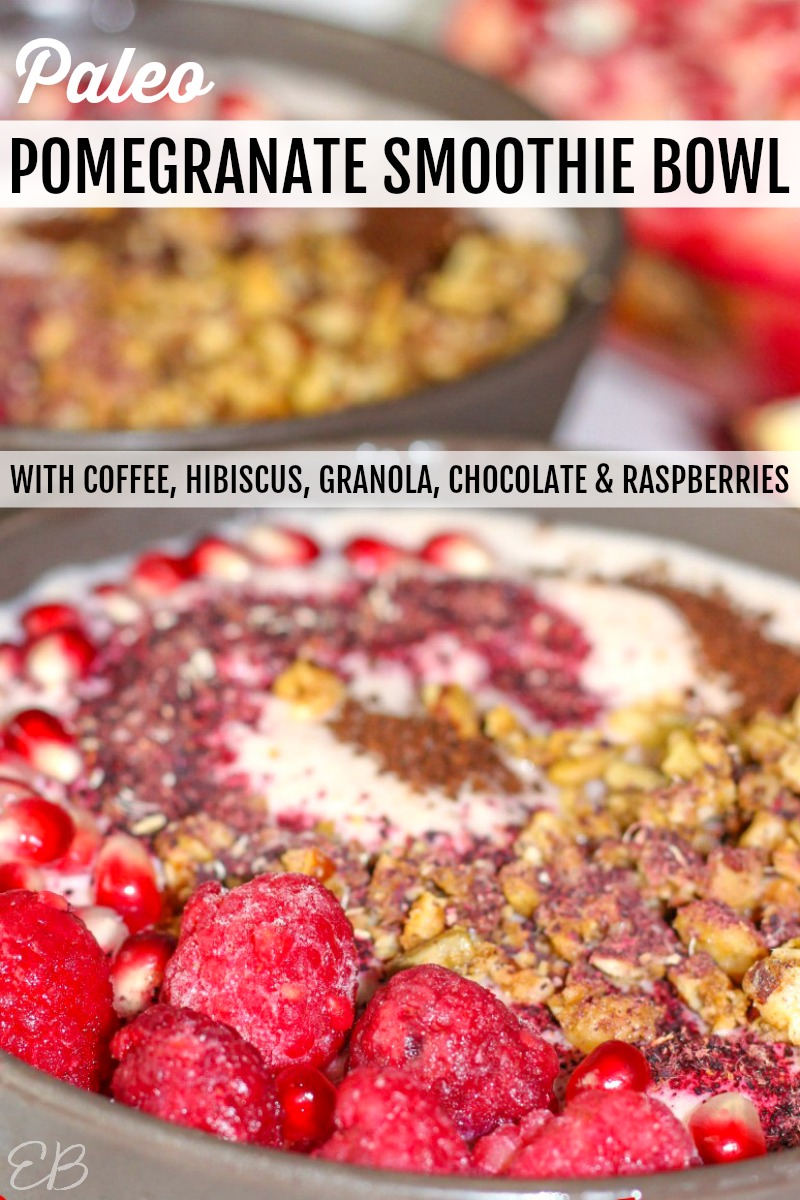 Pomegranate Smoothie Bowl is rapturous visually and … when you eat it! Synonyms include: ecstasy, bliss, exaltation, euphoria, elation, joy, enchantment, delight, happiness, pleasure. Yes, that's what this smoothie bowl promises.
Ingredients in Pomegranate Smoothie Bowl
Coffee grounds …
I want to tell you the surprising flavor feature in this bowl. It's optional. But it's amazing. It's decaf. coffee grounds, and yes, you
can use herbal coffee grounds, too. Did you know that they're edible? And that they have a great texture? They do. We should be doing this. When I asked my boys, ages 12 and 7, what their favorite smoothie bowl bite was from this recipe and suggested the pomegranate or the raspberry, they both shook their heads, even my son who loves herbal tea. Both of them, their favorite bite? Coffee grounds + granola.
And that was my favorite bite too. SO good. Such a cool texture. And the flavor is incredible.
Granola
Here's the grain-free granola recipe, btw. It's perfect. If you aren't already making this Paleo/GAPS crunchy, crumbly goodness, I need to humbly suggest that you begin. It is FUN food. It is SO good.
Hibiscus
Another exciting topping on this smoothie bowl? Hibiscus! You'll see here how I used it as a donut topping and here how I used it in Raw Energy Balls (cookies). Just like coffee, you don't have to steep it first to enjoy it's essence. It's super fruity and super lemony and super high in Vitamin C as well as lots of other nutrients. Have some hibiscus on your smoothie bowl by quickly whizzing it in your coffee grinder until it's powdered. Now you can play with the pretty stuff, making art on top of your smoothie bowl and eating the tart goodness.
Pomegranates on smoothies
Pomegranates! Their juicy seeds are used here as the defining topping. They're the garnet-like smoothie ornament that sparkles and tells us all… it's fall and soon to be winter! These juicy fruits of now are bright and beautiful against the changing landscape. Fall means: persimmons on their way, red pears, pomegranates, cranberries… Let's buy these beauties when we see them at the market. It's that time of year, and don't you love celebrating the seasons with the changing foods?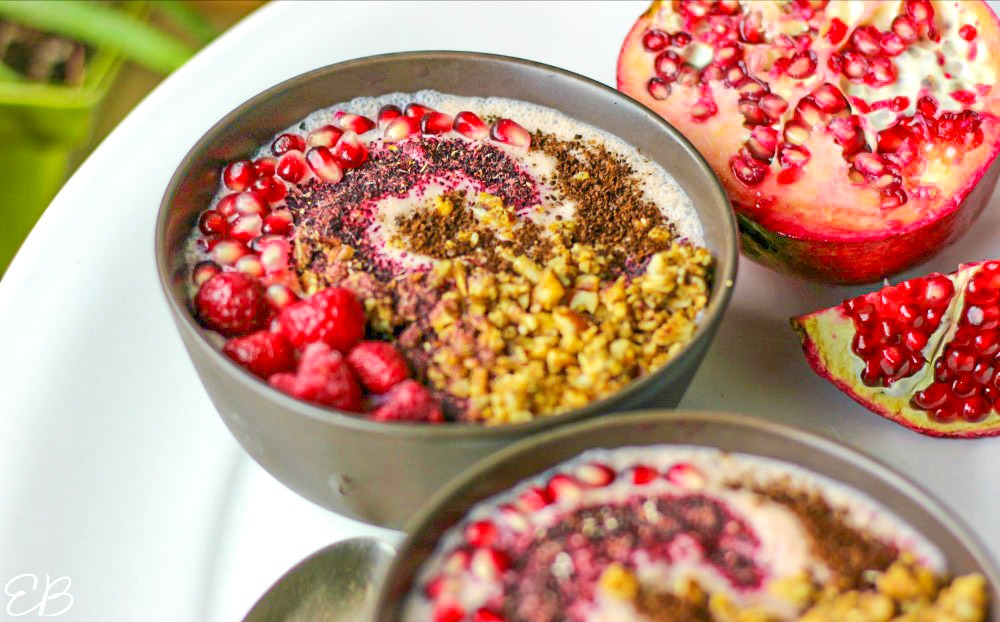 Historically symbols of prosperity, ambition and fertility, pomegranates are high in fiber, Vitamin C and antioxidants. They offer anti-viral properties, great timing for when we're getting less sunlight and our immune systems are more challenged.
Raspberries
Ruby red frozen raspberries are perfect, too, will all the flavors of this bowl, and they're one of the best fruits to buy frozen. They defrost quickly, and they're…beautiful.
The right amount of liquid
One final feature of this recipe is its ratio. If you'd like to make various kinds of smoothie bowls this recipe gives you the right ratio of frozen fruit to your choice of milk/fresh juice/honey water. Having it be thick is what allows the decorative toppings to sit on top. And it's what allows you to eat it with a spoon, like a bowl of healthy ice cream (hee, hee). If you have a Vitamix you'll like the tamper tool that comes with it, allowing you easy blending with thick contents. If you have the Blendtec, they have a new Twister Jar, for the same purpose. (Otherwise, you may need to start and stop occasionally to keep the contents moving and the air bubbles by the blades popped.)
Print Recipe
Pomegranate Smoothie Bowl
This recipe can be halved to make 1-2 servings. I give some variation below on the quantity of toppings, because that's up to you, how much you want!
Ingredients
5

cups

frozen fruit

strawberries and watermelon are my favorite combination; or use some banana if you want to leave out all sweeteners; cooked frozen chunks of beet are also delicious and beautiful when combined with strawberries

2

cups

raw milk

or coconut/nut/seed milk of choice

2

Tablespoons

cocoa powder

fair trade, or toasted carob powder (optional); or see chocolate protein powder option below in Recipe Notes

3-4

Tablespoons

raw honey

, pure maple syrup, or 15 drops stevia, to taste (optional)

1-2

scoops

collagen

see link below in Recipe Notes

3/4-1

cup

pomegranate seeds

1-2

Tablespoons

coffee grounds

fresh, decaf., fair trade

1-2

Tablespoons

hibiscus petals

whirled in coffee grinder to powder

3/4-1

cup

granola

homemade, sprouted, grain-free~ see link to recipe in Recipe Notes

3/4-1

cup

raspberries

fresh or frozen
Instructions
Place the following items in high-powered blender: frozen fruit, milk of choice, optional cocoa or carob powder, honey or other optional sweetener and collagen. Blend on medium speed 30-50 seconds, using tamper as needed to keep the smoothie moving (preventing air bubbles by the blade).

Pour smoothie into pretty bowls and decorate with toppings: pomegranate seeds, coffee grounds, powdered hibiscus, granola and raspberries. Enjoy!
Notes
Protein Powder~ On the whole, I prefer using collagen as a source of protein in smoothies. But I do like

this Pure Paleo Protein Powder

that's made from grass-fed beef (you can't taste the beef at all). It's sweetened with stevia, tastes super yummy, and digests well. It can be a good pre or post-workout source of protein if consumed with fat and other needed co-factors, like raw milk.
Here's the collagen

I like best: grass-fed and grass-finished, and they test it for pesticide levels and purity. Use the discount code BEAUTIFUL10 to get 10% off at check out! 🙂
And

here's

the Paleo/GAPS granola recipe I love best!