I may receive a commission if you purchase through links in this post. I am not a doctor; please consult your practitioner before changing your supplement or healthcare regimen.
13 Best AIP Thanksgiving Side Dish Recipes provides 13 tried and true amazing side dishes for Thanksgiving and Christmas + any other holidays you celebrate. You won't miss your old favorites with these new and compliant recipes that are utterly delicious.
Sometimes it's nice to have 50 recipes to choose from, but my goal with this post is to really help you by only providing really well-selected great recipes!
They're all AIP, autoimmune protocol, that's the point! So they're going to be exciting, rich and delicious, but they're all free of eggs, dairy, nuts and seeds, and they're obviously Paleo first, so no grains or refined sugars.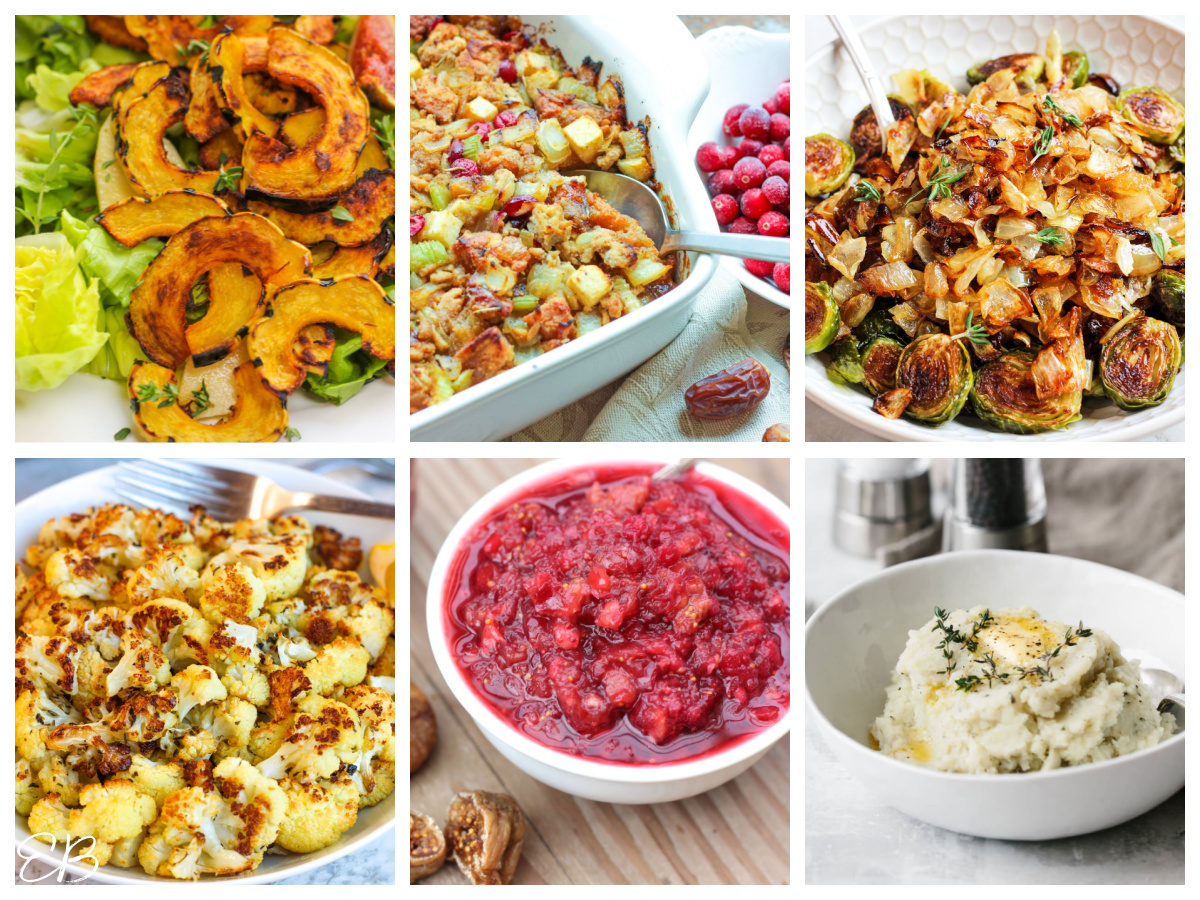 AIP Holiday Recipe notes
Two of the AIP Holiday Side Dish Recipes below are Paleo and have black pepper, so just leave it out (I note which ones below).
Happy Holidays, friends!
Top 13 AIP Thanksgiving Side Dish Recipes
Roasted Caramelized Delicata Squash Slices — Everyone's favorite sweet veggie, this treat turns out crispy like French fries, with a gorgeous flavor. So tempting, these will be gone first! Or, if you need a beautiful green, make Fall and Winter Salad with Roasted Delicata Squash, the best of both worlds!
Mashed Parsnips with Crispy Parsnips on Top — Better than mashed potatoes, plus gentler!: nightshade-free and dairy-free. I love this mash and the tempting topping!
Herb-Roasted Cauliflower — Really the best cauliflower recipe anywhere, in my opinion. These pieces are excellent for nibbling off the sheet pan, just roasted, like warm popcorn! But, obviously a beautiful side dish on the table or buffet.
Roasted Brussels Sprouts with Crispy Onions — Hands down, my favorite way to make Brussels sprouts. I share how to cook them evenly to get a perfectly cooked veggie, always with those caramelized browned edges!
Onion Gravy — A great, easy, classic recipe for a thick, flavorful gravy.
Instant Pot Gravy — Omit the pepper (the last ingredient listed). This is a wonderful, rich, classic and sure-to-please gravy recipe! Made with bacon … 🙂
Mashed Cauliflower with Garlic and Herbs — Lovely! She gives some great tips on how to make this classic successfully. And she adds garlic and herbs, sooo yummy.
AIP Biscuits — One of the most popular recipes on my blog, these AIP Biscuits are traditional, classic, delicious biscuits, sure to delight!
Paleo AIP Bread Rolls — A brand new recipe on the blog, this dough is easy to make and easy to work with. It yields tender doughy rolls that are fully cooked and risen in the middle, not too wet or dense. You'll love them!
AIP Stuffing! — Yes, with AIP bread!!! This recipe is incredibly delicious, tastes traditional and is super satisfying. One of the most popular recipes on the blog that readers make each year.
Fermented Cranberry Sauce — This is my favorite cranberry sauce yet. If you haven't fermented before this is a great and fun recipe to get you started. The recipe shares two tools to help you succeed with ease. You still have plenty of time to make this sauce before Thanksgiving.
Roasted Broccoli Salad — Need something green on the table? Try this wonderful and beautiful Roasted Broccoli Salad ~ roasted for extra flavor, good crispy bits that marinate beautifully in the Lemon Vinaigrette, and because broccoli digests best when it's cooked, not raw. This lovely salad is garnished with raspberries and fresh lemon, so pretty on the table, too.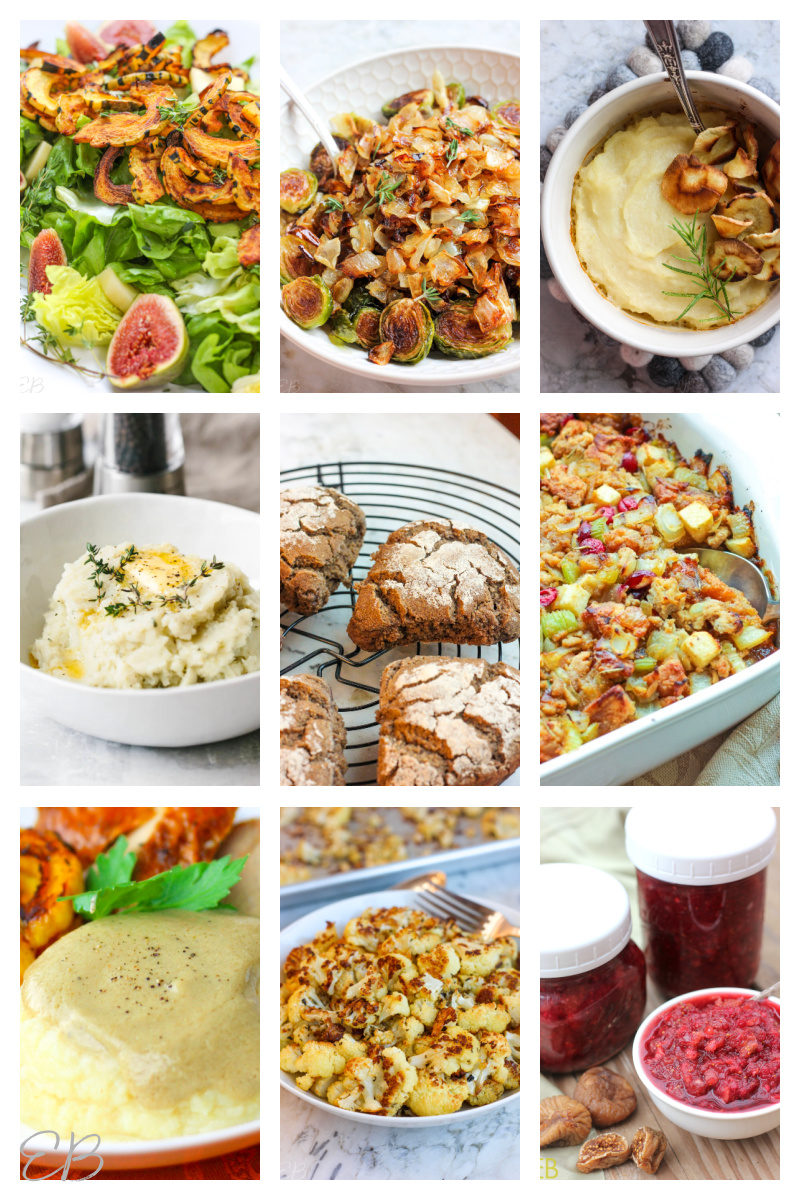 OPTIONAL — Reintroduction only ~ Roasted Green Beans — This recipe is not elimination-phase compliant; it is re-intro. If you've never used fish sauce before (it's an ingredient in this recipe) just know that it isn't fishy in recipes. It adds umami, which is a meaty depth that's delicious. It's one of my favorite pantry staples, so you can use it in lots of basic cooking to add more flavor and je ne sais quoi. (Find it HERE.) I love this roasted green beans recipe, by the way, a great classic. How to cook a vegetable simply and well is sometimes the most valuable recipe.
13. Best Sweet Potato recipe
This was my favorite Thanksgiving side dish growing up!
Ingredients
4 sweet potatoes, about 2.5 pounds (I prefer the white ones, but whatever you find or like works well.)
1/4 cup coconut oil or bacon fat
1/2 teaspoon sea salt
1/2 teaspoon each: cinnamon and/or ginger, optional
1/2 cup coconut cream and 2 Tablespoons coconut sugar, if you want your sweet potatoes extra indulgent, optional
fried sage for garnish, optional
Instructions
Preheat oven to 375 degrees. Place sweet potatoes on a cookie sheet. Bake until tender when poked with a knife, about 1 hour or a bit more if they're big.
Allow them to cool slightly; then peel, (and discard/compost the peel).
Place them in a large mixing bowl. Smash with fork or

potato masher

.
Add coconut oil or bacon fat, sea salt, and optional spices like cinnamon and ginger. Add coconut sugar and coconut cream if you want them extra indulgent. Taste.
Pack into a deep greased casserole dish with lid. Return to warm (325 degree Fahrenheit) oven to reheat before serving.
Serve topped with lots of fresh

fried sage

.
You can Pin Best AIP Holiday Recipes here: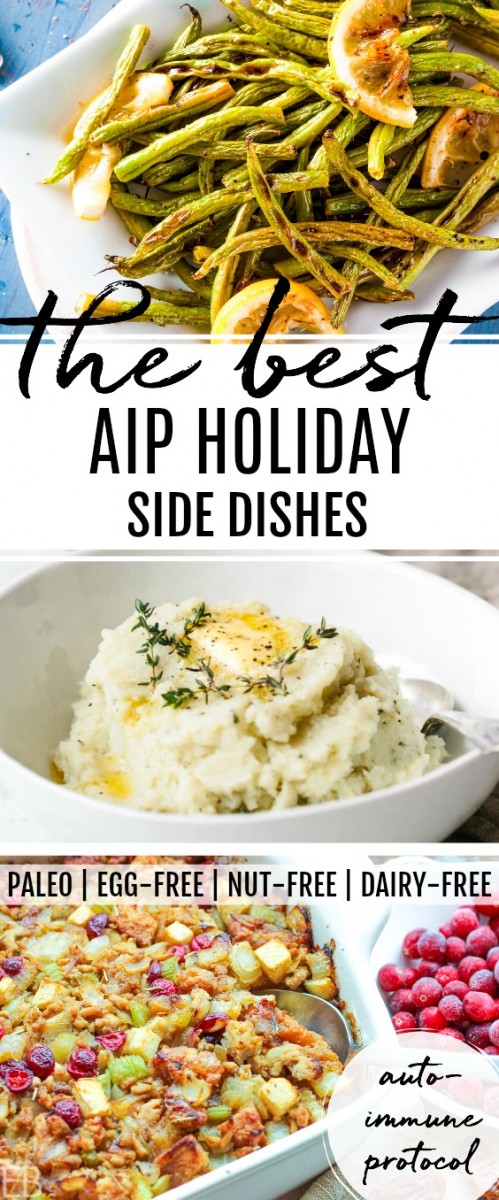 Best AIP Thanksgiving Desserts
Yes, don't forget dessert; because these are tried and true reader favorites, reliable, easy and awesome desserts, I'll share them too!:
Pumpkin Cake! — At our holiday gatherings we always have lots of pies. But the quality of the dessert I choose is the most important thing to me. And because this pumpkin cake is SO good, you'll be happy to have it as your AIP tempting dessert choice when that moment comes.
Viral Caramel Apple Pie — This decadent dessert is Paleo & AIP, with two crust options. It's perfect to make this treat the day before your holiday. Serve with Paleo Cinnamon Ice Cream, Paleo Vanilla Ice Cream or on its own. So special and delicious looking.
AIP Cookie Recipes — Everyone loves cookies, and they're easy + no-fuss to make. So choose your favorite one, or more, cookie recipe, and everyone will love them, especially if served with homemade classic Paleo Vanilla Ice Cream or now-famous Paleo Cinnamon Ice Cream!
Paleo Pie Crust — Another very busy recipe post come holiday time each year, this is a reader favorite and the top Paleo Pie Crust on the internet. 🙂 For good reason — the dough is easy to work with and turns into a crispy delicious crust!