I may receive a commission if you purchase through links in this post. I am not a doctor; please consult your practitioner before changing your supplement or healthcare regimen.
Fried Sage Leaves are a lovely embellishment to holiday meals, roasted meats, appetizer platters and cheese or meat plates. The leaves are a special garnish for soups, stews or casseroles. Fried Sage is also a gourmet snack. Seasoned with coarse sea salt, my favorite way to eat fried sage is out of hand, crunchy and herbaceous. Fried Sage Leaves are super easy to make, and quick — but technically they're deep fried. Fried sage is good all by itself, like kale chips, but more exotic!
Historical uses for sage
Sage has been used medicinally for centuries, if not longer, and is native to the Mediterranean.
Sage has anti-inflammatory properties and, like all herbs, is concentrated in its nutrition. Sage provides calcium, potassium, iron and is rich in flavonoids.
Regarding healing uses for sage, these include digestive healing, respiratory relief, mental clarity and skin treatment.
Throughout Europe, sage is made into essential oil.
Historically, sage was used as a meat preservative before refrigeration and is now often associated with the flavors of Thanksgiving, excellent with chicken or any meat, including fish and eggs.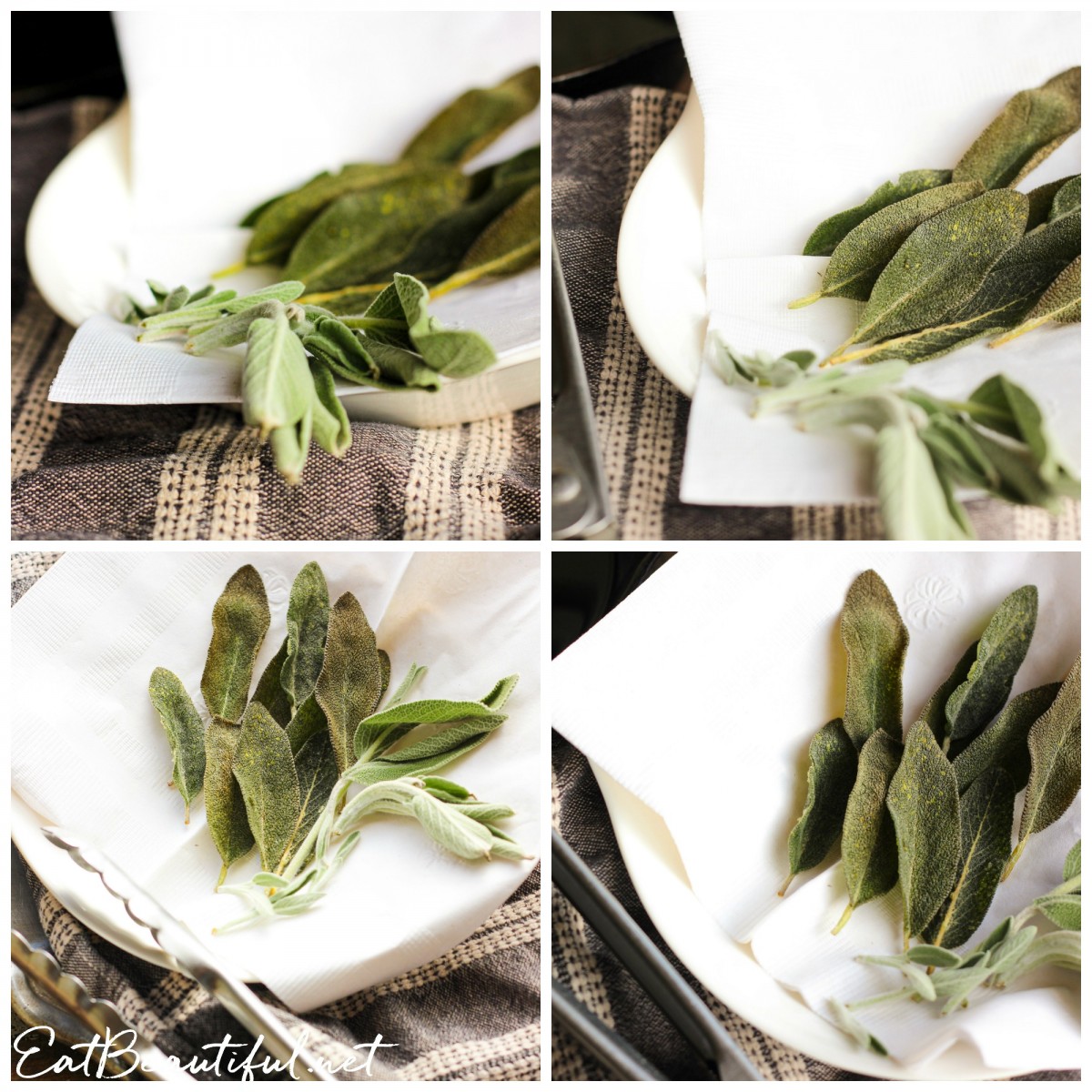 How to fry sage leaves?
Called Salvia Fritta, the preparation I share here is an easy gourmet technique. The nutrients in the sage are well-preserved during cooking.
The leaves fry just briefly in a small (ideally cast iron) skillet, in olive oil or another fat.
This savory treat is simple to make and yet perfect and potent — straight from nature and then heightened in texture and flavor through frying.
The healthiest foods, and those that are often allowed and encouraged on healing diets, are beautiful whole foods.
No thermometer is needed for this simple, quick process. If you are someone that prefers knowing the oil temperature, 165 degrees Fahrenheit is the ideal temperature for the oil to be at during frying. Too hot of oil can turn the leaves brown or make the oil pop. Expect sizzling bubbles but not too much popping.
The leaves will sizzle when first tossed into the hot fat. Sage leaves are ready, after being flipped over, when the sizzling slows, less than one minute total. Heating the oil over medium-high heat, and lowering it to medium halfway through the overall cooking process, works perfectly.
Print Recipe
Fried Sage Leaves
Fried Sage Leaves are a Mediterranean savory treat — perfect for garnishing dishes or snacking out of hand!
Ingredients
1

bunch

fresh sage

, about .5 to 1 ounce

¼

cup

olive oil

, avocado oil, or preferred fat

coarse sea salt
Instructions
In a very small skillet, heat oil over medium-high heat. (Cast iron works well.)

Pinch off leaves from the bunch and add to the hot oil, about 5 at a time for small skillets. (Lower heat slightly as needed [do not allow to smoke]. Some sizzling or brief popping will occur when the leaves first touch the oil, so fry with care and use a screen if needed. If using a thermometer, 165 degrees Fahrenheit is the ideal frying temperature for the oil.)


Fry until crisp, 30 to 60 seconds, flipping leaves over once.

Transfer to paper towel with two forks or cooking tongs. Sprinkle generously with sea salt.

Serve mezza-style, one among many platters to pass and taste. Or use the leaves to garnish any dish.
Nutrition
Calories:
98
kcal
|
Carbohydrates:
1
g
|
Protein:
1
g
|
Fat:
11
g
|
Saturated Fat:
2
g
|
Sodium:
1
mg
|
Potassium:
9
mg
|
Fiber:
1
g
|
Calcium:
13
mg
|
Iron:
0.3
mg
Have you had fried sage before? How will you eat yours?
Try topping these recipes with fried sage: