I may receive a commission if you purchase through links in this post. I am not a doctor; please consult your practitioner before changing your supplement or healthcare regimen.
Paleo AIP Bread Rolls are perfect for holidays, lunch or brunch gatherings, casual sandwich buns and as sides with dinners. You'll LOVE the inside texture of these, how they rise perfectly — and the traditional bread they are that does not betray the egg-free nature of the recipe. 🙂
This recipe is also nut-free, cassava-free, Gluten-free and has a coconut-free option.
Call these Bread Rolls or Dinner Rolls, depending on how you plan to use them!
Jump to Recipe
Ingredients in Paleo AIP Bread Rolls
The main flours used in Paleo AIP Bread Rolls are green banana flour and tiger nut flour.
The other ingredients are:
coconut flour (coconut-free option, too, in recipe below)

coconut milk (coconut-free option, too, in recipe below)

avocado oil
gelatin
coconut sugar – or maple sugar, for coconut-free, although most people don't react to this ingredient. Coconut sugar is used in this recipe not as a sweetener, but it affects the tenderness of the dough nicely.
baking soda and sea salt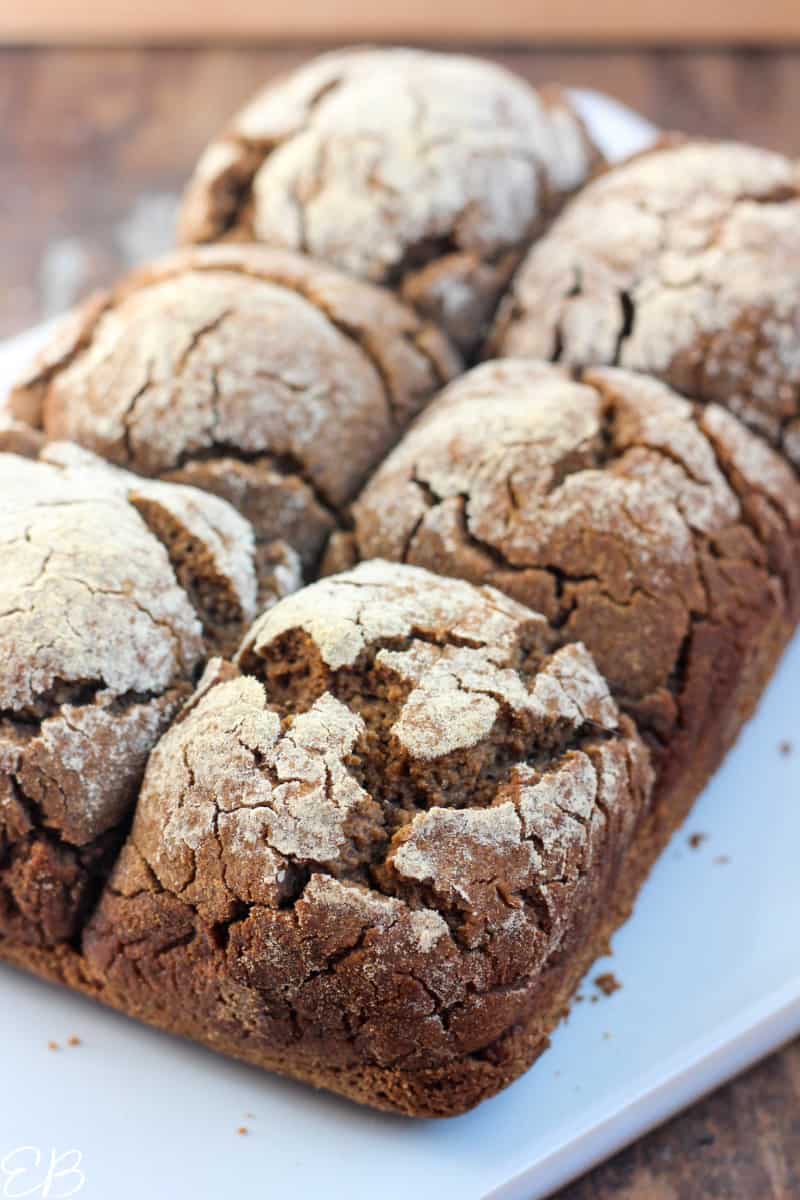 How to make Paleo AIP Bread Rolls
I have made this recipe over and over again to be sure exactly how it works. And happily, one of the things I love about this recipe is how the dough behaves, how it feels to shape the soft dough in my hands.
What you need to know: the texture of the dough
The dough for this recipe mixes up and looks more like a cookie dough than a bread dough. It is softer than most bread dough. The balls of dough get dusted with green banana flour so they easily roll into balls between the palms of your hands.
I came to love this stage in the recipe process because of how nice the dusted dough feels.
Use a very small baking dish
Bake the dough balls in a small baking dish. I use a really small one: about 6 inches by 4 inches (like this or this* – see note just below), but you could also use a slightly bigger pan. A bigger pan will allow the dough to spread more while baking. You can see here (photo just below) how the Bread Rolls look baked in a 6″ round cake pan. They spread out a bit more, but the pan still works great, and the rolls are equally good when they are not as tall.
*In this collection of oven-safe storage containers, one rectangular glass dish is 6 by 4 inches. This style dish is similar to the one I ended up using the most often to bake the rolls. You may have something like this already in your kitchen.
Choose your pan or baking dish based on how you want your finished rolls to look — or based on what pan you already own.
Mixing the gelatin in with the dry ingredients
With a little (lot) of trial and error, I learned that the best way to make this dough turn out consistently for everyone is to mix ALL the dry ingredients together, including the gelatin. While a lot of egg-free recipes use a gelatin egg (gelatin + water), this recipe is more predictable if we keep the wet and dry ingredients separate from each other until it's time to combine them.
This is a very easy predictable batter bread recipe:
In a large mixing bowl, whisk together dry ingredients.
Stir together wet ingredients in separate bowl.
Add wet to dry, and combine well. (I like to use a handheld electric mixer.)
Place a small amount of green banana flour in a small plate or bowl. Divide dough into 6 equal portions (or 5 for a round cake pan), or use a 2-ounce dough scoop, like this, which is what I do. Scoop up each section into a ball-like shape between two spoons, if you don't have the scoop, one at a time, and drop them into the flour. Use two hands to roll the dough into a ball. (The flour prevents sticking on your hands and creates a lovely finish on the baked rolls.)
Place into corner of greased baking dish. Repeat with all the dough, so you have 6 rolls.
Bake about 40 minutes. Cool, and serve!
How to store and use leftover dinner rolls
To store leftover rolls, place in large mason jar or sealed bag, on the counter overnight, or into the fridge if you'd like to store for multiple days. Paleo AIP Bread Rolls also freeze great, for up to 3 months.
Leftover bread rolls firm up a bit, so my favorite easy way to eat them is sliced in half and toasted. They make great toast with jam or as sandwich buns, this way.
If you want them whole, for best texture: use a spray bottle to spritz them with water on all sides, and then place them on a cooling rack in preheated 325 degree Fahrenheit oven for about 10 minutes.
Print Recipe
Paleo AIP Bread Rolls (Gluten-free, egg-free, EASY!)
Paleo AIP Bread Rolls are perfect for holidays, lunch or brunch gatherings, casual sandwich buns and as sides with dinners. You'll LOVE the inside texture of these, how they rise perfectly -- and the traditional bread they are that does not betray the egg-free nature of the recipe. This recipe is also nut-free, cassava-free and Gluten-free.
Ingredients
1

cup

green banana flour

plus more for dusting the dough, about 2 Tablespoons more, divided

⅔

cup

coconut milk not cold OR tiger nut milk for coconut-free (For non-AIP, also okay to use other milks.) It's very important that the milk is not cold. It needs to be room temperature or warm-room temp. I like Aroy-D brand best because it's natural, always creamy, but does not separate into a hard top layer; it's homogenized, so it's easy to use in recipes.

¼

cup

tiger nut flour

<-- This brand

6

Tablespoons

water room temp

not cold, warm or hot

3

Tablespoons

oil

: avocado or MCT oil; Probably olive oil is fine, too.

2

Tablespoons

coconut flour

optional For coconut-free, add 2 more Tablespoons tiger nut flour.

2

Tablespoons

gelatin

Use discount code BEAUTIFUL10 for 10% off your entire order.

1

Tablespoon

coconut sugar

(This ingredient is not included for sweetness. Rather, it helps to create the right tenderness and moistness of crumb.)

2

teaspoons

lemon juice

or apple cider vinegar

½

teaspoon

baking soda

½

teaspoon

sea salt
Instructions
Preheat oven to 350° F. Choose your pan/baking dish (See Equipment section above Ingredients for size and shape options). Grease with oil, and optionally line with parchment paper.

Put the 2 Tablespoons green banana flour (it will be used for rolling/dusting the dough) on a plate or in a bowl. Set aside.

In a large mixing bowl, combine: 1 cup green banana flour, tiger nut flour, optional coconut flour, gelatin and coconut sugar. Add the baking soda and sea salt, and stir to combine.

In a small mixing bowl or 2 cup measuring dish, such as Pyrex, combine wet ingredients: room temp. coconut milk, water, oil and lemon juice/vinegar.

Pour the wet ingredients into the dry, and mix well to combine. I use handheld electric beaters. Beat for a total of about 50 seconds: after the batter comes together, go another 15 to 20 seconds. It will look slightly whipped. I start at the lowest speed, and then increase the speed to medium the final 10 seconds. (Note: If your coconut milk is on the warmer side, your dough will be on the softer side. It's better that it's neither too warm nor too cold so it's easy to form into rolls.) Use a spatula to scrape down the sides of the bowl. Allow dough 5 minutes to thicken.

Use a 2-ounce scoop, slightly heaped, to get 6 easy equal portions. Or, if you don't have the scoop: Use a knife or spatula to cut it roughly into 6 even sections (or 5 if you're using a small round cake pan). The consistency of the batter is not quite as firm as dough (more like light fluffy thick batter), so if you don't have the scoop, use the spatula and/or 2 spoons to scoop it up; and place in the small plate/bowl of green banana flour. Put some green banana flour in your hand as needed. Roll the dough over so it's coated and easy to handle.

Then roll it in your palms gently (it's light and fluffy, but soft) to create a ball, shaking off any excess flour. Place first roll into the prepared baking dish. Repeat with remaining mounds of dough.

Bake in preheated oven about 40 minutes, until puffed, browned a bit, firm on the outside, not too soft when pressed with a finger, and a toothpick inserted into the center of one comes out clean. (Larger pans will create flatter buns, so will cook more quickly. Check for done-ness at 35 minutes.)

Cool on rack, then un-mold from pan. Gently pull rolls apart from one another, and serve, or use to make sandwiches etc. (Round pan pictured in this last photo.)
Nutrition
Calories:
208
kcal
|
Carbohydrates:
22
g
|
Protein:
4
g
|
Fat:
11
g
|
Saturated Fat:
5
g
|
Polyunsaturated Fat:
1
g
|
Monounsaturated Fat:
3
g
|
Trans Fat:
0.02
g
|
Sodium:
142
mg
|
Potassium:
177
mg
|
Fiber:
4
g
|
Sugar:
1
g
|
Vitamin A:
0.1
IU
|
Vitamin C:
1
mg
|
Calcium:
9
mg
|
Iron:
5
mg
What to serve with Paleo AIP Bread Rolls
I've made this recipe so many times now that I can say: it's easy to whip up, and then you'll be glad you did! Paleo AIP Bread Rolls are great to have on hand to serve with most dinners you make; they complete the meal.
But perhaps the first thing that comes to mind is the holidays. Serve Paleo AIP Bread Rolls with your other favorite Paleo AIP Thanksgiving foods, topped with (the first two condiment links aren't AIP) Berry Jam, Fig Jam or Fermented Cranberry Sauce.
For everyday, serve with classic Paleo AIP entrées like:
Or, make sandwiches with these rolls!
And, we have often used leftovers of them to make toast.
You can Pin this recipe here:
More Paleo AIP breads