I may receive a commission if you purchase through links in this post. I am not a doctor; please consult your practitioner before changing your supplement or healthcare regimen.
While I haven't taken Ibuprofen for many years, I have loved ones who use it occasionally or rely on it regularly. 10 Ways to PROTECT YOUR GUT when taking IBUPROFEN looks at what happens to the gut and organ systems as a result of repeated Ibuprofen use, noticeable symptoms that may occur and some possible alternatives. The article also provides solutions for how to protect the gut and organ systems when Ibuprofen use is unavoidable.
Ultimately, whether the product is branded Advil, Motrin, Nurofen or is the generic drug Ibuprofen, we need to know that, long term, understanding the cause of one's pain and addressing that health issue should become a priority instead of allowing the damage caused by this pain killer.
Basic information about Ibuprofen
Approved by the FDA in 1974, Ibuprofen is an over-the-counter, nonsteroidal, anti-inflammatory drug (NSAID) that many turn to for pain relief, to reduce inflammation or to reduce fever. Chemicals called prostaglandins are released by the body to cause these symptoms, and ibuprofen works by blocking the enzyme (cyclooxygenase) that makes prostaglandins. What patients often don't realize are the specific side effects that are silently occurring within their bodies as a result.
Warning: There are many conditions and medications that are contraindicated with the use of ibuprofen. Common medications should not be taken alongside ibuprofen unless a doctor has been consulted. Similarly, there are medical conditions that can worsen with the use of Ibuprofen, including asthma, solid-organ transplants, anatomical abnormalities and cystic fibrosis. Those who are breastfeeding should also avoid Ibuprofen.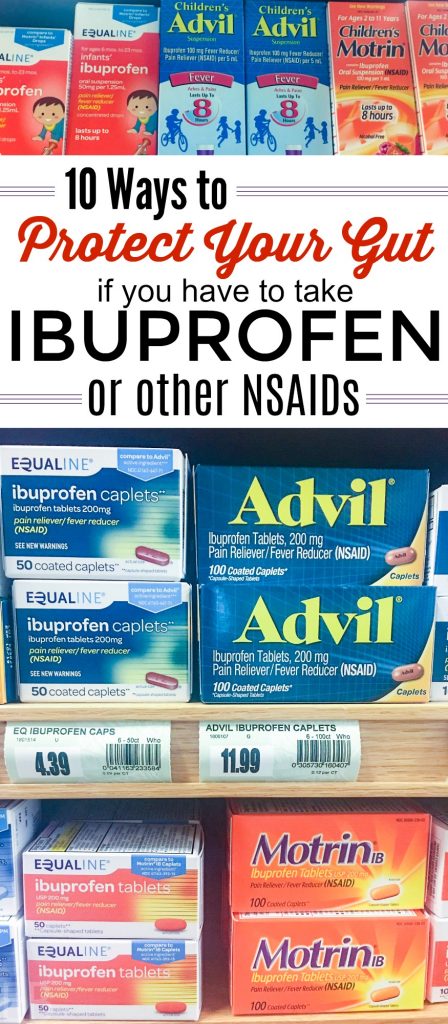 Briefly, the dangers of Ibuprofen use
It is estimated that one in five long-term Ibuprofen users will develop gastrointestinal difficulties directly resulting from Ibuprofen use. As one PubMed study says,
The major adverse reactions include the affects on the gastrointestinal tract (GIT), the kidney and the coagulation system…It has been estimated that 1 in 5 chronic users (lasting over a long period of time) of NSAIDs will develop gastric damage which can be silent. (source)
How does gut damage occur? Briefly, Ibuprofen reduces DAO levels, an enzyme that helps to break down and clear histamines. Elevated levels of histamine in the gut increases zonulin, which is the protein that breaks apart the epithelial cells that line the gut. Thus Ibuprofen causes leaky gut and allows food particles into our blood stream, causing food sensitivities and autoimmunity. (source and source)
Other dangers include:
Increased bleeding after an injury, as NSAIDs reduce the blood's ability to clot.
Ulcers of the stomach or intestine.
Impaired kidney function, kidney disease and lithium toxicity.
Increased risk of heart attacks, stroke and heart failure.
High blood pressure.
Fluid retention.
Using the lowest possible dose of Ibuprofen reduces the risks associated with Ibuprofen use. More frequent use and higher doses of Ibuprofen increase risk factors.
10 Ways to PROTECT YOUR GUT when taking IBUPROFEN
If a patient is in great pain (or has inflammation) and has no other alternative in the moment, what can they do to protect their gut and organ systems from the damage Ibuprofen causes? Or if a patient has discontinued the use of NSAIDs but wishes to heal the damage already done to the gut, the following are supplements and lifestyle choices to consider:
Symptoms that Ibuprofen can cause, and other NSAIDs
It's important to know the names and be aware of other NSAIDs too, which can cause the same side effects as Ibuprofen:
Aspirin
Aleve (naproxen sodium)
Celebrex
Naprosyn (naproxen)
Lodine (etodolac)
Mobic
Nalfon (fenoprofen)
Daypro (oxaprozin)
Ansaid (flurbiprofen)
Cambia / Cataflam / Voltaren (diclofenac)
COX-2 Inhibitors
Symptoms associated with the use of NSAIDs include fluid retention, dizziness, headaches, confusion, raised liver enzymes (detected through blood test), diarrhea, high blood pressure, hives or other skin irritation, gastric pain, nausea, ulcers of the esophagus, kidney complications and asthma. Contact your doctor immediately if you experience swollen ankles, black stools, difficulty breathing or dark, coffee colored vomit.
If you've used NSAIDs and feel concerned, consider seeing a functional medical doctor. Certain groups are at higher risk: those who are aging, those with a history of heart failure, kidney disease, diabetes, ulcers or high blood pressure. Drinking alcohol also increases risk factors. For the following symptoms consider alternative methods for healing from NSAIDs (and alternatives to NSAIDs):
Hives – bruise-like tender spots on the body, one or more, varying shapes and sizes
Possible Solutions- Reduce histamines in diet and environment; cleanse and detox; castor oil pack on liver; add in DAO supplement.
Asthma
Possible Solutions – Remove dairy from one's diet, consider other food intolerances, remove sugar and grains from diet; reduce stress.
While NSAIDs seek to relieve symptoms, functional medicine looks for the root cause of one's symptoms. Healing the cause removes not only the symptoms but also the underlying sickness.
Alternatives to Ibuprofen use
The best approach to wellness is finding the cause of our symptoms. Instead of masking the symptoms, we look for their root cause and treat that (or multiple causes). Finding a good functional medical doctor and an insightful naturopathic physician can be the key to this process. This website seeks to connect patients with functional medical doctors.
Tempted to reach for acetaminophen (Tylenol) instead? Just like Ibuprofen affects the gut, acetaminophen affects the liver. Consider minerals like magnesium instead, and finding the cause of your symptoms.
Alternative therapists can also be a source of long term healing from pain and symptoms. Consider finding a craniosacral practitioner or a therapist who specializes in body work. Ask your naturopathic or functional medical doctor for a recommendation uniquely suited to your situation.
Consider clean eating and detoxification methods: Enjoy fresh cilantro frequently with meals, consume more organic vegetables than meat, eliminate grains (including gluten) and all A1 dairy, refined sugar and processed foods, take chlorella daily (which is nutritious but also binds with toxins and heavy metals and helps to usher them from the body), include prebiotics (like this one) in the diet, drink plenty of mineral water according to your thirst level (supplemented with soil minerals like these), take a high-quality Vitamin C daily and magnesium nightly before bed. Also consider removing lectins if stomach problems are an issue. Consider supplements like quercetin to reduce inflammation. Take digestive enzymes, Betaine HCl or digestive bitters to support comfortable and effective digestion.
What is your story? Have you taken Ibuprofen for years? Are you looking for an alternative or healing from side effects? Share below.
Additional Sources
https://www.ncbi.nlm.nih.gov/pubmed/12519573
https://www.betterhealth.vic.gov.au/health/conditionsandtreatments/medications-non-steroidal-anti-inflammatory-drugs
https://www.medicinenet.com/ibuprofen/article.htm
https://www.huffpost.com/entry/5-steps-to-heal-a-leaky-g_b_5617109