I may receive a commission if you purchase through links in this post. I am not a doctor; please consult your practitioner before changing your supplement or healthcare regimen.
Paleo & AIP Caramel Apple Pie is gluten-free, grain-free + super special for holidays and special occasions. You'll love the flaky crust, juicy, flavorful (with cinnamon and vanilla), tender apples — and the Easy Caramel Sauce that gets poured over all!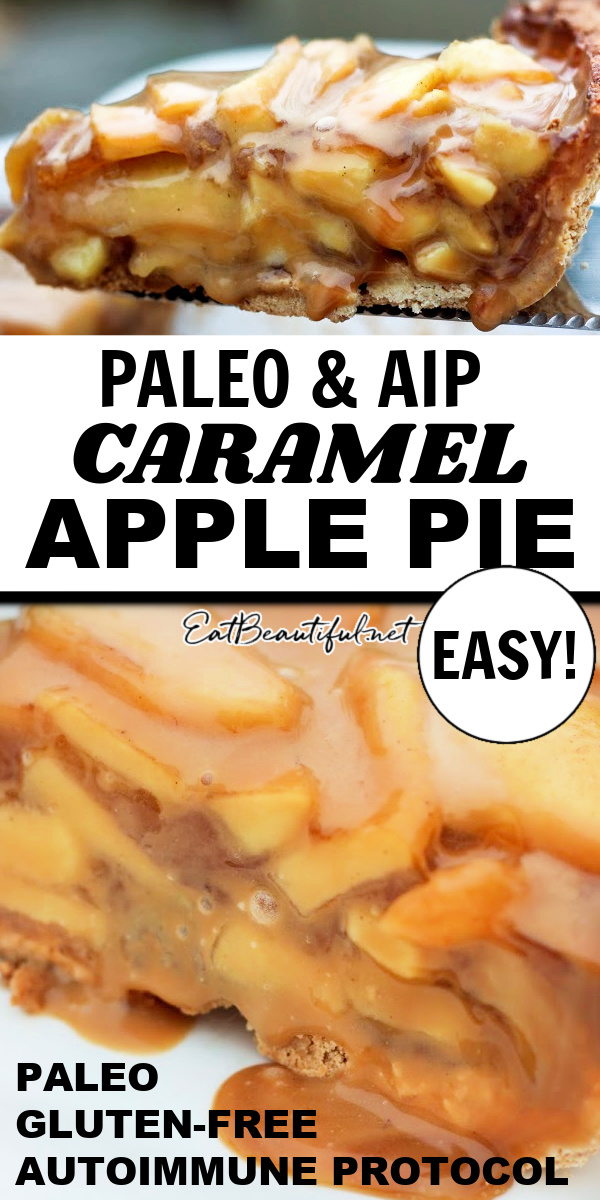 Ingredients in Paleo & AIP Caramel Apple Pie
There are three components in Paleo & AIP Caramel Apple Pie: crust, apple filling and caramel sauce.
There are two crust options for this pie. The primary crust I developed for this recipe is a new Paleo & AIP Tiger Nut Crust. The ingredients: tiger nut flour, tapioca flour, coconut oil (or preferred solid fat, such as lard or ghee/butter if tolerated), maple or coconut sugar and sea salt.
For those who prefer, you can also use my Paleo pastry crust. The AIP version ingredients: cassava flour, lard (or Grain Brain palm shortening), ice water and apple cider vinegar — a simple recipe that comes out really nicely. For Paleo/GF, you can also make (the non-AIP) Paleo and Gluten-free Pie Crust (same recipe page), which has a few more ingredients.
The apple filling ingredients: apples, honey or maple syrup, a little tapioca flour and gelatin + cinnamon and vanilla. I've made this recipe for years — delicious and full of nostalgic flavors.
Easy Caramel Sauce gets poured over all, and it has just three ingredients: coconut sugar, coconut cream and a bit of sea salt.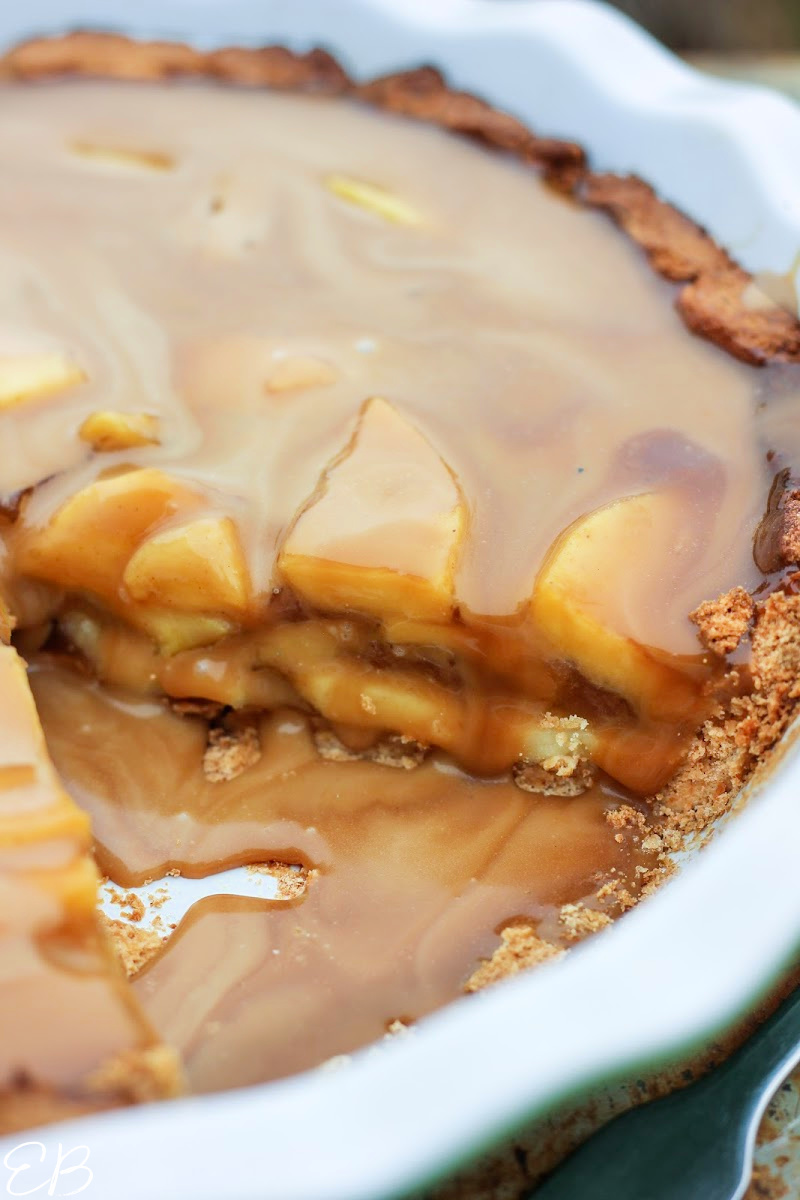 How to make Paleo & AIP Caramel Apple Pie
Made in three stages, each is easy:
Make the pie crust in a food processor OR in a bowl, using a pastry cutter to combine the flour and fat. Press the Tiger Nut Flour Crust directly into a pie plate and bake. If you choose the Paleo pastry crust, roll it out between two layers of parchment paper and bake. Both pie crusts are baked blind — meaning, with no filling.
We actually cook the apples on the stove top and then pour them into the baked crust — which ensures a crispy-bottomed crust (that's not over-cooked) and apples cooked just right.
Finally, Easy Caramel Sauce takes just 10 minutes: Simmer the coconut cream and coconut sugar in a saucepan for 8 minutes, creating an incredibly decadent but simple dessert topping.
TIPS FOR SUCCESS
Allow the apple filling to come to room temperature before pouring it into the crust — and topping with the caramel sauce.
Freeze the pie crust briefly so the filling doesn't make it soften; rather the cold crust helps the filling to chill and set.
So essentially — we have a refrigerator pie with a baked crust and a cooked filling. It's a great recipe to make the day before your festivity.
SERVING AND EATING THE PIE
The caramel remains soft and gooey when you slice into this Paleo & AIP Caramel Apple Pie — running over the apples and pastry and into your fork or spoon.
You can top the whole dessert with Paleo Vanilla Ice Cream, Paleo Cinnamon Ice Cream or coconut whipped cream if you'd like, or the pie is complete on its own.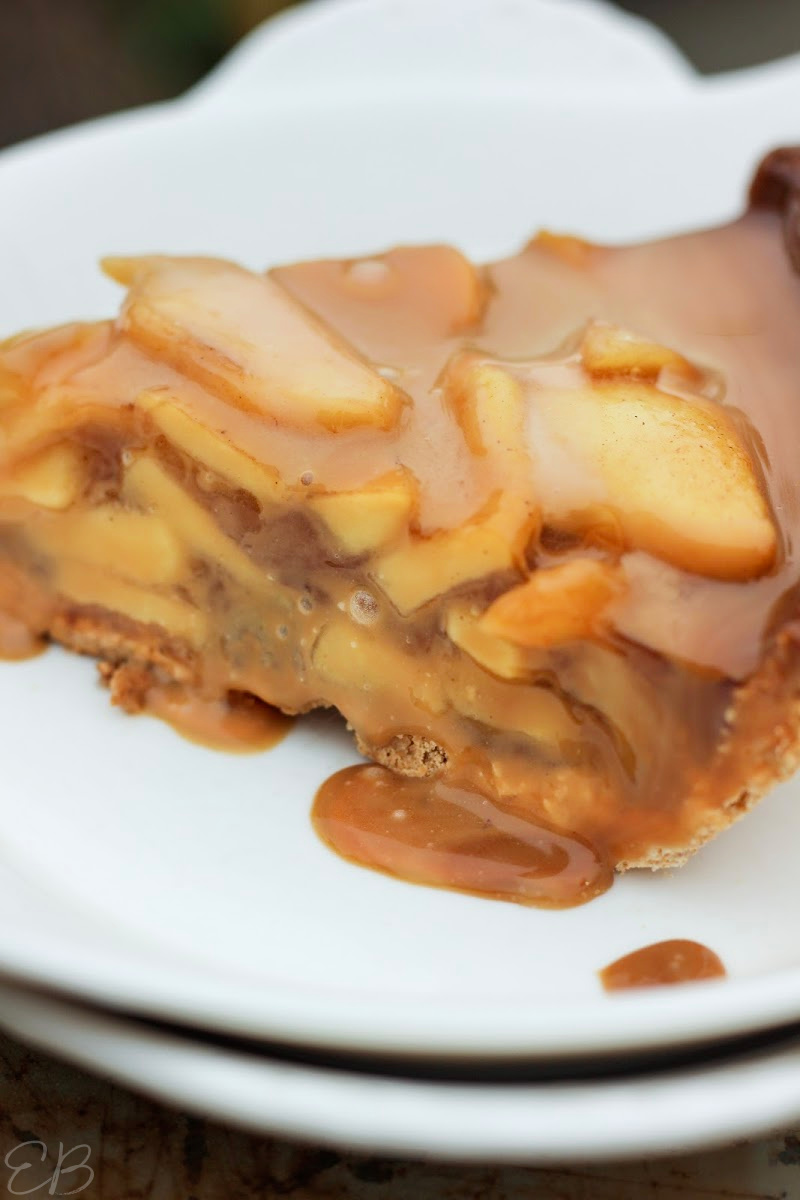 Print Recipe
Paleo & AIP Caramel Apple Pie
Paleo & AIP Caramel Apple Pie is perfect for any special occasion that calls for pie! Decadent, this pie is packed with juicy, flavorful apples, cinnamon and vanilla — all in a flaky grain-free crust, then topped with an easy and quick to make caramel sauce.
Instructions
Make the Apple Pie Filling first: Place water in a medium-large saucepan. Sprinkle the gelatin over its surface, and allow to "bloom" for 1 minute. Add apples, sweetener, tapioca flour and cinnamon. Stir to mix, so the tapioca flour is evenly mixed into the water and apples.

Over medium heat, bring the apples and water to a slow simmer. Lower the heat as needed so the mixture isn't boiling. Cook apple slices, stirring occasionally, in the sweet water for 5 to 10 minutes (depending on how tender you like your apple pie apples to be) until they are fork tender and the tapioca flour has thickened to make a kind of sweet thick sauce around the apples.

Remove from heat. Stir in the vanilla. While the filling cools, make the pie crust and caramel sauce.

When your pie crust is baked, allow it to cool, and then place it in the freezer for 10 minutes.

Pour the room temperature or only slightly warm apple filling into the prepared, baked crust (now partially frozen). Arrange the apples so they're somewhat flattened on the surface, none sticking up.

Pour Easy Caramel Sauce over the surface (reserve some if there's a bit too much). Chill in the fridge for a minimum of 3 hours, or overnight.
Nutrition
Calories:
114
kcal
|
Carbohydrates:
24
g
|
Protein:
1
g
|
Fat:
4
g
|
Saturated Fat:
2
g
|
Sodium:
13
mg
|
Potassium:
115
mg
|
Fiber:
3
g
|
Sugar:
16
g
|
Vitamin A:
42
IU
|
Vitamin C:
4
mg
|
Calcium:
5
mg
|
Iron:
1
mg
You can see what the Tiger Nut Flour Crust looks like below.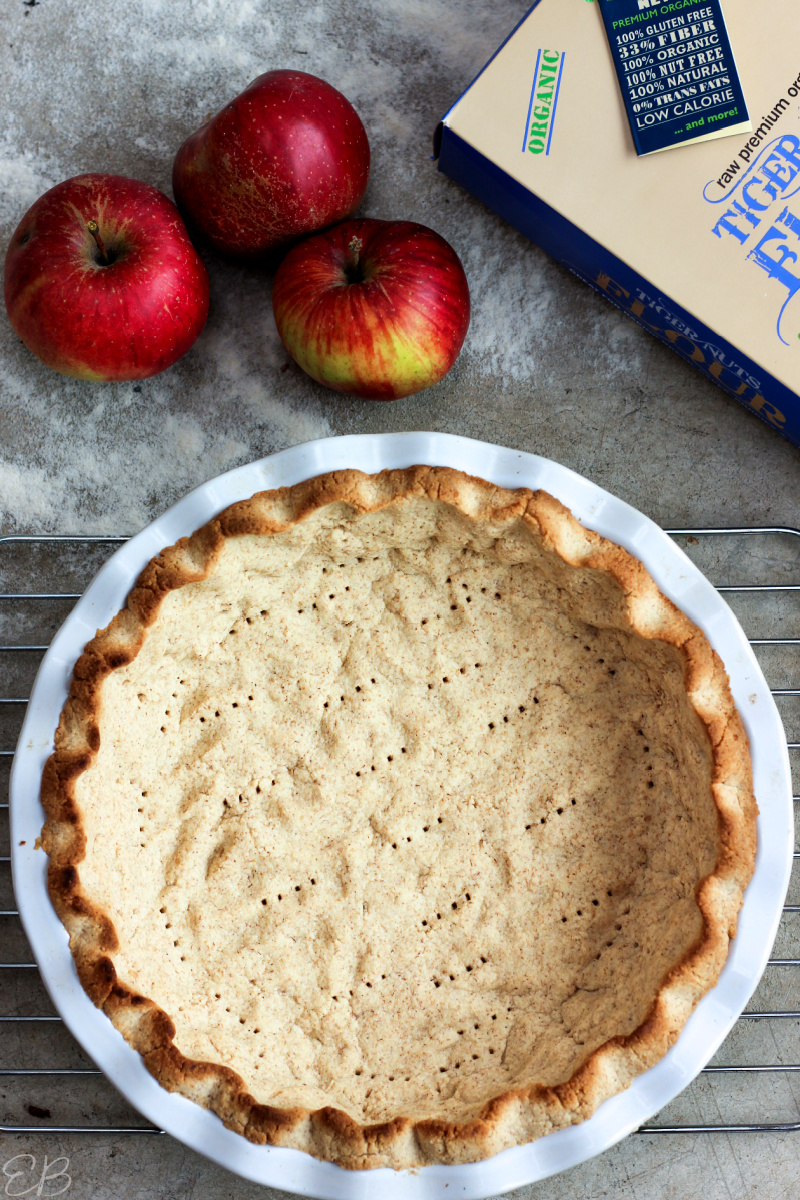 Love Paleo & AIP Caramel Apple Pie? You'll also enjoy this Paleo & AIP Pumpkin Cake.