I may receive a commission if you purchase through links in this post. I am not a doctor; please consult your practitioner before changing your supplement or healthcare regimen.
This grain-free Enchilada Casserole recipe is for the Instant Pot or the Crock Pot. The assembly can also easily be adapted for a casserole baked in the oven. Originally a slow cooker and oven recipe, but now adapted!, my family can't help saying that the new Instant Pot version is, "So good!". You'll love serving this special comfort food to family and friends, even and especially those who are Primal, Keto and Gluten-free!
Ingredients in Enchilada Casserole
Each of the components that go into making Instant Pot and Crock Pot Enchilada Casserole is excellent in its own right.
The Cheese Filling is super indulgent and crazy good.
The Enchilada Sauce can be used for impromptu Huevos Rancheros or to make any Mexican dish special; (it's made with bone broth! and lasts well in the fridge for a week).
The Paleo and Keto Tortillas, as I explain below, are grain-free, versatile and can be used as a side with different dishes. (Or, you can use store bought corn tortillas if you're Gluten-free and not restricted.)
Who doesn't love coming home to something piping hot, creamy and delicious after working all day? With just a little forethought, to make the components, you can have a savory, indulgent Mexican feast (made from whole foods) waiting for you! Even the Instant Pot can be turned on ahead of time: It'll keep your cozy dinner warm until you get home.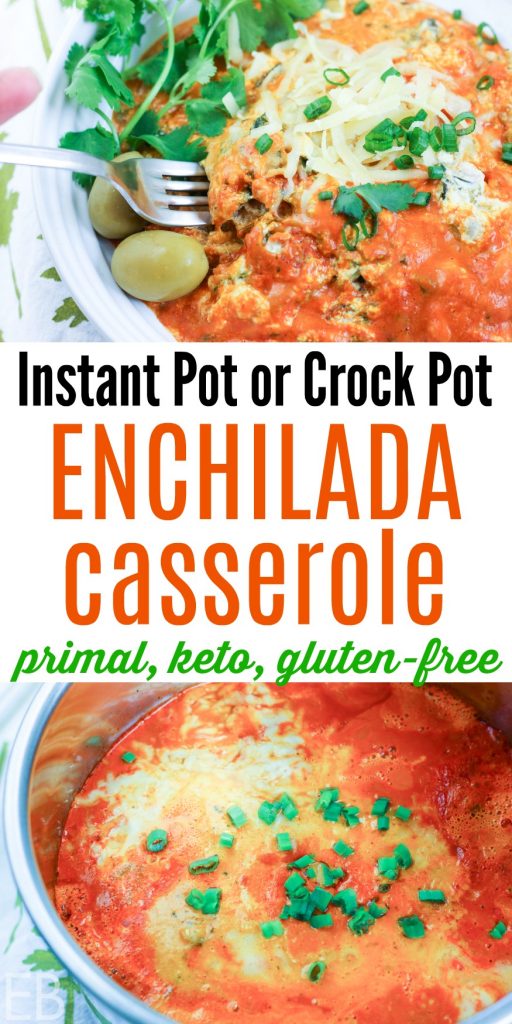 Enchilada Casserole … Layer it!
Whether cooking in the Slow Cooker or the Pressure Cooker, you're just going to layer the ingredients for Instant Pot and Crock Pot Enchilada Casserole … the same way you do with a lasagna or an enchilada casserole.
This recipe creates a casserole that's saucy, cheesy and SO delicious. I recommend serving the goodness with a big spoon! But the dish can then be eaten with a fork. Gooey comfort food.
The photo below shows the casserole layered in the Instant Pot and ready to be cooked.
Casserole in Crock Pot or Instant Pot?
A casserole cooked in an Instant Pot or slow cooker isn't commonly done. But it should be: the outcome is great!
Usually if something like enchiladas or a lasagna are made in a slow cooker or pressure cooker you have one of two things: a soup version of the casserole recipe OR, in the Instant Pot, usually a second dish sits on top of the trivet over water (this is the Pot in Pot method [or PIP]). That's because water is required to create steam (which creates pressure) and prevent scorching.
But my saucy Instant Pot or Crock Pot Enchilada Casserole has the most delicious homemade (and super easy to whip up!) Enchilada Sauce that creates the perfect texture (and steam!) for the Instant Pot or Crock Pot and achieves success!
Also, I don't use a smaller pot because I want to make a large portion. 😉
Instant Pot or Crock Pot Enchilada Casserole
Get ready for delicious Mexican comfort food! I hope you enjoy this as much as we do! (Oven version is down below the other recipes!)
The Filling for Instant Pot and Crock Pot Enchilada Casserole
The Sauce for Instant Pot and Crock Pot Enchilada Casserole
The Grain-free Tortillas (or use store bought)
The two photos below are old ones 😉 of the Crock Pot version of the recipe, so you can see that version too!
SIDES & TOPPINGS
Here's how to make delicious Spanish Cauliflower Rice that's both Paleo and, if you use green onions in place of the white onions, Keto.
If you're not grain and legume-free and enjoy beans and rice with Mexican food, here's how to make traditionally prepared beans, to optimize digestion and nutrition. For soaked rice, prepared according to traditional wisdom, here's how.
For the best pico de gallo salsa, enjoy Pico de Gallo with Avocado!
OVEN VARIATION of Instant Pot and Crock Pot Enchilada Casserole
To bake this casserole in the oven, simply use a large cast iron skillet or casserole dish, 9″ by 13″, or similar. Assemble the layers, as per the main recipe instructions, in greased casserole dish. Preheat the oven to 350 degrees Fahrenheit, and bake until the center of the casserole is piping hot and the melted cheese in the middle of the casserole is bubbling and just browned, about 1 hour 15 minutes.
Have you ever made a casserole in a slow-cooker or pressure cooker?
Looking for similar recipes? Here are a few: