I may receive a commission if you purchase through links in this post. I am not a doctor; please consult your practitioner before changing your supplement or healthcare regimen.
A hearty bone-broth-based lamb stew that's rich and (optionally) spicy is here turned into a humble feast, with bowls of toppings on the table, to pass and share. Middle Eastern Lamb Stew is Paleo, Whole30, Keto and GAPS-friendly. You can make this easy warming recipe in a slow cooker or in your Instant Pot.
Foods like this draw us together and give us joy at the end of a day! This restful pleasure is increased when we use either the slow-cooker or the Instant Pot, both great, modern tools to make dinner come together with less work.
The dish is delicious enough for guests but perfect for a family to appreciate in the simplicity of each others' company. A bit spicy, it can be heated up or cooled down according to the cook's and eaters' tastes. I make it without the cayenne for my kids; and it's a wink sweet from the garam masala (find it here).
Condiments for Middle Eastern Lamb Stew
The condiments for this stew can be fresh, zesty or even fermented. When we pass and share condiments, they each add conversation and harmony to the table:
Ingredients in Middle Eastern Lamb Stew
You have three meat choices for this recipe: leg of lamb, cubed, lamb stew meat or lamb meatballs. The meat poaches in the simmering gravy.
Or you may also use wild meat: elk, venison, even beef can be substituted. But, lamb is special, and it adds an extra ethnic flair to this dish.
Additional ingredients are:
bone broth (or other broth is fine too)
onions (fine to use greens of green onions for Keto and Low Carb)
olive oil, or preferred fat
garlic, ginger, sea salt and optional cayenne
poppy seeds
garam masala
How to make Middle Eastern Lamb Stew
Make a very easy paste from poppy seeds, which makes the recipe more authentic. In the blender or in a coffee grinder, whichever one you have or prefer, grind poppy seeds with water. Stir seed blend together with garam masala.
If you like meal prep — the sautéing stage of this stew can be prepped the night before, or the morning of. Sauté onions and brown stew meat (if you're not making the meatballs option).
After that initial browning, this recipe is a "dump and cook" recipe: Add all of the ingredients to your slow cooker or Instant Pot, and set to cook. When finished, top the stew at the table with the condiments listed above.
Culinary notes about the ingredients and process
I love the idea of making a paste from poppy seeds. This is the marvelous Pakistani beginning that starts the story of Middle Eastern Lamb Stew — an actual poetry of slow cooked meat, spices and gravy.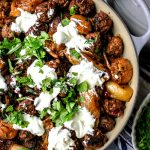 Print Recipe
Middle Eastern Lamb Stew — Paleo, Keto, Whole30 (Crock Pot or Instant Pot)
Middle Eastern Lamb Stew can be made in your slow cooker or Instant Pot and is great served with a variety of fresh condiments: cucumbers, lime wedges, fresh cilantro or mint and sour cream (with non-dairy version). This recipe is Paleo, Keto, Whole30 and GAPS-friendly.
Equipment
slow cooker OR Instant Pot
Ingredients
Lamb Preparation, called "Nihari"
2

pounds

ground lamb

rolled into 1"-2" balls, or stew meat (or lamb shoulder, cubed)

2

medium-large

yellow onions

diced or sliced thinly; or use two green onion bunches for fewer carbs for Keto, diced

3

cups

bone broth for slow cooker; only 2 cups bone broth for Instant Pot

½

cup

olive oil

, duck fat, avocado oil, meat fat or ghee

1

2"-length

fresh ginger

grated or minced

5

cloves

fresh garlic

crushed or minced

1 ½

teaspoons

sea salt

⅛

teaspoon

cayenne pepper

optional; also great without
Poppy Seed Garam Masala
3

Tablespoons

poppy seeds

2

Tablespoons

garam masala

buy in bulk from a good spice vendor (a natural foods market with fast turnover to ensure freshness)

1

Tablespoon

filtered water
Toppings
2

cups

sour cream

(probiotic for GAPS)

2

whole

cucumbers

peeled and chopped

1

bunch

fresh cilantro

washed well and chopped

1

whole

lime

cut into 6 wedges
Instructions
Lamb "Nihari"
Slow-Cooker/Crockpot — Heat bone broth on high in Crock Pot, allowing time for it to heat while the following step is completed: In a large skillet heat fat, onion and 1 teaspoon sea salt over medium high heat, sautéing until onion is browned and tender, 20 minutes, turning the heat to medium-low after 10 minutes to prevent burning. Instant Pot — Use "Sauté" button to heat fat, onion and 1 teaspoon sea salt. Sauté until onion is softened, 10 minutes. Add bone broth to onion mixture.

Slow-Cooker/Crockpot with Stew Meat — Remove onion to Crock Pot with slotted spoon, and add meat cubes or meatballs, remaining sea salt and optional cayenne to skillet, browning on all sides, 8 minutes. Cook meat in two batches if it is too crowded. Add ginger and garlic, moving meat around with spices for 2-3 minutes.Instant Pot — Add lamb cubes (or meatballs), ginger, garlic, remaining sea salt and optional cayenne.

Slow-Cooker/Crockpot — Transfer browned meat (or place meatballs) and spices into crock pot of hot broth. Use spatula and a little of the broth to scrape in any bits from pan. Add Poppy Seed Garam Masala (see recipe below), stirring meat, broth and spices briefly to mix.Instant Pot — Add Poppy Seed Garam Masala (see recipe below), stirring meat, broth and spices briefly to mix. (If using meatballs, do not stir.)

Slow-Cooker/Crockpot — Turn Crock Pot heat to low and cook 6-8 hours, or up to all day, until meat is very tender. Okay to cook for just 5 hours, if using meatballs.Instant Pot — Check that rubber ring is fitted inside Instant Pot lid. Place the lid on the Instant Pot, making sure the steam release valve is sealed. Press the "Stew" setting, and ensure the time reads 35 minutes. (If making meatballs, choose the "Manual" setting and set the time to 7 minutes.) When the Instant Pot is done and beeps, press "Cancel" (or simply allow Instant Pot to slow-release pressure and keep the stew warm, if you're away). Allow Instant Pot to release pressure naturally for 30 minutes. Place a dish towel over steam valve (or use oven mitt), and open it to release any remaining pressure. Remove lid.

If your stew is brothier than you want, keep the pot slow simmering. Then, for Keto: To slightly thicken, sprinkle ½ teaspoon xanthan gum over the surface and whisk it in well. For Paleo: Whisk 2 tablespoons organic tapioca flour/starch with a couple tablespoons of the cooled broth or water and add it back to the pot. Simmer briefly to thicken, stirring.

Serve with sour cream, cucumbers, fresh lime wedges and fresh cilantro.
Poppy Seed Garam Masala
In a spice grinder combine poppy seeds and water. Puree into a paste.*

Transfer paste to a small bowl and add garam masala, stirring to mix.
Notes
*If you don't have a spice grinder place poppy seeds, garam masala and 1 cup of the warm broth into high-speed blender. Puree on medium-high speed for 30 seconds.
Optional Additions
You may add other fresh herbs and spices, according to what you have on hand, or what you like: both fresh dill and fresh mint may be used to garnish the finished stew. Red chili flakes may be added to the cooking stew, instead of cayenne. For Paleo and GAPS, whole dried figs may be added to the stew, before it cooks. For Paleo, GAPS and KETO, other veggies (like zucchini, tomatoes or cauliflower) may be added to the stew, before cooking, to create a larger meal.
Other Notes
The slow-cooker version of this recipe will be brothier than the Instant Pot version, because that extra liquid is needed to compensate for the evaporation that can take place with the long, slow cooking time that is unattended. As mentioned above, add lots of extra veggies, if desired.
Nutrition
Calories:
776
kcal
|
Carbohydrates:
6
g
|
Protein:
31
g
|
Fat:
71
g
|
Saturated Fat:
27
g
|
Cholesterol:
150
mg
|
Sodium:
764
mg
|
Potassium:
483
mg
|
Fiber:
2
g
|
Sugar:
2
g
|
Vitamin A:
585
IU
|
Vitamin C:
1
mg
|
Calcium:
173
mg
|
Iron:
3
mg