I may receive a commission if you purchase through links in this post. I am not a doctor; please consult your practitioner before changing your supplement or healthcare regimen.
Pico de Gallo with Avocado Salsa will quickly become your favorite salsa — and even your favorite condiment! So delicious on your favorite Mexican foods, Pico de Gallo con Avo also brings all your favorite meats and salads to life. With just 5 ingredients, this recipe is fresh, delicious and easy to make.
This recipe was first created by my sister. We had it for brunch, with scrambled eggs and bacon — such a wonderful Keto and Paleo breakfast condiment! Pico de Gallo with Avocado is also appropriate for Whole30, the GAPS diet and Low Carb. This recipe quickly took the rank as my all-time favorite pico de gallo recipe!
The avocado makes it perfect!
Jump to Recipe
Ingredients in Pico de Gallo with Avocado Salsa
This recipe can have as few as 5-ingredients, if you wish. I love it like this, really simple to assemble and enjoy:
vine-ripened tomatoes
tender but firm avocado
fresh cilantro
lime juice
purple shallot or onion
If you like spicy and the added richness of the final two ingredients — jalapeño and garlic — then you'll have the full recipe. Jalapeño is very optional. I leave it out about half the time, so just include it if you want spicy.
Lastly, perhaps oddly, perhaps not, I have always liked eating salsa with a spoon — like ceviche without the seafood. I love all the flavors and ingredients of a homemade pico de gallo so much. If you're like me, another lovely way to enjoy this recipe is to therefore, add olive oil. This is great because the olive oil, a Spanish addition, mixes with the lime juice and other ingredients, and the salsa suddenly becomes a kind of salad and summer soup. With the olive oil, you can dip bread in, or top any meat dish or salad … + have more juicy goodness to mix with grilled meat or pan juices.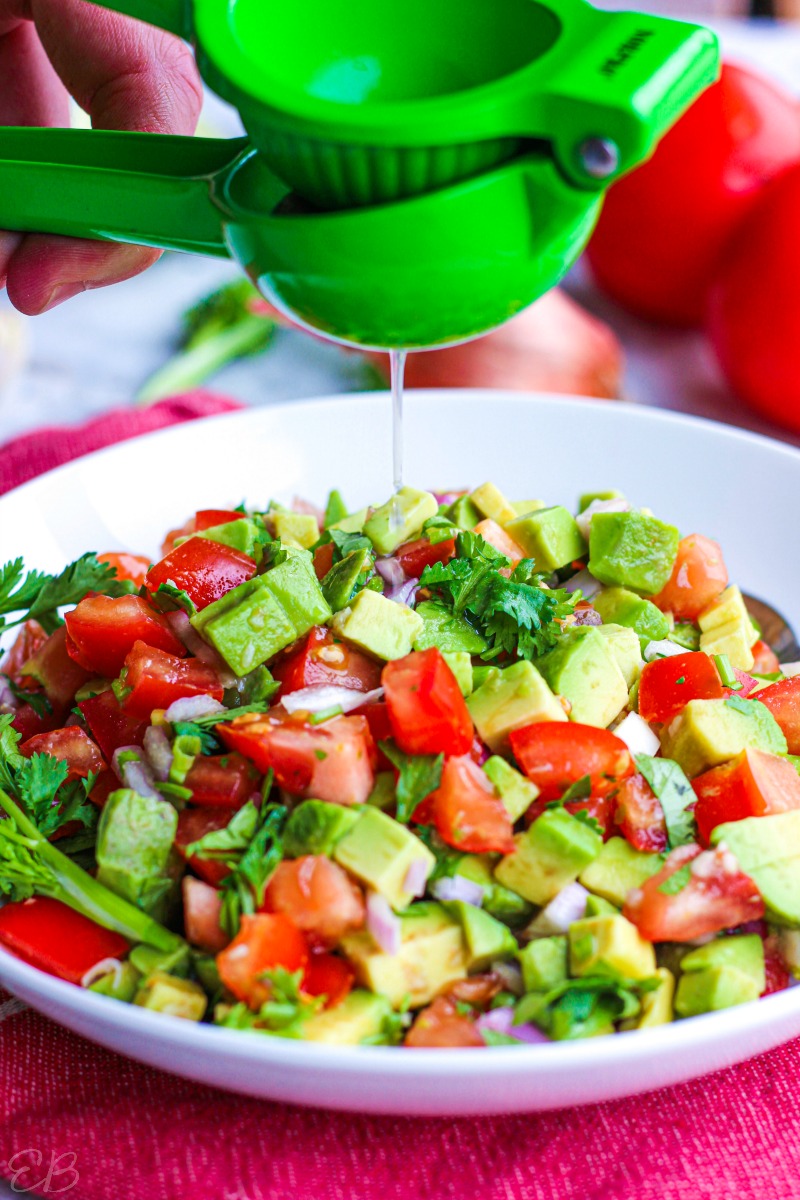 Pico de Gallo with Avocado as a Mexican condiment
Other specific condiment ideas include: Use this Pico de Gallo with Avocado on any traditional Mexican dish.
Try these reader favorites:
In addition to enjoying salsa with the usual beef, pork or chicken, below I give some tips for enjoying it with fresh fish, which again really puts this Pico de Gallo back into context — fresh Mexican cooking so often includes freshly caught fish, either grilled, sautéed or baked, served with homemade salsa.
Pico de Gallo con Avo Salsa with fresh fish
The second time we had Pico de Gallo with Avocado, we served it with local, fresh tuna. It was so so good; I kept making mmm sounds all through dinner. I felt so spoiled and happy with pleasure.
If you wish to sauté fresh fish, the main things to remember are — 1) Cooking fish is easy! so don't make it out to be something complicated or hard 🙂 and 2) Don't overcook fish! Tuna, especially, should be seared and kept medium-rare in the center.
For almost any fish, the pan-fry method is the same: Simply heat the pan over medium-high heat. Add 2 tablespoons animal fat, butter or ghee (more or less, depending on pan size); then salt (use sea salt) the pan.
"Slap" the fillets on the salt and let them sizzle for about 5 minutes. Salt and (freshly grind) pepper on the face-up sides, then flip them.
The thickness of the fillet will dictate how long to cook on the second side. Turn the heat down now, to low or medium-low and cook until the meat still feels tender when pushed with one finger, usually 3 to 5 minutes on the second side. With tuna, you want the center to be pink. (Do not cook long enough for the fish to be firm in the center; or it will be dried out.)
Serve and garnish with a generous amount of fresh Pico de Gallo con Avo Salsa. All the flavors of lime juice, fresh cilantro, macerated tomatoes, shallots and creamy rich avocado make this meal one to savor and remember.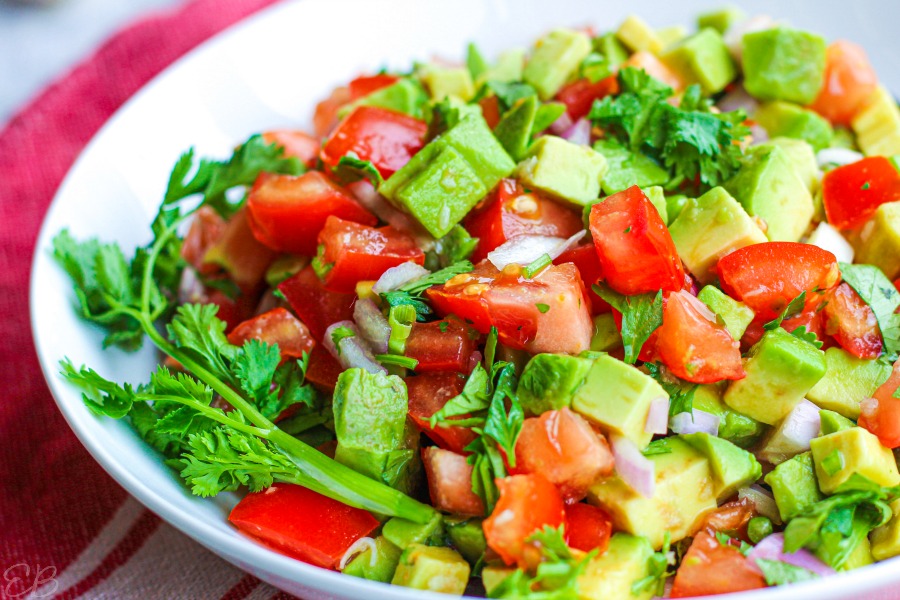 Other uses for Pico de Gallo with Avocado Salsa
Enjoy Pico de Gallo con Avo Salsa with:
chips
raw veggie chips (like jicama, cucumber, bell peppers)
tacos
casseroles
for breakfast, with scrambled eggs and bacon
salads
fresh meat that's been grilled, slow-cooked, sautéed or baked
The options are limitless. Pico de Gallo con Avo is the perfect, versatile condiment!
Leftovers and how to store
Pico de Gallo keeps fine in the fridge for a couple of days, but it's definitely best fresh, the day you make it — because tomatoes and avocados don't keep as well as we might like.
I like to add olive oil to any leftovers, which helps protect both "fruits" from oxygen.
To do this, just drizzle generously with olive oil, stir and cover. Use leftovers as you would fresh salsa.
Print Recipe
Pico de Gallo with Avocado Salsa
Pico de Gallo with Avocado Salsa is the best version of chunky, fresh salsa there is! Use on top of all your favorite Mexican dishes. (GF, Keto, Low Carb, Paleo, Whole30)
Ingredients
2

medium-large size

tomatoes

, diced or chopped small

1

large

avocado

, diced (or 2 small)

⅓

red onion

, diced, about

⅓

cup (or use 1 to 2 purple shallots)

½

cup

fresh cilantro

, minced

1

lime

, juiced

½

jalapeno

, seeds removed and minced, optional

1

clove

garlic

, minced or crushed, optional
Instructions
Combine all ingredients in medium size bowl and stir to mix. Serve, or refrigerate for up to one day.
Nutrition
Calories:
61
kcal
|
Carbohydrates:
3
g
|
Protein:
1
g
|
Fat:
5
g
|
Saturated Fat:
1
g
|
Sodium:
4
mg
|
Potassium:
190
mg
|
Fiber:
3
g
|
Sugar:
1
g
|
Vitamin A:
151
IU
|
Vitamin C:
9
mg
|
Calcium:
8
mg
|
Iron:
1
mg
Where avocados come from …
The English word avocado is a transliteration of the Spanish word aguacate, first used in the late 1600s, which came from the Nahuatl name for the indigenous fruit, āhuacatl.
Nahuatl is the language that was spoken by most of the inhabitants of central Mexico in the 16th century (the time of the Spanish conquest) — and is still spoken today by over a million Nahua people. It was the language of the Aztecs, under Emperor Moctezuma, whose culture dominated the area for centuries.
The oldest discovery of an avocado pit comes from a Mexican cave, dating back 9,000 to 10,000 years ago.
Mexico now produces 1/3 of the world's supply of avocados.
What's your favorite way to enjoy Pico de Gallo with Avocado Salsa?
You may also love Strawberry Pico de Gallo Salsa, for a nightshade-free fruit alternative to tomatoes.