I may receive a commission if you purchase through links in this post. I am not a doctor; please consult your practitioner before changing your supplement or healthcare regimen.
I'll share my story of how I take Vitamin B1 for energy, and also how it helped me to overcome a histamine intolerance (MCAS) and increase my low body temperature. This water soluble vitamin, also called Thiamine, can be used for so many symptoms and conditions, because B1 deficiencies are common.
If I feel more energetic taking thiamine, how must my body's functions be benefiting?! We can't always measure or see what's actually happening, but we can be sure that feeling more spry after supplementing a deficiency reflects that more of the right transmissions are occurring (mitochondrial energetics)!
(While some people drink coffee and believe it "creates" energy, caffeine actually stimulates action that consumes energy, giving rise to a false sense of well being and depletion.)
Some people will not feel energy from taking Vitamin B1. Instead, they'll feel a relief from symptoms associated with B1 deficiency — another great gain!
Almost 700 scientific papers have been written on the use of B1 therapy for more than 230 different diseases.
For many of us, Vitamin B1 has the ability to restore an adequate energy supply by stimulating mitochondrial function.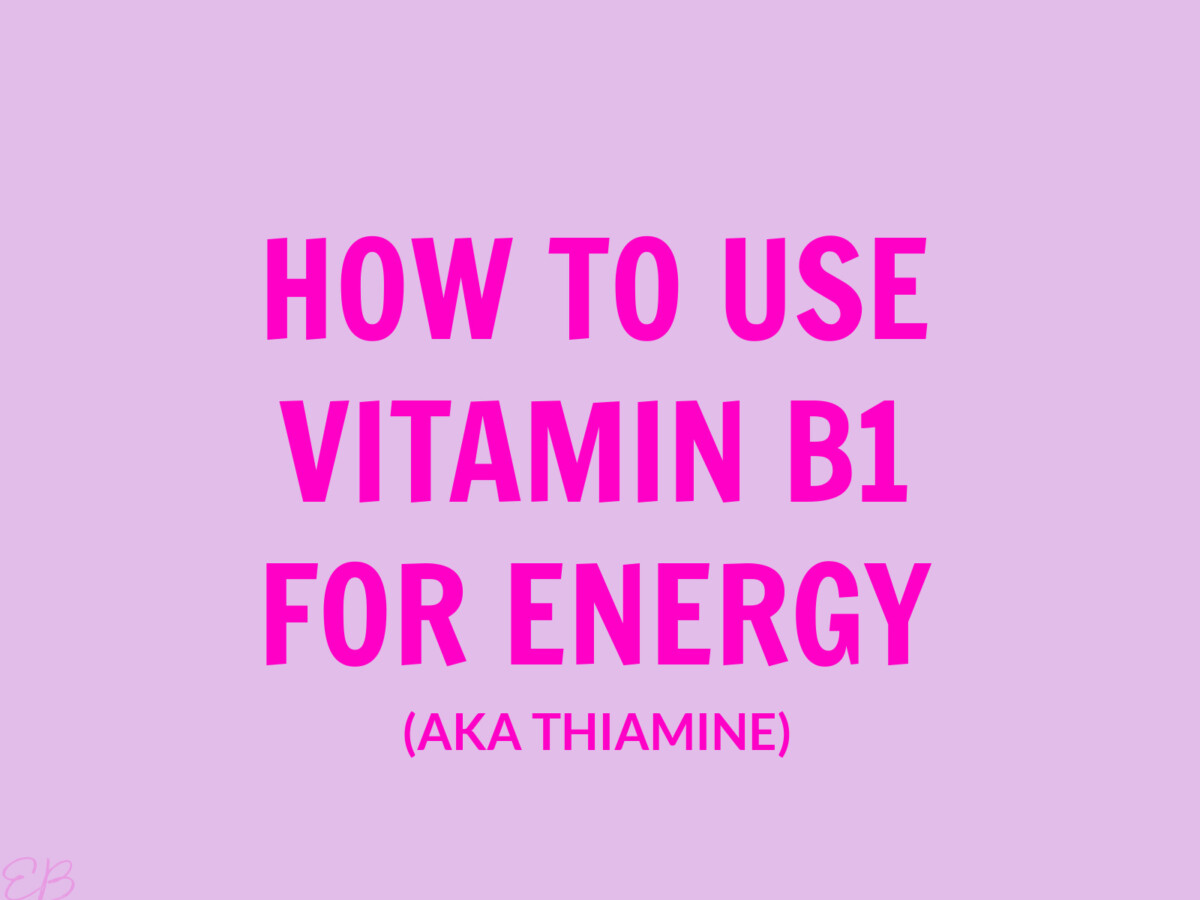 Causes of thiamine deficiency
One study explains that Vitamin B1 has: "a very short half-life, limited storage capacity, and is susceptible to degradation and depletion by a number of products that epitomize modern life, including environmental and pharmaceutical chemicals."
Love white bread, sourdough bread, white rice, restaurant or processed foods? Even if you don't think you have a lifestyle that depletes Vitamin B1, you likely do. I wasn't eating any of these foods, and still had a thiamine deficiency.
That's because a B1 deficiency can be caused by many modern circumstances, including:
chronic stress
mold exposure
mercury fillings
antibiotic use
And dietary situations:
a sulfur-rich diet — Here's the big surprise! If you're eating what feels like a nutrient-dense diet, but eating a high sulfur diet (cruciferous vegetables), which many health-minded folks now do (and which I did), sulfur actually depletes Vitamin B1! Many supplements are also high in sulfur and causing Thiamine deficiency in Americans especially.

Read this article to learn more about the role of Vitamin B1 in recovering from Histamine Intolerance or MCAS.

polyphenols — Yes, one more "super food" that depletes B1! It was during my "love affair" with matcha tea that I developed some of my worst health symptoms, including my histamine intolerance. If you drink tea for the polyphenol content, you're doing a double whammy to your body: caffeine + polyphenols = both are depleting the body of energy.
a nutrient deficient diet — Developing nations face a perpetual crisis of Thiamine deficiency, due to the limited diets of populations. Stripped grains, high sugar consumption and lack of nutrients deplete the body of this crucial nutrient. Many Americans eat a nutrient deficient diet as well.
alcoholism
Symptoms of Vitamin B1 deficiency, and health problems that are related
I had several of these symptoms:
low body temperature — I used to always be cold. Supplementing with B1, I now run on the warmer side and will even often be too warm during the night.
high histamine reactions
irregular heart beat, including skipped beats and palpitations
increased oxalates and oxalate sensitivity — Adding Thiamine and choosing a medium or low oxalate diet can help us overcome this problem, but it's a slow process.
fatigue, changes in mood with a tendency towards hyper-irritability
bed wetting and urinary incontinence (in adults and children) — Maximum benefits may be seen in this case when electrolytes are balanced: magnesium, potassium and sodium (more on this below).
elevated folate and Vitamin B12/a child with autism — A recent study links folate and vitamin B12 during pregnancy with autism. The study discovers that a thiamine deficiency affects the production of ATP (more on this below), which in turn causes the collection of folate and B12, instead of their use by the body, and an increased likelihood of autism.
swollen glands in the neck (sometimes fever and sore throat)
Some of the symptoms are vaguer and may be wrongly attributed to other causes:
mental fuzziness/cognition problems and memory issues
loss of appetite
sleep disturbances
gastrointestinal (GI) discomfort and dysmotility/gastroparesis
dysautonomia: includes abnormal heart rate and blood pressure, light-headedness and dizziness/fainting, headaches, nausea, brain fog or trouble concentrating, exercise intolerance, chest pain, and more. (May require the higher doses of B1 discussed below.)
a feeling of overwhelm or an, "I can't" attitude
Thiamine creates energy in the body
In our bodies, energy is produced by thiamine and stored in the form of a chemical substance we call ATP.
Thiamine deficiency compromises the ability to produce ATP. This results in lack of energy: energy that we feel in terms of how we function and thrive each day, but also the energy required within our bodies for chemical transmissions to occur.
Without certain functions running smoothly within our bodies, a myriad of symptoms or diseases can occur. In fact, a thiamine deficiency is responsible for so many discomforts we may not understand.
How I take Vitamin B1 for Energy
Dosage of Vitamin B1 for Energy
Everyone's different, so see your doctor to find the right dose for your body. Many people start with anywhere from 25 to 100 mg daily, depending on if you typically are very sensitive or not to supplements.
It's good to know that B1 is water soluble, so extra that your body doesn't need is washed out with urine. (But that doesn't mean you won't feel symptoms if you take too much.)
Personally, I take 300 mg with breakfast and another 300 mg with lunch.
I never take B1 in the late afternoon or evening because it will keep me from sleeping — yes, it's like natural caffeine; it can keep you awake!
If you feel no better or worse at a starting dose: You may choose to increase your dose by 50 mg, and then maintain that for 3 to 5 days, to observe before increasing again, if needed.
If you experience some negative symptoms, but overall think there is a benefit, drop down by 25 mg to reassess the right dose. Some level of uncomfortable may be fine, too, as you assess.
Personally, I have no negative symptoms at all at my current dose, but if I increase to 500 mg, I get an increased heart rate.
Be aware that some conditions are not affected or improved until high doses of B1 are reached: 1000 to 2000 mg daily. (I mention some of these conditions and dosages below.)
What's the best form of Vitamin B1
My doctor recommends Thiamine Hcl (hydrochloride). (I buy this one [it only costs $5 for 100 tablets!].)

Thiamine hydrochloride is hygroscopic, which means it can absorb water when exposed to the environment for some duration.
This compound is an essential compound for cell growth, aerobic metabolism, cell growth, acetylcholine synthesis (a key neurotransmitter that plays a role in brain functions, such as memory, and body functions, such as muscle contractions [thus its use with Parkinson's]) and many other physiological functions.
Other forms of B1 include:
Allithiamine — This form requires a much smaller dose (closer to 50 mg) and is not recommended by my doctor because it has two sulphur molecules attached, which can cause problems for some people.
Bentothiamine
Mononitrate — This form is best to avoid as the nitrate groups present in this form may accumulate in the kidneys and induce kidney stones.
How to optimize the effectiveness of and trial thiamine: Minerals
B1 works better if one's electrolytes are dialed in first.
This means: Consider supplementing with magnesium, potassium and the right kind of sodium.
Potassium
Of these three, potassium is the most overlooked mineral, for its extreme value to the body. It's quite incredible how many symptoms can improve through its use, and I plan to write more on this in the future. But in the meantime, you might consider making your own Potassium Salt, which is a really easy way to balance potassium and sodium, and get the essential mineral into all your cooking and food.
You can also try DIY Electrolyte Powder, which adds both potassium and sodium for active lifestyles.
Sodium
For sodium, try clean white sea salt, like this. Although it's tempting to choose a colored salt to get more minerals, we don't need all the trace minerals present, and many of these salts contain impurities. For balancing electrolytes, the sodium I link to provides the sodium chloride the body needs. (If you just can't get your mind around this and disagree, I recommend Celtic grey salt over pink salt; here's why.)
Magnesium
Regarding magnesium, read this post on how to add it. Thiamine requires magnesium, so don't overlook this one either. If you're not already taking Mg, consider starting it before B1.
Pretty much everyone needs magnesium these days, as it's required for hundreds of functions in the body, and it's easy to supplement, even topically.
When you take Thiamine — symptoms: better or worse or nothing
Perhaps it goes without saying, but if you take Vitamin B1 and don't notice any benefits, then consider no longer taking it. Not everyone needs it. But, as I mention more below, you may also need to increase your dose. (I don't see any benefit until 300 mg.)
If you take B1 and feel worse, same thing. My 5 year old can not at this time tolerate any B1, so we'll need to figure that out with her doctor. She's deficient, but her body reacts even to natural food sources of this vitamin.
Reactions from thiamine
Reactions when you can't tolerate thiamine can include irritability, congestion (sinus or chest), dry mouth, hot feeling skin, a jittery feeling, oxalate dumping and more.
Some people do not need Thiamine; so don't force it if you react to it.
On the other hand, some unpleasant symptoms can result from supplementing from Vitamin B1 because the body is working to "clean house". For example, if kidney or urinary issues increase, your body may be dumping oxalates. Here's an example of when to consult a doctor, because your body may know what's best, but you want to understand the process so you're sure you're on the right path.
If you feel better, as I do when I take Vitamin B1, you can figure out your best dose over time, with your doctor, or through gently experimenting. Interestingly, some people are very sensitive and only need a small amount, but others need a lot more to get the same benefits.
Improved tolerance to minerals
In addition to more energy and improvement from deficiency symptoms, when you take thiamine to make up for a deficiency, it can help the body tolerate other minerals that perhaps earlier it could not tolerate, like zinc.
Or, as mentioned earlier, it may help you to overcome a histamine intolerance, as it did for me.
Best food source of Vitamin B1
I'm excited to share from my own personal experience that the best food source of Vitamin B1 is really fresh organic macadamia nuts.
I have tried many many brands and have found one that is simply awesome, super fresh, never rancid and with the great flavor you'd hope for when buying a relatively expensive organic nut. Here's the brand to buy.
Are macadamia nuts healthy: Low oxalate, low lectin, low omega 6s and more
The added benefit of eating macadamia nuts is that they're the least likely nut or seed to cause any kind of allergy or sensitivity, and they are by far the healthiest nut or seed.
That's because macadamia nuts are:
not estrogenic (like many seeds)
not high in omega-6s (like almost all nuts and seeds)
high in healthy monounsaturated fatty acids, like olive oil
low in oxalates, lectins and other anti-nutrients — Notice, no dark outer sheath, where the toxins usually hang out.
Low FODMAP
filling but easy to digest
rich in protein and fiber
low carb, for those who need that
In addition to eating daily handfuls of macadamia nuts, I also enjoy Homemade Macadamia Nut Milk.
This is the only brand of macadamia nuts I've found that's organic and that isn't rancid. These nuts are wonderful, and I eat them daily. (A handful, 10 whole nuts, or 15 to 20 broken ones, is medium-low oxalate.)
Other food sources of B1
beans — If you tolerate beans, they're an excellent source of Vitamin B1.
My personal story with Vitamin B1
I'll keep this section brief, but I do want to share as my personal testimony that Thiamine has made a huge difference in my health journey, which is why I wanted to write about it.
When I take Vitamin B1, I get energy I can feel — gentler than drinking coffee, and I still enjoy taking naps, but I just feel more energized. I know from personal study that Thiamine is allowing physiological transmissions and the production of ATP that otherwise would be thwarted by a thiamine deficiency. Logically it makes sense that I will not always need to take Vitamin B1, or at least maintain my current dose.
Regarding histamine intolerance, I spent years on wellness diets that included sulfur rich foods and supplements, plus foods high in polyphenols, all of which deplete Vitamin B1. Read this article to learn more about the role of Vitamin B1 in recovering from Histamine Intolerance or MCAS. In this article, I share the other steps I took, in addition to Thiamine supplementation, that helped me to overcome MCAS and histamine intolerance.
As a side benefit, my chronically low body temperature has improved while taking B1. This means I quickly feel warm enough in bed at night, with just one lightweight down comforter, and that I'm less cold throughout the day than I used to be. It even means that I occasionally get too hot, when I formerly would not have.
Vitamin B1 for Parkinson's, fibromyalgia, irregular heartbeat and sepsis
A lot of testing has been done on how to use Thiamine for medical uses.
For sepsis, Vitamin B1 is used as an antidote, but more studies are still needed on dosing and approaches.
For Parkinson's a high dose is used one hour before food (1000 mg morning and midday was my dad's dose, and it showed measurable improvement in his cognition and mobility). Ask your doctor for more information on how to use high doses of Vitamin B1 for your condition.
For irregular heart beat possibly caused by a thiamine deficiency, consider the starting dose of 125 mg daily, and go from there (or lower if you prefer). Look for improvements the same day or within a week. Once improvements are seen, some patients reduce their dose to once a week instead of daily.
For fibromyalgia, patients often take doses as high as 1500 to 1800 mg.
These are just a few examples to convey how dosing is determined for various conditions.
What B1 to buy
I buy this one. It costs only $5 for 100 tablets, amazingly inexpensive; YAY!
If you need a lower or higher dose, try to stick with that brand and form of Thiamine.
How else to encourage energy production in the body
Look into Grounding, also called Earthing. It works, and it's what brought me back from the depths of my worst health lows.
You can Pin this article here: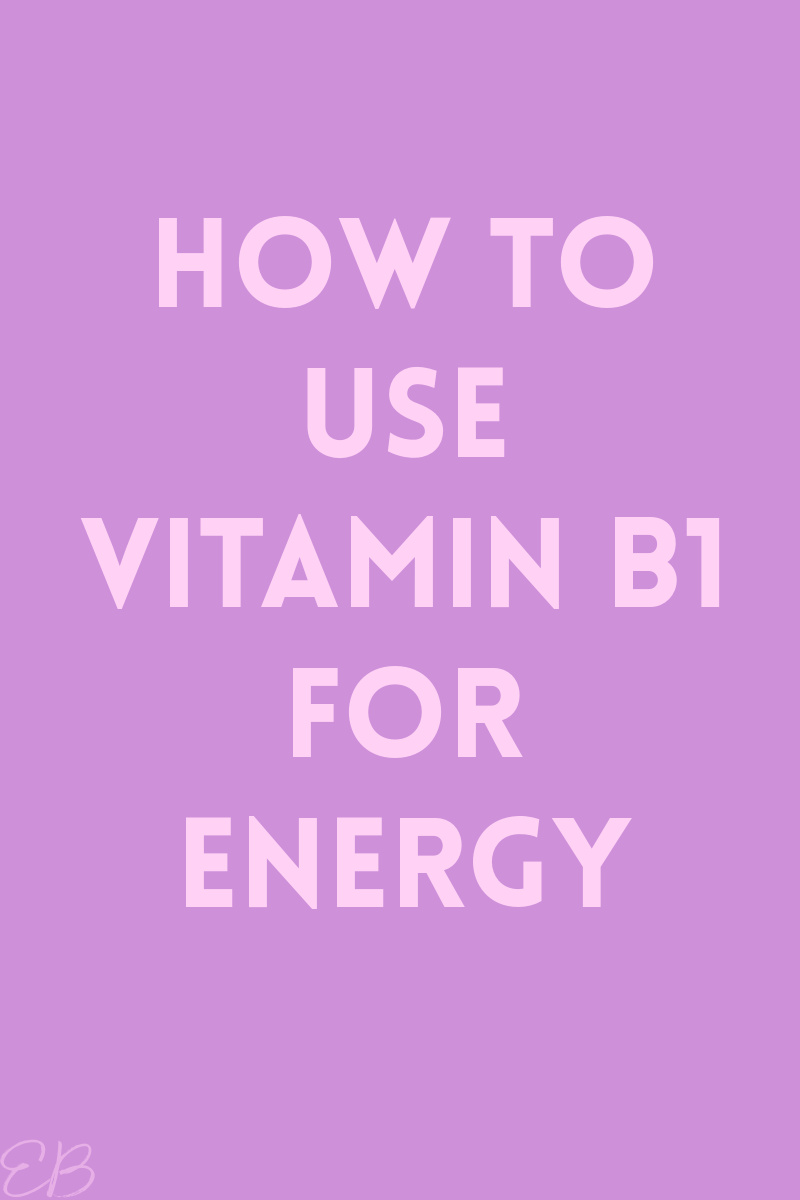 More Sources: 1, 2