I may receive a commission if you purchase through links in this post. I am not a doctor; please consult your practitioner before changing your supplement or healthcare regimen.
What's worse than a sunburn? The even greater hazards of endocrine-disrupting, carcinogenic, conventional sunscreen ingredients. Learn how to find reef-safe sunscreen — that's human-safe too!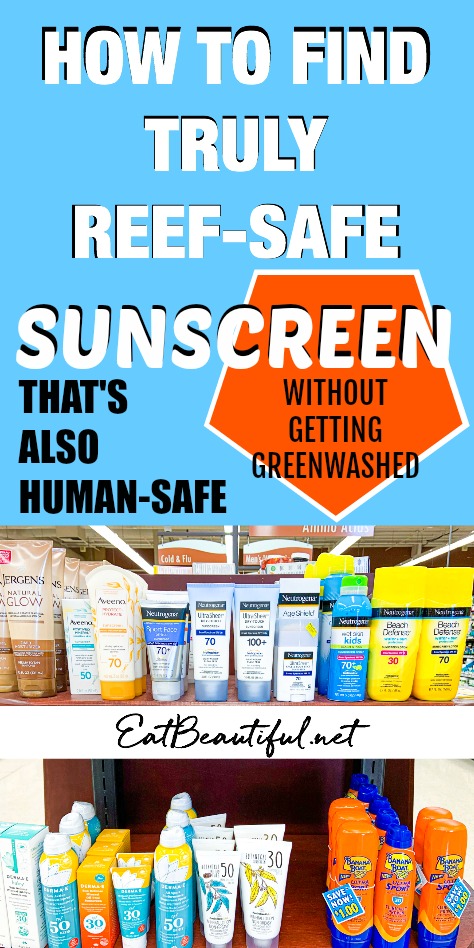 The following post is written by my friend, Katie Kimball. I hope you'll learn as much from her as I have — on this topic she's researched exhaustively! Katie and her family have personally tested over 100 natural mineral sunscreens…
I was fortunate to be able to travel to Hawaii just before coronavirus shut the world down, and I wanted to hug our snorkel captain for his tight guidelines about sunscreen. (Yes, hugging was still okay back then.)
Well-intentioned mainlanders had bought some "reef-friendly sunscreen," but he wouldn't let them bring it on the boat. He said, "It's not good enough," and for good reason. This poor couple had been greenwashed on Amazon and tried to buy "reef-friendly" sunscreen, but it was still full of chemical active ingredients.
Greenwashing is a term that refers to packaging that intentionally makes a product seem more natural than its ingredients really are.
Why buying sunscreen is confusing
Sunscreen used to be pretty easy to decipher. If you saw a tube that said reef-safe, there was almost a 100% chance that it was also
safe for humans. Now, unfortunately, the big brands are following the letter of the law… but not the spirit of the law.
The big brands are indeed removing banned ingredients like oxybenzone and octinoxate. But they're leaving all the other chemical actives — as well as potentially parabens and other health hazards in their formulas. They're slapping a "reef-friendly" label on the tube, because technically you could bring their new formula to Hawaii.
Unfortunately, as my snorkel boat captain reminds us, the law is a step in the right direction but not good enough. Following the letter of the law only makes it more confusing for well-meaning people trying to find reef-safe (or human-safe) sunscreen.
New sunscreen laws in Hawaii
In 2019, a law was passed in Hawaii to ban two sunscreen active ingredients: oxybenzone and octinoxate.
Research by Dr. Craig Downs, PhD at Haereticus Environmental Laboratory proved that these two chemical sunscreen ingredients are definitely playing a role in the 50% decline we've seen in our coral reefs. Hawaii is leading the charge to ban these ingredients from their state. Laws have been put into play in Palau and Key West, Florida too. I anticipate there will be more to come.
Although brands have until 2021 to officially comply and still be able to be sold or even brought into the state of Hawaii, they are wisely starting to react now.
The great news about the law in Hawaii is that it will open the floodgates for more positive action that will help our environment. The bad news is that it's not enough.
More research on sunscreen ingredients needed
Dr. Downs' groundbreaking research is making a huge impact through this law. But those who are close to the coral reefs know that it's not just oxybenzone and octinoxate that are causing a problem. If we want to live as people who are skeptical of chemicals until they are proven safe, we need to take a step back.
Oxybenzone and octinoxate are just two of the chemical active ingredients that provide SPF protection. Others, like avobenzone, octocrylene and more are most likely harming the coral reefs as well — along with parabens, mineral oil, and other ingredients that may be in your conventional sunscreen.
This is the kind of sunscreen I've been telling people to ditch for 10 years, even before we knew how much it harmed the marine ecosystem.
Chemical sunscreen ingredients are not safe for humans
You see, what's hurting the coral reefs is hurting humans as well. The chemical active ingredients in conventional sunscreen have a whole host of health issues, including:
carcinogenic qualities
degrading in the sun
confusing re-application procedures
For my family of growing children, I never let conventional sunscreen ingredients touch their skin. Those ingredients behave like a dose of daily hormone replacement therapy … and may release free radicals deep within their skin.
Choose mineral-based sunscreens every time, and have really high standards for the other ingredients too.
For example, I believe sunscreens should always include antioxidants to help immediately combat the potential negative effects of the sun on your skin.
It's been a passion project of mine since 2010, and my family has personally tested over 100 natural mineral sunscreens. We know what goes on smoothly, what works effectively and consistently — and what's worth your money when it comes to these incredibly high standards for clean ingredients. You can access the most updated list of natural sunscreen reviews for this year right here.
Mineral-based sunscreens, reef-safe sunscreen … and zinc oxide
Another form of greenwashing that's been around even longer is big brands including a tiny percentage of zinc oxide, like 2 or 3% in their formula … along with a half-dozen other chemical actives. They label those "mineral-based" sunscreen.
When people see the word mineral, they think they've hit the jackpot and have found something safe. It couldn't be farther from the truth! That's kind of like putting a leaf of organic lettuce on a fast food burger along with some industrial oil-laden mayonnaise and calling it "made with nourishing, organic ingredients". Ridiculous!
So if the packaging has suddenly become harder to decipher, what's a non-toxic, well-meaning family to do? How to find reef-safe, human-safe sunscreen?
Choose safe sunscreen by looking for zinc oxide only.
Fortunately, it's still pretty easy to find a safe sunscreen option as long as you're willing to flip over the tube. You simply need to look for one single active ingredient: zinc oxide. That's it!
If that's the active ingredient, you can be 90-99% certain that the sunscreen you've chosen is reef-safe and at least fairly human-safe. There are some other nuances that I like to teach people to watch for, such as:
avoiding parabens and nanoparticles
including antioxidants
and high-quality oil bases
But that's much less of an issue than the active ingredients.
And again, I'm happy to help after having done the legwork, literally: with two different brands of sunscreen on each leg in my family of six for the last decade! We know what works, and we can help you cut to the chase.
Bottom line: reef-safe sunscreen is also safe for your family!
The benefits of zinc oxide
It's delightful to discover a natural health issue where the answer is both good for the environment and good for your family. You don't have to adopt any new habits with sunscreen in order to keep both the marine ecosystem and your family safe — just switch to a new brand!
Because zinc oxide doesn't degrade in the sun like chemical sunscreen active ingredients, it's not mandatory that you reapply quite as often if you aren't swimming or sweating. This is another benefit — because you may even save money by using less sunscreen.
Zinc oxide also doesn't expire like chemical actives do.
That's why it's important to share this with everyone you know. Because what washes off other people's skin ultimately affects your family and potentially the coral reefs — even if you don't live anywhere near an ocean. Thirty-seven states in the American Midwest run off into the Gulf of Mexico making it a worldwide problem.
Even if you don't live near an ocean, oxybenzone is still a pervasive endocrine disruptor that is nearly impossible for city water filtration to get out.
How to Find Reef-Safe Sunscreen
So train yourself to flip over the sunscreen bottle.
Look for zinc oxide.
Ignore "reef-friendly" greenwashed labels. Trust that you are doing the best for your family by getting outside in the sun. But avoid the hazards of sunburn and the even greater hazards of endocrine-disrupting, carcinogenic, conventional sunscreen ingredients.
Let's follow the spirit of the law, and save those coral reefs as we enjoy our summertime fun!
Author Bio:
Katie Kimball, the national voice of healthy kids cooking, is a blogger, former teacher, and mom of 4 kids who founded the Kids Cook Real Food eCourse. Her blog, Kitchen Stewardship helps families stay healthy without going crazy, and she's on a mission to connect families around healthy food and teach every child in America to cook. She also happens to be a total sunscreen geek, having tested over 100 natural mineral formulas on her hapless children and pale husband.
If you feel like you need to detox excess estrogens from chemical-laden products and the environment, read tips from the following articles: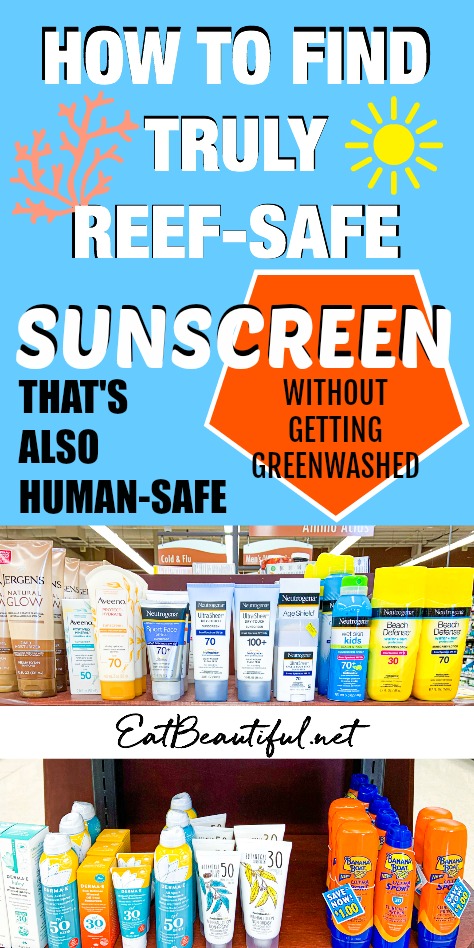 Other Resources for How to Find Reef-Safe Sunscreen
EWG.org's sunscreen guide
EWG's report on the problem with vitamin A in sunscreen Learn more about Vitamin A toxicity and how to detox it here.
EWG's report on what's wrong with high SPF