I may receive a commission if you purchase through links in this post. I am not a doctor; please consult your practitioner before changing your supplement or healthcare regimen.
This Chickpea Polenta is faster and easier to cook than regular polenta, thanks to masa! … And, it's more nutritious and creamier, thanks to chickpeas!
With a more complete amino acid profile — from both gentle grains and beans — Chickpea Polenta is a satisfying side dish for Vegan, Vegetarian, Gluten-free, VAD, Low Oxalate and Low Salicylate diets, as well as lovely for any gourmet meal.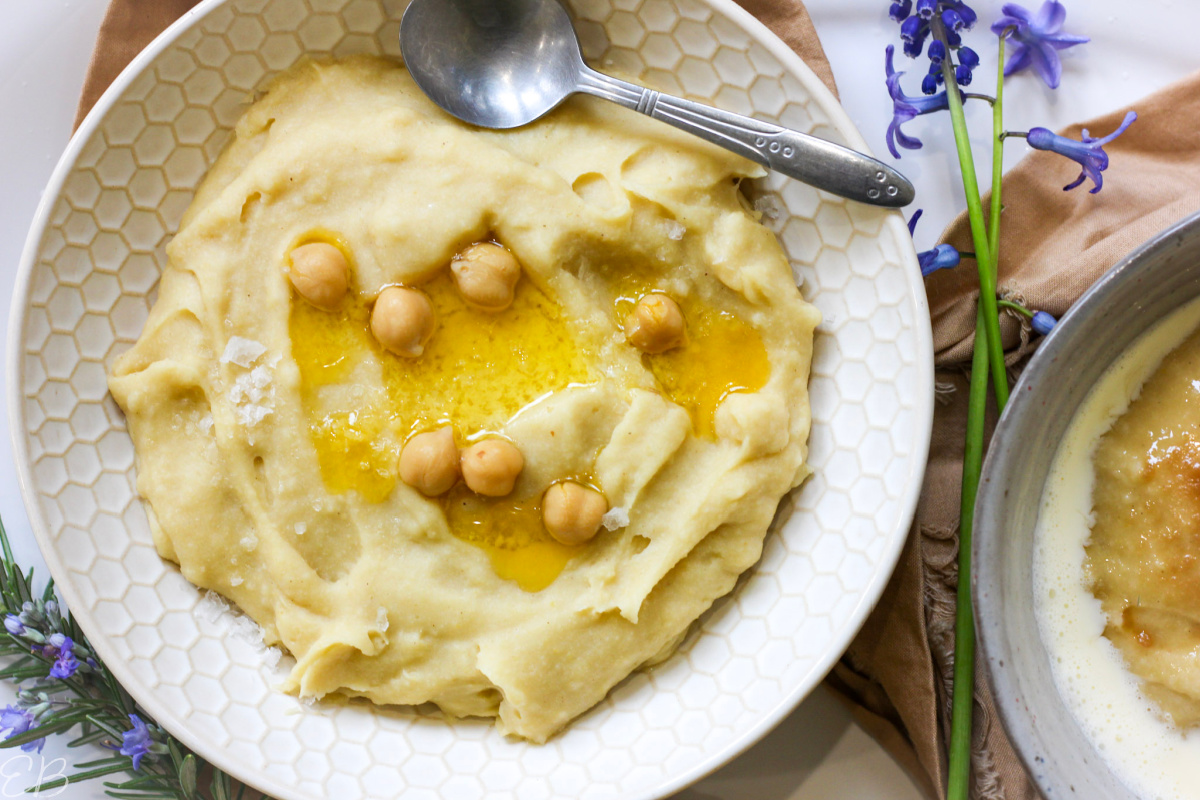 Jump to Recipe
Why does masa make faster polenta + why add chickpeas
Using masa in this recipe instead of regular cornmeal or polenta means the recipe cooks up a lot faster, because masa is a finer grind.
Masa is not usually used to make polenta because it can create too pasty of a mush, being so fine.
But, make Masa Polenta with a purée of chickpeas and water, and you have a creamy element (that has a bit of a substantial texture) which allows masa to make a terrific polenta.
As mentioned, we then, therefore, get the added benefit, too, of garbanzo beans' added nutrition to our polenta.
Why is masa better than cornmeal
Because of lectins, I wasn't sure if I'd ever be able to eat corn again. But hominy and masa changed that for us …
Gentler to digest
Masa is better than cornmeal because it's easier to digest!
Masa is made from: dried corn kernels which are cooked and soaked in lime water (resulting in hominy), then ground while wet, before being dried into the fine flour. (source)
The lime treatment is a traditional means of predigesting corn, that native cultures use. (Lye is a not ideal conventional method often used, so this is another reason to always buy organic. Organic hominy and masa are treated with lime instead.)
The lime referred to is not the citrus fruit, but rather Calcium Hydroxide. This food grade lime product is very finely ground limestone that is cleaned and processed for food safety. It is also called: cal, slake lime or cal lime.
Easier to source and healthier
Masa is also better than cornmeal because: it's easier to find organic white masa …
And white corn is better than yellow because it's lower in vitamin A (discussed as a toxin here). Whereas, when you look for organic cornmeal or polenta, yellow is much more common.
Ingredients in Chickpea Masa Polenta
Just a few:
chickpeas — canned or home-cooked
white organic masa — I use and recommend this one.
butter or vegan butter, or coconut oil if preferred
sea salt
And water.
How to make Chickpea Polenta
One thing I love about this recipe is that most polenta recipes need to be stirred over the heat for quite a while. Masa Polenta only requires 5 minutes of active cooking time. The remainder of "cooking" happens while the masa sits and steams, after cooking.
Blend water, chickpeas and sea salt.
Pour blend into saucepan. Bring purée to a simmer.
Sprinkle in masa, while whisking, and stir, cooking, for 5 minutes.
Stir in butter or vegan fat of choice.
Cover, remove from heat, but transfer to a Warm burner (the lowest setting on your stove top, too cool to create a simmer). Allow to sit for 30 to 60 minutes. (The final cooking is done gently, similar to how rice steams after cooking, before serving.)
Variations
Simple variations and methods of garnishing polenta can dress it up or change the presentation prettily. You may also add different ethnic flares:
While there are many savory variations, one of the most fun variations is to eat Chickpea Masa Polenta as breakfast porridge. Top with your milk or cream of choice, add optional maple sugar or syrup (and optional berries etc). For low fructose diets, I actually enjoy this dish unsweetened. I just add oat milk, a little cream and finishing salt, no sweetener, and it's delicious. Most people will enjoy the usual porridge garnishes. (See photo below.)
Add hominy to Chickpea Polenta. Stir it in, or sauté it first in butter and sea salt, and garnish the top of your polenta with it. Hominy is gentler than standard corn; it is corn treated with lime to remove the hull and germ. Hominy tastes starchier than corn, like a cross between corn and potato. I personally love it and buy it organic and canned (this one).
Garnish with chickpeas, olive oil and/or Mediterranean spices/herbs.
Top with fresh corn, melted butter and optional freshly ground black pepper.
How to reheat leftover Chickpea Polenta
Place leftovers in a saucepan. Add a bit of water, and stir over medium heat until hot through. Or, lower heat to low and cover, stirring occasionally, until heated through.
If you make the thicker version of this recipe, with just 3 cups of water (option given in recipe below), I think you could also slice the leftovers and fry them in a little butter (or coconut oil). I haven't tried this yet, so I'll update the post accordingly.
Print Recipe
Chickpea Polenta (made with Masa, Vegan, Gluten-free)
This Chickpea Polenta is faster and easier to cook than regular polenta, thanks to masa! ... And, it's more nutritious and creamier, thanks to chickpeas!
Ingredients
3-

½

cups

water

or just 3 cups if you want it extra thick (as it's shown in the photos)

1

can

chickpeas

also called garbanzo beans, strained and rinsed (or 1-

⅔

cups beans, home-cooked)

1

cup

masa harina flour

<--this brand, white organic

2

tablespoons

butter

OR favorite vegan fat

1

teaspoon

sea salt
Instructions
Place water, strained chickpeas and salt in blender. Purée on medium high speed until smooth and creamy, about 40 seconds.

Pour purée into medium size saucepan. Bring to a simmer over medium high heat, and then reduce heat to maintain slow simmer over lower heat.

Fan masa into simmering purée WHILE whisking the whole time, until it's completely incorporated. If there are few small lumps, don't worry, as they'll mostly cook out. (The steam can be quite hot when you first whisk in the masa, so try to use a longer handled whisk, or reduce heat so the mixture doesn't pop and sputter on you.)

Reduce heat to low and simmer, stirring with a long-handled spoon, until polenta is thick, about 5 minutes. (The mixture doesn't need to simmer during the 5 minutes, as long as it's very hot and steamy and thickening while you stir.)

Stir in butter. Cover and place over very low heat for 30 to 60 minutes. Polenta is done when texture is creamy and the individual grains are tender.

Serve topped with or as a side for roasted veggies and favorite meats. Or, serve as a porridge for breakfast.
Nutrition
Calories:
155
kcal
|
Carbohydrates:
22
g
|
Protein:
3
g
|
Fat:
7
g
|
Saturated Fat:
4
g
|
Trans Fat:
1
g
|
Cholesterol:
15
mg
|
Sodium:
196
mg
|
Potassium:
77
mg
|
Fiber:
2
g
|
Sugar:
1
g
|
Vitamin A:
236
IU
|
Vitamin C:
1
mg
|
Calcium:
43
mg
|
Iron:
2
mg
You can Pin this recipe here:
Similar recipes I think you'll enjoy
All of these recipes are also Vegan, Gluten-free, VAD, Low Oxalate and Low Salicylate.