I may receive a commission if you purchase through links in this post. I am not a doctor; please consult your practitioner before changing your supplement or healthcare regimen.
Bean and Oat Waffles are a recipe I make for my own family. We love them so much that I decided to publish the recipe. Bean and Oat Waffles taste just like the real thing — crispy on the outside, and they hold syrup well! — plus, they're high in B vitamins, fiber and protein.
This recipe is Gluten-free, Vegan and also perfect for those detoxing vitamin A (with me!).
Ingredients in Bean and Oat Waffles
Every main ingredient in Bean and Oat Waffles is nutritious:
Beans: I use white beans, but you can use any bean that digests best for you or that you love. I start out with either hard beans, which I soak and cook (here's how), or canned beans (Eden brand digests best). Both options work great.
Oats: This recipe uses already cooked oatmeal. I use organic rolled oats to make a pot of oatmeal about once a week. We have oatmeal for breakfast that first day, then the leftovers I use to make waffle batter for the rest of the week.
Oat flour OR white rice flour: You can choose. Rice flour makes a slightly cakier, denser waffle. Oat flour makes a less-dense, lighter waffle. We love both varieties. The oat flour option is healthier because white rice flour doesn't have any nutrition and depletes the body of vitamin B1. But this recipe is high in B1 from the beans, so it's still a fine option if preferred. If you're going for nutrient-dense, choose the oat flour option.
Fat of choice: I'm not vegan, so I use butter. For vegan or non-dairy, use your favorite fat, such as coconut oil or avocado oil.
Psyllium husk whole: This ingredient is an insoluble fiber that can aid digestion and helps to create the right textured waffle in the absence of eggs and gluten.
Gelatin OR flax/chia meal, for Vegan: Bean and Oat Waffles are egg-free, so the gelatin, flax or chia meal help to hold the waffle together and create the right bite. The gelatin version of this recipe creates a dryer looking dough. The flax version of the dough looks a little creamier but is still thick. The chia version makes a sweet soft bread texture.
Apple cider vinegar, any vinegar or lemon juice: This little bit of acid reacts with baking soda to create rise in the waffle while it cooks.
Baking soda and sea salt: Leavening and flavor.
I love that this recipe is high in fiber, B vitamins, protein … and makes an excellently-textured waffle. You get the classic outcome of a good white flour waffle yet nutrient-dense carbs from the best gluten-free ingredients.
IS OATMEAL HEALTHY
Yes, oats are high in B1, B5 and lots of minerals. Oats are also a wonderful source of beneficial fiber.
ARE BEANS HEALTHY
Yes, beans are super high in fiber, Vitamin B1, folate, iron and minerals. Beans have a low glycemic index and contain resistant starch, excellent for blood sugar levels and colon health.
The fiber from both staples help prevent constipation and move toxins from the body.
Oats and beans are rich in complex carbohydrates which yield lasting energy.
How to make Bean and Oat Waffles
This recipe uses a blender and one big mixing bowl.
Bean and Oat Waffles were created with nutrition, digestion and the right waffle outcome in mind. To get the best nutrition and digestion from oats, the rolled oats are first soaked overnight to soften and predigest them.
If you wish to make your waffle extra nutritious, then please see the Sourdough variation below.
Otherwise:
Soak the oats overnight in a simple solution of water and apple cider vinegar to make them easier to digest (exact directions below in the Recipe). You may also add a little buckwheat to this, if you'd like, for extra reduction of phytic acid (more on this below).
The next morning, rinse the oats, and make oatmeal. You may also use leftover, cold oatmeal. Combine oatmeal in the blender with beans, water, fat and vinegar. This purée creates a smooth, creamy blend that is the base of the waffle batter.
Pour purée into large bowl. Add the remaining dry ingredients in the order they're listed: flour, psyllium, gelatin or flax, sea salt and baking soda.
Stir vigorously until well mixed. The batter will be thick and scoopable, not pourable.
Preheat your waffle iron, and cook waffles according to manufacturer's directions. We like to cook ours a little longer than when the green light comes on, about 6 to 7 minutes, instead of 5, until they're golden brown and crispy.
Serve with berries, maple syrup and/or any other favorite toppings.
How to store dough
Here's an exciting concept! Instead of cooking up all your waffles:
Make the recipe, and keep any extra batter in the fridge, covered.
Each morning, cook up some good protein, plug in your waffle iron and pull the dough from the fridge.
You'll have a hot breakfast with very little work because the batter's made ahead of time.
Our teen and tween boys have big appetites, so I end up making batter a few days a week. But if you have fewer in your household, or smaller appetites, you can make batter only 1 to 2 times a week and have a hot homemade meal made with no labor or dishes each morning.
That's my favorite thing about waffles and waffle irons! No flipping or fussing, no dishes, no prep.
And everyone loves waffles and their potential toppings which makes breakfast a happy fun meal.
I don't recommend cooking up all your waffle batter and storing cooked waffles when you can have freshly cooked waffles instead.
How to store and reheat waffles
But if you do want to cook them all, or to freeze cooked waffles, that's fine.
Allow them to fully cool, wrap so they're well sealed and: refrigerate for up to 5 days, or freeze for up to 5 months.
To reheat, use your waffle iron! Defrost frozen waffles first. Then: Just cook for a few minutes on your preheated iron to bring them back to life.
If you wish, you may also sprinkle water on your cold waffles to generate steam and freshness, before reheating them in the iron.
Toppings and what to serve with Bean and Oat Waffles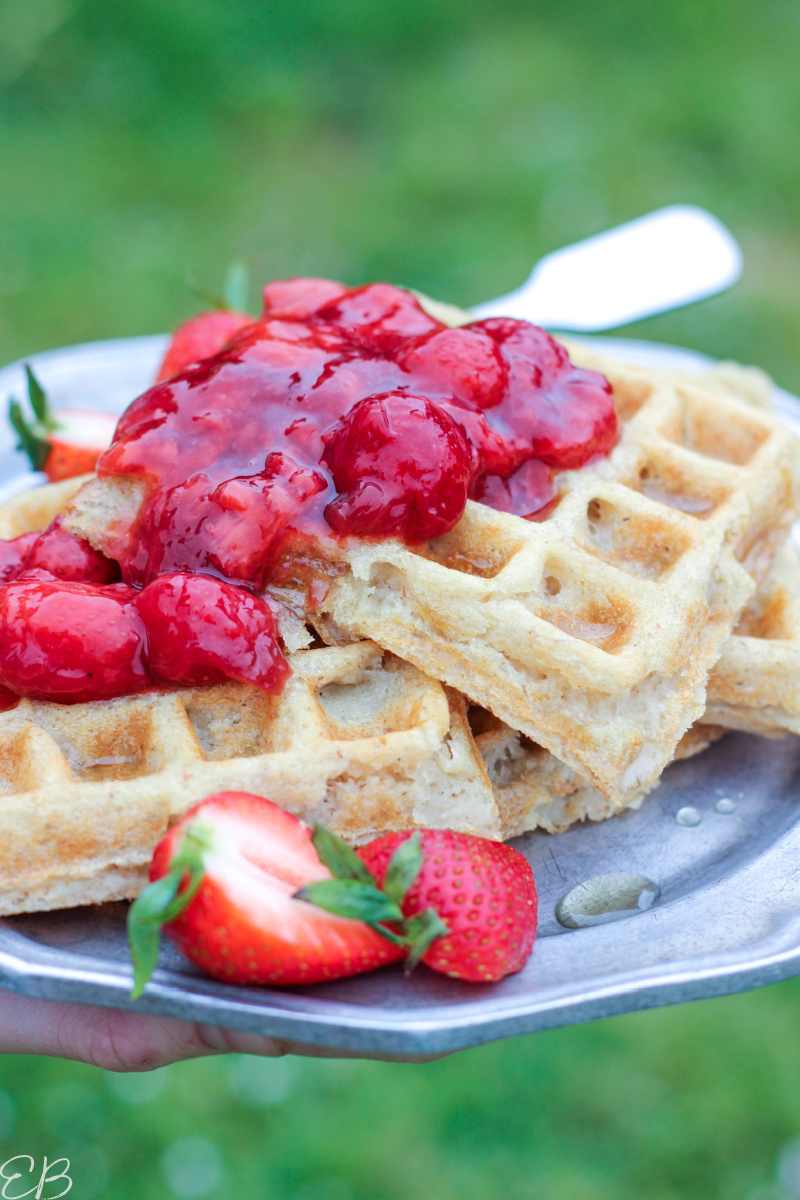 Here are some of our favorite sweet waffle toppings:
Everyone loves pure maple syrup.
Strawberry Compote — If you ever run out of syrup, make this. It will remain a favorite! LOVELY.
Whipped cream or lightly sweetened sour cream
Yogurt
Butter or for non-dairy: coconut oil
Chocolate chips
Honey and chèvre
Fresh berries
Ice Cream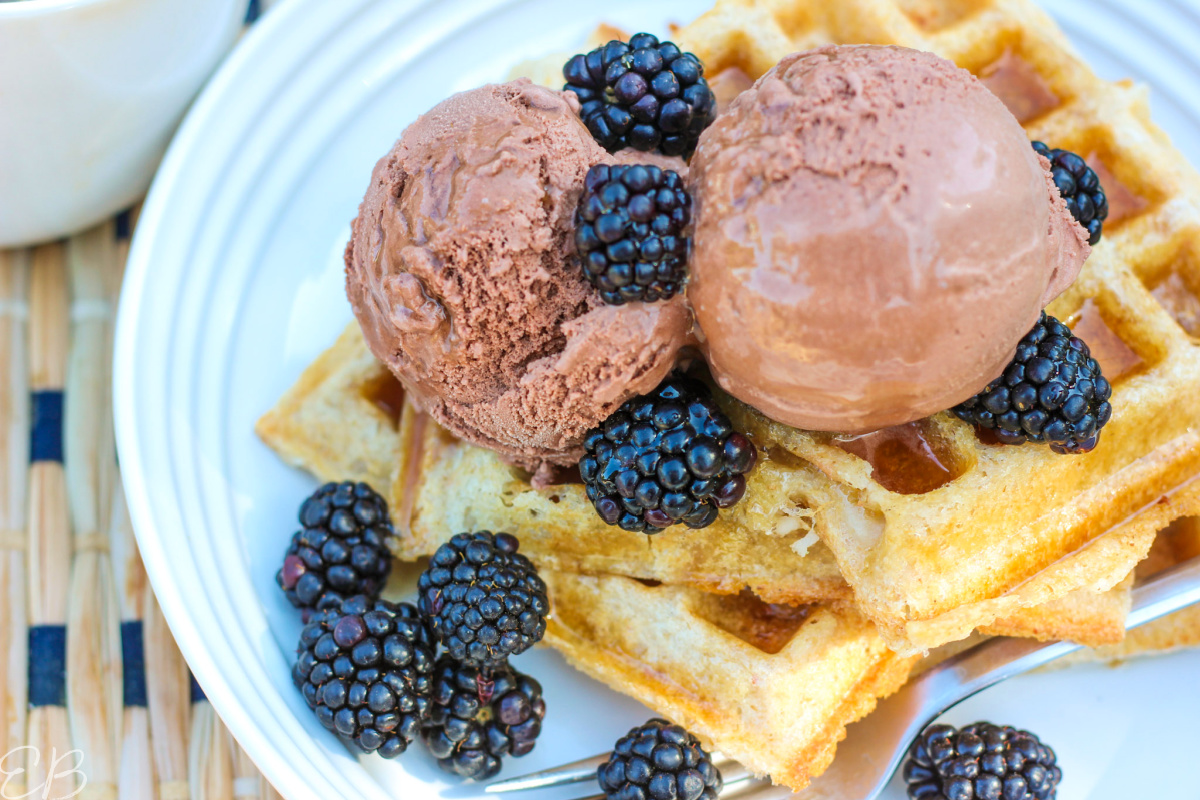 Savory waffle toppings make the best and most satisfying breakfast:
Sliced heirloom tomatoes, sunny side up/poached eggs and crumbled feta or chèvre, with fresh herbs (like this)
Scrambled or fried eggs and bacon (my husband likes this with maple syrup over all)
Sausage Gravy or Onion Gravy with sausages
You can also fill your waffles with lovely things. Sandwich fillings in your batter by putting half the amount of dough needed on your iron. Then add your fillings. Then more batter on top. Shut the iron by pressing on its top with a hot pad; don't just use the handle or you'll wear out the mechanisms.
Here are some of our favorite waffle fillings:
SAVORY:
leftover meat, deli meat or bacon
sautéed, caramelized onions or raw diced onions
cheese
SWEET
dark chocolate bar, broken into chunks, or chocolate chips (See the 4-step process photos directly below.)
hazelnuts, pecans, macadamia nuts or walnuts
blueberries
Which waffle iron is best
Unfortunately, most waffle irons these days are made cheaply, not made to last. And they're made with a non-stick coating.
We have tried many irons over the years, including those with the "ceramic coating", which were "okay".
My current favorite, while not being perfect because of the coating, is this square waffle iron by Dash. Here are the features we like:
The right thickness of waffle: not too tall and thick, but also not super thin. Perfect in-between classic waffle (hard to find!).
Has overflow canals to keep the iron from spilling over batter, which keeps the iron neat over time and saves the batter from being wasted.
Cooks the waffles perfectly.
Works well, decent construction, no issues at all. We even bought the insurance on this one for the first time ever, which allows us to receive a new iron if this one doesn't last 3 years. All other waffle irons we've owned last 1 year or less. (We make waffles about 5 days a week.)
If and when the iron's coating shows any wear, we'll trade it in. Sadly, this is the age of disposable waffle irons.
If you'd like to try a ceramic-coated waffle iron, this one has good reviews and is similar to the ones we've owned.
Obviously, if you have a cast iron waffle iron and like it, that's the safest route as far as the materials used.
How to make Bean & Oat Waffles into *sourdough*
Make this batter sourdough by adding a probiotic liquid to the batter. You can use:
probiotic yogurt, whey or sour cream (dairy-free is fine, as long as it has a lot of live cultures)
sauerkraut juice
gluten-free sourdough starter
The recipe below guides you to replace a small amount of the water in the recipe with the probiotic.
Then, allow the batter to sit out at warm room temperature, covered, for 7 hours or overnight. Afterwards, cook up your waffles as usual, or refrigerate batter.
This easy fermentation creates an even more nutritious and digestible whole grain waffle.
People often ask me if kombucha or apple cider vinegar can be used as the source of probiotics in ferments. Yes, they can be. However, kombucha doesn't work as well, so you need to use more (directions below). For apple cider vinegar, you'll use the same amount as you would whey or sauerkraut juice; so the strong flavor of ACV will come through a bit more in the finished waffle than the preferred options.
WHY TO ADD BUCKWHEAT
If you'd like your sourdough waffles to be super-digestible, the final ingredient to add to your batter is buckwheat (or barley). There's an enzyme in buckwheat (and barley), phytase, that helps to break down the phytic acid in oats.
To do this, sub a 1/4 cup of the oat flour with 1/4 cup of buckwheat flour (or rolled barley).
Then make the sourdough version of this batter, which will give the phytase time to break down the phytic acid.
Do I do this myself? Only sometimes. We find this recipe super gentle and easy to digest, plus life is busy, so I don't always do it.
Ever since shortly after going on the VAD diet, we've been able to eat oats again — which is something I never expected and really appreciate.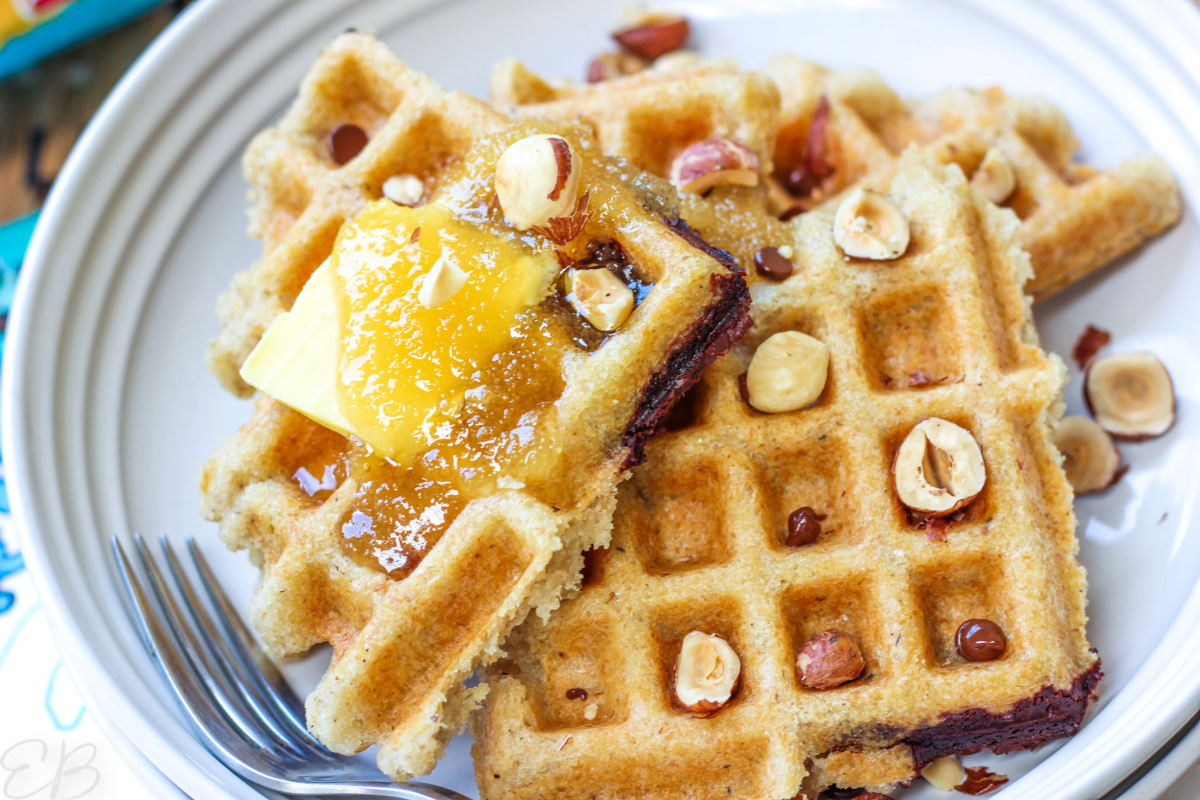 Print Recipe
Bean and Oat Waffles (Gluten-free, Vegan and VAD)
Bean and Oat Waffles taste just like the real thing — crispy on the outside, and hold syrup so well! — + they're high in B vitamins, fiber and protein. This recipe is Gluten-free and Vegan.
Ingredients
1-

⅔

cups

oatmeal

cooked (See Notes below for how to soak oats before cooking.)

1-

⅔

cups

white beans

cooked, or 1 can

1

cup

filtered water

½

cup

butter

or coconut oil, melted and cooled slightly if using a solid fat, or avocado oil

6

Tablespoons

psyllium husk

whole fiber

¼

cup

gelatin or for Vegan, use flax seed meal or chia seed meal (Optional: With the vegan version, you may wish to add

¼

cup granulated sweetener to your dough, like coconut sugar, to increase the richness, flavor and caramelization of your batter when it cooks. I personally do this.)

1

Tablespoon

apple cider vinegar

or any vinegar (such as rice), or lemon juice

1

teaspoon

sea salt

½

teaspoon

baking soda

sifted
Instructions
Place cooked oatmeal, in scoops (not one big blob) and beans into blender jar. Add water, fat and vinegar. Start to purée on lowest speed, then increase speed gradually to medium speed for a total of 45 to 60 seconds. The mixture will be thick.

In large bowl, stir together dry ingredients: flour, psyllium, gelatin or flax, baking soda and sea salt.

Add blender purée, and stir together well. It will be a thick sticky dough, not a runny batter.

Preheat waffle iron. Add batter, and press lightly down on the top of the waffle iron, using a hot pad, to close iron and smash down batter. Cook 5 to 7 minutes, until crispy and golden brown. (Oat flour waffles will be darker than rice flour waffles. And the flax waffle will also be paler.)

Remove from iron, and top with favorites.
Notes
How to soak oats overnight
Combine 2 cups rolled oats with 2 or more cups warm water + 2 Tablespoons apple cider vinegar or lemon juice. Set out for 12 to 24 hours.
To further improve the predigestion process, add

¼

cup rolled barley or buckwheat flour. (The enzyme phytase in these two grains helps to break down the phytic acid in oats.)
When ready to cook, simply rinse, drain and cook as usual, to make oatmeal.
Sourdough version
THE ONLY DIFFERENCE to the recipe above IS: Replace

¼

cup of the water with your fermented product of choice, either sauerkraut juice, whey from yogurt (can be non-dairy) or sourdough starter.
Ferment the batter on the counter for 7 hours or overnight, loosely covered (ideally in a warm location).

Then cook or refrigerate batter.

Bake as directed above in the main recipe.
TO USE KOMBUCHA
Replace the 1 cup of water with 1 cup of kombucha.
Ferment according to steps listed directly above.
Nutrition
Calories:
251
kcal
|
Carbohydrates:
7
g
|
Protein:
17
g
|
Fat:
16
g
|
Saturated Fat:
10
g
|
Trans Fat:
1
g
|
Cholesterol:
41
mg
|
Sodium:
250
mg
|
Potassium:
93
mg
|
Fiber:
21
g
|
Sugar:
1
g
|
Vitamin A:
473
IU
|
Calcium:
54
mg
|
Iron:
1
mg