I may receive a commission if you purchase through links in this post. I am not a doctor; please consult your practitioner before changing your supplement or healthcare regimen.
AIP Mexican Ground Beef is a wonderfully flavored meat dish that quickly creates several easy Paleo AIP Mexican meals! You can cook up this protein, and then make salads, bowls, tacos and more. Just add some avocado, fresh cilantro and a wedge of lime for a fresh easy dinner!
You may also use AIP Mexican Ground Beef as a Meal Prep option: This means, you can make it ahead of time, put it in the fridge or freezer, and pull it out when you need a really nourishing dinner with almost no work. Just heat and serve.
AIP Mexican Ground Beef is a nightshade-free recipe that's also Paleo, Whole30, Keto (depending on what it's served with) and Gluten-free.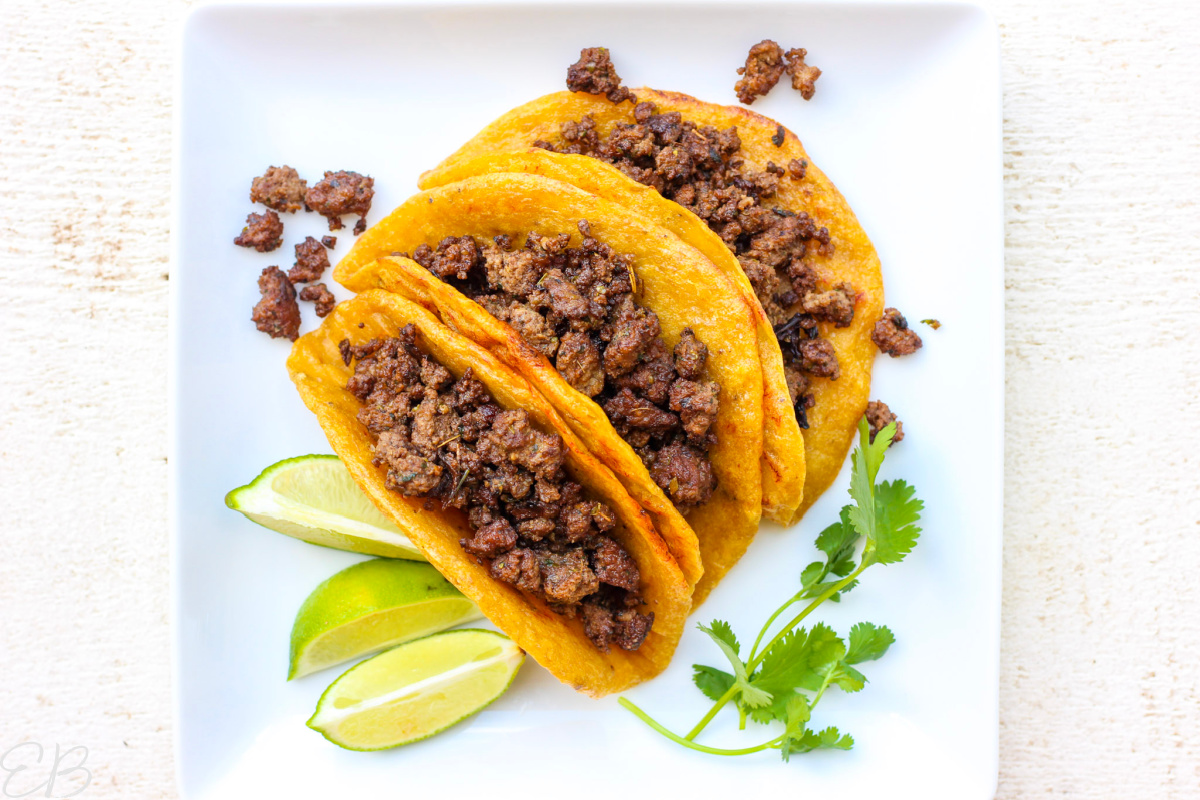 Jump to Recipe
What to serve with AIP Mexican Ground Beef
Here are some great AIP meal ideas for how to serve nightshade-free Mexican Ground Beef:
Make a great Mexican salad: Use lettuce, favorite veggies like cucumbers, carrots and radishes. Top with meat. Garnish with plantain chips, fried plantains or tostones + avocado slices or guacamole. Use an AIP fruit pico de gallo, if you'd like. Add fresh cilantro and fresh lime juice.
Build a bowl: Fill it with cauliflower rice. Top with AIP Mexican Ground Beef, avocado or guacamole, diced cucumbers, onions, radishes, cherries, strawberries and/or peaches, fresh cilantro, fresh lime juice and if you wish, fried plantains.
Fill tortillas for soft tacos!: Add guacamole, shredded lettuce, optional AIP salsa and optional other toppings like diced onions and radishes. Use an AIP crema if you like: coconut milk, fresh cilantro and fresh lime juice. Try these AIP tortilla recipes:

After cooking up the beef in the pan most of the way, make a Mexican hash, by adding in a few diced veggies: sautéed onions, cooked butternut squash, radishes etc. Top with slices of avocado and chopped fresh cilantro.
Make a simple Mexican soup by adding AIP broth, leftover cooked veggies including lots of sautéed onions and cauli rice. Garnish with chopped fresh cilantro, avocado and lime wedges.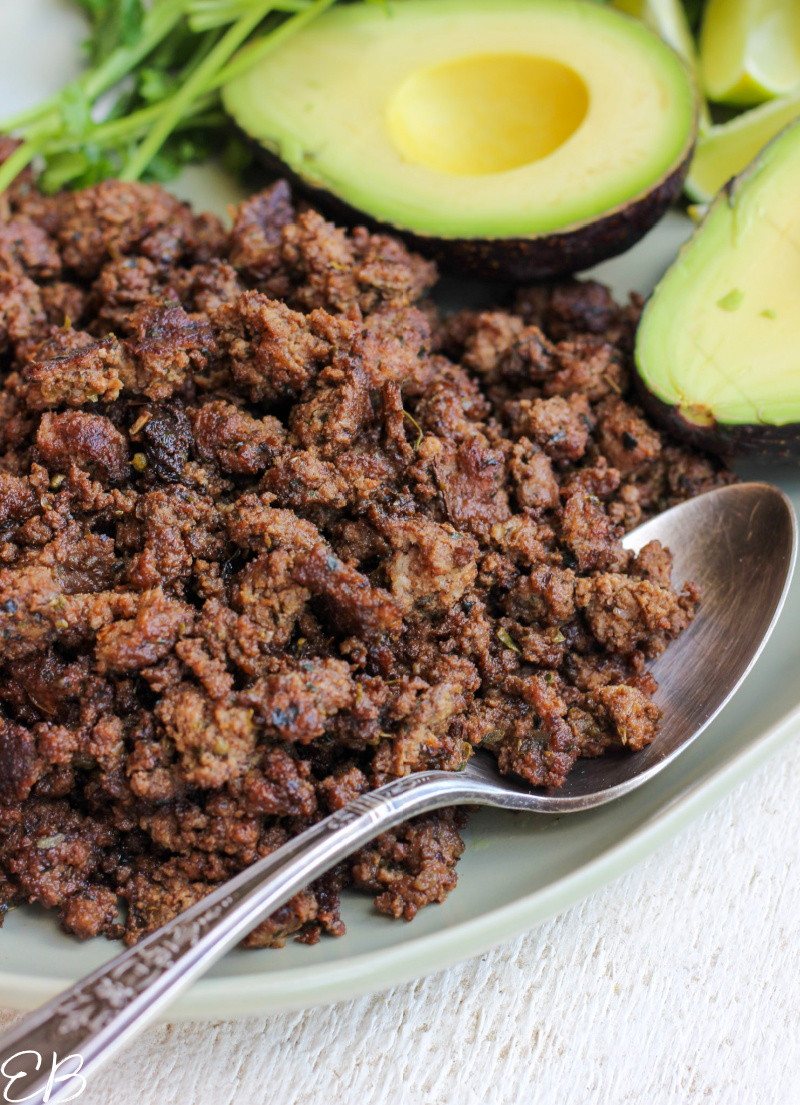 Ingredients in AIP Mexican Ground Beef
This recipe is just ground beef, sea salt, optional tamarind paste … plus a handful of herbs and spices:
dried oregano
dried ginger powder
dried cilantro
dried garlic
onion powder
Ceylon cinnamon
mace
Nicely, a couple of these herbs and spices are optional. So you don't need to "make yourself crazy", as my mom says, and use them all. If you have them all or want to source them, great! If not, the oregano, ginger and garlic + a couple of others do a lot of the heavy lifting as far as conveying Mexican flavors.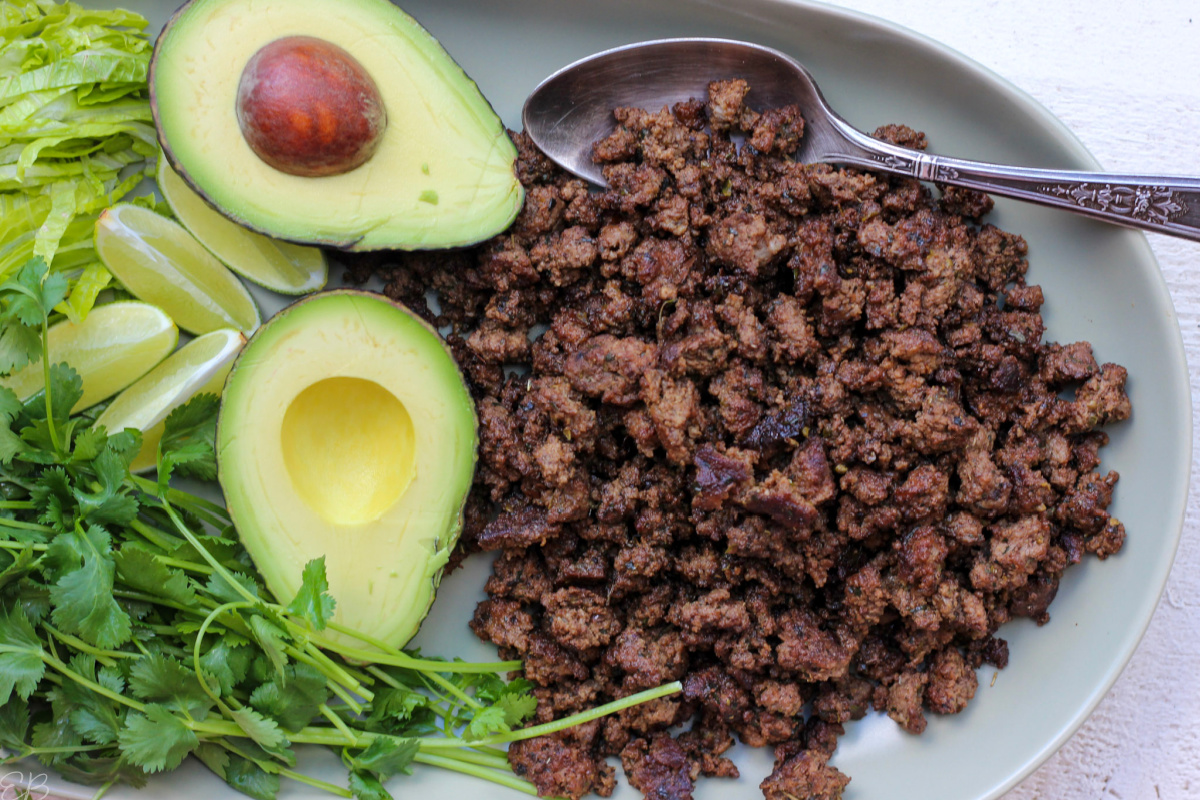 Tamarind and fresh cilantro
That being said, it's best to include at least one of the following: the tamarind paste or fresh cilantro.
Garnishing your finished meat and overall meal with fresh cilantro really helps to create the right flavor profile! So definitely grab that fresh cilantro if you can.
Tamarind paste (find it here) is really easy to buy once and then just keep in your fridge for this recipe and AIP Mexican Soups like this one. Tamarind adds a rich citrus flavor, plus the depth of tomatoes (without the nightshades or histamines).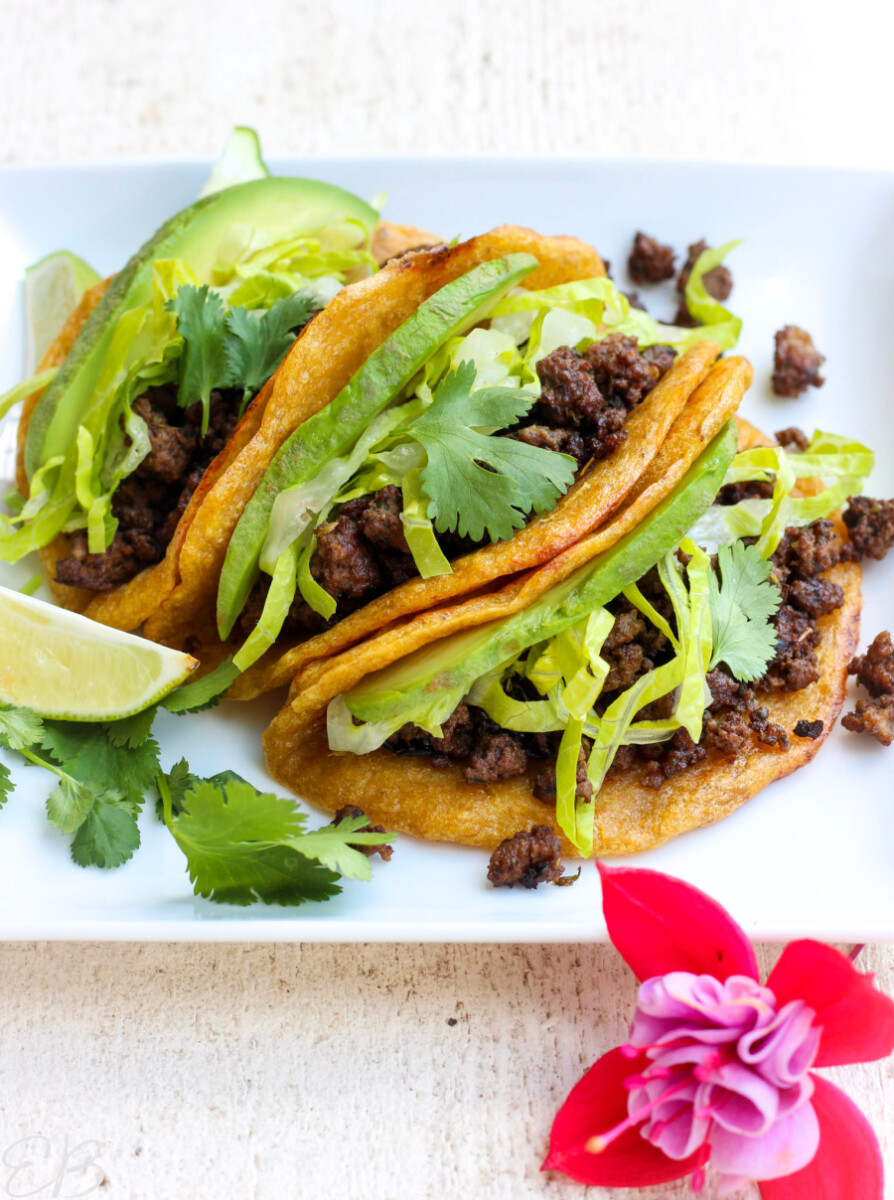 How to store AIP Mexican Ground Beef and Meal Prep
To refrigerate fresh or leftover cooked ground beef: Place in storage container. Refrigerate for up to 4 days.
To reheat, place in a skillet over medium-low heat. Sauté about 5 minutes; then cover, and remove from the heat. (Add one or more tablespoons of water during the sauté stage, if the pan is very dry.) Allow to gently steam for 5 additional minutes, covered. Then serve.
To freeze AIP Mexican Ground Beef, place in storage container, top with a piece of parchment or wax paper before adding the lid. Freeze for up to 3 months. Defrost in the fridge overnight, or on the counter for 4 hours.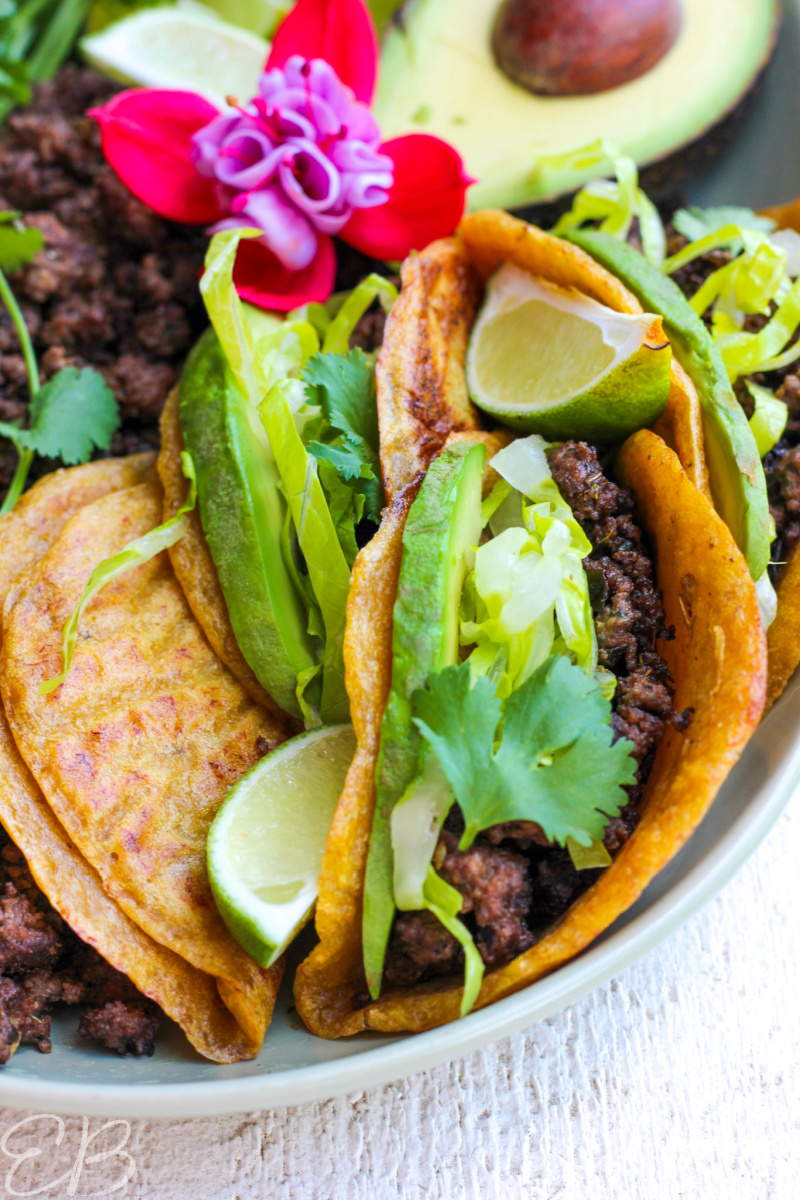 Print Recipe
AIP Mexican Ground Beef (Paleo, Meal Prep option)
AIP Mexican Ground Beef is a great way to enjoy a variety of nightshade-free easy Mexican dinners! Use on salads, in tortillas, to make quick soup and for bowls. Also Paleo, Whole30, Gluten-free and Keto.
Ingredients
1

pound

ground beef

2

Tablespoons

water

or broth

1

teaspoon

sea salt

optional: 1

teaspoon

tamarind paste

A great fridge staple for AIP (and all) cooking, with a rich citrus flavor.
AIP Mexican Herb and Spice Mixture (You will only use HALF of this recipe, so save half for next time.)
Instructions
In a small bowl, stir together all of the Mexican herbs and spices. Divide the mixture into 2 portions, or measure out about 1-½ Tablespoons. Set one portion to the side, which you'll use in this recipe. (Store and label the second portion in a small jar with lid for next time.)

Add meat and sea salt to large sauté pan. Cook over medium-high heat, breaking up meat with a spatula. After a 2 to 3 minutes, reduce heat to medium and continue cooking until most of the pink is gone, about 5 more minutes.

Add herbs and spices, except tamarind paste. Cook another 2 minutes, until herbs and spices are fragrant and all pink is gone.

Add tamarind and 2 Tablespoons water (or broth), moving meat around in the pan until they're fully incorporated.

Turn off heat, and serve. Use for salads, bowls, tacos and soups. Garnish with fresh cilantro, avocado and lime.
Notes
Paleo AIP Tortilla recipes:
Homemade Bone Broth to make soup
Nutrition
Calories:
299
kcal
|
Carbohydrates:
3
g
|
Protein:
20
g
|
Fat:
23
g
|
Saturated Fat:
9
g
|
Trans Fat:
1
g
|
Cholesterol:
81
mg
|
Sodium:
134
mg
|
Potassium:
344
mg
|
Fiber:
1
g
|
Sugar:
1
g
|
Vitamin A:
24
IU
|
Vitamin C:
1
mg
|
Calcium:
44
mg
|
Iron:
3
mg
You can Pin this recipe here: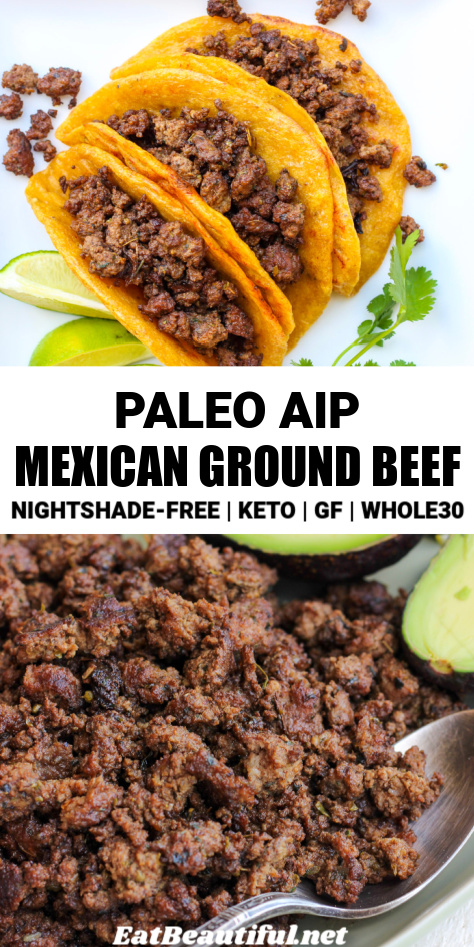 Similar recipes you'll love: