I may receive a commission if you purchase through links in this post. I am not a doctor; please consult your practitioner before changing your supplement or healthcare regimen.
AIP Mexican Stew is Paleo, low histamine, low oxalate, low lectin and made in the Instant Pot. You'll LOVE this delicious, savory dinner, the exciting flavors and having leftovers to freeze for easy dinners ahead.
Update: Some of you have asked for the slow-cooker version of this recipe, so I've added that below the recipe, in the Notes section. 🙂
How to make AIP Mexican Stew
As with many Instant Pot meals, this recipe is a "dump and go" recipe — super fast and easy to make, to keep stress low and histamines low!
Yes, simply put all of the ingredients into your pressure cooker, press the "Stew" button and walk away. AIP Mexican Stew takes 40 minutes to cook, not including the time it takes to come to pressure.
To make AIP Mexican Stew, use grass-finished stew meat (more on that below, in the Ingredients paragraph) and water. Together with sea salt, these three ingredients create a rich meat stock while the stew cooks!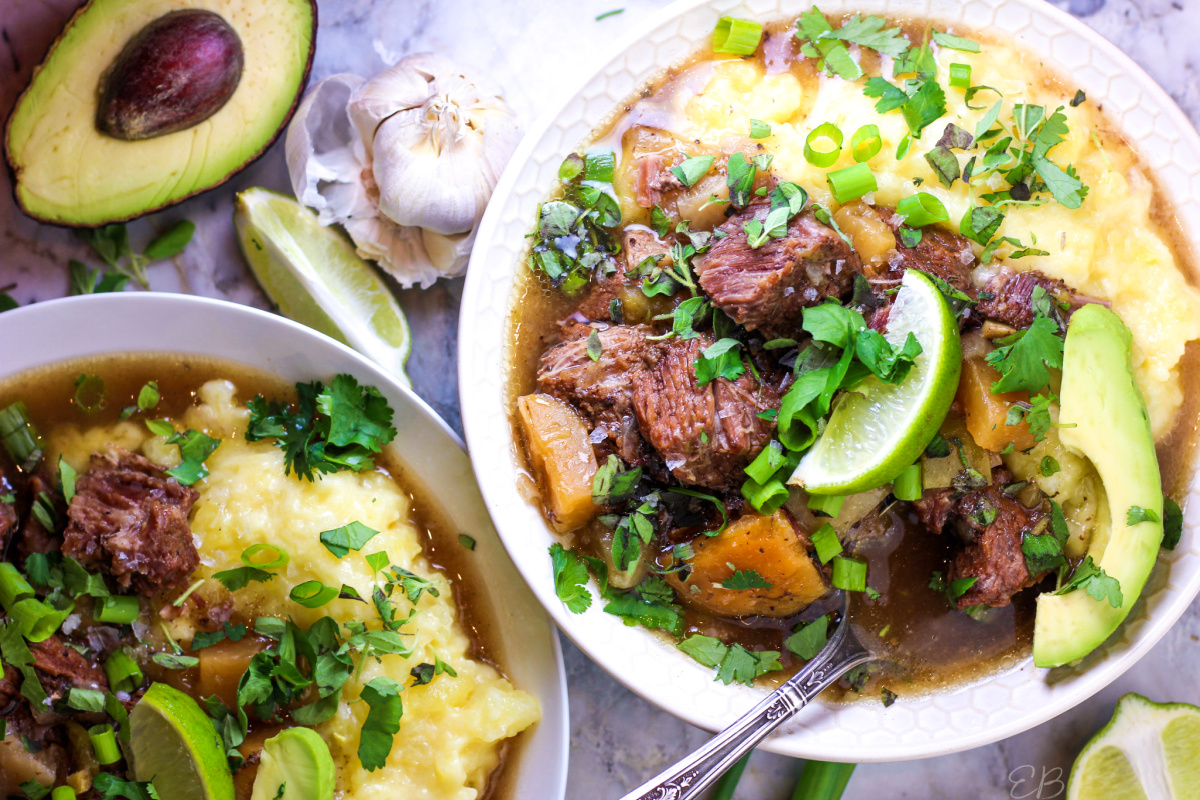 What diets can eat this recipe
This stew is wonderful for anyone on the AIP diet. You don't need to be low histamine, low oxalate or low lectin, but those are added bonuses I include in this recipe for all of you who need more recipes with those specifications.
In fact, anyone who loves real food and exciting flavors will love this stew! Perfect for Paleo, Whole30 and Gluten-free.
For GAPS, yes, enjoy this stew, but tamarind (an ingredient I discuss more below) is used for constipation in some cultures, so it's recommended to be cautious and possibly wait until major GI issues are resolved before trying it. So, omit the tamarind, if you wish, and use the lime juice after the stew's done cooking.
Low Histamine tips for AIP Mexican Stew
This section is for those of you who need low histamine tips. If you're AIP or any "real food" eater and not low histamine, you can skip this section.
BUYING MEAT
As you probably already know, to keep foods low histamine, it's important to use the freshest meat. Here are some related tips that may be helpful:
For low histamine, avoid beef, because it's almost always aged after slaughter. In which case: choose pork or lamb stew meat (or goat!, if you can access it). If you're not low histamine, you can use beef in this recipe.
Lamb can be a good choice because it's high in selenium, which inhibits histamine release.
Be sure to buy and use the freshest meat that was frozen directly after being butchered.
Buy stew meat that's been cubed for you. This allows you to use it without completely defrosting. OR, you may also buy a single piece of meat, such as a butt, cut leg or shoulder, if it will fit the dimensions of your pressure cooker.
Defrost the meat only long enough to remove it from the packaging, then place the semi-frozen piece(s) directly into your Instant Pot.
If you need to more fully thaw your meat, to cut in half a roast, for example, be sure to use a cold water soak. This method of partially defrosting works quickly. (Submerge sealed bag of meat in a bowl of cold tap water for 30 minutes, or a bit longer if needed.) See photo below.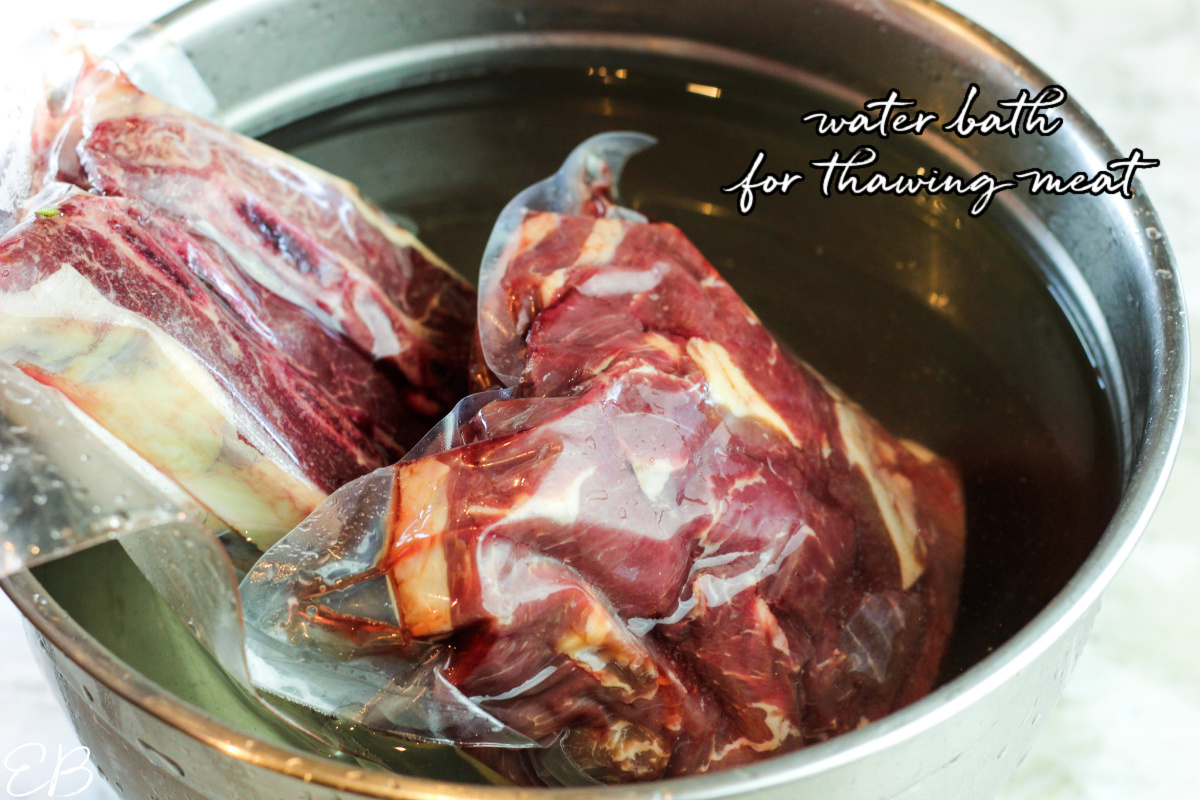 Ingredients in AIP Mexican Stew
The fun challenge with this recipe was: how to create Mexican flavors in an AIP low histamine stew! The result is a remarkably delicious dish that's accented by the citrusy flavor of tamarind.
TAMARIND
My favorite Spanish or Mexican ingredient in this stew is tamarind.
Tamarind tastes sour, sweet, tangy and sharp. It's perfect in many cuisines.
In Mexican cooking, its rich tang contributes a strong citrusy note, plus the depth of tomatoes (without the nightshades or histamines).
As with many recipes that include tamarind, you do not need to buy tamarind pods. Simply use a "clean" paste, with just one to two ingredients: tamarind pulp and sometimes water.
Tamarind paste is easy to use and source. You can order an organic one here, or look at any good grocery store in the Ethnic Foods section.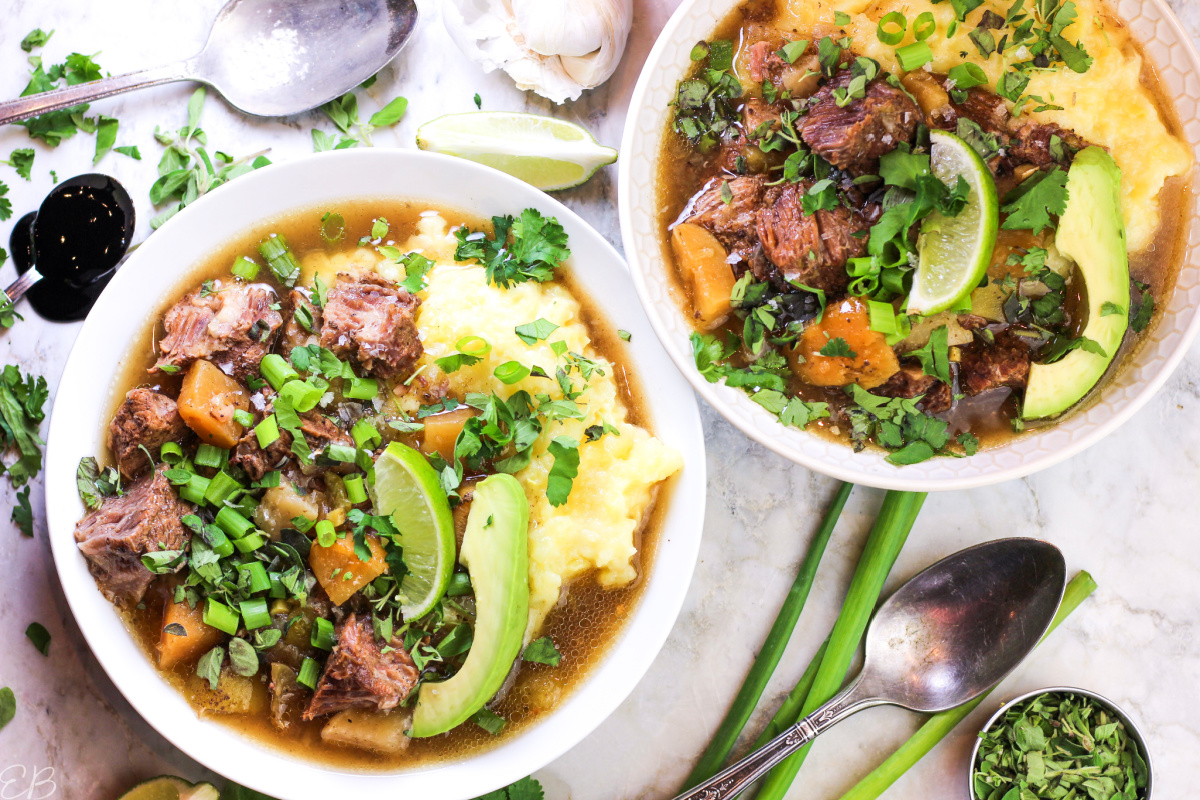 VEGGIES AND HERBS
In addition to tamarind, the other Mexican produce ingredients, that are also low histamine, low oxalate etc. are:
fresh cilantro
optional lime — Lime is a trigger for some people, as it can release histamines found in other foods. Please omit this ingredient if needed.
ginger — I love using fresh ginger in so many recipes! Its spicy notes even work in Mexican cooking, when combined with Mexican herbs like oregano and cilantro. Get the spice similar to pepper, but with anti-inflammatory properties.
oregano
garlic
avocado — For low histamine, limit avocado in general. If you can get away with one slice for your stew, great.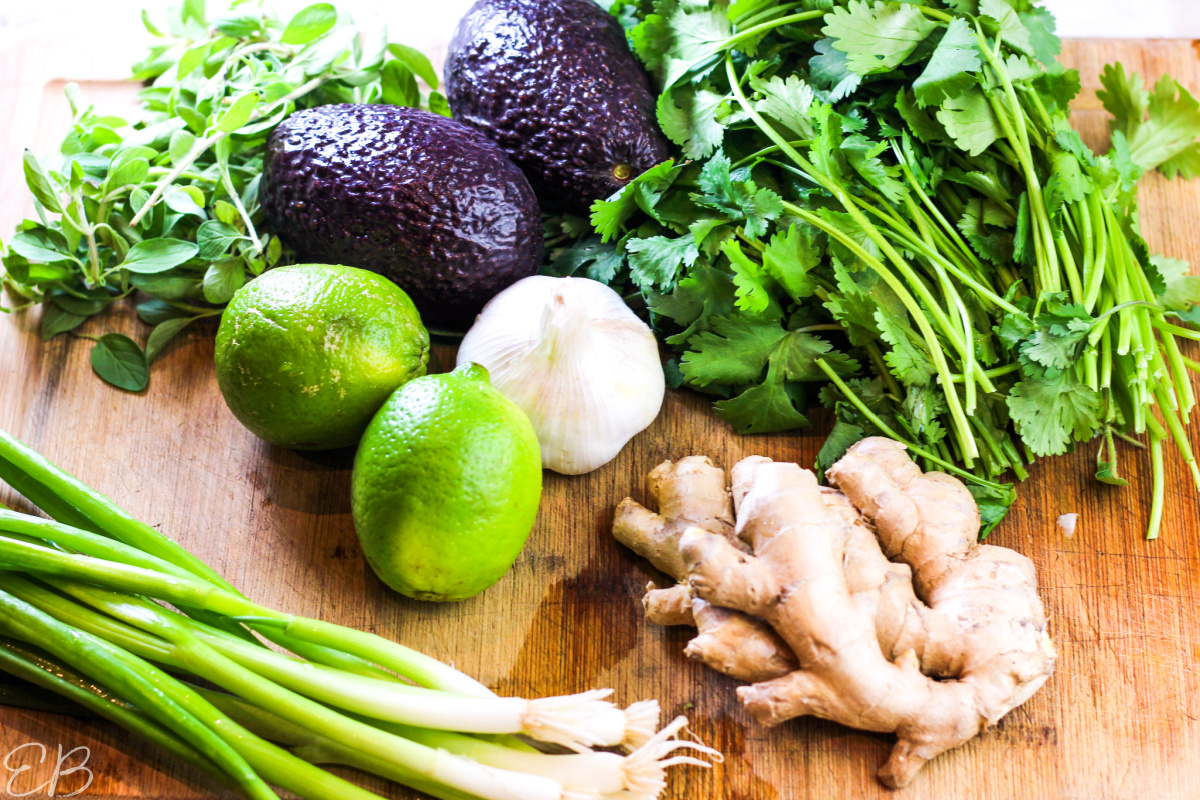 REMAINING INGREDIENTS
Specially chosen for you, the remaining stew ingredients are safe and gentle for your unique diet — that may include: Low Histamine, Low Oxalate, Low Lectin and AIP.
Onions — Have been shown to inhibit histamine release, stabilize mast cells and lower histamine levels. Of course, onions are also ever-present in Mexican cooking and add great flavor and texture to this stew.
Turnips and Rutabaga — These root veggies are perfect in stew. They get quite soft, the turnips just about fall apart and thicken the stew, but in the photos you can see the orange cubes of rutabaga that offer visual and textural interest.
Peeled Zucchini — I started peeling my zucchini a couple of years ago, to reduce lectins, and never looked back. You can even de-seed yours to further reduce lectins.
Apples — Peeled apples are lovely in stew.
Tapioca flour — To quickly thicken the stew after it's done cooking.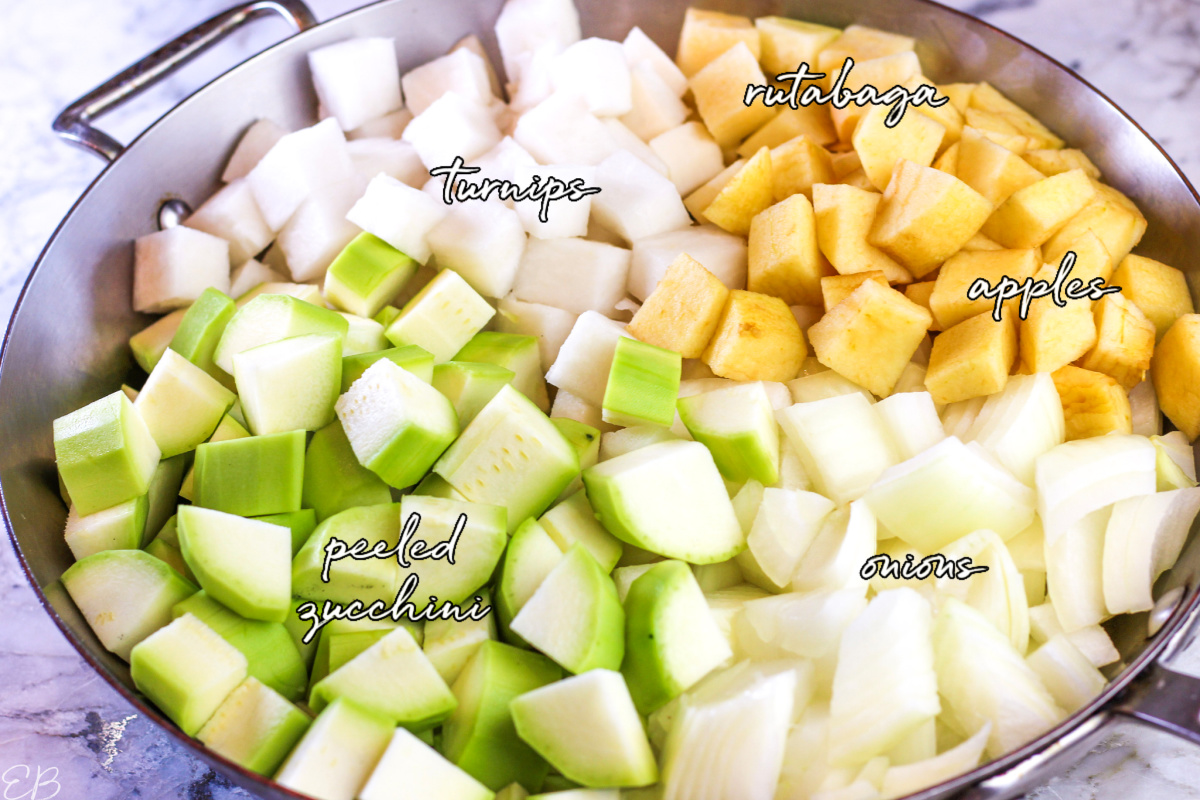 How to store leftovers
For those with histamine issues, store leftovers immediately in the freezer, preferably in single serving containers.
For everyone else, you can also store leftovers in the fridge for up 4 days. Reheat in a saucepan over medium heat, stirring occasionally, until heated through.
Freeze for up to 3 months. To defrost, place in the fridge overnight, or use a water bath to defrost more quickly.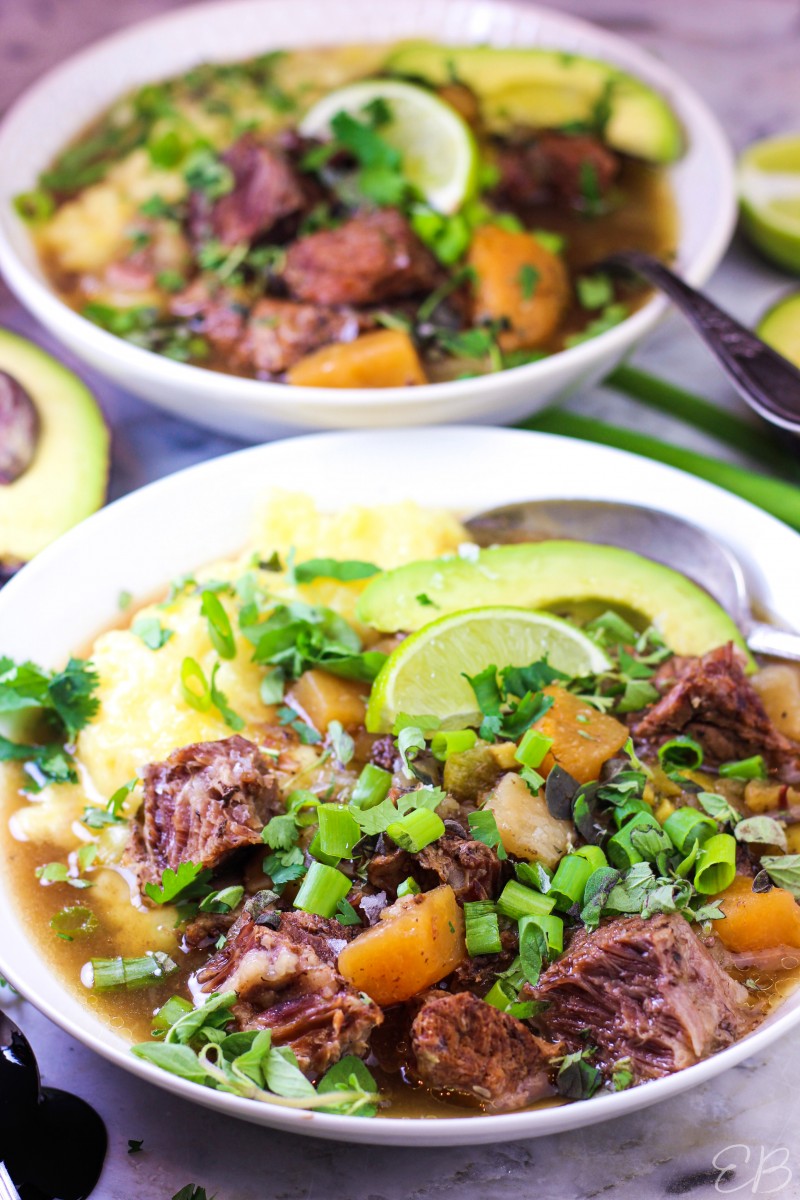 What to serve with AIP Mexican Stew
For me, there's nothing like a mash to serve with stew. Mashes bring home the comfort food qualities of stew and add some carbs and fat.
I love Mashed Cassava the best, so I've added that recipe in the recipe Notes below the recipe, for those of you who can get your hands on cassava (or yucca) roots, either fresh or frozen. (Cassava can affect some with oxalate issues, so avoid as needed.)
For cauliflower, make my favorite Herb Roasted Cauliflower (so good!) or cauliflower rice.
For Gluten-free, white Basmati rice or real mashed potatoes are also great.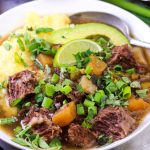 Print Recipe
AIP Mexican Stew (Low Histamine, Oxalate & Lectin, Instant Pot)
AIP Mexican Stew is a "dump and go" recipe, quickly made in the Instant Pot. You'll LOVE this delicious, savory dinner, the exciting flavors and having leftovers for easy dinners ahead. (Find the slow-cooker version of the recipe in the Notes section below the recipe.)
Equipment
Instant Pot or other pressure cooker (6 or 8 quart)
Ingredients
3 to 4

pounds

stew meat

pasture-raised (grass-finished) lamb, pork, goat (or beef if not low histamine or if you know it wasn't aged)

4

cups

water

2

zucchini

peeled (and seeded if lectin sensitivity)

2

small

onions

chopped, or 1 large

1

apple

peeled and cubed

1

turnip

peeled and cubed

1

rutabaga

peeled and cubed

1

cup

cilantro

fresh

¼

cup

ginger

fresh, minced

¼

cup

fresh oregano

minced

¼

cup

tapioca flour (to thicken the stew) +

⅓

cup additional water (omit for GAPS diet)

2

Tablespoons

tamarind paste

(This is an easy to source, wonderful ingredient to keep in your fridge!)

2

Tablespoons

sea salt

5

cloves

garlic

chopped or crushed

Garnishes:

avocado

(optional for low histamine), green onions and more cilantro

1

lime

cut into wedges, optional (not always tolerated in histamine elimination)

Optional

Cassava Mash* or cauliflower purée/rice

(cassava can affect some with oxalate issues) to serve stew on top of; *see recipe Notes below for recipe
Instructions
Into the Instant Pot insert, place: meat, water, tamarind, zucchini, onions, apple, turnip, rutabaga, ginger, garlic and sea salt. (If you have the 6 quart and run out of room, save some of your chopped veggies for another meal.) Seal lid. Make sure the rubber ring is in place and the steam valve is closed. Select "Stew" button. Press the "+" button to increase time to 40 minutes.

Do a QPR or allow pressure to release naturally, whichever you prefer. I like to do a QPR for this recipe, so the broth is still very hot and simmering, which makes it easy to add the tapioca slurry, which thickens the stew.

In small dish, whisk together tapioca flour and

⅓

cup water. Press "Sauté" button to keep your stock simmering (or bring it back to a simmer). Add freshly stirred tapioca slurry, stirring the stew as you do. Brothy base will thicken slightly. Immediately press "Cancel" button to stop the stew simmering further.

Stir in fresh chopped oregano.

Stir stew well. Serve on top of optional mashed cassava or cauliflower. Top with chopped green onions, fresh cilantro, optional lime slices and optional avocado.
Notes
Slow-Cooker (or Crock Pot) Instructions
This method is not recommended for low histamine, as the quick cooking of the pressure cooker is ideal.
To make AIP Mexican Stew in your slow-cooker, follow the same instructions as outlined above in the main recipe (Step 1), adding all of the main ingredients to the pot (not the toppings).
Cover, and cook on Low setting for 8 to 12 hours.
To follow Step 3 above and thicken the stew, increase heat to High if needed, to bring the stew to a simmer before adding and whisking in the slurry of tapioca flour.
Mashed Cassava (Yucca) Root — optional side dish
2 to 3 pounds cassava root (fresh with wax coating* or peeled and frozen)
1 to 2 cups fresh meat stock (or bone broth)

¼

cup extra virgin olive oil or extra virgin coconut oil
1-

½

teaspoons sea salt
2 cloves garlic, crushed
*Cassava has 2 layers to peel away: the outer brown skin which is coated in wax, and an interior layer that is very fibrous.
Instructions
Place cassava into a large saucepan, along with 1 teaspoon sea salt. Add enough water to cover by about 1 inch. Heat over high heat until the water boils. Reduce the heat to medium high and continue to boil until the cassava is soft and you can easily mash the flesh with the tines of a fork, about 25 minutes after the water begins to boil. 
Drain most of the liquid and return the cassava to the pot. Or, transfer cassava to the bowl of a stand mixer. 
Using tongs or two forks, remove the stringy center pieces.
Add meat stock, garlic, oil and remaining sea salt.
Using a hand mixer or the paddle attachment of stand mixer, beat on lowest speed to avoid spattering stock. Increase speed and beat until the consistency is smooth and fluffy in texture. Add additional salt to taste. Keep warm over lowest heat until you're ready to serve.
Nutrition
Calories:
318
kcal
|
Carbohydrates:
20
g
|
Protein:
40
g
|
Fat:
9
g
|
Saturated Fat:
3
g
|
Cholesterol:
105
mg
|
Sodium:
115
mg
|
Potassium:
970
mg
|
Fiber:
3
g
|
Sugar:
9
g
|
Vitamin A:
252
IU
|
Vitamin C:
27
mg
|
Calcium:
82
mg
|
Iron:
4
mg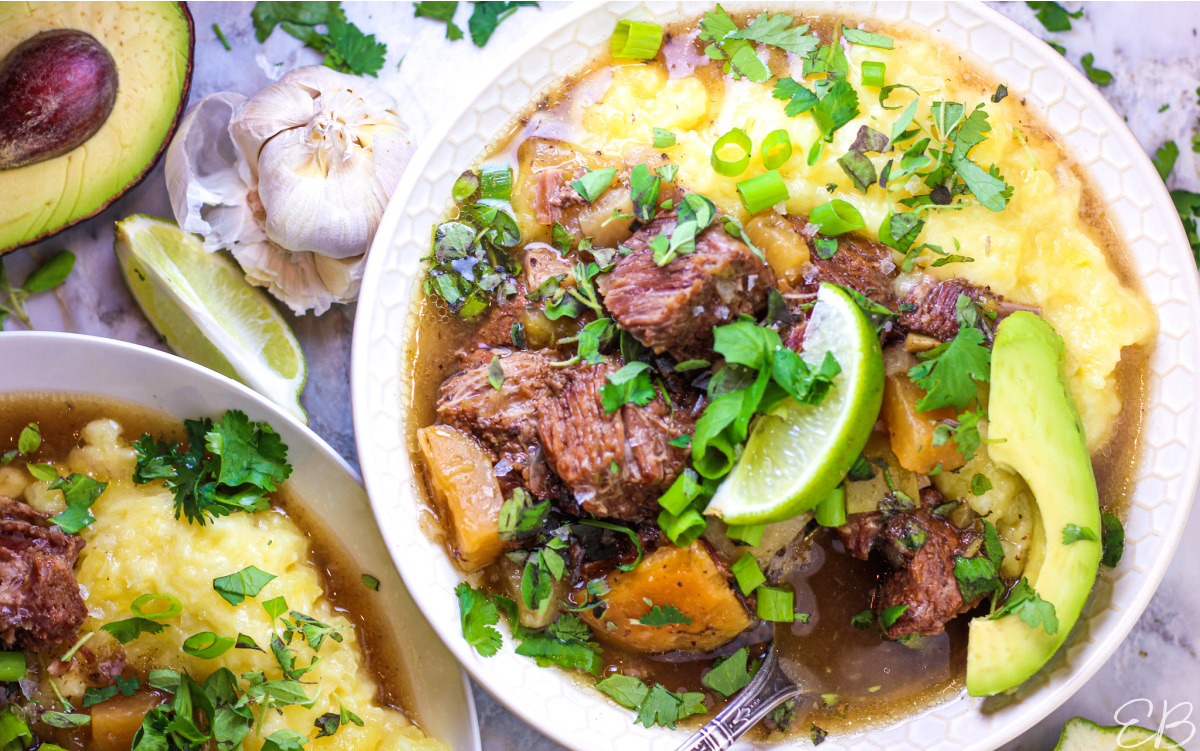 If you like this recipe, you'll also love:
For further reading, here are my reflections on MCAS, Histamine & Lectin Intolerance Recovery Tips — Diet, Methods and Supplements.