I may receive a commission if you purchase through links in this post. I am not a doctor; please consult your practitioner before changing your supplement or healthcare regimen.
This grain-free Enchilada Casserole recipe is for the Instant Pot or the Crock Pot. The assembly can also easily be adapted for a casserole baked in the oven. Originally a slow cooker and oven recipe, but now adapted!, my family can't help saying that the new Instant Pot version is, "So good!". You'll love serving this special comfort food to family and friends, even and especially those who are Primal, Keto and Gluten-free!
The Components
Each of the components that go into making this recipe is excellent in its own right. The Cheese Filling is super indulgent and crazy good. The Enchilada Sauce can be used for impromptu Huevos Rancheros or to make any Mexican dish special; (it's made with bone broth! and lasts well in the fridge for a week). The Paleo and Keto Tortillas, as I explain below, are grain-free, versatile and can be used as a side with different dishes. (Or, you can use store bought corn tortillas if you're Gluten-free and not restricted.)
Who doesn't love coming home to something piping hot, creamy and delicious after working all day? With just a little forethought, to make the components, you can have a savory, indulgent Mexican feast (made from whole foods) waiting for you! Even the Instant Pot can be turned on ahead of time: It'll keep your cozy dinner warm until you get home.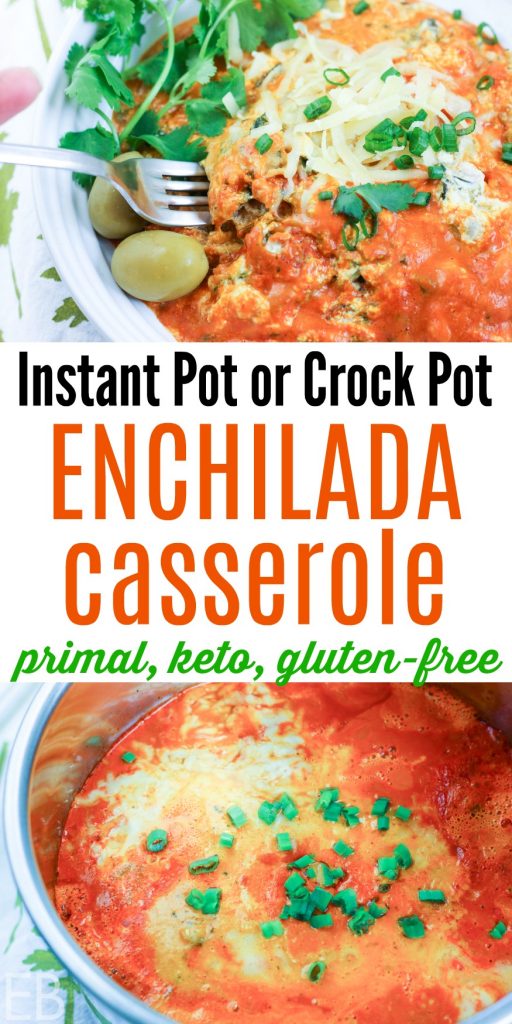 Enchilada Casserole … Layer It!
Whether cooking in the Slow Cooker or the Pressure Cooker, you're just going to layer the ingredients, the same way you do with a lasagna or an enchilada casserole — even though Crock Pots and Instant Pots aren't usually used for casseroles. This recipe creates a casserole that's saucy, cheesy and SO delicious. I recommend serving the goodness with a big spoon! But the dish can then be eaten with a fork. Gooey comfort food.
The photo below shows the casserole layered in the Instant Pot and ready to be cooked.
Casserole in Crock Pot or Instant Pot?
Yeah, I know, this isn't commonly done. But the outcome is great! Usually if something like enchiladas or a lasagna are made in a slow cooker or pressure cooker you have one of two things: a soup version of the casserole recipe OR, in the Instant Pot, usually a second dish sits on top of the trivet over water (this is the Pot in Pot method [or PIP]). That's because water is required to create steam (which creates pressure) and prevent scorching.
But my saucy Enchilada Casserole has the most delicious homemade (and super easy to whip up!) Enchilada Sauce that creates the perfect texture (and steam!) for the Instant Pot or Crock Pot and achieves success! Also, I didn't/don't want to use a smaller pot because I want to make a large portion! 😉
The Recipe

Get ready for delicious Mexican comfort food! I hope you enjoy this as much as we do! (Oven version is down below the other recipes!)
Crock Pot or Instant Pot Enchilada Casserole
This recipe can be made with or without chicken. It is full of spinach, cheese, winter squash (or cauliflower for Keto) and green chilies; so it's rich and abundant if a meat-free entree is preferred/easier some night. The tortillas are high-protein, made from grass-fed eggs and chia seeds (or you can use other tortillas of choice).
Ingredients
4

cups

shredded chicken

organic or pasture-raised preferred

1

bag

frozen spinach

10 ounces

4

ounces

cheddar cheese

aged, grated

1

recipe

Grain-free Tortillas

see recipe below (or store bought tortillas)

1

recipe

Cheese Enchilada Filling

see recipe below

1

recipe

Enchilada Sauce

see recipe below
Instructions
Ladle 1 cup enchilada sauce into large slow cooker, or Instant Pot. Layer 2-1/2-3 tortillas over the sauce, tearing the last one to two tortillas so the pieces cover all the sauce and fit the shape of the cooking dish.

Top with 1/3 of frozen spinach and 1/3 of chicken, sprinkled evenly over the tortillas. Top the spinach and chicken with 1/3 of cheese filling, spreading it evenly. (It will be a generous amount.)

Ladle 1 cup enchilada sauce over the cheese filling and top again with 3 tortillas.

Continue this assembly until all ingredients have been used, finishing with final layer of enchilada sauce.

Top all with shredded cheddar cheese.

If using Crock Pot, place dish into base and set timer for 3.5 hours, on low heat. (Note: Pressure cookers vary in how hot they run; so cooking times will vary.)
If using Instant Pot, make sure rubber ring is in place. Seal lid and shut steam valve. Set "Manual" button to 55 minutes. When timer goes off, do a Natural Release of pressure for 30 minutes; then press "Cancel" button and do a Quick Release. It will be saucy, but use a butter knife to cut down and through tortillas (cut in sections like cutting a pie). I then use a ladle in one hand and large serving spoon in the other so I scoop big saucy sections onto each plate or into broad bowls.


Also serve Crock Pot version of finished casserole with broad serving spoon for scooping up the sauciness. Garnish each with desired condiments: grated cheese, fresh cilantro, sliced olives, shredded lettuce, pico de gallo salsa and/or sour cream.
Nutrition Facts
Crock Pot or Instant Pot Enchilada Casserole
Amount Per Serving
Calories 321
Calories from Fat 180
% Daily Value*
Total Fat 20g 31%
Cholesterol 104mg 35%
Sodium 175mg 7%
Potassium 263mg 8%
Total Carbohydrates 9g 3%
Protein 31g 62%
* Percent Daily Values are based on a 2000 calorie diet.
The Filling
Cheese Enchilada Filling
This filling can be made a day ahead and kept covered in the fridge until ready to assemble casserole. It will require more spreading, and be less runny, if made ahead and chilled.
Ingredients
3

cups

sour cream

cultured organic: such as Nancy's brand

12

ounces

cream cheese

cultured: such as Nancy's brand, room temperature

1

cup

heavy cream

4

ounces

cheddar cheese

aged, grated

2

bell peppers

(or poblanas if you like it spicy), diced and sauteed with 1 T. fat and 1/4 tsp sea salt, or 2 cans green chilies, diced

1

bunch

green onions

diced (reserve whites for lower carbs or if FODMAP issues)

1

tsp.

oregano

dried

1

tsp.

cumin

1

tsp.

sea salt
Instructions
Mix all the ingredients together in a large mixing bowl.

Set aside until ready to use in Enchilada recipe.
Nutrition Facts
Cheese Enchilada Filling
Amount Per Serving
Calories 388
Calories from Fat 342
% Daily Value*
Total Fat 38g 58%
Cholesterol 117mg 39%
Sodium 437mg 18%
Potassium 245mg 7%
Total Carbohydrates 4g 1%
Protein 7g 14%
* Percent Daily Values are based on a 2000 calorie diet.
The Sauce
Enchilada Sauce
This sauce is medium spicy. Used in moderation it is well-liked by our kids. The ancho chile gives the sauce a smoky, authentic flavor. Keep the seeds in the sauce if you want it spicier.
Ingredients
2

cups

bone broth

hot

2

cups

canned pumpkin

or leftover cooked winter squash; or use cooked pureed cauliflower for Keto/Low Carb

1

whole

dried ancho chile

seeds dumped out and stem discarded

2

Tablespoon

butter

or fat of choice: lard, duck fat, tallow, or coconut oil

1

teaspoon

sea salt
Instructions
In a small-medium size bowl or saucepan, pour hot bone broth over the dried chile. Cover and allow chile to soften for 20-30 minutes.

Place the chile, bone broth and all remaining ingredients in a blender. Puree on medium-high speed for 50 seconds, until puree is smooth.

The sauce is now ready to use in any recipe or can be stored in the refrigerator for up to one week.
Nutrition Facts
Enchilada Sauce
Amount Per Serving
Calories 54
Calories from Fat 27
% Daily Value*
Total Fat 3g 5%
Cholesterol 7mg 2%
Sodium 341mg 14%
Potassium 126mg 4%
Total Carbohydrates 4g 1%
Protein 2g 4%
* Percent Daily Values are based on a 2000 calorie diet.
The Grain-free Tortillas (or use store bought)
Grain-free Tortillas
The process of cooking up these tortillas is a lot like making crepes. The first crepe functions to season the pan. It will slide around more in the pan and absorb the only fat used to season, creating a non-stick surface for all remaining tortillas. I like to think of the first tortilla as the ugly one that the cook gets to nibble on while she makes the meal.
Instructions
Place all ingredients in a high-powered blender.

Puree on medium-high speed for about 50 seconds.

The batter will be thick and continue to thicken as it sits. Allow it to set up for 10 minutes.

Heat 1 T. fat of choice in a skillet over medium-high heat.

Pour in 2 ounces of batter and use an offset spatula to spread the batter out into a thin circle. This first tortilla will likely slide around a bit. Turn the heat down to medium.

Allow tortilla to cook on its first side for 2 minutes. Flip it and cook on the second side briefly, about 20 seconds.

Remove the first tortilla to a plate and turn the heat to low under the pan. (This first tortilla is for the cook to snack on. It will be thicker and not as desirable. It is used as a tool to season the pan.)

Pour the second 2 ounces of batter into pan and shape as with the first. This time, and for all remaining tortillas, the batter will behave perfectly, allowing you to fan it into a 6" or 7" circle. The pan, with this treatment, will behave in a non-stick fashion. Do not add any more fat to the pan.

Continue frying the tortillas in this manner until all the batter is used.
Nutrition Facts
Grain-free Tortillas
Amount Per Serving
Calories 44
Calories from Fat 27
% Daily Value*
Total Fat 3g 5%
Cholesterol 2mg 1%
Sodium 52mg 2%
Potassium 49mg 1%
Total Carbohydrates 2g 1%
Protein 1g 2%
* Percent Daily Values are based on a 2000 calorie diet.
The two photos below are old ones 😉 of the Crock Pot version of the recipe, so you can see that version too!
TRADITIONALLY PREPARED SIDES & TOPPINGS
If you're not grain and legume-free and enjoy beans and rice with Mexican food, here's how to make traditionally prepared beans, to optimize digestion and nutrition. For soaked rice, prepared according to traditional wisdom, here's how.
For fermented pico de gallo salsa, <—here's a great one.
Otherwise, here's how to make delicious Spanish Cauliflower Rice that's both Paleo and — use green onions in place of the white onions for Keto.
OVEN VARIATION
To bake this casserole in the oven, simply use a large cast iron skillet or casserole dish, 9″ by 13″, or similar. Assemble the layers, as per the main recipe instructions, in greased casserole dish. Preheat the oven to 350 degrees Fahrenheit, and bake until the center of the casserole is piping hot and the melted cheese in the middle of the casserole is bubbling and just browned, about 1 hour 15 minutes.
Have you ever made a casserole in a slow-cooker or pressure cooker?
Looking for similar recipes? Here are a few: