I may receive a commission if you purchase through links in this post. I am not a doctor; please consult your practitioner before changing your supplement or healthcare regimen.
Pineapple Creamsicles are a LOVELY real food treat year round and extra fun when the weather is hot. This 4-ingredient recipe tastes like the nostalgic orange creamsicles many of us grew up with, but more natural and more delicious!
This recipe is Primal, Ancestral, GAPS and for anyone who enjoys making easy foods homemade, instead of buying processed foods with additives. A super fast, easy and fun recipe that tastes amazing!
Jump to Recipe
4 ingredients in Pineapple Creamsicles
This recipe uses:
pineapple juice — I like to buy organic and not from concentrate pineapple juice (like this, but it costs less to get it at the store). If you're a real go-getter, you could also juice pineapple to make your own fresh (but don't use pineapple purée; it doesn't work well in this recipe).

sour cream — I played around with this recipe a lot, and no other ingredient works as perfectly in this role as sour cream! It tastes amazing, helps the ingredients to mix together smoothly, without settling, and it even gives probiotics to this frozen treat. I do not recommend subbing it for other ingredients like milk or cream.

pure maple syrup — Also honey is okay for GAPS.
real vanilla extract — The classic creamsicle flavor comes in part from vanilla. So if you have it, it's fun to include in the recipe. The small amount of alcohol in real vanilla extract also gives the right mouthfeel and melting point to this recipe.
How to make Pineapple Creamsicles
Start with buying good quality pineapple juice and sour cream, and the rest is very fast!
To make Popsicles:
In a mixing bowl, preferably with a pour spout, whisk together all ingredients until smooth and well combined.
Get molds ready, and pour in filling.
Freeze for 6 hours or overnight, and enjoy!
Pineapple Creamsicles as electrolyte popsicles
If you'd like to be intentional, Pineapple Creamsicles can be a great source of rehydrating electrolytes!
If you're sweating due to heat or exercise, restore the body's natural sugars with fruit, natural sweetener and a little sea salt — to feel energized again.
Love this idea? Add 1/8th teaspoon of potassium chloride to the recipe (here's a good one) as well for more mineral goodness.
When we were traveling recently in the Middle East, it was very hot, and we walked miles in the sun each day. Nothing refreshed us like a sweet creamy treat. By adding minerals to our homemade version, we truly restore the body's lost electrolytes.
Which popsicle molds are best
I like the molds made by Tovolo (here). They have a new stackable product made of silicone that is very easy to unmold, with several shapes and sizes.
These are theirs, that you see in the photos, which are fun for the nostalgic shape. We love them, but you do have to run them under hot water for a while to unmold them.
If you prefer metal, these are good stainless steel popsicle molds.
Print Recipe
Pineapple Creamsicles (refined sugar-free)
Pineapple Creamsicles are the real food version of a classic orange treat so many of us remember from our childhoods. I love this pineapple version, refined sugar-free, with probiotics and great for Ancestral, Primal, GAPS and other real food diets. Creamy, sweet and delicious, perfect for warm weather and a tropical vibe. A super easy, fast and fun recipe!
Servings:
4
to 8 popsicles
Instructions
Whisk together all ingredients in 4-cup Pyrex (or mixing bowl, ideally with a pour spout) until fully smooth and well mixed.

Divide mixture between 6 to 8 popsicle molds. Add sticks. (The photos here show a half batch of the recipe.)

Freeze until solid, 6 hours minimum or overnight. Depending on the kind of molds you have, run popsicle mold under hot water, then gently pull, to release popsicle from mold. Enjoy!
Nutrition
Calories:
137
kcal
|
Carbohydrates:
22
g
|
Protein:
1
g
|
Fat:
6
g
|
Saturated Fat:
5
g
|
Polyunsaturated Fat:
0.1
g
|
Monounsaturated Fat:
0.3
g
|
Sodium:
61
mg
|
Potassium:
184
mg
|
Fiber:
1
g
|
Sugar:
17
g
|
Vitamin A:
48
IU
|
Vitamin C:
40
mg
|
Calcium:
27
mg
|
Iron:
1
mg
You can Pin this recipe here: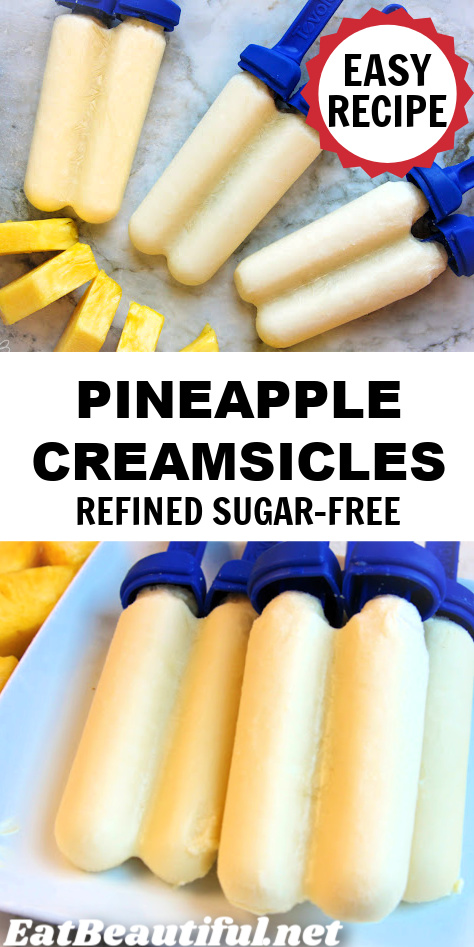 More Paleo summer dessert recipes