I may receive a commission if you purchase through links in this post. I am not a doctor; please consult your practitioner before changing your supplement or healthcare regimen.
Paleo Blueberry-Banana Muffins combine the moistness of bananas with the plump juiciness of blueberries — either fresh or frozen. The texture of this muffin recipe is just perfect, thanks to cassava flour, rich in prebiotics. I never over-sweeten my muffins, because I want them to be truly healthy. So these jewels aren't too sweet to be a part of any meal: breakfast, lunch, snack, or alongside soup or salad for dinner. Paleo Blueberry-Banana Muffins take just 10 minutes to mix up, they're high in protein, and they're nut and dairy-free.
A better home for bananas … 😉
Making these muffins, I was reminded of the retirement homes where elderly folks live symbiotically with younger people, so both groups derive a benefit. Instead of the more popular convalescent homes where the aging often pass their days neglected, lonely and/or depressed, the elderly residents in nursing homes-meet-dorms enjoy the companionship of another group that also needs assistance (often financial). Here's one in the Netherlands, and here's one in Ohio. Each group experiences greater fulfillment and happiness!
My mind apparently correlated these Blueberry-Banana Muffins where old bananas that were once neglected found a better calling in life. (LOL)
I needed a better home for my aged bananas. Many spotted bananas dwell in my kitchen each summer, when they ripen quickly due to the heat. Muffin-based living with recently picked blueberries and fresh ingredients gives them new life and glory!
My boys like to eat their bananas GREEN, when they're full of prebiotic goodness, and they're sticky, starchy. The moment brown spots start appearing I better have a plan, because I'm way too frugal to compost brown bananas. We freeze them for smoothies, dehydrate them, or now — we make these muffins! The perfect companionship is created: a whole new home for both fruits!
My mind functions best in a world of metaphors and associations, apparently. So there you have it: The black banana takes off its old, unappealing housing and exchanges it for the beauty of a freshly baked, golden, blueberry muffin. A better home.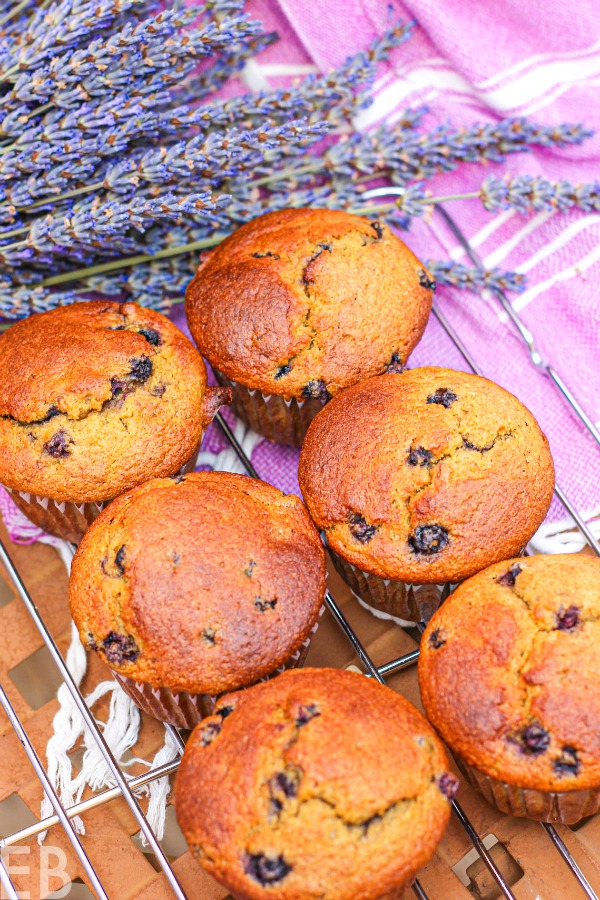 Resistant starch in Paleo Blueberry-Banana Muffins
The special flour in these muffins is cassava. I love cassava SO much because it not only creates a tender (like white flour) crumb, cassava is also a complex carb and rich in a kind of prebiotic (food for probiotics) called resistant starch (in this case RS3). Resistant starch is a starch found in certain produce items (in this case the cassava root) that resists digestion, instead benefiting the microbiome of the colon. (Find cassava flour with free shipping here.) Long story short, cassava flour is a Paleo flour that is ideal for digestive health and is also delicious!
You can find many recipes on my blog that contain Otto's Cassava Flour and other forms of resistant starch. Some reader favorites include: Moist Zucchini Cake, Cinnamon Cupcakes, Sourdough Waffles and Smashed Potatoes.
Protein, fat and complex carbs in Paleo Blueberry-Banana Muffins
Blueberry-Banana Muffins are also higher in protein and lower is sweetener than most muffins. I believe that supporting healthy blood sugar levels and getting the right macronutrients is a key to happiness and wellness! Healthy blood sugar levels means eating lots of healthy fats and protein, and eating simple carbs not at all or in smaller quantities, after or with protein and fat.
Getting the right macronutrients in our diet means eating plenty of protein, fat and complex carbs. While the simple carbs found in sugar, even unrefined sugars, yield immediate energy, they also cause a spike in insulin production. What our bodies need is the sustained energy that complex carbs, like those found in cassava flour, provide.
So, just a bit of sweetener in these muffins, plus lots of natural sweetener coming from the bananas and blueberries. But you can see from the photos, the texture of the tops and middles is just perfect!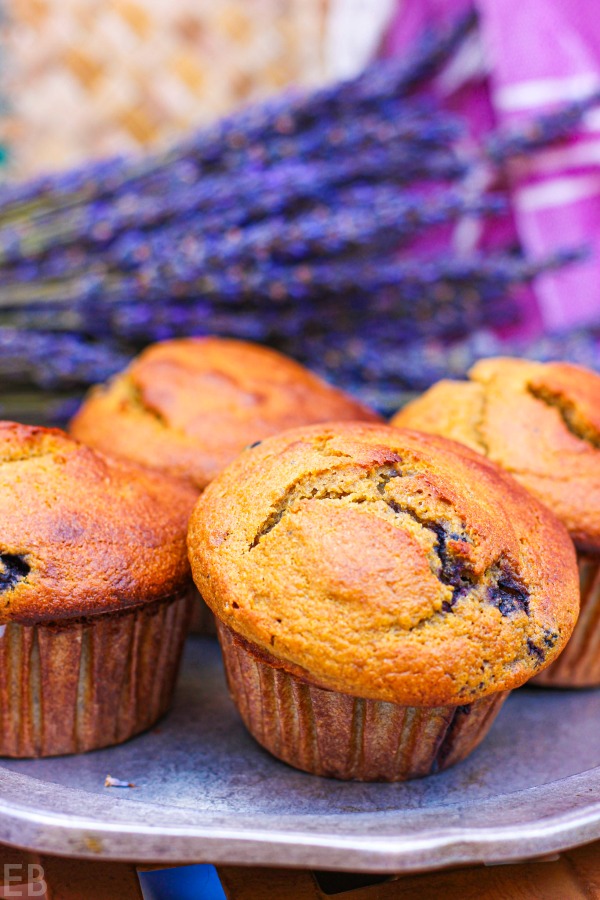 Speaking of textures, for a protein boost, I fortify these muffins with collagen (which is also great for the texture of the muffins!). I choose this collagen because they test for pesticide residue. Not only is the collagen grass-fed, the grass itself is being grown sustainably. Healthy grass-finished cows mean nutrient-dense collagen for us! The amino acids in collagen help our bodies to repair themselves, which includes gut healing. (Find the best collagen HERE. Enter code BEAUTIFUL10 at check out to get 10% off your entire order.)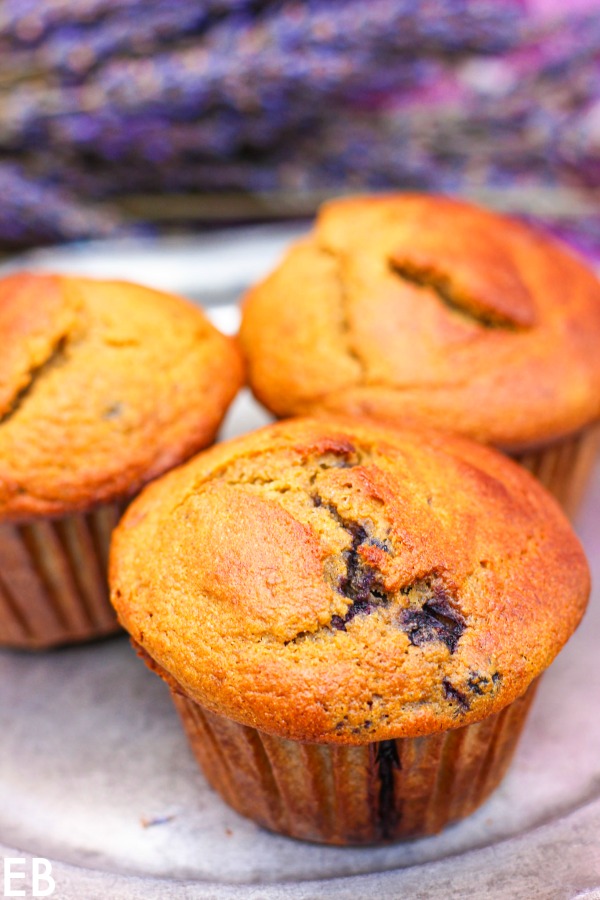 Paleo Blueberry-Banana Muffins (with protein & resistant starch!)
These muffins can be made any size: regular, jumbo or anywhere in between (or mini, of course). I like jumbo muffins the best, personally. But if you like having more muffins, for smaller portions, perhaps alongside a larger meal or for packing in lunches, you can make 12 muffins with this recipe. I made 10 when I photographed the muffins: I made 6 regular size and 4 slightly bigger. I give the baking times accordingly, below.
Print Recipe
Paleo Blueberry-Banana Muffins (with protein & resistant starch!)
Paleo Blueberry-Banana Muffins are gluten-free, nut-free and dairy-free. Mix up these muffins in 10 minutes, and enjoy a healthy treat and a great way to use up old bananas and fresh or frozen blueberries. Paleo Blueberry Muffins are also high in protein and resistant starch.
Servings:
6
large or 12 regular size muffins
Equipment
muffin pan

blender (optional)
Ingredients
3

bananas

black or spotted

1

cup

cassava flour

Otto's brand preferred and recommended; see link in Recipe Notes

¾

cup

blueberries

fresh or frozen

3

eggs

⅓

cup

fat

olive oil, avocado oil or melted lard or coconut oil, cooled

¼

cup

coconut sugar

¼

cup

collagen

see link and discount code below in Recipe Notes

1

Tablespoon

apple cider vinegar

or lemon juice

½

teaspoon

baking soda,

sifted

½

teaspoon

cinnamon

¼

teaspoon

sea salt
Instructions
Preheat oven to 350 degrees Fahrenheit. Line muffin tin (6-12, depending on how large you want your muffins) with liners. Set aside.

Place wet ingredients and sugar (not including the blueberries) in blender and puree until smooth: bananas, eggs, fat, coconut sugar and apple cider vinegar.

In small/medium bowl, combine dry ingredients: cassava flour, collagen, baking soda, cinnamon and sea salt.

Pour dry ingredients into blender and pulse briefly to mostly combine.

Add blueberries and stir in while also completing the combining of batter ingredients. Do not over-mix.

Pour equal portions of batter into muffin cups.

Bake in preheated oven until very golden brown on the top and toothpick inserted in center comes out clean or with dry crumbs adhering, 20-25 minutes, depending on muffin size.
Notes
Nutrition
Calories:
329
kcal
|
Carbohydrates:
39
g
|
Protein:
13
g
|
Fat:
14
g
|
Saturated Fat:
5
g
|
Cholesterol:
89
mg
|
Sodium:
265
mg
|
Potassium:
264
mg
|
Fiber:
2
g
|
Sugar:
14
g
|
Vitamin A:
165
IU
|
Vitamin C:
7.9
mg
|
Calcium:
45
mg
|
Iron:
1.7
mg
This time of year, our home is brimming with blueberries and brown bananas!
Need other ways to use blueberries and bananas? Here are a few of my other favorite nut-free (and egg-free) recipes: