I may receive a commission if you purchase through links in this post. I am not a doctor; please consult your practitioner before changing your supplement or healthcare regimen.
This Low-FODMAP Tropical Berry Smoothie provides the best healthy treat without the bloating or GI distress. Because so many of us have a variety of food sensitivities, this recipe has a few variations, to make sure it works for you. So choose the ingredients that are gentlest and best for your body.
My goal was to make you an awesome Low-FODMAP Tropical Berry Smoothie recipe!
This recipe is great for most diets, including Paleo, AIP, GAPS, Vegan, refined sugar-free and real food healthy diets! 🙂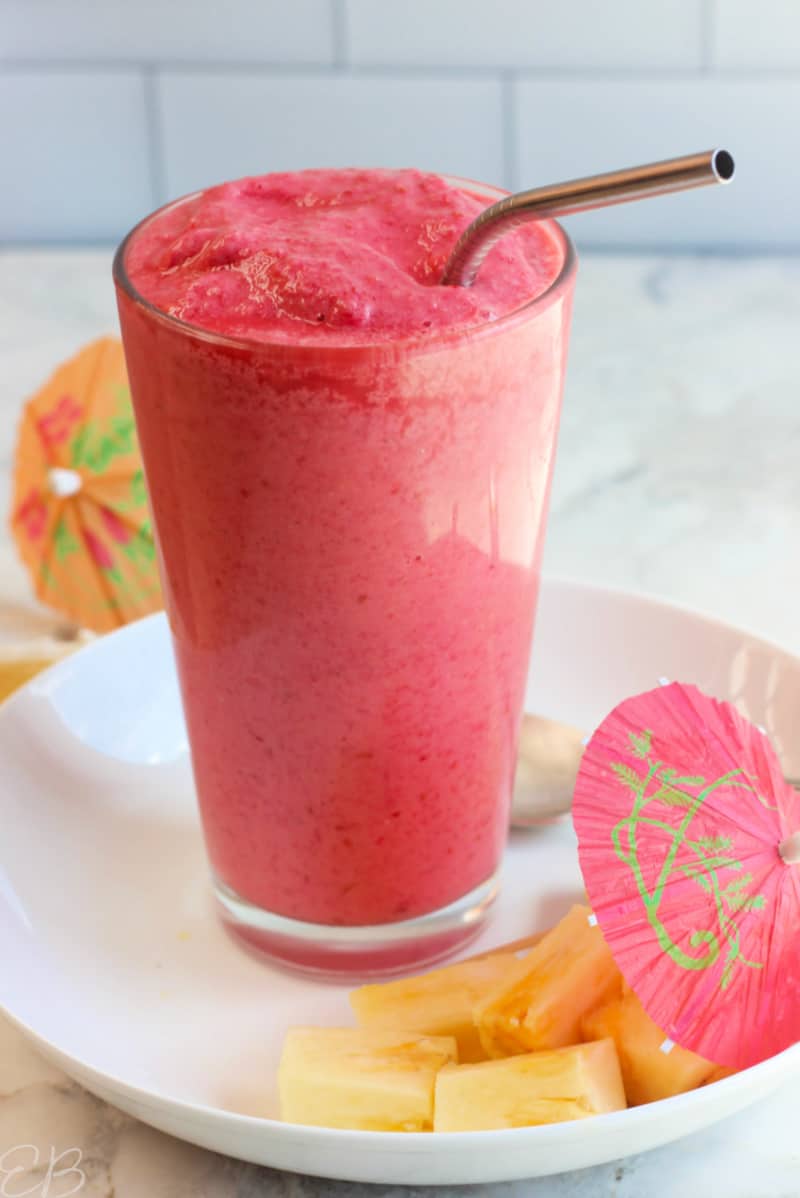 Jump to Recipe
Benefits of the Low-FODMAP Smoothie
The Low-FODMAP diet removes certain foods that cause bloating from the diet, allowing gut healing to happen — before the same foods are reintroduced one by one. (Bloating happens because certain foods ferment in the gut.)
So — this smoothie contains none of those inflammatory foods.
Instead, enjoy a sweet treat and gentle digestion.
You can learn more about Low-FODMAP eating and acquire helpful resources, as appropriate to your needs here:
Ingredients in Low-FODMAP Tropical Berry Smoothie
The combination of pineapple (OR melon if it's better for your body), lemon and ginger sets this recipe apart from all others. These flavors are super captivating and satisfying. Then, depending on your preference or dietary needs, you'll also use frozen berries — either strawberries or raspberries.
Here's the full list of ingredients:
frozen pineapple — OR melon if preferred/sensitive to pineapple
milk of choice (coconut or tiger nut are good choices for AIP); OR, you may use water if you can't have either; Homemade Macadamia Nut Milk is a great choice for Paleo, GAPS and Vegan; organic rice milk is okay for non-Paleo; see the Notes section below the main recipe for all milk options.
frozen berries — strawberries or raspberries: Take note that raspberries do have noticeable seeds, so not everyone likes them in their smoothies. I find they're fine in this one, but not if you have a strong aversion.

fresh lemon juice
fresh ginger
maple syrup — Or you may omit the sweetener for GAPS; otherwise, it's recommended to heighten the flavors and counterbalance the fresh lemon juice
optional sea salt — heightens flavors and adds electrolytes for rehydration
How to make Low-FODMAP Tropical Smoothie
One step is good to keep in mind before making your smoothie, depending on how you prep or buy your ingredients:
This recipe uses frozen pineapple or melon. Do you want to freeze your own, or buy it already frozen? Personally, I like to freeze my own when fresh is available at the grocery store, because it saves a lot of money. (Little bags of frozen organic pineapple are pricey!) If you plan to freeze your own, plan ahead — so your frozen fruit is ready when you need it.
Allow about 3 hours minimum for freezing small chunks of fruit.
Once all your ingredients are lined up and ready, the How-to for this recipe is just: throw everything in the blender, and purée!
If your smoothie is extra thick, you may also need the tamper that some blenders come with, or a wooden spoon or spatula, to stop, and mix/stir the ingredients once during blending — in case any air pockets form down by the blade.
Which blender is best for thick smoothies
I've used a lot of blenders over the years because we used to own a café with homemade ice cream, smoothies and soups. We worked those machines hard.
The best machine to get the smoothest results is: Blendtec's blender with the WildSide+ Jar.
In second place, still a very good blender is this Vitamix model, but with the tamper.
Print Recipe
Low-FODMAP Tropical Berry Smoothie
Low-FODMAP Tropical Berry Smoothie provides the best healthy treat without the bloating or GI distress. Paleo, AIP, GAPS, Vegan & refined sugar-free.
Ingredients
1-½

cups

pineapple

frozen OR frozen melon if preferred/sensitive to pineapple

1-¼

cups

tiger nut milk

, OR for coconut milk, use

½

cup coconut milk +

¾

cup water OR for non-AIP/Paleo: 1-¼ cups Macadamia Nut Milk; see Notes below for all milk options (Note: Coconut milk is the only milk that needs to be diluted with water, otherwise the flavor is too strong and dominates.)

¾

cup

strawberries

or raspberries

1 to 2

Tablespoons

ginger

fresh root, minced small or grated, choose the amount based on how much you enjoy the fresh ginger flavor

1

Tablespoon

maple syrup

(omit for GAPS)

1

Tablespoon

lemon juice

fresh

2

pinches

sea salt

heightens flavors and add electrolytes for rehydration
Instructions
Put all the solid ingredients in the blender: Pineapple or melon, berries, ginger and sea salt. Add milk, maple syrup and lemon juice.

Blend first on low speed, and then increase to medium-high, for a total of 40 to 50 seconds, until smooth.
Notes
All Low-FODMAP Milk options
Paleo, Vegan & AIP -- Tiger nut milk, coconut milk ... or water may be used.
Paleo, Vegan, GAPS -- Macadamia Nut Milk, homemade, hemp milk, almond milk
Non-Paleo -- Soy milk, rice milk, quinoa milk, lactose-free milk
source
Nutrition
Calories:
190
kcal
|
Carbohydrates:
27
g
|
Protein:
4
g
|
Fat:
9
g
|
Saturated Fat:
0.03
g
|
Polyunsaturated Fat:
0.1
g
|
Monounsaturated Fat:
0.04
g
|
Sodium:
52
mg
|
Potassium:
215
mg
|
Fiber:
3
g
|
Sugar:
18
g
|
Vitamin A:
55
IU
|
Vitamin C:
74
mg
|
Calcium:
28
mg
|
Iron:
0.5
mg
You can Pin Low-FODMAP Tropical Smoothie here:
More Low-FODMAP sweet treats