I may receive a commission if you purchase through links in this post. I am not a doctor; please consult your practitioner before changing your supplement or healthcare regimen.
How as Humans to Use a Reptile Lamp for Vitamin D finally provides an affordable means for more of us to get UVA and UVB light each winter, in the absence of enough sunlight!
While I personally have and love the Sperti Sunlamp, and use it faithfully multiple times each week, not everyone can or wants to afford the investment.
So I was very happy to discover this VERY affordable alternative: Use a reptile lamp instead!
I have several acquaintances who have gone this route; some have done testing for vitamin D levels, and all are happy with the results.
Why humans need light and vitamin D
While we often talk in terms of needing vitamin D, what the body really needs is light! The human body uses light to detox toxins from the skin, and vitamin D is produced in the process.
When we take oral vitamin D, we are simply loading our bloodstream with this hormone that is then ushered to the liver.*
What we really need is light, and then our body knows what to do with it.
What's a reptile lamp
Reptiles need light even more than we do, and they need the same light we do: sunlight, which provides UVA and UVB rays, as well as warmth.
Reptile lamps provide the answer for pet lovers who have their reptiles in aquariums, away from natural sunlight. Reptile lamps are required for the survival of these cold blooded creatures.
But, what an inexpensive solution for some humans, too.
Why we need sunlight
Each winter, billions of humans suffer from lack of sunlight. We just don't detox as well without it.
In recent years, many have been diagnosed with conditions like Seasonal Affective Disorder (SAD), a form of winter depression that sets in from lack of light. While light therapy energy lamps really help, and I used one myself for years, the bigger better solution is a light source that provides UVA and UVB rays.
But billions of humans do not suffer from SAD, and yet our bodies still need light! Whether we feel symptom-free, have low energy, struggle with autoimmune diseases, are moody or depressed, our bodies need sunlight for optimum function.
If we struggle with health issues, we need light even more, to detox and overcome toxic burdens.
What are the best sources of light each winter
Sun lamp
If you can afford it, I first and foremost recommend the Sperti sunlamp, specifically the Fiji Sunlamp (not the vitamin D model), because it most closely simulates the sun's rays. This light, ideally used in a warm room, helps the body to produce vitamin D and detox.
Safe tanning bed use
Another great option is the safe use of tanning beds, which I share how to do (yes, safely), here. One great benefit of this option is the warmth that comes from the devices, as well as the rays.
It could be argued that tanning beds are the best option for vitamin D production, because of the warmth mentioned (that accompanies the UV rays), but because this choice is so controversial, I hesitate to say it's the best option.
And, tanning beds are not as convenient as a tool that can be used at home, unless perhaps your gym offers tanning. (Some gyms now offer tanning beds that have higher UVB rays and red light, included in the price you already pay to work out. But most have tanning beds that are higher in UVA rays than is ideal.)
A 3rd alternative
For many, the Sperti model is too expensive, and tanning beds aren't convenient, or perhaps you can't get over your former conceptions of tanning beds.
So now there's an alternative that's SO inexpensive and very convenient.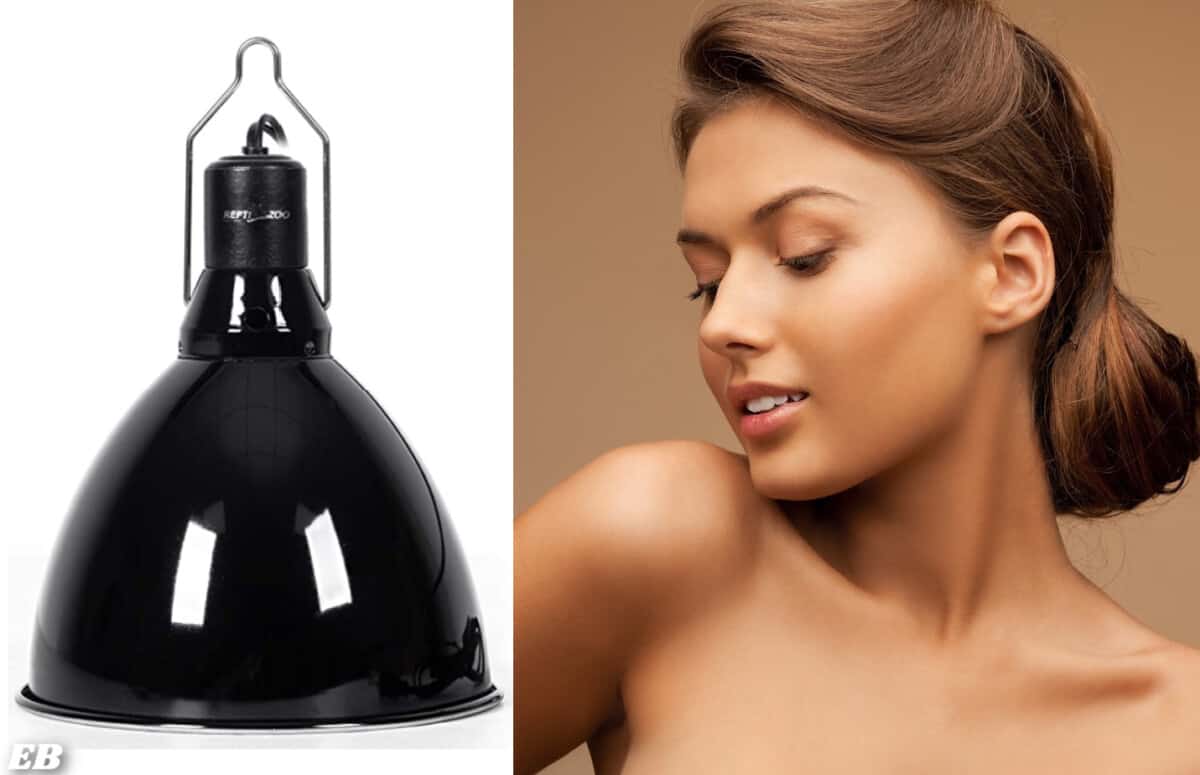 How humans can use a reptile light for vitamin D
Benefit 1: For the cost of the socket and bulb (plus optional lamp stand or clamp), consider purchasing a reptile light, for the cheapest and best solution — about $60.

Benefit 2: In addition to the price benefit, the other advantage to using a reptile lamp is the warmth that comes off of it!
How to use a reptile lamp to tan and/or produce vitamin D
The two advantages mentioned above come with one quirky step; the lamps are small, so here's how to make it work:
Carve out 20 minutes, or less, twice a week, or more often, if preferred. Listen to a podcast or music, whatever you enjoy. Or just sit/lay down and rest, and breathe.
Turn on the lamp for 5 minutes before you lay under/sit in front of it. The lamp does not emit UVB rays immediately.
Position the small lamp so it points at one spot on your torso. Have a naked upper body (or just a bra/bikini top on for women). Have and use protective eye wear, either goggles (like these) or something draped over your eyes.
Start with 1 to 3 minute stints (and work up to 5 to 7 minute stints, if it works well for your body, or stay at 3 minutes in each spot). Set a timer as you begin each time. Relax for those few minutes. When the timer goes off, move the light to the next spot on your torso. Repeat this until you've covered your torso area, so 3 to 4 times total.
That's it, you're done! If you love it and want to go longer, or want greater benefits, do the same thing on your back.
Cons of using a reptile lamp
Using a reptile lamp for vitamin D isn't for everyone. Here are the drawbacks:
It's a little odd and inconvenient to have to move the lamp 3 to 4 times to cover the surface of your torso. (But 4 times and 20 minutes isn't that bad for the serious health benefits and savings!) In fact, even I move the Sperti Sunlamp to multiple locations on my body! It takes longer, but I get more benefit from greater exposure.
Bulbs DO have to be replaced. So the $30 investment will need to be repeated. How often varies with each product, but oftentimes lights last 6 months. So this approach is cheaper even than any tanning bed offer.
You either need to buy a lamp stand (a $21.99 one time purchase) as well, or you need to create a system for where and how to clamp/hang the light. The lamp stand keeps the set up process very quick and easy, and is still quite inexpensive.
Best reptile lamp for humans to use for winter light
When you search for reptile lamps, most provide either light or heat, but not both. What reptiles are ideally provided by their owners, and certainly provided with by good breeders, is also what humans need most: The proper balance of ultraviolet light (including UVA and UVB) and infrared light (heat) in one easy to use lamp.
The best reptile lamp I know of for human production of vitamin D is:
Repti Zoo Reptile Light with Ceramic Socket (find it here) — This lamp makes a great choice because of the ceramic base, making it long lasting and allowing for the production and transfer of heat.

Choose a bulb based on desired wattage ($25-$30). Here's a 100W bulb, here's a 160W bulb, or choose as low as 25W if you want to sit as close as 12″. The closer you position yourself to the bulb, the more UVB rays you get, but you also can't sit too close for safety. This chart for the 160W bulb indicates laying at or over about 30″ underneath.
Important: You will need this lamp stand, or similar, to then lay your body under the light. Or a clamp, if you wish to sit in front of the lamp.
Position yourself about 12″ to 30″ under the lamp, depending on the wattage of bulb you choose.
Start with just 1 to 3 minutes each, on about 3 to 4 spots of your torso, daily, or 2 to 3 times weekly.
Increase the time daily, or more gradually, to 5 minutes, or longer, up to 7 or 8 minutes in each spot, if you wish.
You can Pin How as Humans to Use a Reptile Lamp for Vitamin D here: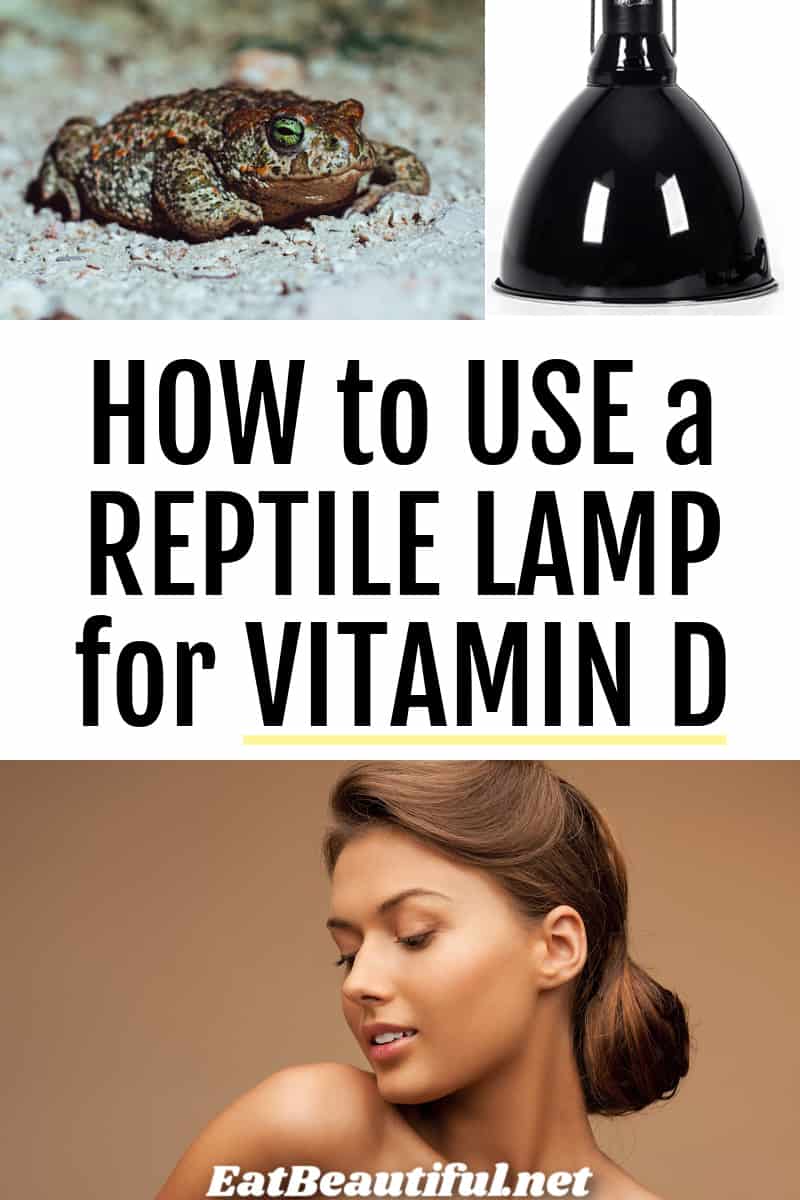 Additional sources: 1, 2
*To learn more about why we should not take oral vitamin D, listen to Jim Stephenson, a vitamin D researcher here. Also, it is noteworthy that many reptiles can not reproduce when given oral vitamin D; they have to have light and warmth. Humans are too fast to create a pill for what nature provides better.
You may also enjoy: