I may receive a commission if you purchase through links in this post. I am not a doctor; please consult your practitioner before changing your supplement or healthcare regimen.
This post shares an Alternative to Flea Medicine for Cats: Colloidal Silver, and shares how I use it. This change started two years ago when my vet suggested I try a new flea medicine, and my cats all ended up sick from it. It turns out, he hadn't had much experience with it himself, but it was a new product, so he recommended it. One of my cats disappeared for days after the dose, with digestive problems after he returned, and another was very sick for weeks, with throwing up and compromised digestion.
Of course, I spent hundreds of dollars on that appointment and the medicine.
The following summer, I thought about what causes fleas in house cats, and that's what led to my discovery that colloidal silver is a better choice for our family.
In this article, I share how much colloidal silver I add to cats' drinking water for flea prevention.
Is it safe for cats to take colloidal silver
Yes, in fact, holistic vets use colloidal silver for various symptoms: wounds, abscesses, sore throats, colds and flu, cystitis, diarrhea, eye and ear infections, removing plaque on teeth, boosting immunity, skin infections and breakouts, reducing ulcers and some types of tumors, hot spots, feline herpes, ringworm, candida, yeast infections and toe nail fungus!
It makes sense that colloidal silver is an easy remedy for chronic seasonal issues like worms and fleas.
What causes fleas
I learned from one vet that ongoing flea problems are actually caused by internal worms. He acted like this was so obvious and everyone knew it, so I didn't think at the time to ask more questions. But it was an epiphany that caused my discovery about colloidal silver.
He told me that products like Revolution, yes, kill fleas and flea larvae, but their most important role is killing intestinal worms, that allow fleas to flourish.
Sadly, it turns out, this information is not readily accessible. Perhaps it's because the flea problem is too easy to stop if we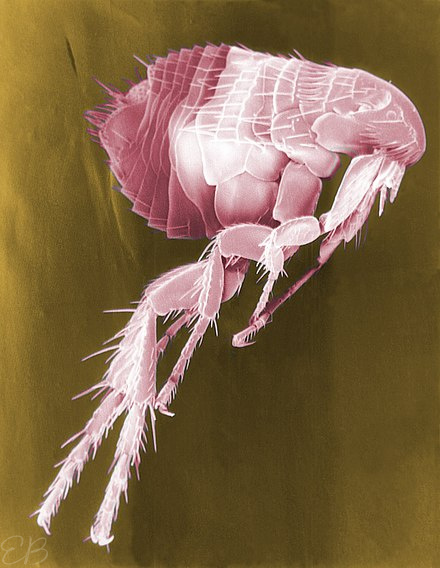 understand how, and then we'll stop buying expensive products.
But it took me a lot of digging to even speculate how fleas benefit from worms.
How worms benefit from fleas is easy to find information:
Fleas and worms are closely linked as the lifecycle of certain worms involves fleas harboring worm eggs in their gut. Cats eat fleas when they groom themselves and end up with worms in their stomach. The worms flourish, and cats end up with two parasites, one external and one internal.
But how do worms support fleas
This part is truly my own speculation, because I can't find the information directly, but here's what I currently guess:
Worms of all kinds produce significant amounts of carbon dioxide. Fleas and other parasites are extremely attracted to carbon dioxide. In fact, it's one of the main ways they choose their hosts. Fleas choose their hosts based on the amount of CO2 coming off the animal.
As one study reports, "CO2 is an essential host-seeking cue for these parasites."
Another source states, "Studies have shown that fleas will jump wildly when CO2 is introduced into an enclosed test environment. Other studies indicated that flea activity increased when CO2 was released in short bursts…"
We see this even in humans. Anyone who has a parasite infestation can observe: They attract more bugs than people who do not play host to invasive pathogens. Whether mosquitos, bed bugs or fleas, parasites are attracted to parasites.
If we can kill internal parasite overgrowth, in this case worms, our cats are no longer attractive hosts for external parasites.
If fleas can't smell potential hosts, and in so doing grab food and shelter, they'll die. As Wiki says, "Without a host to provide a blood meal, a flea's life can be as short as a few days." We can see here how easily a flea population will die down if we make potential hosts "invisible" by smell.
How I introduced colloidal silver for fleas
Having used colloidal silver for years for our family, and knowing it kills worms, and is safe for pets, I knew it logically could work as a flea preventative.
Last summer, I did not give my cats flea medicine because of the injury caused to them the prior year by the new flea medicine.
Instead, I started putting colloidal silver in their drinking water. The result: zero fleas all summer.
Wow, what freedom, how cheap and how convenient.
No expensive vet appointment — and an effective easy alternative!
This summer, the weather's been very hot for many weeks, and warm for a while. I started colloidal silver in their water about a month ago, and not one flea yet.
This method works so well. I just can't get over it.
How much colloidal silver to add to cats' drinking water for flea prevention
I put 1/2 to 1 teaspoon colloidal silver per cat — in 1-1/2 to 2 cups of drinking water for my cats daily (so up to 1 tablespoon total in 2 cups water, because we have 3 indoor/outdoor cats). During the summer, they're very thirsty, so they drink most of that.
If I use colloidal silver on them other times during the year, (for example, if worms are suspected), I use a higher ratio in their drinking water, because they don't drink as much.
I am not a vet, and I don't pretend to have the perfect recipe for you. Rather I am sharing what I do, and that it absolutely works great, and it's cheap.
My cats haven't had any health issues since their problem with the flea medicine two years ago. My cat with the chronic digestive issues has improved digestion since I began the silver. I think he tends toward pathogen overgrowth, so the silver really helps to keep him free of invaders.
How to dose colloidal silver for acute symptoms
If I see worms on my cats (which I did once this past year), I use 1 teaspoon per cat in cat's water (or feed with syringe if acute situation presents — up to 2 to 3 times daily).
For those of you with dogs, who are wondering how this applies to your canine, 2 teaspoons are recommended for dogs weighing 26 lbs to 40 lbs, 3 teaspoons for 56 lbs to 80 lbs, 4 teaspoons for 101 lbs to 150 lbs — all 2 to 3 times daily. (source)
Can you use colloidal silver year round in cats' water
While colloidal silver is considered gentle and safe, I don't think it's ideal to give year round constantly.
What I do is use it all summer long, and as soon as the weather cools off, I stop. If I notice worms the rest of the year, I'll use it again for a month or so, and then stop again until summer.
If you live in a place where the weather never cools off, you might consider pulsing colloidal silver, for example: Two weeks on to start, one week off, then one week on, one week off, or similar, to find the right balance.
What colloidal silver to use
I like this brand the best, but other products will work, too.
We make our own, which is why it's extra cheap. This is the machine we use.
Flea medicines aren't good for us or the environment
A lot of us with pets just ignore this issue, because we love our pets, and we don't know an easy alternative to keep fleas at bay. But as long as we have that alternative with colloidal silver, it's a great time to be honest.
The risks posed by parasiticides are significant:
Recently, concerns have been raised that some of these medicines are contaminating the environment. Parasiticides could be reaching rivers through wastewater from homes or other premises where animals are kept, or from animals entering rivers. Parasiticides may also be excreted in urine and faeces, and therefore deposited in gardens and open spaces, and absorbed into soil. As parasiticides are harmful to a wide range of invertebrates, this could be highly detrimental to wildlife and ecosystems. This in turn could impact on public health. (source)
One more reason to use an alternative to flea medicine.
I'd love to hear your results with using colloidal silver for preventing fleas!
You can Pin Alternative to Flea Medicine for Cats: Colloidal Silver here:
Similar articles you may enjoy