I may receive a commission if you purchase through links in this post. I am not a doctor; please consult your practitioner before changing your supplement or healthcare regimen.
Easy Fermented Nut Cheese is a great source of protein, fat and probiotics. This flexible recipe allows you to use your nut or seed of choice, based on what you like or your dietary requirements — delicious and perfect for vegan, plant based, paleo, GAPS, keto, low carb and Whole30 diets. Fermented Nut Cheese can also be taken one step further to make sliceable cheese. I give directions for both options below.
Jump to Recipe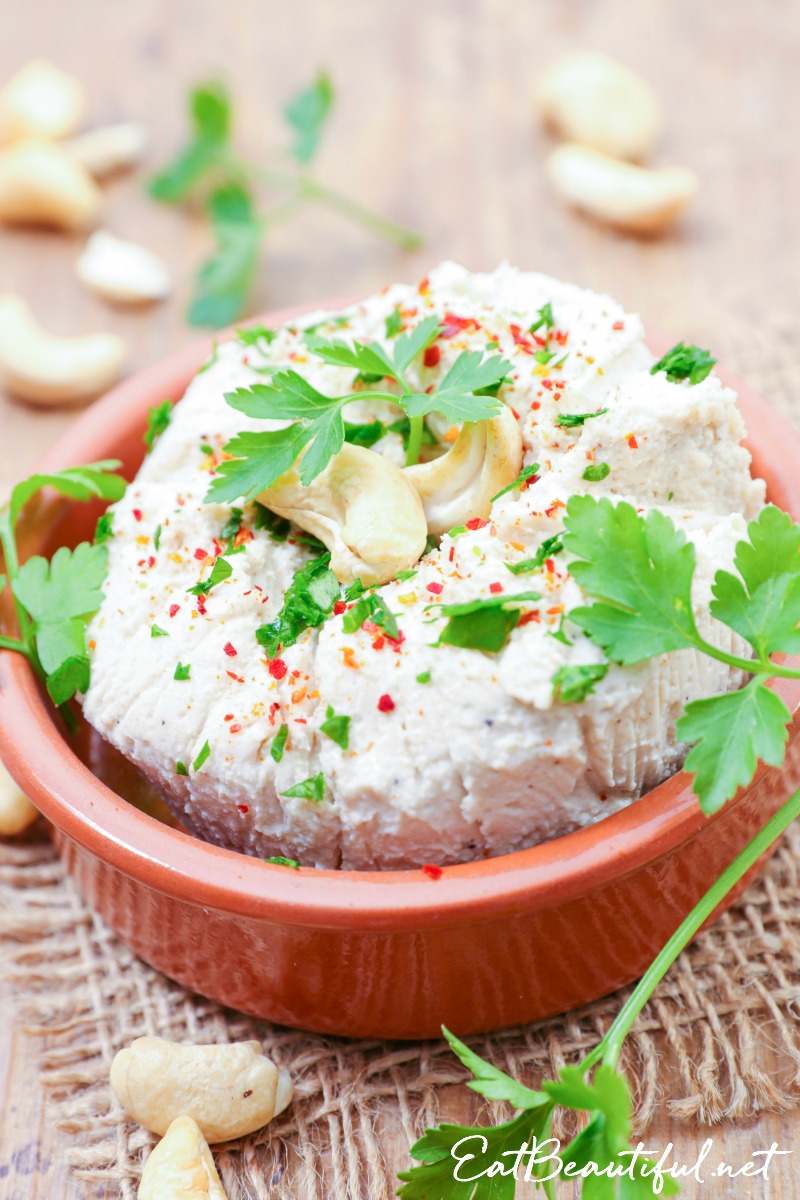 Nut Cheese
Several years ago, when I first started getting excited about all things fermented, nut cheeses were the most magical endeavor I enjoyed in the kitchen. Nut cheeses continue to captivate our palette years later as we make them for customers in our cafes (and still for ourselves!), providing a source of probiotics, protein, whole nutrition and a method of predigesting nuts.
A nut cheese is a dairy-free ferment that tastes like cheese but is made from ground nuts or seeds and other ingredients.
Easy Fermented Nut Cheese is quickly whipped up in the blender. We use three steps: soak, purée, ferment.
The fermenting stage is not difficult or tricky, so don't worry.
We simply add some easy-to-access probiotic goodness (think sauerkraut!) to a nut purée recipe. This mixture is packed into a mason jar or similar container, set out overnight in a warm spot and voila: We have a tangy, tempting ferment.
Your dairy-free cheese can be used as a vegan cream cheese or chèvre. It can be used as the centerpiece of an eclectic meal like hummus. It can be used in recipes.
For those who want a more sophisticated, sliceable cheese, the added step is fun and not difficult. You do need a dehydrator. I give more specifics below.
The Benefits of Fermenting Nuts
Nuts contain as much or more phytic acid as grains. Anyone who loves to eat peanut butter, nut butters or use nut flours is consuming high levels of phytic acid. Nut consumption can become problematic for those with GI distress who use nuts as a staple without first soaking or predigesting the nuts in some way. The same truths apply to seeds, which can also be estrogenic and high in lectins.
Our goal with predigestion is twofold: Make foods gentle to digest and increase the bio-availability of the nutrients.
Side benefit? Fermenting nuts and seeds is part of what makes them taste cheesy!
My family eats lots of nuts. Cutting down on phytic acid every time we eat means that we get more minerals out of our food, instead of the minerals being bound and unattainable by our bodies. Reducing phytic acid also means we aren't wearing down our digestive mechanisms over time.
Fermentation is actually one of the best ways to predigest nuts and seeds, even more effective than soaking, although both can be used together, as we do in this recipe.
Fermented nut cheeses add creativity and gourmet enticement to an essential step.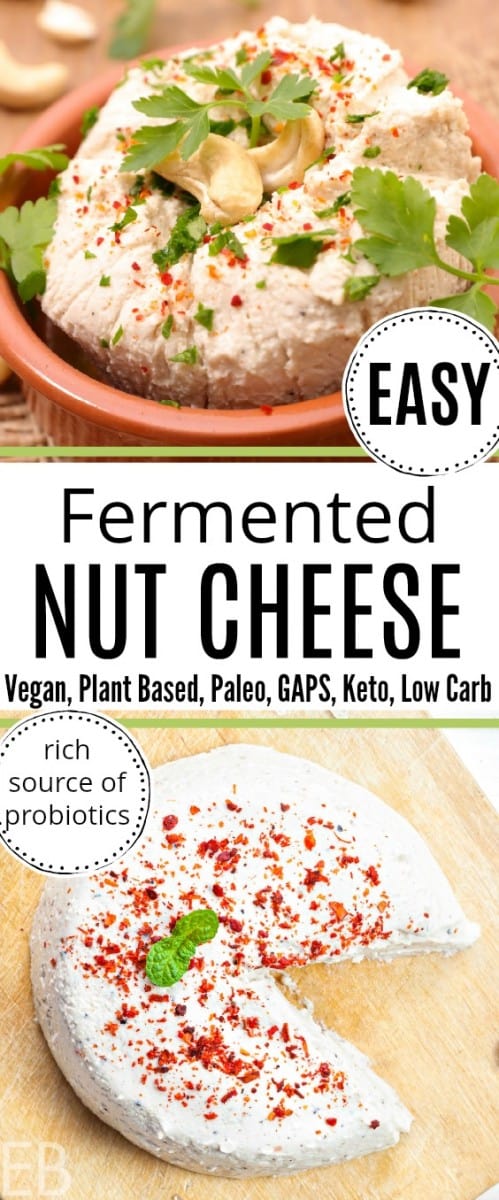 First Soak
We soak nuts and seeds first to begin their predigestion.
Soaking in salt water changes the nut's pH environment. The raw nut or seed transforms enzymatically from dormant to living.
The overnight soaking is easy: We mix water, salt and nuts in a bowl and let them sit out.
When we rinse away the soaking water, it is heartening to know how much good we've already done, even before taking the next step in fermentation. We can eat our creations with gusto, knowing they're healthy, as well as being rich and indulgent in flavor.
Soaking nuts also softens them, which creates a smoother puréed nut-cheese base.
Ingredients
Nuts or Seeds
Cashews, walnuts, pecans, sunflower seeds, Brazil nuts, hazelnuts, macadamia nuts and pine nuts can be used in the recipes that follow. If your budget can stand it, macadamia nuts and pine nuts make GREAT cheeses, blond, creamy, and well-balanced in flavor.
Nuts like walnuts, pecans, hazelnuts and Brazil nuts have a nubbier outcome, less smooth. However, these cheeses have their own appeal, certainly delicious.
Keto or Low Carb? The best low carb nuts are pecans, Brazil nuts, macadamia nuts, hazelnuts and walnuts. (Avoid cashews.)
Sauerkraut
What ignites the nut mixture to ferment? I like to use fermented vegetables. I always have some on hand, they're healthy and flavorful and their wetness helps the blender to run smoothly.
Locally made fermented vegetables are available in most natural grocery stores.  However, their probiotic count will vary.  Although I live in Oregon, I once purchased a fermented vegetable product that had been handmade in California. Making a fermented nut cheese with it was the perfect test of its probiotic count. It took days to jump start the process. I knew not to buy that product again. The cultures could have died in transit or never been high. Be sure to buy a probiotic-rich, refrigerated sauerkraut product, or make your own.
Other Starters
Cooks' starters vary. Any food that is high in probiotics and does not contain sugar can be used. (If you introduce sugar to the ferment you will grow unwanted yeasts instead of beneficial bacteria.)
Some nut cheese-makers like to use rejuvelac, a grain-based fermented beverage. Others actually use a high-quality probiotic pill emptied into their mix or organic miso paste. A quantity of your former cheese may also be used to help jump-start the process.
Variations
Below, in the Recipe Variations section, I give examples of how to be creative and add various ingredients that are tasty and nutritious.
Texture and Protection
To make firm sliceable cheese, we add coconut oil to our nut purée. Or if you can tolerate lactose-free dairy, ghee works well too.
These fats not only give added options with the shape and texture of our kitchen creations, they are also excellent for our immune systems. Fat helps to protect fragile probiotics, delivering them to lower parts of our intestinal tract unharmed.
There are three textures that you can choose from when making your cheese:
One is a hummus-like texture. It's the fastest, easiest method and delivers a mean sandwich spread or mezza-like garnish for any feast with bread or grain-free bread alternative.
The second texture is a cheese that is firm enough to slice with a knife, an actual wheel. This method is described in detail below and involves the use of a dehydrator.
The third and final texture is a combination of the above two. By adding a fat to your purée, that solidifies when it is cold, you can create a semi-firm goat cheese-like texture and even mold your soft cheese into a shape before it chills.
Print Recipe
Fermented Nut Cheese — Vegan, Plant Based, Paleo, GAPS, Keto, Low Carb, Whole30, Probiotics
Dairy-free Fermented Nut Cheese is SUPER fun to make and exciting to build a meal with! This recipe can be used for soft cheeses (easiest and fastest) or sliceable, firm cheeses (pretty magical). The recipe can also be used as a template for variations, which I provide, or you can be creative with the ratios and methods as a guide.
Equipment
mason jar

cheese cloth and strainer (optional)

dehydrator (optional)
Ingredients
2

cups

macadamia nuts

or raw walnuts or raw other nut or seed, *soaked and wet (See Recipe Notes for How-to)

½

cup

fermented vegetables:

sauerkraut or other, living with probiotics

¼

cup

olive oil

OR coconut oil if you plan to make a firm sliceable cheese

2

tablespoons

tahini

hulled

1

tablespoon

lemon juice

freshly squeezed

1

clove

garlic

crushed or minced

½

teaspoon

sea salt
Instructions
Combine all ingredients in high-powered blender. Purée for about 50 seconds, until the mixture is smooth. Add a small amount of water, fermented vegetables, or olive oil if the mixture is too thick to blend (and process again).

Pour the contents into a glass container that will hold almost twice the volume of what you've just produced. The low wide storage glass jars that come with their own rubber fitted lids work great. (Four-cup ball jars also work well for most of these recipes. But the wide mouth is important unless you have a really runny cheese. You don't want the mixture smeared on the sides of the jar.) Once you've poured your cheese mixture in, depending on its lid type, do not seal the jar. You can loosely screw on a metal lid, (or the ring and insert), or cover certain kinds of glass jars with the rubber lids that they came with.

Place the jar in a warm place (like the top of your dehydrator while it is running) for about a day and a half. The ferment will take longer in colder temperatures. Your nut cheese is fermented and ready to eat when the whole purée has risen and is filled with lots of air bubbles, like a sponge, but yummy looking. At this point, put the cheese into your fridge so it can chill and firm up.

OPTIONAL FURTHER STEP- If  you wish to dehydrate or chill your ferment to create a shaped, sliceable cheese, choose a "mold"; a small low bowl works great. Teeny dishes are fun too, if you want to make lots of individual cheeses.

For the dehydrator method, line the small bowl or bowls with cheesecloth and spray the cheesecloth with coconut oil spray or just rub the cloth with olive oil. (I learned this method the hard way! The oil will prevent the dried cheese from sticking to the cloth. You want the cloth to peel away easily so that the outer rind looks pristine.)

Place the bowl(s) into your dehydrator for about 12 hours, or up to 24 hours, until they can easily hold their own shape. Pop the cheese out of the bowl it was nesting in and peel off the cloth. Touch the exterior, gently pushing on the cheese, to decide if you want it even firmer, or very soft inside. If you want to get a more sliceable cheese, place your wheel back into the dehydrator by itself now, no bowl, no cloth, and continue to dehydrate it another 12-24 hours. When it's done to your satisfaction, place it in the fridge to chill.

OPTIONAL FURTHER STEP ALTERNATIVE– If you don't have a dehydrator, you may want to strain your cheese before fermenting it; so think ahead. Here's the method: Put the fresh pureée in a cheesecloth-lined colander; it can actually ferment like that, wrapped in the cloth (covered with the flaps), and set inside an appropriately sized bowl to catch the drips, and set in a warm place!  Make sure, with this method, to include coconut oil or coconut cream in your recipe so that when it chills, it firms up.

Once the recipe is fermented in the cheesecloth strainer, proceed as described above, placing it in a "mold" lined with cheesecloth, unsprayed this time, but olive oil is okay. Press the cheese into the bowl's shape, smoothing the top, which will become the bottom, with a spatula, and chill for 6 hours or more. Unmold it onto a plate. Alternately, shape and roll the soft, drained cheese into a traditional log shape, as you've seen done with many goat cheeses.

Garnish any cheese with a drizzle of oil, small, fresh, edible flowers, coarsely ground black, green or pink peppercorns, or fresh or dried herbs. Choose garnishes that will compliment the recipe you chose.
Notes
How to Soak Nuts or Seeds
For every 4 cups raw seeds or nuts, cover with room temperature filtered water by a full 2 inches, and 2 teaspoons sea salt. Stir to dissolve. Leave out overnight; then drain and rinse well.
(For cashews and sunflower seeds, leave out to soak 2-6 hours, not overnight.)
Nutrition
Calories:
259
kcal
|
Carbohydrates:
5
g
|
Protein:
3
g
|
Fat:
27
g
|
Saturated Fat:
4
g
|
Sodium:
119
mg
|
Potassium:
112
mg
|
Fiber:
2
g
|
Sugar:
1
g
|
Vitamin C:
1.2
mg
|
Calcium:
27
mg
|
Iron:
1.2
mg
Sliceable Cheese — the process
The following images are older photos, but give you a visual for the process:
Image 1: Soft fermented seed cheese has been pressed into a mold, lined first with oiled cheesecloth.
Image 2: Bundles of probiotic-rich fermented seed cheese have been placed on the shelf of a dehydrator where they'll firm up and become sliceable.
Image 3: Two molded, sliceable cheeses are pictured with soaked wet sunflower seeds in the background, which went into making them.

Recipe Variations & Ingredients
Picture what a few possible recipe variations could look and taste like:
One is yellow with little seeds in it, tasting of India and complex curries. One is pale, like hummus, earthy in flavor and addictively delectable with subtle garlic, sea salt, and sesame seeds playing in your mouth. Another can be dehydrated after being strained, wrapped in cheesecloth, and rubbed with oil.  It will be sliceable in a few days, like a firm goat cheese. It is creamy in color and tangy.
There is great versatility in the textures, flavors and uses of this food.
All seeds and nuts will work.
The visual process is exciting. You can watch your nut cheeses ferment by putting them in clear glass containers. The ferments will expand with air bubbles and rise, and you will know that you're succeeding in your process.
Below I share several other cheese recipes (their ingredients) that I make. Each one has a different flavor profile or theme with various fun ingredients. You can, of course, use whatever you have on hand and create your own combinations of flavors. The following recipe variations can be used with the instructions given above in the main recipe.
Italian Walnut

2 cups walnuts, raw, soaked and wet
½ cup fermented vegetables, homemade or store-bought from a reliable source
½ cup extra-virgin olive oil
½ cup fresh Italian parsley
¼ cup oil-cured olives, or other favorite gourmet olive
2 tablespoons capers
½ tsp. sea salt
a few drops lemon oil or 1 teaspoon freshly squeezed lemon juice
Israeli Walnut
2 cups walnuts, raw, soaked and wet
½ cup fermented vegetables, homemade or store-bought from a reliable source
½ cup extra-virgin olive oil or 2 tablespoons sesame oil
¼ cup tahini
1 large garlic clove, smashed and chopped
½ teaspoon cumin
a few drops orange oil, (optional) or 1 tablespoon freshly squeezed lemon juice

Can you see the textural difference? Here's the fermented nut cheese. It actually collapsed two inches before I took the picture, like a cooling souffle, while in the fridge chilling, but you can still see the bigger air pockets and how it's changed. All the air bubbles and the sponge-like appearance tell you it's done.

½ teaspoon sea salt
Indian Hazelnut

1 ¾ cups hazelnuts, raw, soaked and wet
½ cup fermented vegetables, homemade or store-bought from a reliable source
¼ cup extra-virgin olive oil
1 tablespoon organic red palm oil
1 to 2 tablespoons chopped fresh ginger, depending on taste
1 large clove garlic, smashed and chopped
½ teaspoon turmeric
½ teaspoon cumin
½ teaspoon sea salt
1/8 teaspoon cinnamon
(up to 1/2 cup filtered water, as needed to allow the blender to process)
Classic
2 cups sunflower seeds, macadamia nuts, or pine nuts, raw, soaked and wet
½ cup fermented vegetables, homemade or store-bought from a reliable source
2 tablespoons extra-virgin coconut oil or olive oil
1 tablespoon nutritional yeast
1 tablespoon freshly squeezed lemon juice
1 clove garlic, smashed and chopped
½ teaspoon sea salt
Asian Cheese
2 cups Brazil nuts, raw, soaked and wet
½ cup fermented vegetables, homemade or store-bought from a reliable source
½ cup filtered water
¼ cup olive oil
2 tablespoons sesame oil, preferably black sesame oil
1 tablespoon coconut amino acids
1 tablespoon chopped fresh ginger
1 tablespoon dulse
1 tablespoon extra-virgin organic coconut oil
1 teaspoon high quality organic fermented miso paste
1 clove garlic, smashed and chopped
Conclusion
Fermented nut cheeses are gentle to digest.
Fermenting makes nutrients more bio-available. Nuts, seeds, herbs, spices, garlic, fats, anything you add to the mix will be more powerful nutritionally. 🙂
Fermented nut cheeses are delicious and versatile! Make a feast with fermented nut cheeses or simply enjoy them as a wholesome, nutrient-dense snack.
Interested in other fermented foods? Here are a few of my favorites: