I may receive a commission if you purchase through links in this post. I am not a doctor; please consult your practitioner before changing your supplement or healthcare regimen.
AIP Buttercream Frosting is a that wonderful frosting you've been wanting! Great for layer cakes, cupcakes, simple sheet cakes, cookies and more, this frosting pipes beautifully, tastes delicious and is wonderfully healthy and versatile. This Paleo recipe is dairy-free, coconut-free and refined sugar-free.
Lots of my AIP friends have complained within my hearing 😉 that it is hard to find a great AIP cake and even harder to find great AIP frosting! This recipe is my love-gift answer for you… 🙂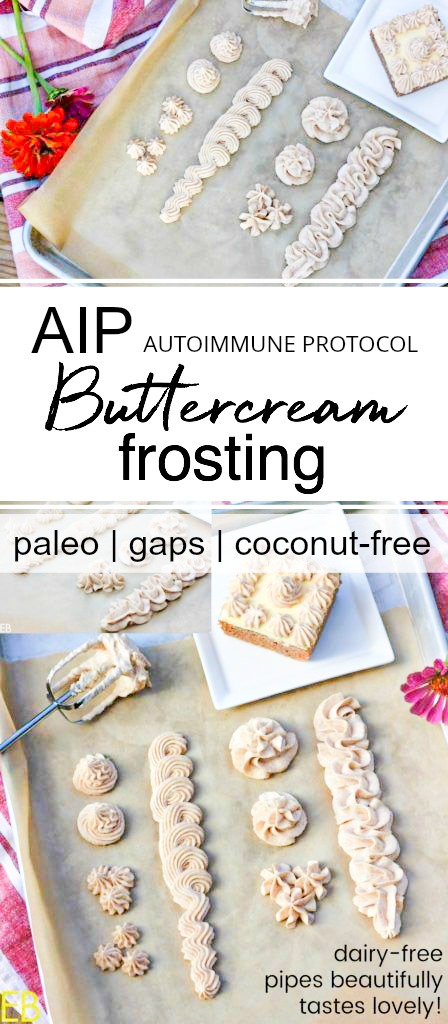 AIP Buttercream Frosting made with lard
Oddly for some, it's made with lard. Bear with me. The frosting is lovely in flavor and texture. Lard has a very mild taste, it's solid but not too hard at room temperature, and it's high in vitamin D.
Animal fat is gentle, healing, versatile.
This frosting whips up beautifully.
Palm oil option
BUT if you are "scared" of using lard in frosting or don't believe me 😉 that it's super yummy, you can try to use the non-orange palm oil (get it HERE). I'm optimistic that it will work quite well! (Leave a comment below if you try so we all know!)
The other secret ingredient in AIP Buttercream
The other secret ingredient is gelatin. That bit of gelatin creates tiny air pockets in the whipped frosting, volumizing it and helping it to keep its beautiful shape.
If you love to pipe pretty shapes with your frosting like I do, then you will love working with this recipe.
How AIP Buttercream Frosting tastes …
The flavor? It's like apple cinnamon, but really only cinnamon flavors it … and a bit of sea salt, honey and maybe magic? That gelatin really creates a light, whipped texture that allows us to taste the sweetness and spice.
I don't eat this frosting out of spoon, though. It's yummier ON the cake than all by itself.
Where to source lard
Where to get lard? I buy ours from a local farm or from Natural Grocers. We also render our own, when we can.
If you don't live in an area that has farms with pasture-raised lard or a Natural Grocers there are many natural food markets that now carry it. Look for the cost to not exceed $6-8 per pound. You can find it for less, for sure, but not in all cities.
I have even referred clients to Etsy! Here's one farm, for example, that sells leaf lard that's organic and not grain-fed. Etsy apparently is a great option for sustainable animal fat at an affordable price! 🙂 I haven't made this recipe with leaf lard yet (leaf lard is just the fat around the kidneys- extra smooth in texture and great for pastries); but I'll update this post when I have, to be sure it works as well or better as regular lard.
Print Recipe
AIP "Buttercream" Frosting!
Ingredients
Instructions
Place

¼

cup water in a small saucepan and sprinkle gelatin over its surface. Stir in with fork or whisk, allow gelatin to dissolve for 1 minute. Heat over medium heat, stirring the entire time, as the gelatin dissolves completely, about 2-3 minutes.

Turn off heat and stir in honey to dissolve. Also stir in cinnamon and sea salt. Allow to cool to room temperature, about 15 minutes.

Place the lard in a large metal bowl. Beat on high until creamy with hand beaters, about 1 minute.

Add honey-gelatin-water 1-2 tablespoons at a time, beating about 20 seconds after each addition. Beat until frosting is smooth and honey mixture is incorporated evenly. Frosting will be aerated slightly and hold its shape as it's beaten.

Frost your cooled cake at this point. (If you refrigerate the frosting before using it, simply melt it down slightly again, beat and refrigerate until you have reached the right temperature and texture. Or bring it to room temperature slowly, and beat briefly to loosen and soften.)
Cakes and cookies to make with AIP Buttercream Frosting
If you need cake for this frosting, here's a pumpkin cake we love and serve to friends who aren't on the AIP diet, very reliable, moist and lovely, great for making as a layer cake or in a casual casserole dish.
You'll also enjoy these:
Pear Cake (dice fewer pears into the cake instead of making it upside down, to frost)
If you need great herbal coffee with your cake and frosting, HERE's my favorite Chicory Coffee recipe, just 1 ingredient! 🙂
Have you been waiting for a great AIP Buttercream Frosting recipe?! Let me know how you like it!