Thank you for supporting this site with purchases made through links in this post.
As you know, unless you're new to my blog (welcome!), I love making AIP baked goods. My own son is egg-free & grain-free, my daughter is dairy-free, and I seldom eat nuts or seeds. Plus folks doing AIP need the encouragement that great baked goods provide: healthy complex carbs, reliable recipes, something new and good to eat for breakfast!
Have one of these with a big ole sausage, and you'll be set! They are moderately high in protein already, but I'm an advocate for emphasizing protein at breakfast, thus setting up one's blood sugar for success the whole day.
They're perfect for fall. And, as with many of my baked goods, most of the recipe is made in the blender; so the recipe's easy! I created a new method with this particular recipe, making it that much simpler…because we're all busy, and it's tough squeezing in enough time to bake each week.
As you scroll down to the recipe, take a quick moment to appreciate with me our apple tree! I made these muffins with its apples, an espaliered tree my husband bought this year as my birthday gift. The tree was SO generous with us, its first year on our little patio, giving us well over 50 apples. What a thrill to watch one's own fruit grow, pick and eat it.
…And I've had a few readers already ask me where to buy toasted carob powder. You can get it here. This is just carob, but the fact that it's toasted makes it more digestible (and delicious).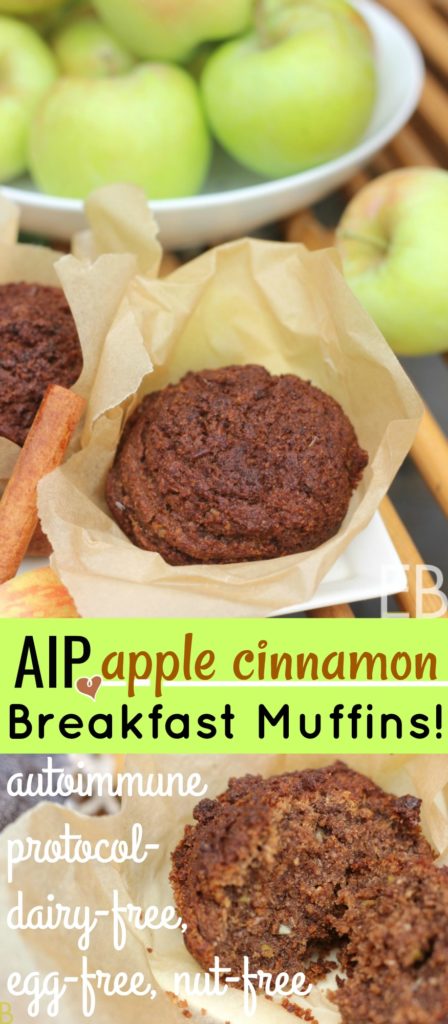 Enjoy!
AIP Apple Cinnamon Breakfast Muffins
Servings

Prep Time

6

muffins

15

minutes
Servings

Prep Time

6

muffins

15

minutes
AIP Apple Cinnamon Breakfast Muffins
Servings

Prep Time

6

muffins

15

minutes
Servings

Prep Time

6

muffins

15

minutes
Preheat oven to 325 degrees Fahrenheit. Line a muffin tin with liners or squares of parchment paper. Set aside.

Place the following ingredients in high-powered blender: coconut, apple, lard. Blend for 2 minutes, on low speed, until reduced to a smooth pulp.

Add apple cider vinegar and coconut sugar. Scrape down sides of blender; and blend again briefly.

In a large bowl stir together the remaining dry ingredients: cassava flour, collagen, tapioca flour, carob powder, gelatin, cinnamon, baking soda and sea salt.

Add blender contents to dry ingredients. Use a wooden or rubber spatula to mix together thoroughly, without over-mixing.

Evenly distribute batter between 6 muffin cups. Bake until center is cooked through, about 25 minutes. Check for doneness with toothpick or sharp knife.
Moist and delicious, these muffins also rise beautifully and keep their mounded muffin shape- a great texture!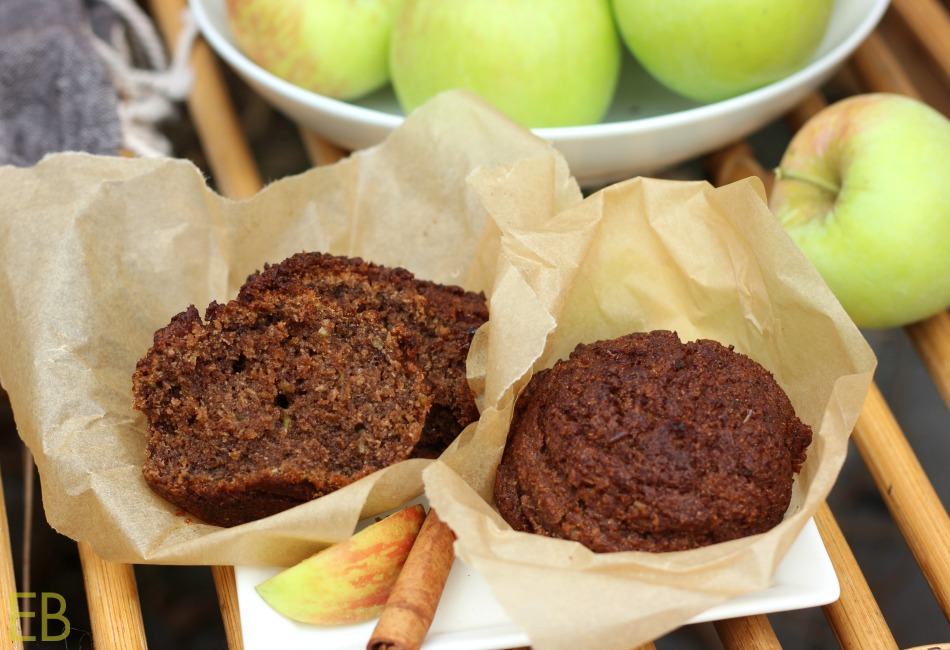 Homegrown apples!
Also try my great AIP Coffeecake Recipe here!
Looking for other ways to get healthy?
I'm super excited to share the <September 2017 Healthy Bundle>, available for just 6 days (right now)! <This bundle> contains 68 ebooks!! and 28 ecourses!! to empower each of us to get healthier; (it's almost $3700 worth of content for less than $30!!)
Some of my favorite resources include-
Essential Oils Revolution 2 by Dr. Z!,
Natural Beauty Guide by Katie Wells (it's so important that our personal care products aren't making us sick),
the bone broth ecourse,
the Instant Pot ecourse,
Well Fed, one of my favorite Paleo cookbooks (lots of AIP recipes in it!),
and a book on earthing/grounding by Mark Sisson (for more energy and healing)!
PLUS I love the boxes of goodies that come free to our door, especially the FREE cartons of bone broth and an amazing box of natural cleaning tools and concentrates.
**You can see all of the incredible resources
<

here>

.**
There are so many resources I haven't yet had time to explore that I'm looking forward to reading! The sale begins Wednesday, September 20, 2017 at 8:00 am EST!
(P.S. Pretty cool: If you find the bundle isn't right for you, Ultimate Bundles will give you ALL your money back. 😉 You have 30 days to test out $3,680 of training with absolutely NO risk of losing your $29.97.) <CLICK HERE> to check it out!