I may receive a commission if you purchase through links in this post. I am not a doctor; please consult your practitioner before changing your supplement or healthcare regimen.
Naturally sweet and dairy-free, Tigernut-Sweet Potato Yogurt is a boon for Paleo, Vegan, AIP and other diets, including those looking for an alternative to coconut, grain and nut yogurts. This delicious probiotic and prebiotic treat takes just 15 minutes to assemble and is done culturing in a day.
Ingredients in
Tigernut-Sweet Potato Yogurt
There are just 4 ingredients in Tigernut-Sweet Potato Yogurt:
Tiger nut flour — Instead of whole soaked tiger nuts, I wanted this recipe to be easy and fast to make, so I use the flour.
White sweet potato
Probiotic yogurt starter (This one's Vegan and Paleo: powder with live active cultures or probiotic capsules for AIP and if preferred.)
Thickener — If you're vegan, use agar-agar in this recipe. For Paleo and AIP, use gelatin or agar-agar.
If you're new to agar-agar, it's a vegan alternative to gelatin. Agar-agar is made from seaweed.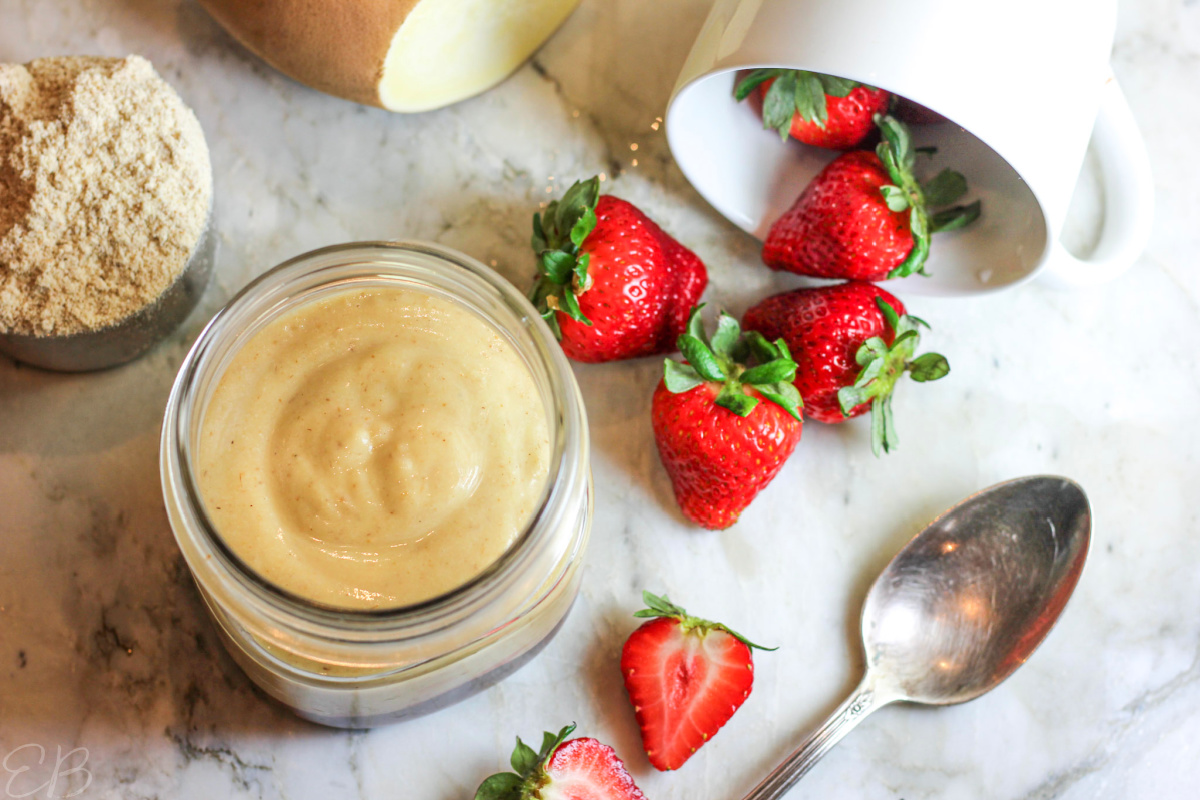 What's Tiger Nut Yogurt taste like
Totally delicious, my youngest son prefers this yogurt to dairy yogurt … and, although he loves sweets, doesn't even add sweetener. That's saying something.
Tigernut Yogurt is subtly tangy, tart, sour, sweet, refreshing and rich, with an aftertaste of mild sweet potato, in a good way.
There's also a subtle nub from the tiger nut flour. You want that fiber, and the bit of tender "grit" is good; we don't mind it.
Part of eating tiger nuts is embracing their texture. It's a touch like bran. I think most of you will simply love this yogurt and not mind that bit of insoluble fiber.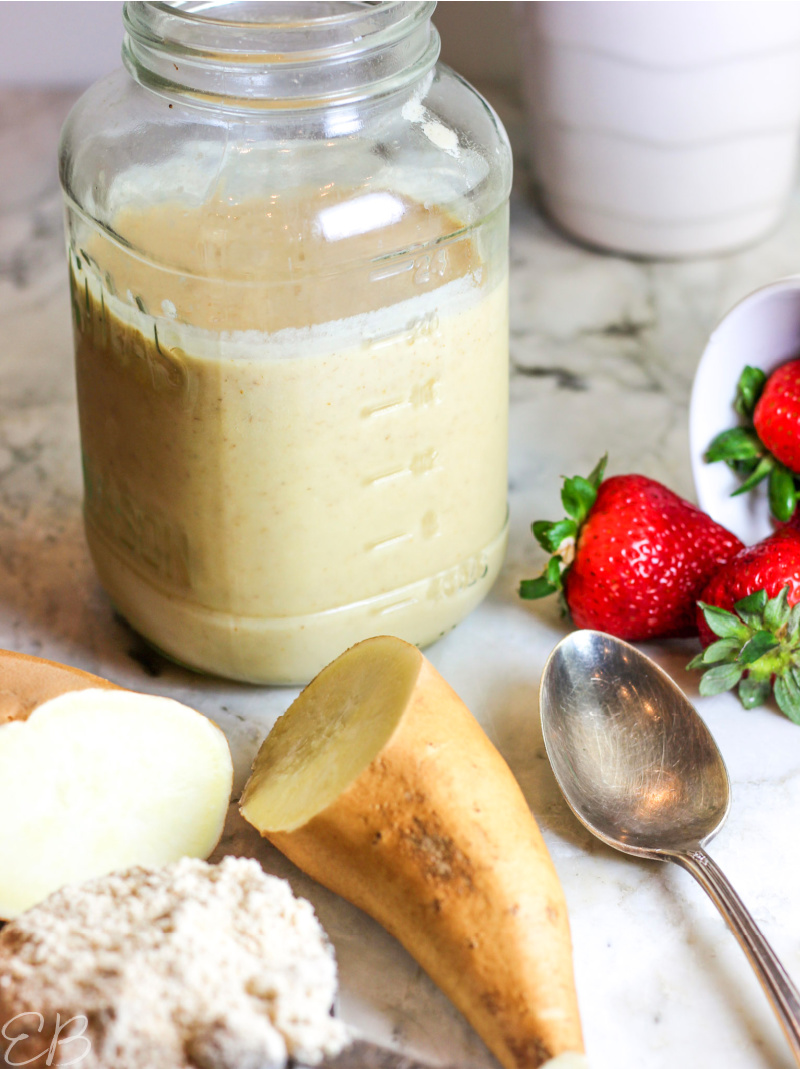 How to make
Tigernut-Sweet Potato Yogurt
Please be aware that the yogurt making process is slightly different when using different thickeners.
The Paleo & AIP gelatin version is faster. It's important that the Vegan agar version has a longer heating period.
This is a 4-step process:
Cook your sweet potato: Either peel, chop and boil it. Or, roast it whole in the oven, and then scoop out the soft flesh.
If you choose to bake, preheat your oven to 350º F, place your sweet potato on a lined cookie sheet (to catch any mess), and bake for about 1 hour, until very soft through to the center. Wait for it to cool a bit, and then smash the inside to measure what you'll need for the recipe.
Paleo & AIP gelatin version: Place in the blender and purée: sweet potato, tiger nut flour, gelatin and water.
Vegan agar version: In a small saucepan, simmer water and agar-agar for 5 minutes, until the powder or flakes have dissolved. This step also allows the agar to reach 190⁰F, which is required for it to gel. Allow to cool slightly, for 10 to 15 minutes. Then blend with sweet potato and tiger nut flour.
Both versions: Warm the purée in a small saucepan to 110º F. (If you don't have an instant-read thermometer, see Tips below.) Sprinkle with yogurt culture, and stir in.
Transfer yogurt to culturing container of choice. Allow to ferment 10 to 16 hours (or up to 24 hours). (You can use a yogurt maker or Instant Pot with "Yogurt" setting to provide the steady warm environment.)
How long you ferment your yogurt depends on how tart you like it. Extra tart yogurt has more probiotics. But do make it palatable for your preference.
As noted, I have only used Cultures for Health Vegan Yogurt Starter with this recipe. If you choose to use probiotic capsules instead, you may need to culture your yogurt for longer, up to 24 hours. (I'm currently trialling this recipe with capsules and will update the post soon with those results.)
How long to chill your yogurt before it's ready to eat
Your yogurt needs to chill in order to gel.
The Vegan agar-agar version will look somewhat watery when warm, after fermenting, but gel after chilling. Depending on the amount of thickener you use, the Vegan whey may separate out a bit when stored in the fridge, so stir it with a spoon before eating it.
To get thick yogurt more quickly, chill in individual serving dishes, such as small mason jars.
Regarding thickness: How thick do you like your yogurt? I usually like mine pretty thick, so it will stand on its own on a spoon. But I've had fun with this recipe creating a variety of thicknesses, and we like them all.
In the recipe below, I give a spectrum of how much thickener to use, depending on how thick you want your chilled yogurt.
Tips when making
Tigernut-Sweet Potato Yogurt
Use a good starter culture. I use this one and have success every time; or I've heard good things about this one (but haven't used it myself). For AIP, use the latter option or another quality probiotic. (I'm in the process of testing the capsule product to update the recipe with those results.)
Choose a culturing vessel. When available, I use my Instant Pot's insert with glass lid and the machine's "Yogurt" setting. You can ferment directly in the insert or use your trivet, and place jars or a bowl on top of it. If my insert contains leftovers in the fridge, I use a large glass bowl (covered), nested over my Instant Pot base (and still use the Yogurt setting for the steady temperature it provides). You may also use a yogurt maker.
It doesn't matter what kind of yogurt maker you use, but you do need a consistently warm temperature of 100 to 110 degrees.
Be sure your culturing containers are freshly washed and clean.
If you don't have a thermometer, here's a way to test with your finger for 110º.
Nutrition in
Tigernut-Sweet Potato Yogurt
TIGER NUTS
Tiger nut flour is made from an ancient grain-free tuber, considered gentle and nutrient dense for most people.
It's super high in fiber. Some of that fiber is prebiotic. This insoluble starch not only feeds the good flora in the colon, it also feeds the probiotics in the yogurt while it's culturing.
We end up with a yogurt that has both probiotics and prebiotics.
Tiger nuts also contain enzymes that aid digestion. No wonder so many us have improved digestion — from stomach to colon — when we eat tiger nuts.
Tiger nuts are an excellent source of iron, potassium, manganese and thiamin. They're a good source of phosphorus, protein, magnesium, zinc and vitamins E and C.
SWEET POTATOES
Sweet potatoes also contain resistant starch, even after being cooked.
Happily for this recipe, white-fleshed sweet potato starch has significantly more resistant starch than the orange-fleshed.
White sweet potatoes are also high in B vitamins, vitamin C, as well as minerals like potassium.
The high fiber content in sweet potatoes is linked to several health benefits, including blood sugar regulation, better weight control and reduced colon cancer risk.
YOGURT
Finally, when we make yogurt with these two wonderful foods, their nutrition is better absorbed by the body. Fermentation makes nutrients more accessible.
Yogurt provides probiotics, aids digestion and boosts the immune system. Yogurt can benefit cholesterol levels and fight conditions like anemia and candida overgrowth.
Tigernut-Sweet Potato Yogurt is filling, satiating and gentle for most bodies.
Creative ways to enjoy
Tigernut-Sweet Potato Yogurt
Add toppings: Top Tigernut-Sweet Potato Yogurt with pure maple syrup for a simple, decadent treat. Add fresh berries, granola (not AIP), chopped dried fruit, sprouted nuts or seeds (not AIP), swirl in Carob Ganache, create a parfait.
Make fruit-on-the-bottoms: As seen in the photos, spoon your favorite berry jam into the bottom of clear serving dishes, such a 1 or 2-cup mason jars, before adding the finished yogurt. Refrigerate, then grab for pretty and delicious meals — including to pack in lunches.
Use it as a base: Sweet or savory, yogurt is a wonderful base for a bunch of condiments. For savory, think of preparations like: raita, hummus, dips and salad dressings … For sweet, think: smoothies, yogurt sauce for pancakes, overnight oatmeal recipes.
Spread it or dollop: Use on top of toast, muffins or hot cereal. Garnish tacos or other Mexican dishes. Use any place you'd use sour cream.
Make Vanilla Yogurt: Add 1 teaspoon vanilla extract and up to 3 Tablespoons maple syrup to your finished yogurt.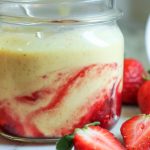 Print Recipe
Tigernut-Sweet Potato YOGURT (Paleo, Vegan, AIP)
Naturally sweet and dairy-free, Tigernut-Sweet Potato Yogurt is Paleo, Vegan, AIP and free of coconut, grains and nuts. This delicious probiotic and prebiotic treat takes just 15 minutes to assemble and is done culturing in one day or overnight.
Equipment
yogurt maker or Instant Pot

small saucepan
Ingredients
½

cup

tiger nut flour

½

to

⅔

cup

white sweet potato

smashed and packed to measure (from 1 medium sized white sweet potato, fully baked and peeled, OR peel, cube and simmer sweet potato until cooked)

2

cups

water

1 to 3

teaspoons

gelatin for Paleo OR ¾ to 1-½ teaspoons agar-agar powder (or 3 to 4-½ teaspoons agar flakes) for Vegan and if preferred, depending on desired thickness

1

vegan yogurt starter packet from Cultures for Health (For AIP and if preferred, use quality probiotic capsules instead; you'll empty out 3 capsules.)
Instructions
PALEO and AIP GELATIN VERSION: Place water, sweet potato, tiger nut flour and gelatin in blender. Purée until smooth, about 30 seconds on medium speed.

Pour purée into a medium size saucepan. Heat to 110° F. Sprinkle yogurt starter over the surface, and whisk in.

VEGAN AGAR VERSION: Add water to a small saucepan. If using the flakes, sprinkle agar-agar over the surface. Let it sit undisturbed for 5 minutes, until the flakes are rehydrated. If using the agar powder, whisk it in so it doesn't settle to the bottom. Then simmer for a full 5 minutes, stirring occasionally, until agar is fully dissolved. (Including cooling time, this cooking time allows the agar to maintain a total of 10 minutes at the required 190° temperature it needs to gel). Allow to cool slightly, for 10 to 15 minutes.

Place agar-agar water, sweet potato and tiger nut flour into blender. Purée until smooth, about 30 seconds on medium speed. Pour purée into a saucepan. Check temperature, and as needed, heat to 110° F. Sprinkle vegan yogurt starter over the surface, and whisk in.

BOTH VERSIONS: Pour into container for fermenting: Instant Pot insert, small yogurt dishes, a 4-cup mason jar (it won't fill it) or a ceramic bowl. Place into yogurt maker, Instant Pot or consistently warm environment.

Cover, and ferment for desired about of time, 10 to 16 hours, depending on how tart you like your yogurt (or up to 24 hours if you're using probiotic capsules). (The tarter it is, the higher the probiotics.) This yogurt can be made in one day, or overnight.

Chill for a minimum of 6 hours or up to 24 hours, so the yogurt fully thickens.

Tigernut-Sweet Potato Yogurt does not need to be sweetened, but if desired, garnish with pure maple syrup, fresh berries or other toppings. (The Vegan version made with agar-agar may separate a bit when stored in the fridge, so stir it with a spoon before eating it.)
Nutrition
Calories:
52
kcal
|
Carbohydrates:
9
g
|
Protein:
1
g
|
Fat:
2
g
|
Saturated Fat:
1
g
|
Sodium:
11
mg
|
Potassium:
109
mg
|
Fiber:
1
g
|
Sugar:
1
g
|
Vitamin A:
1572
IU
|
Vitamin C:
1
mg
|
Calcium:
6
mg
|
Iron:
1
mg