I may receive a commission if you purchase through links in this post. I am not a doctor; please consult your practitioner before changing your supplement or healthcare regimen.
How We Helped our DYSLEXIC Son with Diet and Exercises is a post about our process with home schooling. We implemented some dietary changes and adopted exercises that helped our son to overcome major obstacles in reading, writing and sports.
Dyslexia, and the gut-brain connection
Is someone you love dyslexic?
A child's inability to use both hemispheres of his brain, often manifesting itself in dyslexia, is a common side effect of the gut-brain connection, a failure in the gut's overall health. This means that diet is a key piece in helping someone with dyslexia.

My son is dyslexic, and there are two awesome tools I'd love to share with you: 1) the GAPS Diet and 2) the book pictured below, the other key piece in the progress we've made.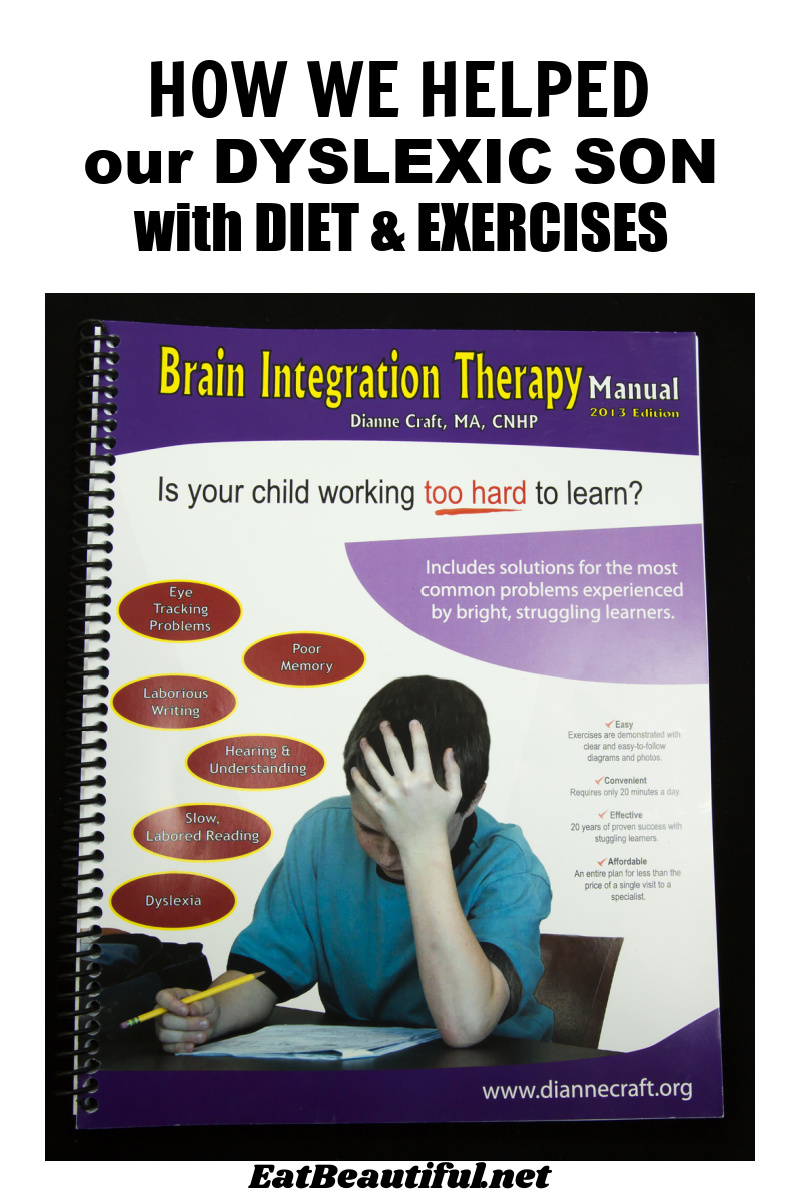 A grain and refined-sugar-free diet
We started the GAPS Diet now many years ago, largely motivated by helping our son with dyslexia. His older sister practically taught herself to read and was devouring chapter book series repeatedly when she was 5. The stark contrast gave me pause.
On was no, won was now, 6 was 9 and so on. And my son had NO inclination to want to learn to read.
Yet he was and is excellent at visual and auditory memory, learning that can be right-brain dominant. He excels at card games (he's unbeatable at Memory), chess and can learn the lines to a song or movie after only hearing them once, repeating them back animatedly word-for-word.
So in one area this kind of kid is shockingly impressive and in other areas he lags behind and needs a breakthrough.
Enter my Step 1: the GAPS Diet.
We went grain-free, sugar-free to help his gut heal, thus helping his brain.
According to the GAPS Diet's founder, Dr. Natasha Campbell-McBride, when the body can't digest and absorb food properly it leads to nutritional deficiencies that affect brain function.
In someone who is right-brain dominant and specifically dyslexic there are connections between the left brain and the right brain that aren't being made. Short term memory input, such as the alphabet or a word being introduced, does not get stored in long term memory. No amount of drilling affects this breakdown of function.
What kids with right-brain dominance do really well is store pictorial images in the right brain. I remember all the years of reading books to our son and how he'd notice things in pictures that no one else would and make startling insights accordingly. What a fun kid to have by my side.
I thought his astute observations would one day translate to his recognition of letter shapes. But it turns out that color and more object-oriented pictures were needed for his brain to store an image.
Enter Step 2: Dianne Craft and her insights about how to change the brain's process so it would store the short term memory information.
THE BOOK
Dianne Craft, the author educator who spent 30 years working with kids similar to my son, understands all of this from a brain function standpoint. She evolved her therapies during her years of working with kids, making observations and meeting their needs to accomplish progress in them.
In those days, students with learning disabilities, even small ones, were sent out of the main classroom to meet with a specialist several times a week. This was Dianne Craft's position in her school. She was the specialist who met with kids, from elementary to high school age, who were behind in reading.
I read as much as I could on the Dianne Craft website before ordering some of the materials. They're not overpriced but they are expensive; so I first bought four items and then in receiving them, and liking them, saw I needed two more. Those final two ordered ended up being the most important.
Dyslexia and sports
Here's where it gets exciting. Craft tells a brief story about a mother who implemented the physical exercises (outlined in one of the books) with her son and who, a few months later, saw her son's basketball game improve markedly.
I believed this testimony and put my hope in it. My son, like the woman's son in the story, loved basketball; but it seemed his brain was holding him back. He was timid on the court and his eye-hand coordination was impairing his will to succeed.
When our son and I started the physical exercises (what I also refer to as occupational therapy) laid out in Craft's book, there were tears. One of the exercises is physically awkward (you have to hold your ear against your shoulder and do a sweeping figure 8 motion with your arm;) and it takes dedication to stick with it. It almost feels demeaning, especially if anyone is watching who isn't your mom.
I told our son, one day, about the boy's basketball game, hoping it would inspire and encourage him. And just as I believed Craft's story, our son believed my retelling of it.
It gave him motivation. From that day forward he was driven and determined to do that exercise; and he got good at it. So it no longer felt awkward.
It is hard to share a mother's pride, especially when improvement occurs. But I am a tearful lady about the transformation that indeed took place. Craft was telling the truth and all our daily hard work paid off. Our son and I both stand in awe of his progress on the basketball court.
In general, I like to observe how different mothers experience their children's success or struggle in sports. We innately want our kids to do well but it isn't socially polite to get too excited, because we are really rooting for their moral development and not wanting to exalt physical excellence in our society over effort or moral fiber. And yet, this mama is sitting in the bleachers swelling with happy thankfulness as I see my son succeeding physically, especially because I know he earned it, day in, day out, with hard work.
What about his reading?

He is doing wonderfully. And his writing!
As Craft lays out, these right-brain, sometimes dyslexic learners, will vary slightly from one another in their processing of data. Some have auditory limitations. Some struggle with verbal expression or organizational issues.
The book I have pictured above, Brain Integration Therapy Manual, includes diagnostic exercises so you can see where your child's limitations lie and then focus accordingly with the exercises that correspond.
Regarding auditory skills, this is one area in which dyslexic children often need extra attention. If this is the case with your child Craft has exercises that help with back-to-front processing in the brain, meaning the back receptive part of the brain with the front expressive part.
She also addresses kids that aren't very verbal; the exercises help kids become more expressive.
Craft's body activities additionally help integrate the top and bottom parts of the brain, targeting kids who struggle with disorganization and messiness.
Writing struggles: dysgraphia
Lastly, and this one applied very much to our own situation, many right-brain dominant kids have trouble writing. This is called dysgraphia.
Part of the reason I loved Craft's material when I found it was she opened my eyes to this struggle in our son. She put a name to what I observed every day. He hated writing. It brought him to tears. He didn't mind learning cursive but having to write sentences that required composition or original thought was like being asked to do something preposterous; it was like a horrible, irrational request was being made of him. Poor guy!
So when I read Craft's description of this phenomenon and her name for it, I was encouraged. There was an answer, a method that would help our son out of the fearful, struggling place in which he existed.
Also, when our son saw this curriculum that was just for him, that thousands of kids before him had used, I think he began to know for the first time that he wasn't "stupid". Struggling students notice, of course, that they're behind in certain subjects and, as Craft corroborates, they don't "understand that it is just an integration problem". The curriculum shows photos of even high school kids doing these exercises. Our son began to see how "normal" his problem was and that we could help him. He became less emotional when he struggled; and, of course, we've seen impressive, measurable improvement since we started using Craft's books and methods.
Conclusion
Well, the rest of the story is each of ours.
I will press forward with the path laid out before us; and our son, God-willing, will keep improving in his abilities to read, write, spell and compose at grade-level. (Update: Our son is now 17 years old!, a straight-A student, flourishing. The hard moments we put in to the occupational therapy were well worth it.)
I hope this diet and curriculum review will help you, too, as you metaphorically hold hands with your kiddo, guiding them to an improved way of processing, storing and conveying information.
Here's the link to the book I most recommend, although there are other materials on the site you might find helpful as well. Perhaps it goes without saying but I don't know Dianne Craft or benefit in any way if you purchase this book. It's just mama love, sharing with you what's worked for me and hoping it will help you too.
To any of you who are extra open-minded and want deeper healing than you're currently able to achieve, I recommend pursuing and learning more about the Vitamin A Detox diet (VAD). Our family is currently using this diet for all kinds of deep gut healing, including mental health. VAD can be done in conjunction with GAPS or other healing protocols.
Please feel free to comment below with any questions you may have regarding mental health, gut health, dyslexia or diet.