I may receive a commission if you purchase through links in this post. I am not a doctor; please consult your practitioner before changing your supplement or healthcare regimen.
This classic Sprouted Blueberry Muffins recipe features homemade sprouted nut flour and butter, which happily replace store bought. When nuts are sprouted, they're easier to digest and more nutritious — by a lot. Enjoy this "awakened" way of preparing and using nuts, instead of using store bought nut flour. 🙂 Perfect for Paleo, GF and GAPS diets, as well as any ancestral diet which takes sourcing and digestion into account.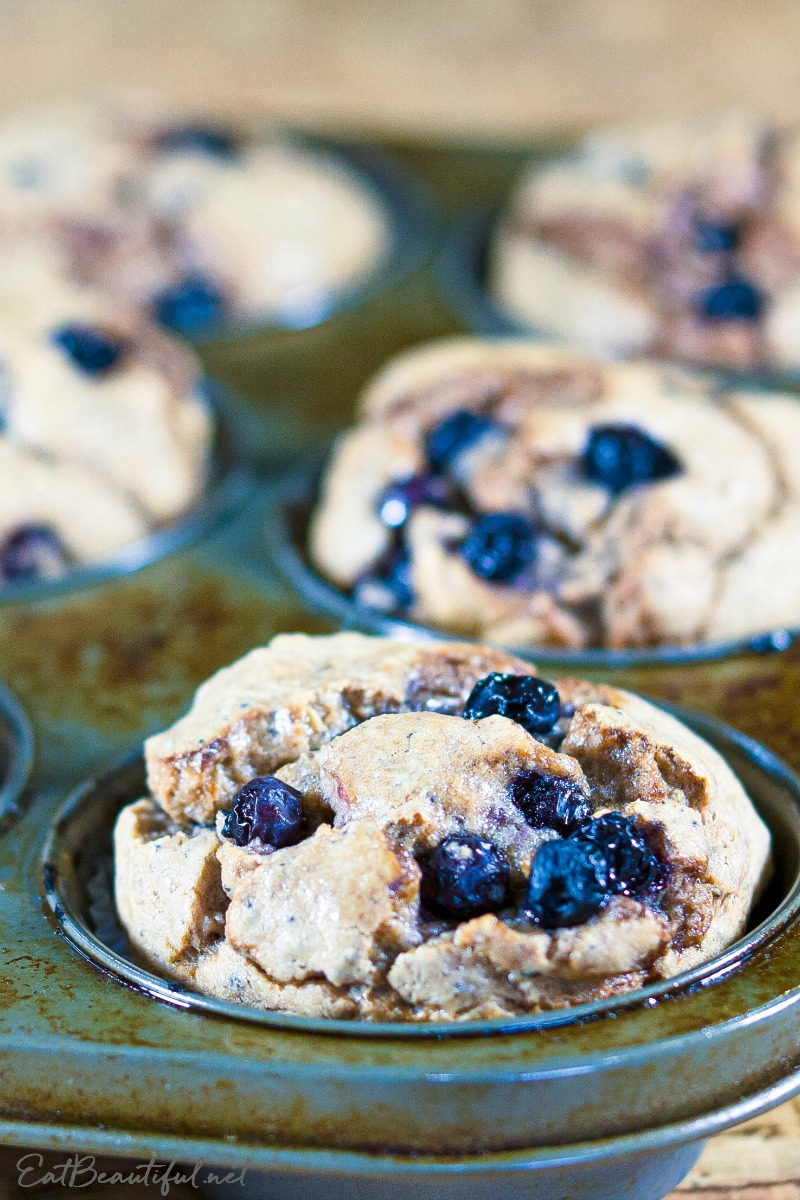 How to sprout nuts for Sprouted Blueberry Muffins?
Sprouted nuts can be purchased or made at home.
The simple process does require a dehydrator or an oven that can go as low at 140 degrees Fahrenheit.
To sprout nuts, we don't actually germinate the raw nuts. We simply soak overnight in salted water — which "awakens" the nuts. Then we rinse and dehydrate. That's all. The nuts become extra crispy, delicious … and more nutritious and gentle to digest.
Follow this link to sprout your nuts.
Which nuts are best in muffins?
While many Paleo and gluten-free recipes use almond flour or butter, almonds are not the best or most nutritious nut. Almonds are high in omega-6 fatty acids, often rancid and pasteurized, and heavy with glyphosate residue (consumers rarely splurge for organic almond products).
Instead, enjoy a world of variety! Consider for this recipe: hazelnuts, Brazil nuts, pecans, walnuts and even seeds like pine nuts and pumpkin seeds. These nuts and seeds each have different textures and flavors, and all of them make great muffins.
How often to enjoy sprouted nuts?
I don't know what it is about muffins, but I love them. Next to soup, with hot tea, freshly baked muffins make me happy. When we started the GAPS Diet, grain-free muffins like these made the new diet much easier for all of us.
We had to learn moderation, though. Too many nuts, even sprouted nuts, aren't ideal for any diet.  
Nuts are indeed nutritious, but we have to eat them in much smaller proportion to broth, soup, and the core foods of a healing diet.
If you need more healthy baked goods to include, enjoy my baked goods cookbook, EAT BEAUTIFUL: Grain-free, Sugar-free, and Loving It. All of the unique recipes bear digestion and nutrition in mind (and there's no almond flour in sight). If you or your kids are having a hard time getting on board with your healing diet, I have lots of tricks I'm eager to share.
In the meantime, bake up a batch of grain-free, refined-sugar-free muffins, and feel the happiness that fresh muffins bring to your kitchen.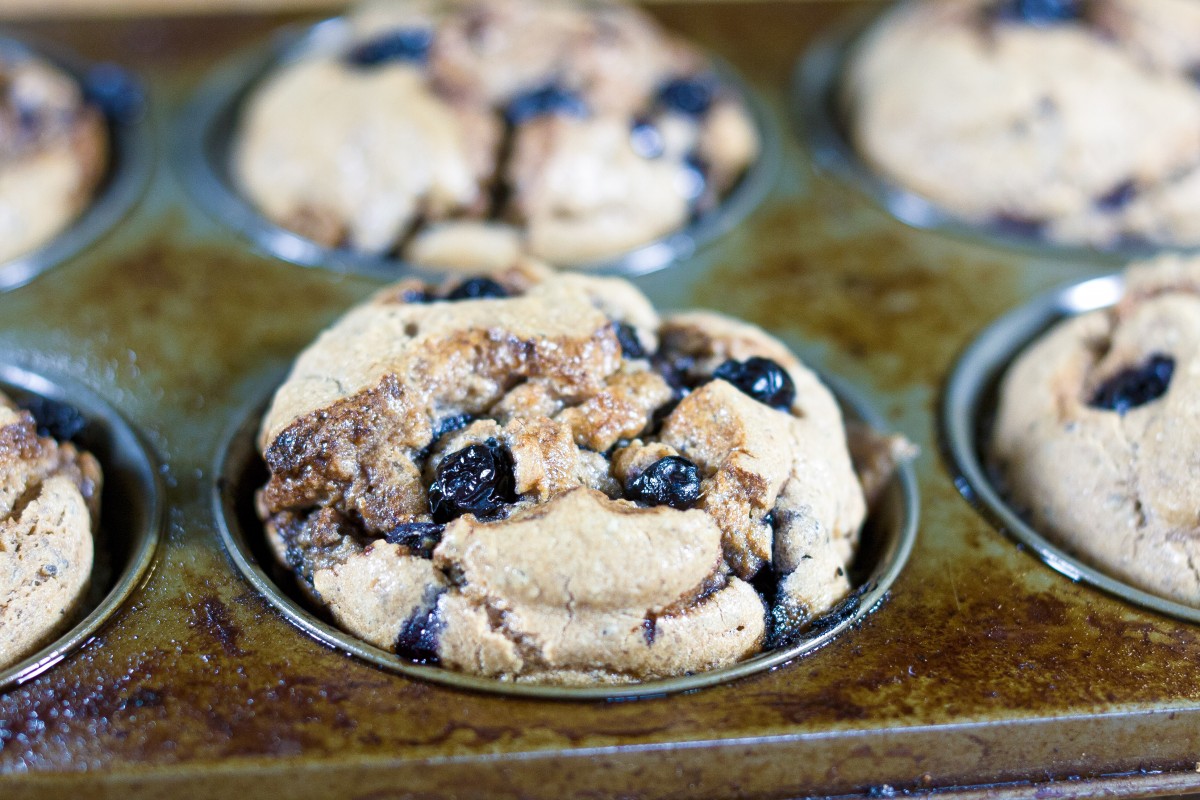 Print Recipe
Sprouted Blueberry Muffins (with "activated" nut flour)
Sprouted Blueberry Muffins are unique because the nut flour is homemade — using soaked and dehydated nuts for better digestion. Perfect for GAPS, Paleo and whole food diets.
Ingredients
1 ½

cups

nut flour

measured from 2 ½ cups blended, sprouted nuts (use any nut, such as hazelnuts, Brazil nuts, pecans)

½

cup

flax seed meal

2

Tablespoons

coconut flour

½

teaspoon

sea salt

½

teaspoon

cinnamon

½

teaspoon

baking soda

(not GAPS-friendly, optional)

⅛

teaspoon

powdered stevia

(if NuNaturals brand; use other brands "to taste" as they vary in strength)

⅓

cup

dates

, packed

½

cup

coconut oil

½

cup

sprouted nut or seed butter

("activated" and puréed nuts), homemade or storebought

½

cup

apple

finely chopped fresh, or applesauce

3

eggs

pastured preferred

1

cup

blueberries

½

cup

optional sprouted walnuts
Instructions
Preheat oven to 325 degrees Fahrenheit. Line muffin pan with liners.

In a medium size bowl, assemble and whisk together the following dry ingredients: nut meal, flax, coconut flour, sea salt, cinnamon, baking soda and stevia.

Assemble and blend together, in a large bowl or food processor, the following wet ingredients: dates, coconut oil, sprouted nut butter, apples and eggs.

Add the dry ingredients to the wet ingredients and mix thoroughly. Fold in the following: blueberries and sprouted walnuts.

Drop the batter into lined muffin pan. Bake until muffins are puffed, browned on top, and a toothpick inserted in the center of one comes out clean, about 20 to 25 minutes.
Notes
Find directions for how to sprout your nuts or seeds HERE.
Nutrition
Calories:
284
kcal
|
Carbohydrates:
15
g
|
Protein:
10
g
|
Fat:
22
g
|
Saturated Fat:
10
g
|
Cholesterol:
41
mg
|
Sodium:
164
mg
|
Potassium:
393
mg
|
Fiber:
6
g
|
Sugar:
5
g
|
Vitamin A:
66
IU
|
Vitamin C:
1
mg
|
Calcium:
80
mg
|
Iron:
2
mg
Variations and substitutions

Chocolate-Peanut Butter-Banana — Use peanut butter in place of other nut butter, use banana in place of the apples, one portion mashed and one portion diced and folded in, add ½ cup chocolate chips (Lily's makes a stevia-sweetened chocolate chip or here's a new unsweetened chocolate chip that I love) or nibs.
Pumpkin-Chocolate Chip — Replace the pureed fresh apple with ½ cup cooked, mashed pumpkin (BPA-free, canned, organic pumpkin is fine), add ½ cup chocolate chips or nibs.
Substitute the blueberries for ½ cup finely chopped fresh apple.