I may receive a commission if you purchase through links in this post. I am not a doctor; please consult your practitioner before changing your supplement or healthcare regimen.
Best Paleo Blueberry Muffins are a classic recipe made with cassava flour, almond flour (or other nut/seed flour) and coconut flour. This Blueberry Muffin recipe is healthy, always moist — and will surely be greeted with enthusiasm — perfect for a Sunday morning or to grab for a lunch or snack.
Paleo Blueberry Muffins are Gluten-free and have a GAPS diet variation.
This recipe also has a nut-free version; see the Notes section below the recipe.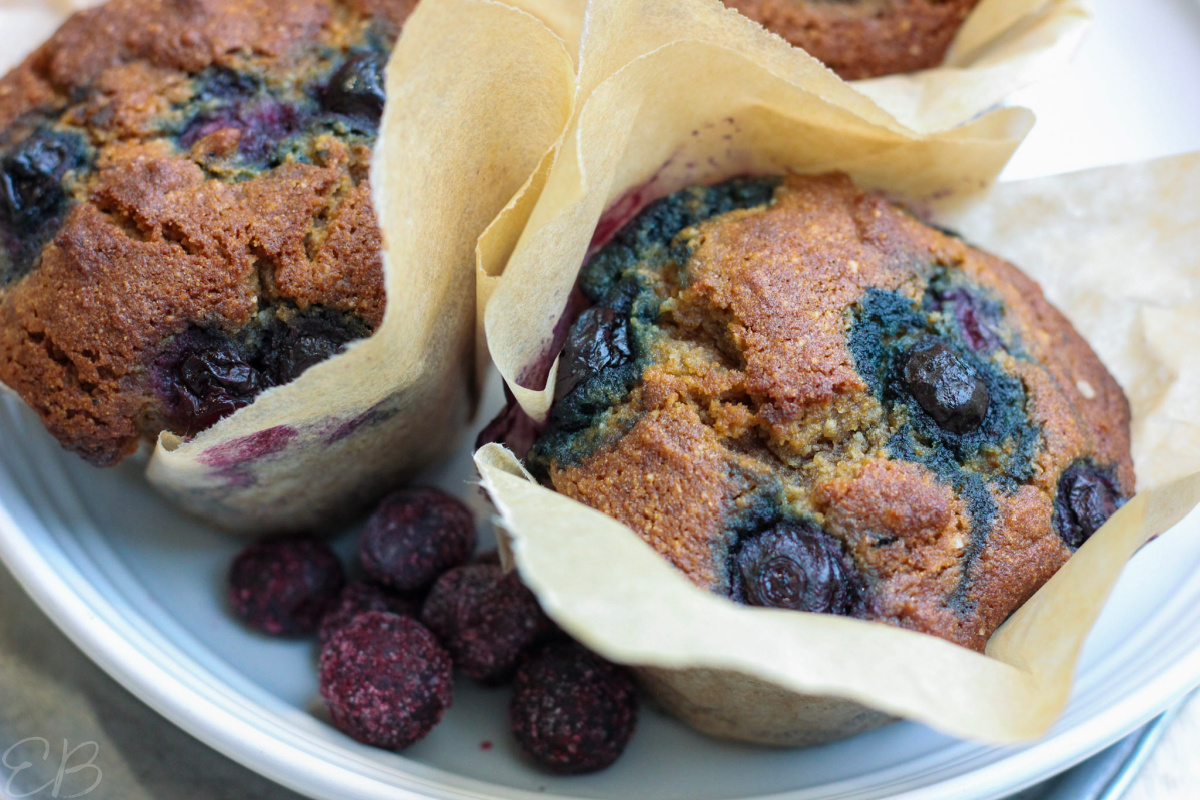 Jump to Recipe
Ingredients in Paleo Blueberry Muffins
We keep all of these ingredients on hand, and perhaps you do, too. So the muffins are quick to bake up!
Here are the dry ingredients you need:
cassava flour
almond flour — or any nut or seed meal (see below if you want to use your own "activated" nut meal)
coconut flour
coconut sugar
gelatin
baking soda and sea salt
Wet ingredients are:
1 egg
fat of choice: melted solid fat, or use avocado oil or olive oil
milk of choice
apple cider vinegar
fresh or frozen blueberries
How to make Paleo Blueberry Muffins
This recipe is a simple quick bread: Combine the dry ingredients, add the wet ingredients, and stir to combine.
Easy, predictable and fast, you can whip these up before breakfast or any day you have the inclination.
What makes this recipe the best version of Paleo Blueberry Muffins
Yes, they taste the best, and their texture is perfect! — wonderful crispy edged outer muffin top texture and tender moist cake-like middle!
They're also the best because of the ingredients. Perhaps too many Paleo baked goods are packed with a lot of (or all) almond flour.
With this recipe, you get a variety of flours, common to most of our pantries, so still convenient, but better for overall nutrition than all one nut (that's high in omega-6 PUFAs).
Alternative to almond flour: homemade sprouted nut meal
This post gives you bonus instructions, down in the Recipe Notes, for how to make homemade sprouted/activated nut meal, instead of using blanched almond flour, if you can't have almonds, or if you prefer.
While almond meal, flour and butter have become common Paleo ingredients in most grain-free kitchens, I share here why it's wise not to overuse almonds.
If you do make sprouted nut flour, it ends up being a convenience food. You can make it ahead of time and keep it on hand for all your baking needs.
The actual work involved in the entire process is only about 10 minutes, total.
My cookbook without almond flour
I also recommend my cookbook, which eliminates the dehydrating process, and makes grain-free baking easy and healthy, with a technique I developed myself for moist and easy-to-digest baked goods that use activated nuts.
Which almond flour to buy
If you do use store-bought almond flour (so do I!), it's best to use only organic blanched almond flour (this one), because the outer husk of the nut has been removed, thus reducing phytic acid and making the nut more digestible.
Print Recipe
Paleo Blueberry Muffins
Best texture and best ingredients, Paleo Blueberry Muffins are healthy, always moist - & will surely be greeted with enthusiasm - perfect for a Sunday morning or to grab for a lunch or snack.
Servings:
3
large muffins or 6 small
Instructions
Preheat oven to 325℉. Line muffin pan with liners or heavily grease. Set aside.

In large bowl combine dry ingredients: coconut sugar, cassava flour, almond flour, coconut flour, gelatin, baking soda and sea salt.

In medium bowl, combine wet ingredients: fat of choice, milk, egg and apple cider vinegar. Add wet ingredients to dry ingredients, and stir to combine. Fold in blueberries.

Fill muffin tin evenly with batter. Bake until toothpick inserted in center comes out clean, about 25 to 30 minutes for larger muffins, 12 to 15 minutes for smaller. Muffins will be pretty dark, not light golden.
Notes
How to Make Homemade Sprouted Nut or Seed Meal
If you want or need to skip the almond flour:
For every 4 cups of raw seeds or nuts, cover with room temperature, filtered water by two inches, and 2 tsp. sea salt.  Stir well to dissolve the salt.  Leave out overnight at room temperature to soak.  Drain them in a colander; and rinse them well. If you suspect old nuts, or possible rancidity, or mold, such as with peanuts, add

½

teaspoon vitamin C powder to the salted soaking water. This will kill any potential mold.
(As a side note, 2 hours to overnight is adequate for cashews.)
Dehydrating
Use any soaked nut or seed that has been duly drained and rinsed. Toss with optional sea salt to taste and place in your

dehydrator

or low temperature-capable oven, 95-145 degrees. For some nuts, such as macadamia or hazelnut, this process of completely drying out the nut can take as long as 72 hours. For smaller seeds, 24 hours may still be necessary. To check your nuts' doneness, let one or all cool to room temperature. Then eat one. It should be very dry and crispy, no softness or chewiness to the inside. With the exception of walnuts, (which should still be stored in the refrigerator or freezer because their oils go rancid more quickly), the nuts will have a good shelf life and may now be stored in a sealed container in your pantry.
To Make Nut Meal
To make nut meal, simply place soaked, dehydrated nuts in blender or food processor, and blend until fine meal results. Do not over-blend or you'll have nut butter. (To make sprouted nut butter, continue to process the sprouted nut meal. This sprouted butter can be used for the GAPS diet recipe variation.) Store in sealed container in fridge or freezer for all future baking needs.
GAPS diet variation
This GAPS diet variation of Paleo Blueberry Muffins that does not include cassava flour — unless the patient is phasing off, in which case cassava provides great resistant starch.
RS is excellent for the colon ecosystem due to its prebiotic properties, and cassava flour provides great carbs for thyroid and general health.
Find the best cassava here.
For GAPS Variation nut-free version, find sprouted seed butter

here

.
Nutrition
Calories:
453
kcal
|
Carbohydrates:
35
g
|
Protein:
8
g
|
Fat:
32
g
|
Saturated Fat:
5
g
|
Polyunsaturated Fat:
4
g
|
Monounsaturated Fat:
18
g
|
Trans Fat:
0.01
g
|
Cholesterol:
57
mg
|
Sodium:
439
mg
|
Potassium:
68
mg
|
Fiber:
5
g
|
Sugar:
16
g
|
Vitamin A:
121
IU
|
Vitamin C:
2
mg
|
Calcium:
70
mg
|
Iron:
1
mg
You can Pin this recipe to save it for later here: