I may receive a commission if you purchase through links in this post. I am not a doctor; please consult your practitioner before changing your supplement or healthcare regimen.
Apple Cider Vinegar Gargle for Sore Throat Recipe shares how to use apple cider vinegar to prevent or relieve sore throat pain, oftentimes helping the body to also overcome a cold.
This simple recipe works wonders, but it's also cheap, readily available and simple.
I always keep apple cider vinegar on hand. If you do, too, then you have all you need to make this recipe!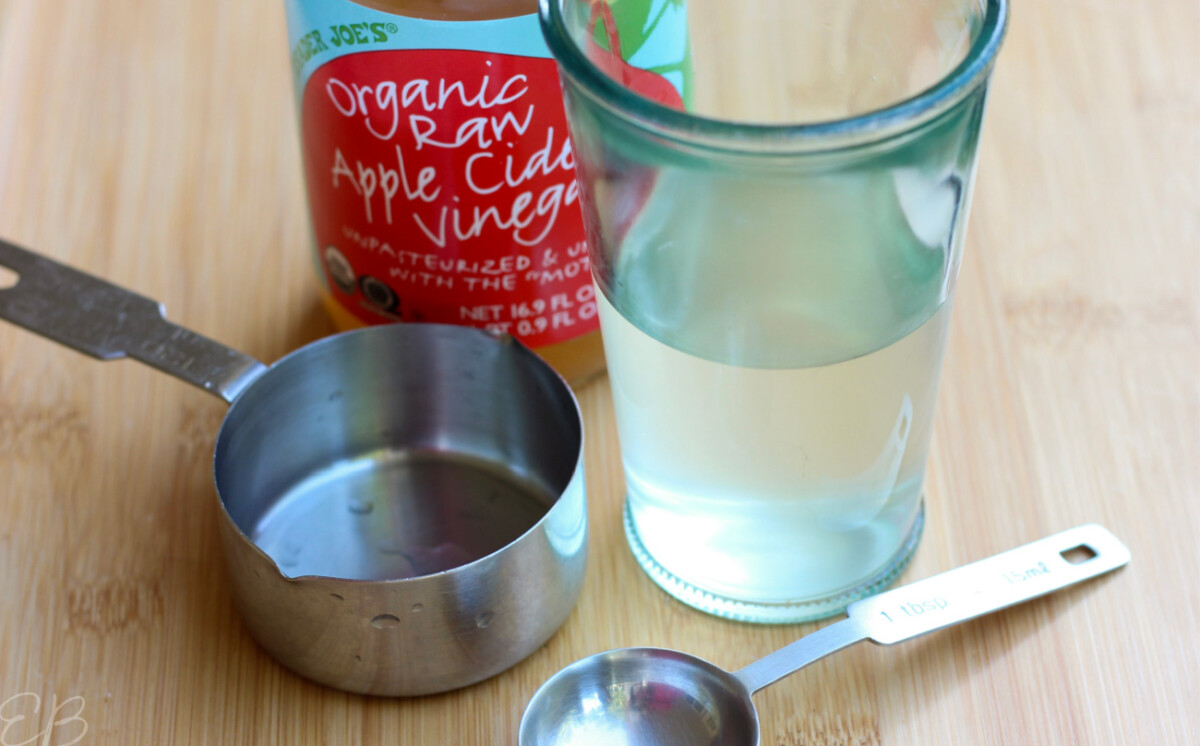 Does ACV kill cold viruses
Great news: Studies show that apple cider vinegar is effective against a variety of infections, including:
Escherichia coli bacteria
Staphylococcus aureus bacteria
Candida albicans yeast
resistant coli (rE.coli) infections
I have personally found it to be effective for me, so far 100% of the time, in overcoming a common cold.
And while more testing should certainly be done, medical professionals do recommend using ACV for sore throats!
ACV also helps to thin mucous secretions, making it a great way to clear out phlegm from the throat and nasal cavity.
Apple Cider Vinegar Gargle for Sore Throat Recipe
Recipe Ingredients
1 Tablespoon real apple cider vinegar (raw, with the "mother")
1/2 cup room temperature water (or slightly warm)
Recipe Instructions
Place water in drinking glass.
Add apple cider vinegar. Stir to mix.
Gargle as is outlined in the sections below.
This mix may be kept and used throughout the day until it's gone. Cover loosely on the counter, but don't refrigerate.
How to Use Apple Cider Vinegar to Prevent or Relieve Sore Throat
When you feel a sore throat coming on, gargle, using this recipe, for about 30 seconds, or longer, if it feels helpful.
I do go ahead and swallow the mixture, too, as I know the ACV is helpful as it passes the upper esophageal area as well, and it helps with digestion.
For that last reason (digestion), I try to do this gargle directly after a meal. That way, the ACV stimulates digestion and nothing else follows the gargle.
In other words, don't eat or drink after gargling for 15 to 30 minutes, or longer.
If you don't need to eat before your gargle, you may be fine swallowing one dose, but I don't swallow more than that on an empty stomach, because it changes the stomach's pH. You may also spit out the gargle if you're concerned about this or you want to gargle more than once.
How to rotate your head while gargling
While gargling, try rotating your head to the left and to the right, to allow germs to be killed in the inner ear, preventing ear infection.
Also tilt your head back as far as comfortably possible, and gargle as deeply back into your throat as possible to get all the cavities where germs hide.
The farther back you go, the more the ACV mixture will also benefit the nasal cavities.
When you're done, feel free to blow your nose and clean out that area. (Next week, I'll share what I do in my nostrils to prevent the cold virus there and to stop a runny nose before it gets worse.)
How often to gargle apple cider vinegar for sore throat
Gargle once an hour, at most, or less often if it's not needed (two to three times daily). You may also gargle two times in a row each hour, if you find that helpful.
Any side effects of gargling with apple cider vinegar
Undiluted ACV can harm your esophagus and stomach lining.
People with ulcers should avoid it. Anyone with acid reflux or heartburn may benefit, if it's used after a meal, but consult your doctor if you're concerned. ACV does not go well with heartburn and reflux meds because their approach is different. So don't use this method with a meal if you're already taking TUMS or a similar product.
Too much apple cider vinegar can also lead to erosion of the tooth enamel, so you may wish to (at least superficially) brush your teeth directly after gargling (but don't rinse the ACV off your throat).
Medications
ACV may interact with some medications, such as diuretics, insulin or medications for heart disease (such as digoxin).
You can Pin Apple Cider Vinegar Gargle for Sore Throat Recipe here:
Similar articles
Additional sources 1, 2, 3, 4