I may receive a commission if you purchase through links in this post. I am not a doctor; please consult your practitioner before changing your supplement or healthcare regimen.
TEXTURE
Commercial brands of eggnog use thickeners such as carageenan and guar gum, some of which have been linked with inflammation and are undesirable for a pure, whole food diet. However, truth be told, I like a thick eggnog, one that is almost custard-like. So I have added that all-time healthy thickener, sustainably-sourced gelatin, to my recipe. The added step is worth the mouth-feel reward you get from the finished recipe!
ORIGINS OF INSPIRATION
Go forth and make excellent eggnog. May the high fat, high cholesterol, sweet treat nourish you and connect you with Americans of history.
Did you know? Although eggnog originated among the English aristocracy, it quickly became popular on American farms of the 18th and 19th century, rich with farm eggs, jersey cows and the nutmeg and cheap rum from the Caribbean.
For a dairy-free version, see the recipe variation below.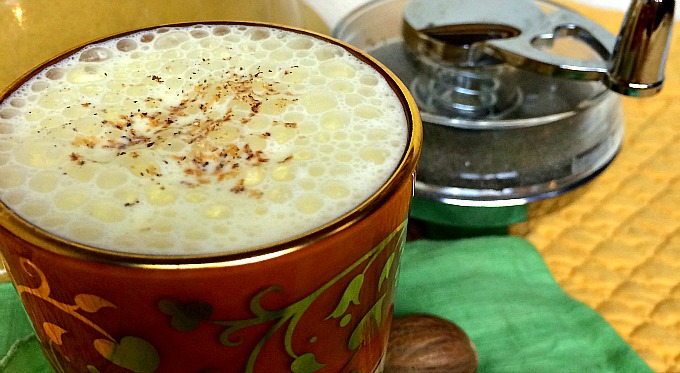 This post contains affiliate links. 
RAW EGGNOG RECIPE with a dairy-free option
Ingredients
4 cups raw milk
1 cup grass-fed cream
½ cup local raw honey, pure maple syrup, or coconut sugar
8 raw grass-fed egg yolks*
¼-1 ½ cups rum, brandy or cognac** (optional)
1 tsp. sustainably-sourced gelatin***
1 tsp. cinnamon
½ tsp. nutmeg
1/8 tsp. NuNaturals brand stevia****, to taste (depending on the potency you buy)
Instructions
Place the heavy cream in a small saucepan.
Whisk together the gelatin, cinnamon, nutmeg and stevia.
Sprinkle the gelatin and spices over the cream's surface, whisking to incorporate, allowing one minute for the gelatin to dissolve.
Heat the cream over medium heat, stirring, for 2-3 minutes, until the cream is steamy, but not yet simmering.
Remove the pot from the heat and add your sweetener of choice. Stir to dissolve.
Allow the cream to cool for 5 minutes.
Add all the components to a blender: the raw milk, egg yolks, optional alcohol, and cream mixture.
Blend briefly on low speed, 10-15 seconds, until the ingredients are well mixed.
Chill and serve, sprinkled with more freshly grated nutmeg as a garnish.
https://eatbeautiful.net/2014/11/28/raw-eggnog-recipe-with-a-dairy-free-option/
© 2014-2016 MEGAN STEVENS
Variation– In Puerto Rico, eggnog is made with coconut milk and is called coquito. To make this non-dairy version, simply substitute in 5 cups homemade or canned coconut milk for the milk and cream.
*Don't throw away the whites.  There are three easy options I'd like to share with you:
1) Beat the egg whites until stiff and then fold them into the finished eggnog. This is the traditional use for the whites, as recorded by George Washington!
2) Those protein powerhouses can be used in any bread or waffle recipe in place of whole eggs! The effect will be slightly different, but frugal and good!
3) You can also make an egg-white omelette adding back in the missing fat and cholesterol by cooking it in lots of butter, lard or bacon grease, and filling it with aged cheese and high-fat meat. Yummy.
**Here are some grain-free alcohol choices:
Choose your brand of alcohol according to its purity and quality. If you choose the highest ratio of alcohol for this recipe (1 ½ cups = 20% of the recipe), your hooch can actually stay in the fridge for an extended period. The alcohol keeps it preserved! The larger ratio of alcohol is ideal when the nog is sipped and savored in smaller portions. The smaller amount of alcohol, ¼ cup, is recommended for larger servings, or gatherings where kids will be served.
***This ingredient is optional. If you want a simpler, quicker version of the recipe, just omit the gelatin and puree all the other ingredients in a blender briefly. Chill, garnish and serve.
****Occasionally I am asked why I use stevia in recipes when I have already used another sweetener, such as honey. Good question. The answer is two-fold:
1) Many natural sweeteners, such as honey or pure maple syrup, have a very strong and distinct flavor, one that might be distracting from the recipe itself. Stevia adds additional sweetness as a silent partner. With the amount I use, you don't know it's there; but its addition accomplishes just the right amount of sweetness. 2) Because my family has defeated pathogen overgrowth, we know what it is to keep our "sugar" to a minimum. Even too much honey can cause a risk of pathogen overgrowth in certain people. By using part stevia we are cutting down on the overall amount of "sugar" in a recipe and therefore decreasing our risk of consuming too much sweetener. Stevia, made without dextrose, in our experience, is harmless and helpful where pathogen overgrowth is concerned- tasty with no side effects.