I may receive a commission if you purchase through links in this post. I am not a doctor; please consult your practitioner before changing your supplement or healthcare regimen.
Vegetable Oil CONVERSION CHART to Natural Fats provides two things: One, a quick and easy explanation of why vegetable oils are bad for you and two, a chart, so you know what to use instead of vegetable oil when you cook and bake.
Which oils are vegetable oils
You might be wondering: What oils are considered vegetable oils? So let's cover that first!
Vegetable oils are designated as such for at least one of two reasons: They're always high in omega-6 fats, and they're oftentimes also chemically processed, which includes chemical extraction, degumming, deodorizing and bleaching.
The following oils are considered vegetable oils:

canola
corn
cottonseed
grapeseed oil — This one comes as a surprise to many people. Yes, it has a high smoke point, but it's still a vegetable oil that's high in omega-6 fats.
hemp or hempseed — This one may seem healthy, but it's very high in polyunsaturated fats.
peanut
pumpkin seed oil — This one may seem healthy, but it's very high in polyunsaturated fats.
rice bran oil — This one comes as a surprise to many people. Yes, it has a high smoke point, but it's still a vegetable oil that's high in omega-6 fats.
safflower
soy or soybean
sunflower
The above oils are all oils to throw away. You don't want one more meal with an oil that's dangerous to consume.
The above oils that are chemically extracted and bleached are especially bad: canola, corn, cottonseed, peanut, safflower, soybean and sunflower. These lightly colored oils are disease causing.
If you don't see an oil here that you're curious about, chances are it's high in polyunsaturated fats and not ideal to eat. Ask in the Comments section below, or look up the nutritional data to see the PUFAs listed.
Why vegetable oils are bad for you
The history and creation of the first "edible" vegetable oil
A very quick history lesson teaches us that vegetable oils were first created (by a Proctor and Gamble hired chemist) to save money and increase profit. They created a lard-like baking fat from a liquid fat that formerly was considered toxic to even animals: cottonseed oil.
This product became Crisco and was sold to the public using the most expensive marketing campaign known to the U.S. at that time. Health claims were unregulated, and customers loved the cheaper price tag.
Proctor & Gamble even donated 1.7 million dollars to the American Heart Association (AHA) and received an official endorsement that Crisco was "heart healthy".
What started with cottonseed oil and Crisco was just the beginning. It would be years before dietary diseases would show themselves, and the link would be hard to pinpoint. So vegetable oils broadened and became a new source of mega-profit.
How are vegetable oils made
The fact is: Vegetable oils are not even remotely natural. It takes a long process that includes bleaching to get the finished product.
What starts out as a crude oil with "undesirable color and odor", only fit for disposal, undergoes several steps before it reaches the grocery store shelves:
Chemical solvents are used to extract vegetable oils (instead of natural pressing). This process creates trans fats.
Degumming removes certain waxy fats and gums.
Neutralization removes metals, free fatty acids and other undesirable components.
Very high heat washing and drying remove soaps and water from the oil.
Bleaching aims to eliminate pigments, peroxides and residuals of fatty acids and salts.
Dewaxing removes remaining waxes.
Deodorizing is the final stage, which removes additional toxins and creates an almost odorless oil.
You are left with an almost flavorless, odorless and colorless oil that will gradually take your health.
Why are vegetable oils bad for you
At the end of the day, vegetable oils are:
high in omega-6 fats (or polyunsaturated fats [PUFAs]), which create inflammation

PUFAS are unstable and cause oxidation in the body.
When our cells oxidize, they experience stress, age and die.

responsible for several types of cancers, heart disease, diabetes, increased belly fat, obesity, arthritis, dementia, depression, shorter life span, IBS, low testosterone and endometriosis.
amended with preservatives: Butylated Hydroxyanisole (BHA) and Butylated Hydroxytoluene (BHT)

These ingredients are linked to cancer, a suppressed immune system, infertility, kidney and liver damage and behavioral problems.
Solid vegetable oils, like margarine and Crisco have added health dangers:
Hydrogen added to vegetable oils make it solid at room temperature. While this property is natural for coconut oil and oils made from animal fats, man-made trans fats lower good cholesterol and raise bad cholesterol.
Consuming solid vegetable oils is linked to stroke, heart disease, Type 2 diabetes and increases insulin resistance.
Where do vegetable oils hide
Once we recognize that vegetable oils are bad for us, we need to remove them from our diets.
The first step, of course, is to get rid of all straight vegetable oils in our homes: bottles, jars, tubs and buckets!
But, vegetable oils are also found in almost ALL processed foods, including dry cereals, freezer meals, salad dressings, coffee creamers, restaurant foods, mayonnaise, Miracle Whip and French fries!
If you can't give up some of these staples, it's even more important to learn how to cook with natural fats, and which ones to buy instead of the vegetable oils you've just thrown away! …
But, ideally, we also throw away all the processed foods and replace them with natural foods.
Vegetable Oil CONVERSION CHART to Natural Fats
All liquid vegetable oils can be subbed for safe and healthy liquid natural fats. These are:
avocado oil
cold pressed oils (in moderation), that you don't plan to heat, from nuts or seeds, like:

macadamia nut
walnut — Don't overdo any nut or seed oil, as they are not as healthy as olive or avocado oil.
sesame — Sesame oil can be included in a healthy diet as long as it's not an everyday staple that overshadows sources of omega-3 fats. In moderation, it's fine when it's expeller-pressed (a natural process of pressing that removes the oil from the seed).

olive oil (make sure this one is pure, not diluted with any vegetable oil): extra-virgin or refined


It's okay to buy refined olive oil, just not diluted with another oil.
Solid vegetable oils (like margarine and Crisco) can be replaced with these natural solid fats:
butter — Not everyone does well with dairy. If you'd like to include butter in your diet, try a high quality butter like Kerrygold brand.
coconut oil
Avocado oil, butter, olive oil and coconut oil are extremely low in inflammation triggering omega-6 fats.
Ghee may also be used, and for some is more allergy-friendly than butter. Ghee is clarified butter, with the water and milk solids removed. (It's both casein- and lactose-free.) It is higher in fat than butter and can be used for high heat cooking.
Palm oil
Another vegetable-based fat that's solid and may be useful for occasional baking needs is sustainably-sourced palm oil. Palm oil is not a super healthy natural fat, because it's high in palmitic acid, which in recent studies doesn't seem beneficial to the waistline or energy levels. But, if sourced well, it is natural, and for very occasional use, it may be helpful for making pastries etc. It's certainly a much better choice than Crisco.
Some people may also enjoy modest amounts of responsibly raised animal fats (but see more below on how to sub specific ingredients):
duck fat
schmaltz — This is rendered chicken fat.
tallow — beef fat
Leaf lard
Other natural fats are bacon fat and lard, but these should be used sparingly. Bacon fat works really well for occasional cooking needs, like in gourmet French recipes. And lard is an excellent baking fat, with leaf lard working well for pastries and biscuits.
How to use natural fats instead of vegetable oils
Which fats are the best fats to eat
Here, I'd like to reiterate: Avocado oil, butter, olive oil and coconut oil are extremely low in inflammation triggering omega-6 fats.
These are the fats to focus on the most, to eat the most of as far as fats go.
It's okay to supplement with small amounts of certain expeller-pressed nut or seed oils (which ones are listed below), but don't overdo these, because they are higher in omega-6s. And, it's okay to use small amounts of certain sustainably-sourced animal fats, but don't overdo these either, because they're not as healthy as the four fats listed above.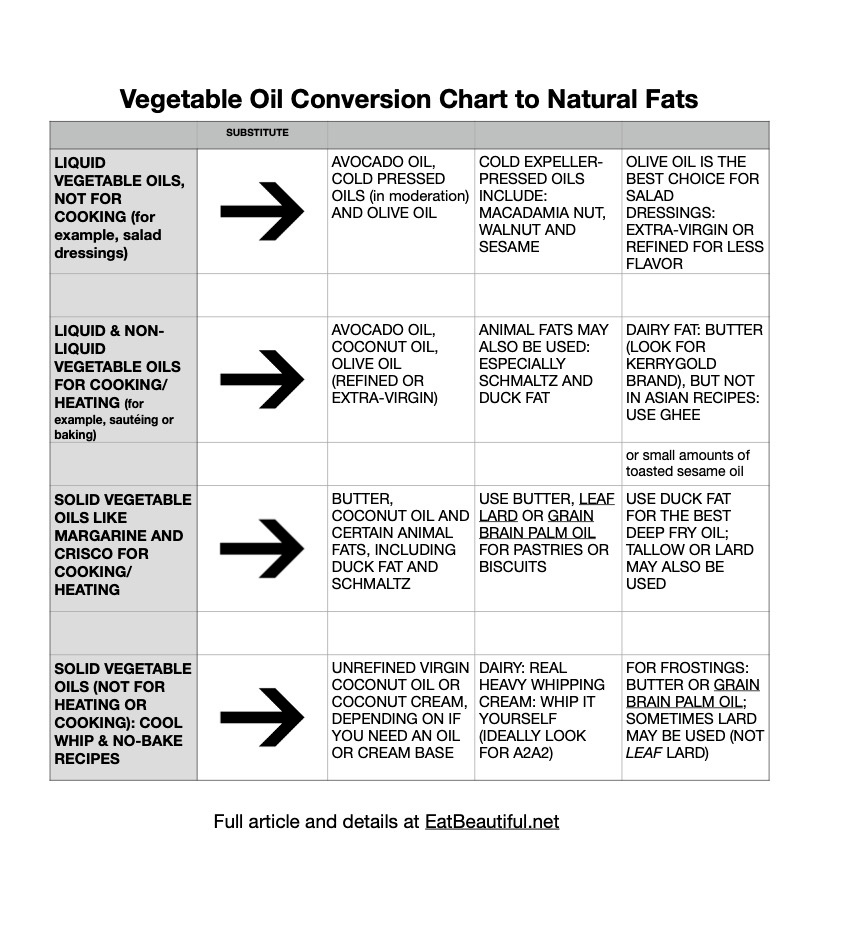 Below, I spell out the chart to explain it a bit more:
Non cooking needs (salad dressings etc)
All liquid vegetable oils –> (use instead) natural liquid fats, such as olive oil and avocado oil, and , cold pressed oils (in moderation)
Cooking and baking needs (you plan to heat the oil)

All liquid or solid vegetable oils –> (use instead) natural liquid fats, like olive oil or avocado oil, (not cold pressed oils, which shouldn't be heated) and any natural solid fats, such as coconut oil, butter, ghee, duck fat or schmaltz
Baking with solid fats
Margarine or Crisco –> (use instead) butter, coconut oil or sometimes animal fats will work, such as lard, duck fat or tallow; see note below:
If you're making a pastry dough or biscuit type recipe that requires a solid fat with a certain melting point, not all natural fats work the same:

Leaf lard (here) is a popular and good choice for pastry dough and biscuits because it has a high melting point (it won't melt too soon, but instead will wait to melt, helping to create a flaky texture).
Sometimes other fats may also be used with success, such as Grain Brain Palm Oil. But, be careful, other brands of palm oil, like Spectrum, will not work, as they have lower melting points.
If you get good at baking with natural solid fats, you can learn to combine fats like duck and tallow, and chill your dough, to achieve success. Duck fat melts early, tallow is very hard and melts later. But this can be tricky and experimental, so if you need reliable results, butter, leaf lard and Grain Brain Palm Oil are the most reliable.
Frying with solid fats
Both duck fat and tallow make excellent frying oils for more natural French fries and similar.
Non-heat uses for solid fats
Solid vegetable oils are often used for no-heat cooking as well. Products such as Cool Whip and frosting recipes require solid fats.
Cool Whip or solid fats (not to be heated or cooked) –> (use instead) depending on the recipe: unrefined virgin coconut oil, refined coconut oil (for less coconut flavor), palm oil or coconut cream. Dairy options include butter or heavy cream (make your own whipped cream), depending on the nature of the recipe, what you need.

Total alternatives to using fat in your cooking
I used to think fat was good for me. But in our modern world, most Americans have undiagnosed fatty liver disease. So I think we need to re-think fat consumption.
A little is fine! Homemade salad dressings, sautéing stove top meals in good fats etc, but we also need alternatives: fewer sauces and condiments that are fat-based, baking with less fat (and sugar), eating fewer "treats" and desserts.
And, at the end of the day, fried foods still aren't good for us.
Consider an air fryer, to replace deep frying, but also to use less fat in general with baking and cooking:
You can Pin Vegetable Oil CONVERSION CHART to Natural Fats here:
Similar articles you may enjoy