I may receive a commission if you purchase through links in this post. I am not a doctor; please consult your practitioner before changing your supplement or healthcare regimen.
Stuffed Butternut Squash CHRISTMAS TREES are a simple Christmas cooking craft that is fun to surprise your family or friends with! They're pretty and the process is delightful — easy art!
Alternately, grab some kids and include them in the process! This option works great because every squash has two sides, once you cut it in half! You can do one half, and the kids can have fun with the other!
This is Part One in a two-part series: two different designs and toppings for butternut squash. Choose your favorite or play and make your own designs. Find design #2 HERE.
Here's the recipe for baking the squash, making the filling it gets stuffed with, and the DIY of how to assemble the whole kit and caboodle. Have fun!!
How to make Stuffed Butternut Squash Christmas Trees
THE PRE-BAKING OF THE SQUASH
Preheat your oven to 375 degrees.
Place your whole butternut squash on a cookie sheet or in a large cast iron skillet.
Bake the squash for one hour only. (This will only partially cook the squash, protecting it from mushiness during further assembly, but also making it easy to cut in half.)
Allow the squash to cool for 30-45 minutes, until you can handle it.
Cut the squash in half lengthwise.
Scoop out the seeds from the cavity.
THE FILLING RECIPE
Ingredients
2 onions, diced
1/4 lb. mushrooms of choice, wiped clean with a wet cloth and sliced thinly
1 orange, red or yellow bell pepper, diced; (use carrots if you're sensitive to nightshades!)
2 T. of your favorite fat for sauteeing- bacon, lard, tallow, butter, coconut oil or ghee
1 tsp. dried sage
1 clove garlic, crushed or minced
3/4 tsp. sea salt
1/2 tsp. dried thyme
1/4 tsp. white pepper (or freshly ground black pepper, to taste)
Method
Melt the fat in a large saute pan.
Add the onions and sea salt and saute over medium heat, stirring occasionally for 10 minutes.
Add the mushrooms, bell pepper, sage and thyme; and saute for 5 minutes longer over medium-low heat.
Turn the heat to low and place a lid over the saute pan for 10 minutes, stirring intermittently as needed.
Add the garlic and pepper. Turn the heat off.
PUTTING IT ALL TOGETHER – DECORATING THE CHRISTMAS TREE
COMPONENTS
The Filling
The Tomato Sauce- see recipe at bottom of page or use your own favorite (optional for nightshade allergy folks)
The Decorations

cut flowerettes from one head of broccoli; slice the flowerettes thinly
cut the curly edges in strips off of Italian kale, also called lacinato kale
slice strips of fresh red bell pepper- very thin, straight strips
use a large straw to punch out perfect circles from roasted red bell peppers
slice yellow bell pepper and reserve a flat, square piece to create a cut star for the top of the tree
reserve one whole mushroom, stem removed and bottom cut flat, to support the yellow star
cut a curved, square piece from a green bell pepper to use as a tree trunk
ASSEMBLY
Place your squash halves into dishes that just fit their proportions, so you have the dish's edge to support your tree topper star.
Stuff the squash cavity with the filling. Place any extra filling around the sides of the squash, to "bank" it.
Spread your meaty tomato sauce (see recipe at bottom of page) thickly over the cavity's stuffing as well as over the neck of the squash.
Use the cut edges of kale and thin slices of broccoli in layered tiers, to create the ruffle-y look of a tree's foliage.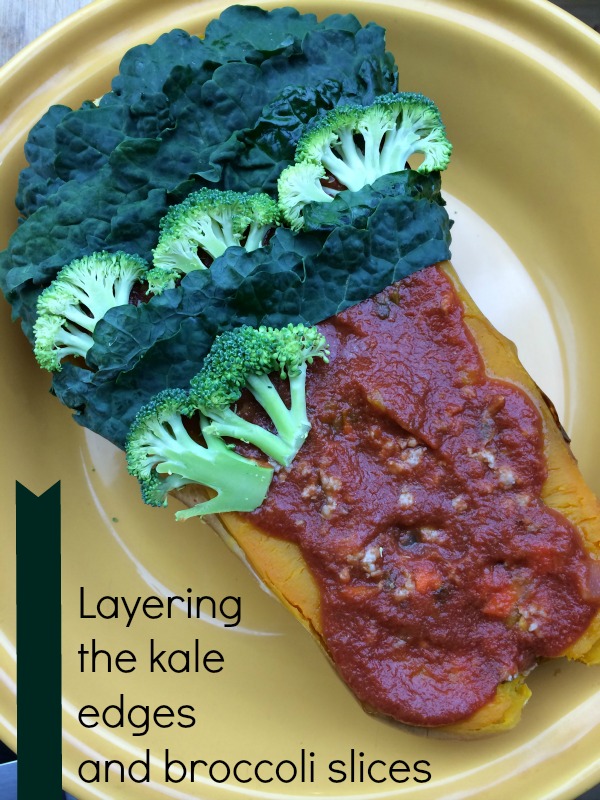 Use the strips of red bell pepper to create the cascading angles of a garland.
Add the roasted pepper "punches" to create "balls" hanging from the garlands, arranged prettily. (See finished photos above and below for examples.)
Use the yellow bell pepper slices to highlight the edges of the squash and set your design off visually, by banking them on top of your leftover stuffing.
Use the curved, square chunk of green bell pepper to perch a trunk between the squash's base and the baking dish.
Perch the mushroom support and yellow bell pepper star at the top of your "tree."
Optional- spray your entire creation with coconut oil spray.
FINAL BAKING INSTRUCTIONS
Preheat the oven to 400 degrees.
Bake the stuffed squash halves for 40 minutes. (This time is based on a 4-5 lb. winter squash. Cooking times will vary accordingly, depending on how big your butternut squash is. Use a 375 degree oven and a longer cooking time for a larger squash.)
Let the halves cool slightly, so they are cool enough to touch, before you slice and serve them.
Present the tree!
MEATY TOMATO SAUCE Recipe
Ingredients
1 lb. ground meat + 1/2 tsp. sea salt
2 cups bone broth (Here's how to make it!)
2 cans or jars organic tomato paste, 6-7 oz each, BPA-free
2 T. fat of choice- lard, tallow, or extra-virgin olive oil
2 cloves garlic, crushed or minced
1/2 tsp. dried oregano
1/2 tsp. dried basil
1/4 tsp. sea salt
4-5 turns of freshly ground black pepper
Method
In a medium size saucepan, cook up 1 lb. or your favorite sustainably-sourced ground meat: pork, beef, lamb, turkey etc. with 1/2 tsp. sea salt, breaking it up with a spatula, over medium heat.
Cook, stirring intermittently, for 10 minutes; then set aside.
Place all the remaining ingredients in a medium size saucepan and whisk them together thoroughly.
Heat over medium heat for 3-5 minutes, stirring occasionally to avoid sputtering.
Reduce the heat to low and cover, allowing the sauce to simmer for 5 minutes longer, just enough to soften the bite of raw garlic and bring out the perfume of dried herbs.
Turn off the heat.
Add the reserved meat, stirring to combine.