I may receive a commission if you purchase through links in this post. I am not a doctor; please consult your practitioner before changing your supplement or healthcare regimen.
Paleo Mint Chocolate Chip Ice Cream has the best flavor profile ~ with everyone-loves-peppermint + shaved chocolate! This oh-so-creamy, yet dairy-free dessert is super delicious and hard to stop eating!
For all of you Paleo, GAPS, AIP, Keto and Vegan folks who want the best ice cream — with only a few ingredients — this one tastes like the classic Mint Chocolate Chip ice cream so many of us grew up eating … and scoops beautifully.

Dairy version: For Keto, Primal and Ancestral diets, you may also refer to the Notes section below the main recipe, if you'd like to use heavy cream or raw cream in this recipe instead of coconut milk.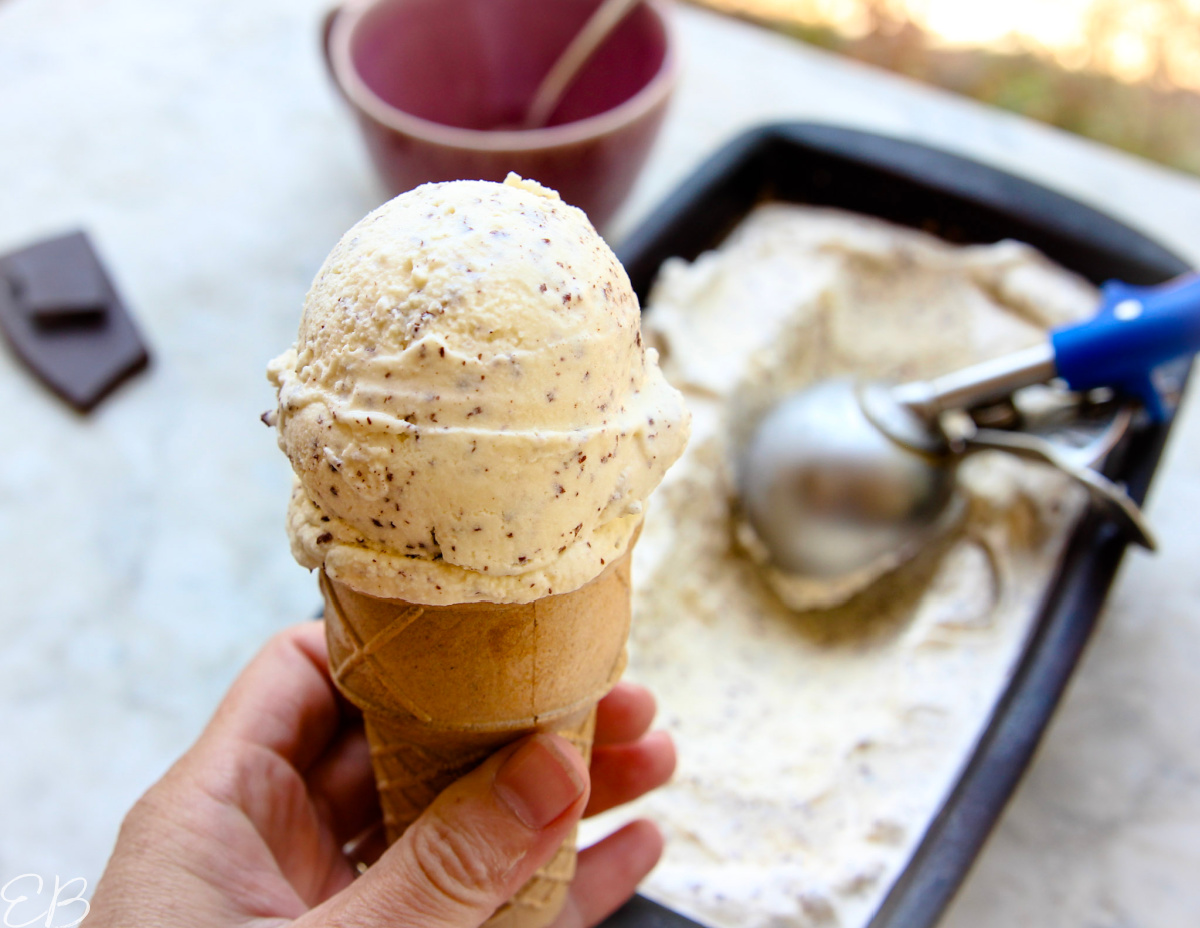 Jump to Recipe
Ingredients in Paleo Mint Chocolate Chip Ice Cream
This recipe uses only 4 to 5 ingredients:
coconut milk (or see Notes below for dairy version)
sweetener of choice, based on your diet: You'll see the best options in the recipe below.
real vanilla extract — This ingredient is optional, but it helps create a smoother, more scoopable ice cream, especially if you choose to freeze and scoop, instead of eating the recipe soft-serve.
peppermint extract — Like this.
shaved chocolate — I like to use a fairly grown unsweetened chocolate bar (like this), but you may use any chocolate bar you like, so dark chocolate bars work well, too (like this one). For Keto, GAPS or anyone who avoids all sugars, unsweetened chocolate works great, and the sweet ice cream base sweetens the overall outcome perfectly.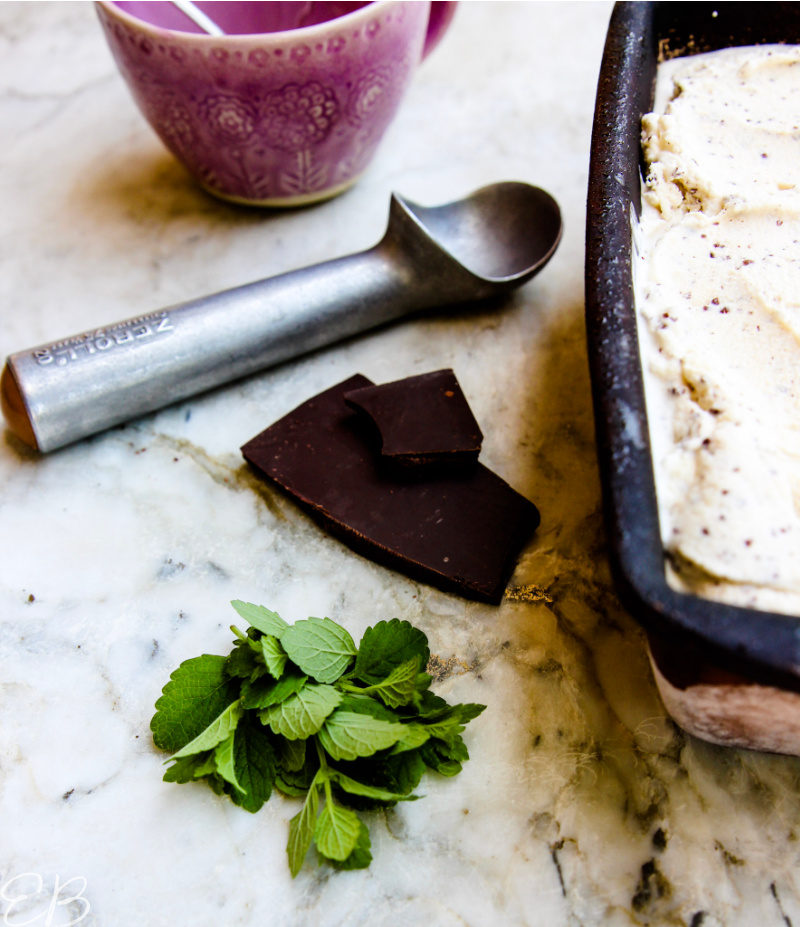 How to make Paleo Mint Chocolate Chip Ice Cream
So easy, simply:
Blend together coconut milk, sweetener, optional vanilla and peppermint extract. I do use a blender, but you may also whisk together the ingredients.

Each can of coconut milk usually contains two layers: thick white creamy coconut cream on the top and translucent coconut milk underneath. Occasionally, there is a thin layer of coconut oil on top that isn't ideal for making ice cream. Be sure your coconut milk is creamy and mixable. If it's got a layer of coconut oil on the top, you'll need to warm it just slightly to liquefy that layer (or scrape it off), and then blend it with the other ingredients.

After pouring your "mix" into your ice cream maker, wait until it's mostly frozen. Then, add the shaved chocolate the last 5 or so minutes — through the opening at the top of the machine.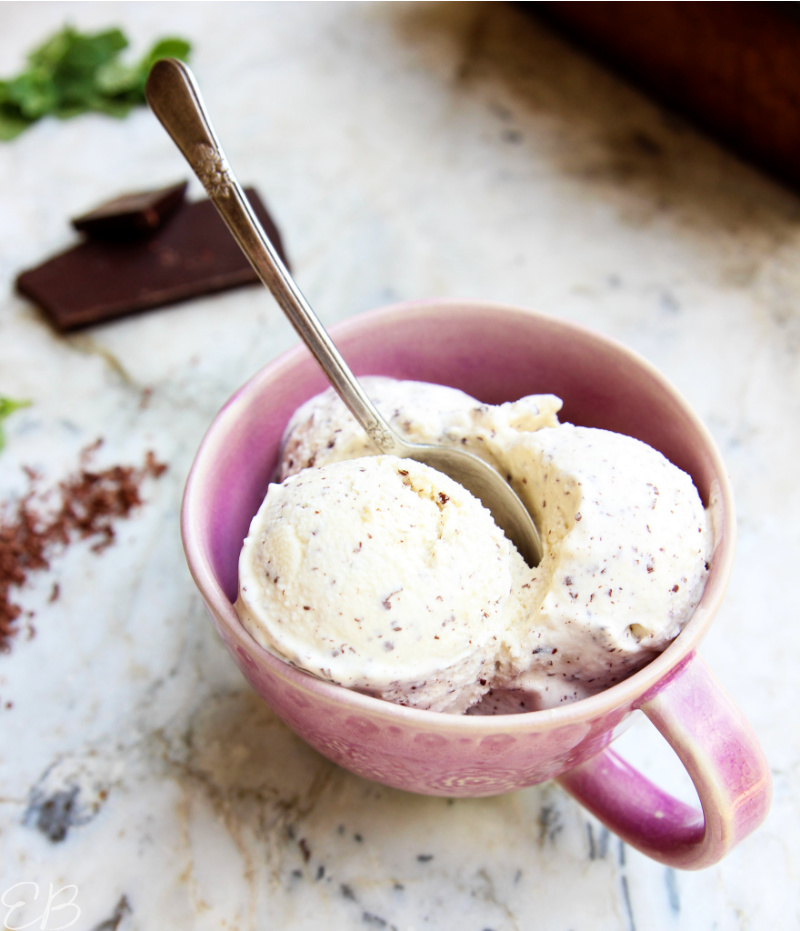 What kind of coconut milk to use
The best ones are Aroy-D and Native Forest, because they don't contain guar gum.
With coconut milk, you don't need to worry about whether or not it's organic. When we owned our ice cream shop, we ordered huge quantities of coconut milk from Thailand. We had a friend in the industry, the owner of a major vegan line of ice creams, who traveled to our supplier to check out the coconut palm farms. The organic and conventional palms were grown on neighboring properties and neither received synthetic fertilizers or pesticides. Coconut is a clean crop.
How to sweeten
For GAPS, AIP and those of you who enjoy honey, sweeten with local, raw honey! Preferably keep it at room temperature, so it blends into the coconut milk more easily. (Chilled honey takes longer.)
For Keto/Low Carb, liquid allulose works best.
For Vegan, or if preferred for Paleo and AIP, use pure maple syrup.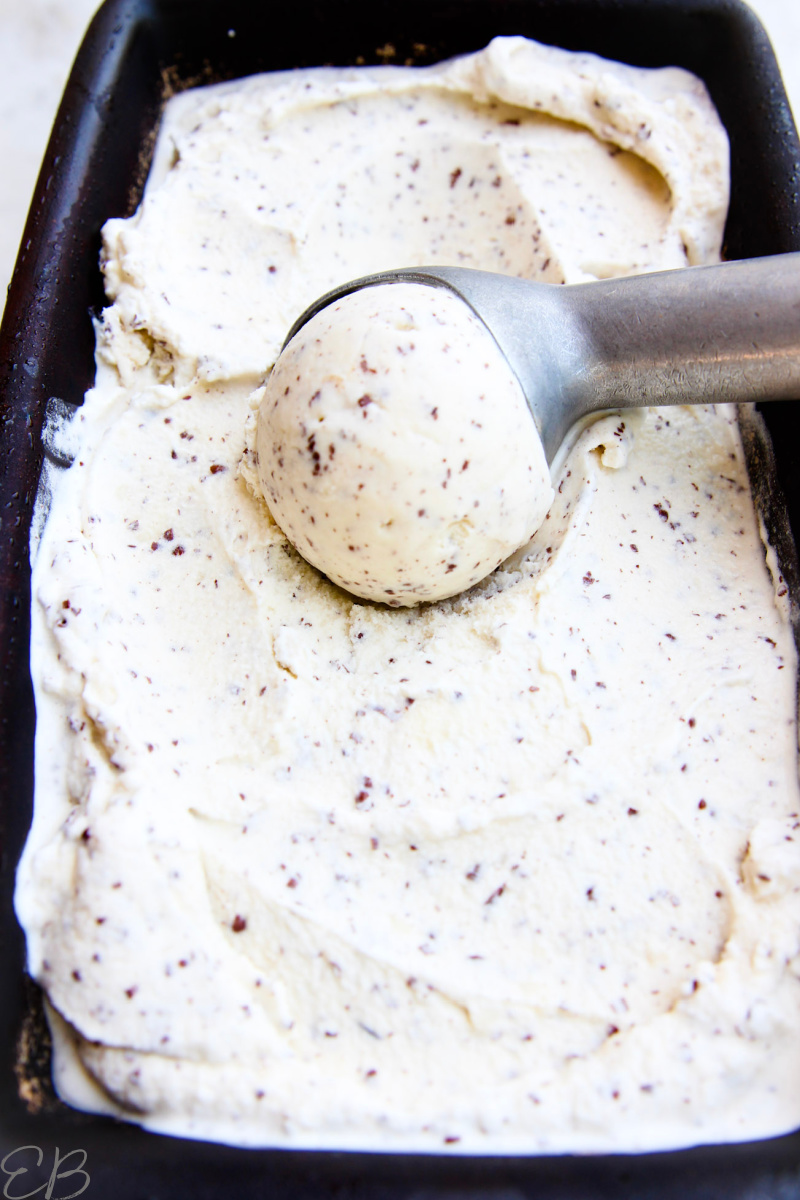 Which ice cream maker to use
We still have the ice cream maker my parents gifted me about 30 years ago! It's the machine I developed all of our first ice cream recipes in, before opening our shop.
If I needed a new one today, I'd buy something similar: keep it simple, because there isn't a perfect ice cream maker out there that's affordable. So doing the best we can, I recommend this one.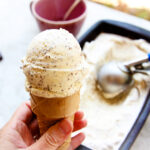 Print Recipe
Paleo Mint Chocolate Chip Ice Cream (Keto, AIP, Vegan, GAPS)
Paleo Mint Chocolate Chip Ice Cream has the best flavor with everyone-loves-peppermint + shaved chocolate! This oh-so-creamy, yet dairy-free dessert is super delicious and hard to stop eating! Paleo, GAPS, AIP, Keto and Vegan. With Primal, Keto dairy variation.
Ingredients
2

small cans

coconut milk

full-fat, 13.5 oz. each, or 3-½ cups homemade high-fat coconut milk (See Notes section below for heavy cream version.)

⅔

cup

liquid sweetener

For Keto/Low Carb, use allulose. For Vegan, use pure maple syrup or agave. For Paleo, GAPS, use honey (or maple for Paleo).

2

Tablespoons

vanilla extract

, optional (The alcohol lowers the freezing temperature, allowing less sweetener and creating a creamier outcome.)

¾ to 1

teaspoon

peppermint extract

or to taste (brands vary in strength)

½

cup

unsweetened or dark chocolate shavings (Use your favorite unsweetened or sweetened chocolate bar and a box grater. Grate the bar on the finer holes until you have ½ a cup of shavings. For AIP, use a carob bar, like this.)
Instructions
Place coconut milk, honey (or low carb sweetener/maple syrup) and peppermint extract in a blender. Purée until sweetener dissolves, scraping down sides, if necessary, about 50 seconds.

Freeze in ice cream maker, according to manufacturer's instructions. When the mix is mostly frozen, but about 5 minutes from being fully frozen, add shaved chocolate.

When ice cream is fully frozen and chocolate is incorporated, serve, or transfer to freezer container to freeze.
Notes
Dairy version of this recipe
Ingredients
2 cups heavy cream (or probiotic sour cream for GAPS)
1-

¼

cups water

⅔

 cup pure maple syrup (or honey for GAPS OR this allulose for Keto)

½

cup chocolate shavings (See main recipe for details on which chocolate bar to choose. Use carob bar for AIP, like this.)

¾ to 1

teaspoon peppermint extract, to taste

⅛

teaspoon sea salt
optional: 2 Tablespoons vanilla extract (This increases the scoop-ability of the ice cream when it's frozen.)
Instructions
Reserve the chocolate shavings to one side. Hand-whisk the remaining ingredients together until the sweetener is fully dissolved or incorporated into the cream base.

Freeze in ice cream maker, according to manufacturer's instructions. When the mix is mostly frozen, but about 5 minutes from being fully frozen, add shaved chocolate.

Finish freezing. Serve, or freeze in storage container until ready to scoop.
Nutritional data
The Paleo version of this recipe has 36g carbs per serving. The nutritional data below reflects the Keto version of this recipe.
Nutrition
Calories:
305
kcal
|
Carbohydrates:
2.8
g
|
Protein:
2.1
g
|
Fat:
30
g
|
Saturated Fat:
1
g
|
Sodium:
70
mg
|
Potassium:
210
mg
|
Fiber:
1
g
|
Sugar:
2.8
g
|
Vitamin C:
1
mg
Here's

a good Peppermint Extract.
You can Pin this recipe here:
Our Paleo ice cream shop
About 10 years ago, my husband and I opened a Paleo ice cream shop in Eugene, OR.
We were maybe the first in the country to do it, although there were a few vegan ice cream shops popping up and literally only a few real frozen yogurt shops, that actually poured yogurt into their soft serve machines, instead of a mix.
But we were the first we could find anywhere that was making not only real, soft-serve, probiotic frozen yogurt, but also dairy-free ice cream sweetened with honey.
We also made other flavors with pure maple syrup or low carb sweetener.
So we had Paleo, Primal, AIP, Keto and GAPS ice creams and probiotic kefir-based frozen "yogurts".
It was right before my health took a major nosedive. All of my kids had health issues or food sensitivities, which, if I had known more at the time, would have been a big clue to me that my own health wasn't strong.
Food sensitivities and gentle ice cream
The ice cream shop was magical and fun!
It was the most magical when we had folks on strict diets come in, who thought they'd never be able to eat anything out in a restaurant. We could serve them a real sundae, or kombucha float, or other treat, and their joy and encouragement made my day.
My very favorite of these days was when a mom asked us for a special favor. Her son was almost 10 years old and had never eaten in a restaurant, let alone dessert, because of all of his food sensitivities and allergies. We decided to surprise her son by putting a custom flavor he could have into one of our soft-serve machines. He came in and ordered, and the mom cried, and I cried. It was BEAUTIFUL and a big part of why we opened our shop, so special!
The flavor Honey Mint was one of our first allergy-friendly flavors. And we made chocolate chip cookie ice cream sandwiches with it, that were grain-free. I dug up an old snapshot for you, taken in our first location, when we were still a small, growing company and just three people made all the products. There they are! ⬇
Wherever you are in your healing diet journey, I hope this ice cream meets your needs. It's flexible, and has just a few ingredients. (You can leave out the chocolate, use carob, sweeten with honey etc.)
While Honey Mint was perfect for our GAPS diet and AIP customers, I am publishing a more popular version of the flavor to meet everyone's FUN needs. As mentioned, you can always leave out the "Chip" part of this recipe if you need super simple ingredients.
If you're Paleo, Keto or GAPS and love ice cream sandwiches, you might just love to fill these Paleo Ice Cream Sandwich Bars with Mint Chocolate Chip. For AIP & Paleo, make ice cream sandwiches with these amazing Paleo Chocolate Chip Cookies.
This flavor is one of my personal favorite ice cream treats each summer! 🙂