I may receive a commission if you purchase through links in this post. I am not a doctor; please consult your practitioner before changing your supplement or healthcare regimen.
Saffron Milk Tea is an Indian healing beverage. This nourishing version includes raw milk, (although I include a dairy-free variation).  It is wonderful to drink before bed to help with depression and insomnia.  The elixir has a lovely flavor, floral and tea-like. See if it helps to bring general wellness to your life…
SAFFRON'S HISTORY AND USES
The filaments of saffron (find them here) come from the crocus flower and are native to the Middle East.  Their healing properties trace back thousands of years, being used to treat yes, depression, and also hormone, memory and circulation issues, and more recently cancer.  Rich in antioxidants, the phytonutrients in saffron make it one of the most powerful flower herbs available.  For mild to medium cases of depression, saffron is used even by some medical practitioners and is a resource worth trying.
HOW TO MAKE SAFFRON TEA
Happily, saffron tea can be made with the greatest of ease by simply adding the red filaments to any cup of hot tea.  Or follow the instructions below for Saffron Milk Tea.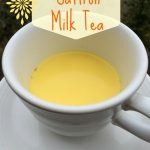 Print Recipe
Saffron Milk Tea
Substitute full-fat coconut milk, if you are dairy-free.
Ingredients
1

½

cups

raw milk

1

cup

water

2

T.

loose rooibos tea (optional)

15-25

saffron threads (this is a medicinal amount of saffron)

3

cardamom pods (optional)

2

tsp.

local, raw honey, or stevia, to taste
Instructions
Place the water and optional cardamom into a small saucepan and bring it to a boil.

Simmer the pods for 5 minutes.

Turn off the heat and add the saffron threads. Allow the strands to steep for 5-8 minutes.

Add the remaining ingredients. Stir and heat the milk to warm, not boiling, to protect the living nutrients in the raw milk.

Strain and serve, adding more sweetener if desired, to taste.
The following saffron is an excellent value. The quantity and the quality make it a good product choice.