I may receive a commission if you purchase through links in this post. I am not a doctor; please consult your practitioner before changing your supplement or healthcare regimen.
Blender Strawberry Ice Cream is a no-churn recipe that requires no ice cream maker! You just need a blender and a freezer to make this spontaneous, delicious, fun treat!
This recipe is a staple in our home!
We LOVE blender ice cream, the convenience and lack of planning required. We eat it every time of day, whenever the urge strikes.
I personally like it best for breakfast, on a grain-free waffle. (Waffles and ice cream are my favorite!)
Plus, for Blender Strawberry Ice Cream, there are both dairy and non-dairy versions!
Blender Strawberry Ice Cream is perfect for Paleo, Primal, Low Carb, AIP, Low-FODMAP and GAPS diets, for all the folks who long for great ice cream NOW.
I have also made this recipe for kids that are used to eating sugary desserts and it goes over awesomely — well loved by all! Great for an afternoon snack or dessert, great at home or on vacation …
How to make non-dairy or dairy versions
So it's a hot day. You want an easy treat. Get out your ice cube tray
… and in 2 to 3 hours you can have no-sweat homemade Strawberry Ice Cream!
Or >plan ahead< and >keep creamy ice cubes on hand< for when your healthy-sweet-tooth emerges.
This ice cream is made with a combination of frozen strawberries and frozen ice cubes of either: coconut milk or real cream.
When we go to the Oregon coast, we rent a house. We bring our ice cube trays, our blender … and right when we get there, we fill the trays. Frozen strawberries get unpacked from the cooler into the freezer. Then — we're ready for afternoon snacks, breakfast ice cream (on waffles or in crepes) or dessert. When you have all your supplies ready, this dessert takes just a few minutes to make.
Which kind of blender to use
I have made this with three kinds of blenders:
Blendtec — This one with the WildSide+ Jar is the best.
My commercial metal blender
The commercial blender smashes the creamy ice cubes to smithereens. It's a gratifying and perfect process. I get thick ice cream, straight from the blender jar. I usually freeze it for 5-10 minutes and then scoop.
With the Blendtec and Vitamix blenders, I prefer to freeze the ice cream for 30-60 minutes, after blending.
Tip: Add the liquid in the recipe as needed; if you add a bit less, you can scoop the ice cream sooner.
This will help to keep it really thick, using a spatula to fold in the powdered frozen corners and to break any air bubbles by the blade; (you'll see these details in the recipe below).
Also, the tamper can be nice to have, but isn't necessary.
For those who are interested in blend-offs between Blendtec and Vitamix, Blendtec does get a smoother blend. We have gone through many blenders at our ice cream shops making vegan nut milks and ice creams, and it's just true. But both blenders work well, which is why they both have devotees.
You can see me HERE on YouTube; I do a blend-off between the two machines and share with you my results.
Blender Ice Cream: Food processor option
Yes, you can also make this recipe in a food processor! The food processor method is often used to make "Nice Cream" recipes. It works great with this recipe!
BUT not everyone has a food processor, whereas most folks have a blender. Also, I wanted to be able to make this recipe (ice cream!!) on vacation, and while it won't work as well with a cheap blender from a rental house, we sometimes bring our blender with us for vacations that are just a car drive away … and food processors are too awkward to lug along, whereas blenders are useful for lots of things and worth bringing.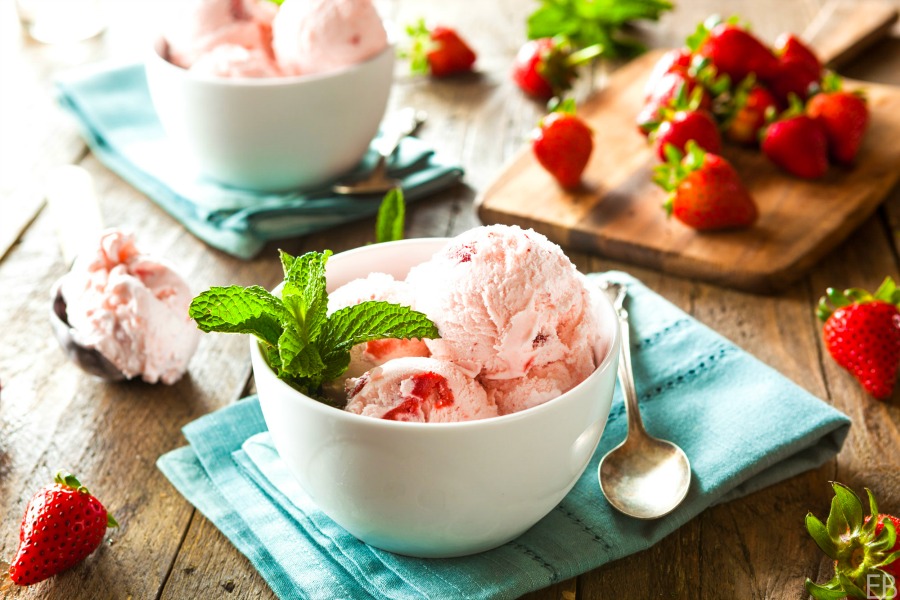 Print Recipe
Blender Strawberry Ice Cream
This recipe can be halved.
Ingredients
3

slightly heaping cups

coconut milk

ice cubes, full fat; for the dairy version, see Recipe Notes below

2

slightly heaping cups

strawberries

frozen, halved or quartered

¾

cup

coconut milk

warmed or raw dairy milk

½

cup

honey ... For Low Carb: use favorite liquid low carb sweetener, like allulose; for Low-FODMAP, use pure maple syrup

1

Tablespoon

vanilla extract

optional
Instructions
Stir honey (or LC sweetener) into warmed coconut milk (or cream for dairy version), until honey is fully dissolved. Allow honey-milk to come to room temperature.

Place coconut milk ice cubes and frozen strawberries into high-powered blender. Blend until powdered. (This may be noisy, depending on your blender brand.)

Use a wooden chopstick or handle to get all the frozen powder loosened from the corners. Add the remaining ingredients; (BUT don't add all of the liquid all at once; start by adding about

⅔

of the total, then see if you need all of it. If you use all of it, you may need to freeze the ice cream longer before scooping. If you want to serve it right away, don't add all the liquid.) Blend and scrape the sides as necessary, or us a tamper, until an ice cream consistency is achieved.

Scrape ice cream into a freezer-safe bowl and freeze until ready to serve. Leftovers are scoop-able and delicious, if left at room temperature for 15 minutes or so before scooping.
Notes
Dairy and GAPS versions
Use grass-fed cream, preferably raw if you can get it, for the dairy version of this recipe. For a GAPS diet dairy version, use cultured cream, such as Nancy's brand sour cream. If you use real cream, be careful not to over-process; cream will turn into butter if over-churned.
Nutrition
Calories:
76
kcal
|
Carbohydrates:
11
g
|
Protein:
1
g
|
Fat:
7
g
|
Saturated Fat:
7
g
|
Sodium:
5
mg
|
Potassium:
75
mg
|
Sugar:
1
g
|
Vitamin C:
1
mg
|
Calcium:
6
mg
|
Iron:
1
mg
This

is the brand of metal ice cube tray that I recommend. It's sturdier than the more common brand, really well made! (In my opinion, it is best to ditch your plastic and silicone for tried and true [safer] stainless steel.)

Enjoy Blender Strawberry Ice Cream, today! 🙂
Looking for more great ice cream treats? Try these: